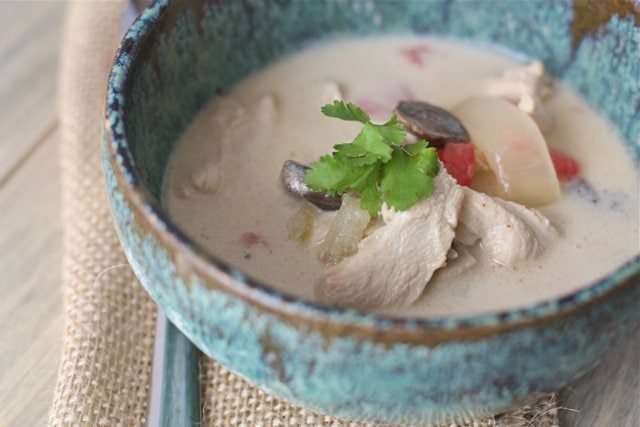 This Tom Kha Gai Thai Coconut Soup is the first in a Thai Take-Out Dinner Series. Check back next week for Pad See Ew, Yellow Curry with Prawns, and Thai Iced Tea!
This soup is my chicken noodle soup. It's the soup I crave when I'm sick in bed or when I've had a bad day and need something comforting. I could eat it daily.
We love Thai food in this house. If given the choice, I think my husband and I would order it once or twice a week. We have this amazing, family owned little place in our town that we've been going to for years and just love. The owners are so sweet and always hang around our table offering Thai cooking and recipe tips. I'd been making this version of the soup for the last few years and was never really truly happy with it, so I figured I'd ask what their secret is. After listening to her explain the simple process to making this soup, I finally figured out that the culprit was the chile paste I had been using. Chile pastes were created for American's in order to make some of the Thai ingredients more accessible. I try not to use them and prefer to use fresh ingredients, but sometimes they are hard to find. The problem is that the paste has a few ingredients in it that are not normally in Tom Kha Gai, so that's why I wasn't getting the authentic flavor I was so desperately looking for. In the real deal, they just use homemade dried and ground Thai chiles.
The owner was sweet enough to send me home with a container of their homemade ground chiles and it made a world of difference! Now this recipe tastes exactly like the restaurant, and at a fraction of the cost! You can make your own at home by drying and grinding Thai chiles, or you can buy it at any Asian market and some health food stores in the Asian foods aisle. I prefer the finely ground spices where the seeds are not noticeable. This recipe is mild, so if you can handle the heat you're welcome to add an extra dash, but I warn you : this stuff will go a REALLY long way. My husband loves spice and he can't handle more than a tiny pinch sprinkled on is food.
You will also want a really good quality fish sauce for any Thai dish you're making. Red Boat Fish Sauce company is the only one on the mainstream market that is both Paleo and SCD/GAPs legal. It's aged 12-16 months and comes directly from Vietnam. They bottle only pure first press "extra virgin" fish sauce so you get an extract that is made of just two all natural ingredients: fresh wild caught anchovy and sea salt. For years I used Thai Kitchen fish sauce and looked past the sugar in the ingredient list, but I've tasted the two side by side now and notice a huge difference.