I've had a lot of questions about baking with almond flour, so I thought I'd do a little intro to it for those of you who have never baked with it before. The obvious reason I use it is because I eat a grain-free diet. There's also a lot of health benefits, which I'll go deeper into at the end of this post.
I began using almond flour right after switching to a grain-free diet because it was all that was around at that point. I quickly found that my baked goods seemed to be too moist and greasy, so I started introducing just a bit of coconut flour into my recipes to help absorb some of the moisture. The combination of the two seemed to work well, and I stuck exclusively to those for a while. I noticed though, that eating too many baked goods with almond flour too often caused my stomach to act up, so I limit the amount of treats I eat, and also now like to use other grain-free flours like cashew and sunflower seed flour to change things up a bit. I also recently started experimenting with arrowroot powder, green banana flour too.
Are Almonds Safe to Bake With?
Something that frequently comes up is whether or not it is safe to bake with nut flours because of their omega 6 content. I find these articles to be helpful if that's a concern of yours.
Nuts and Phytic Acid by Mark Sisson
Rebuttal to 5 Reasons to Avoid Almond Flour by The Paleo Mom
Are Roasted Nuts and Nut-Based Baked Goods Healthy? By Mark Sisson
Allergic to Almonds?
Allergic to almonds? Finely ground cashew flour, or finely ground raw sunflower seeds can be substituted in 1:1 in my recipes. Just beware of the sunflower seed reaction to baking soda, which may make your baked goods turn green! Read more about that here.
My Favorite Almond Flour Recipes
You can find all of these recipes below on my blog! It's essential that you use a good quality brand of almond flour for any recipe, but especially in baked goods. Scroll to the bottom to see my preferred brands!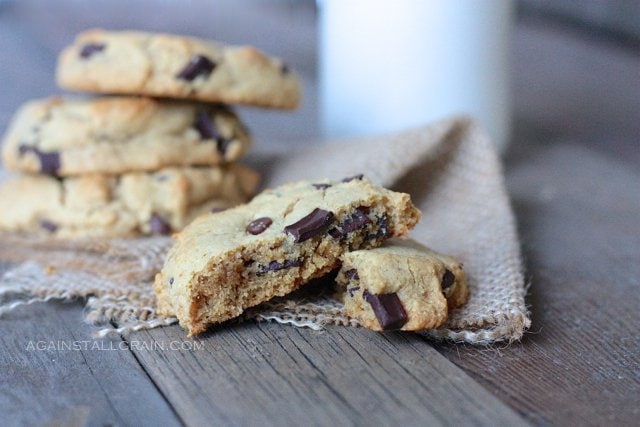 Real Deal Chocolate Chip Cookies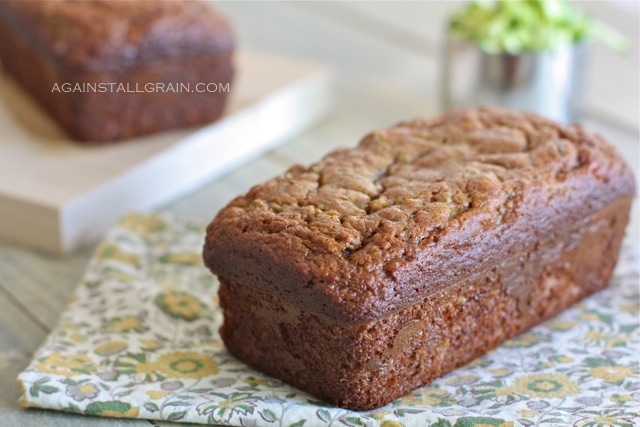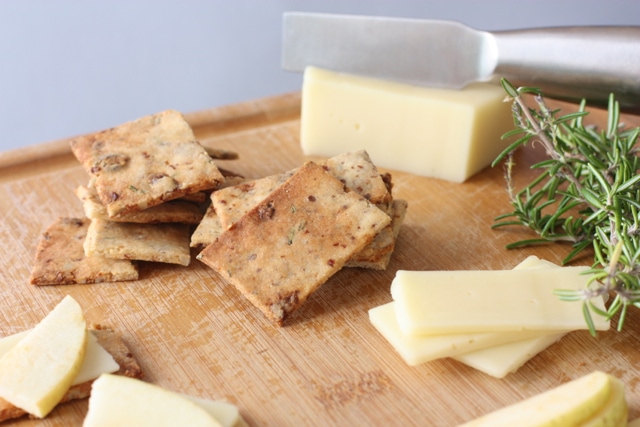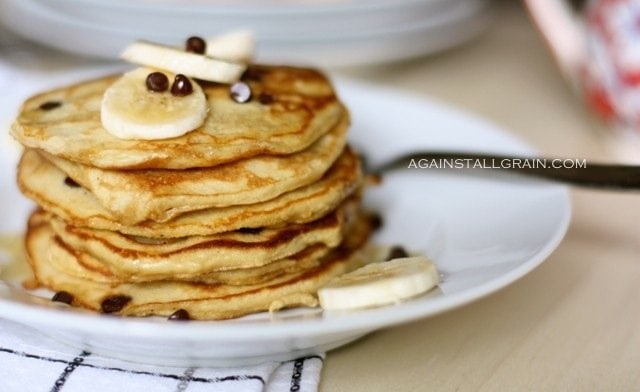 Tips
The finer the grind, the better your baked goods will turn out. If you use a course ground flour, your product will be grainy and the texture will be as if you added nuts to the batter.
Nut flours burn easily. Most of my recipes call for a lower baking temperature and longer time than you would use with a normal wheat flour recipe. Keep a close eye on your baked goods though, because all ovens heat differently and I've definitely had a few dozen burnt muffins in my time.
Buy in bulk if you plan on baking a lot. Almond flour can get expensive, but most websites you order from will give you a discount if you buy in bulk. You can store the flour in your refrigerator for a month and your freezer for around 6-8 months. If you store in your freezer, just remove the portion you need for your recipe and let thaw at room temperature for 30 minutes.
Almond Meal is different than Almond Flour. Almond Meal is ground almonds with the skin on, while Almond Flour is blanched almonds with the skin removed. I notice that my cakes and cookies are denser and more "mealy" textured, when almond meal is used.
Homemade Almond Flour
If you have the time and feel up to the challenge, you can also make your own flour. Although most of the instructions out there say you can just grind up blanched, peeled almonds, I believe you need a grain mill to really get a good finished product. Oh, and if you make it yourself, be careful not to grind it too much or you'll end up with Almond Butter! I decided to purchase it after trying to make it in my food processor and not getting a fine enough consistency.
*A lot of store-bought brands produce overly moist and mushy baked goods, so make sure you always get a super-fine grind and blanched almond flour. 
My Favorite Brands
You can find both Wellbee's Almond Flour and Honeyville Almond Flour online at Amazon or in grocery stores. Live in Canada? I've heard Yupik Almond Powder is a great brand!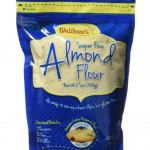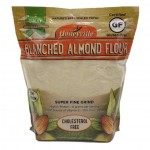 Almonds are high in monounsaturated fats, the same type of health-promoting fats as are found in olive oil, which have been associated with reduced risk of heart disease. ((https://www.whfoods.com/genpage.php?tname=foodspice&dbid=20.))
Researchers who studied data from the Nurses Health Study estimated that substituting nuts for an equivalent amount of carbohydrate in an average diet resulted in a 30% reduction in heart disease risk. Researchers calculated even more impressive risk reduction–45%–when fat from nuts was substituted for saturated fats (found primarily found in meat and dairy products). ((https://www.whfoods.com/genpage.php?tname=foodspice&dbid=20.))
In addition to their cholesterol-lowering effects, almonds' ability to reduce heart disease risk may also be partly due to the antioxidant action of the vitamin E found in the almonds, as well as to the LDL-lowering effect of almonds' monounsaturated fats. (LDL is the form of cholesterol that has been linked to atherosclerosis and heart disease). ((https://www.whfoods.com/genpage.php?tname=foodspice&dbid=20.))
In addition to healthy fats and vitamin E, a quarter-cup of almonds contains almost 99 mg of magnesium (that's 24.7% of the daily value for this important mineral), plus 257 mg of potassium. ((https://www.whfoods.com/genpage.php?tname=foodspice&dbid=20.))
Almonds appear to not only decrease after-meal rises in blood sugar, but also provide antioxidants to mop up the smaller amounts of free radicals that still result. ((https://www.whfoods.com/genpage.php?tname=foodspice&dbid=20.)
That should do it! Enjoy your adventures with Almond Flour, and if it doesn't turn out the first time, try again!