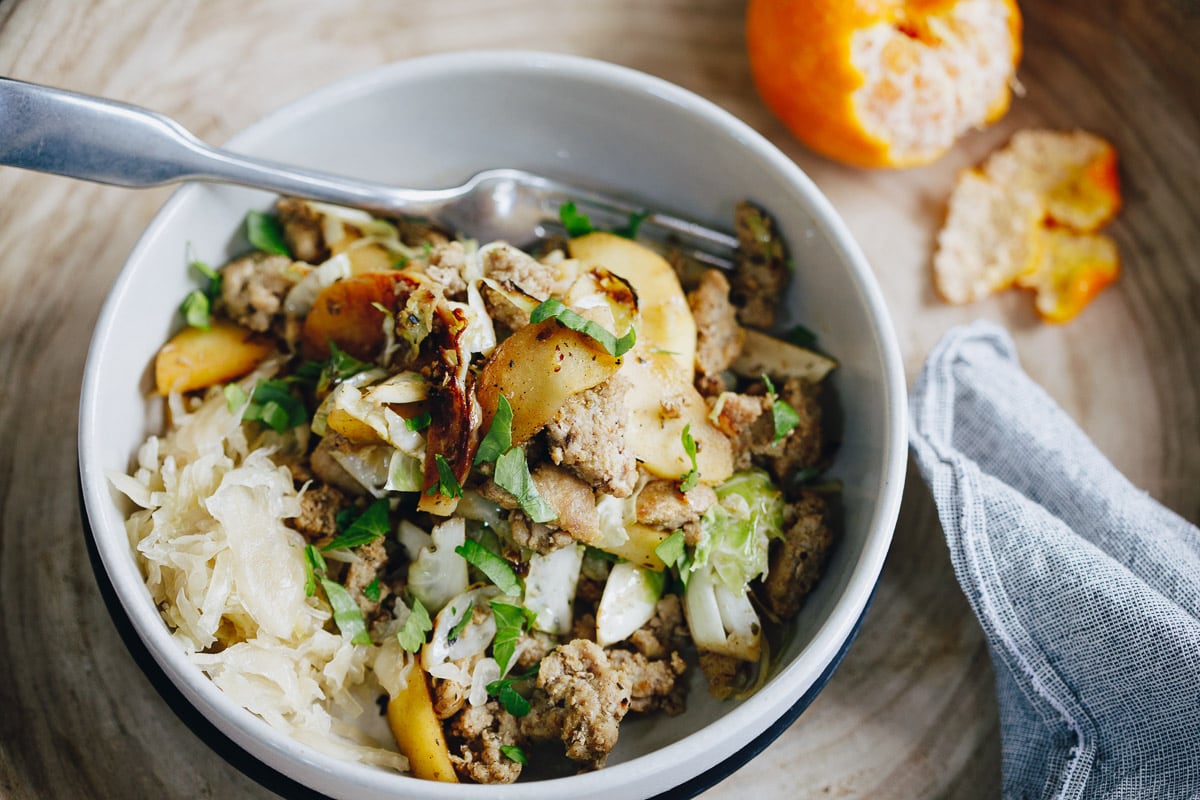 I am always in pursuit of creating more egg-free recipes. Especially breakfast recipes, for those of you who can't tolerate eggs. I know how repetitive and difficult breakfast foods can be when you have to avoid eggs, so I wanted to give you all a new recipe to add to your rotation. This recipe for an Egg-Free Paleo Breakfast Bowl is full of flavor and spice. It is a delicious alternative to your classic egg breakfast, plus it is Whole30 compliant! The sauteed cinnamon and sage spiced apples are mixed with pork and shredded brussel sprouts, and then topped with probiotic-rich sauerkraut. It is a comforting and nutritious meal that you need to start your day off right!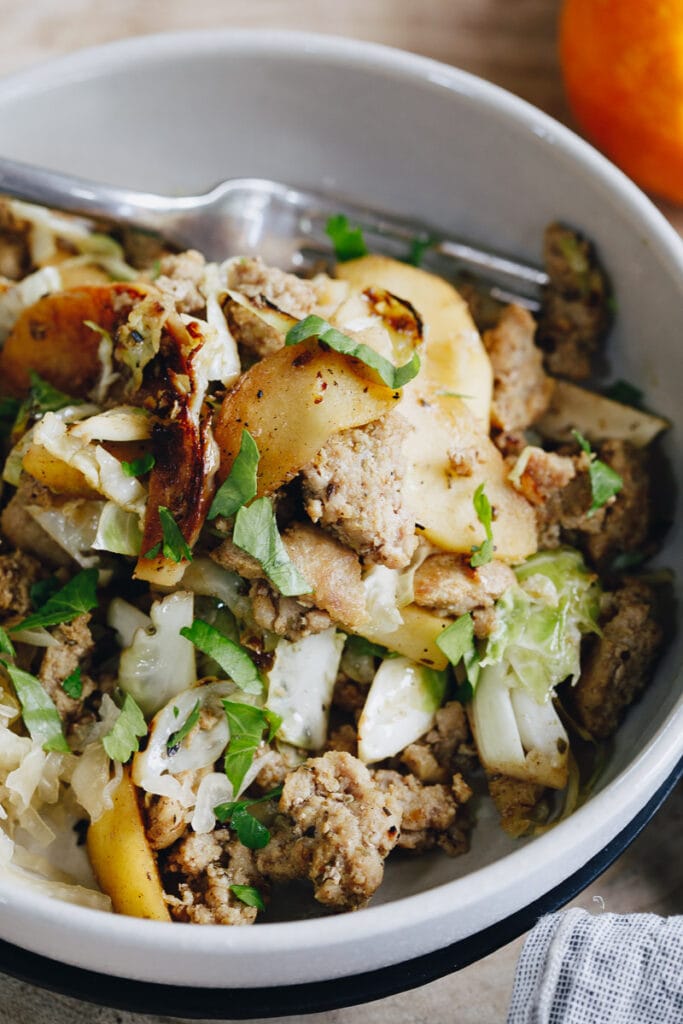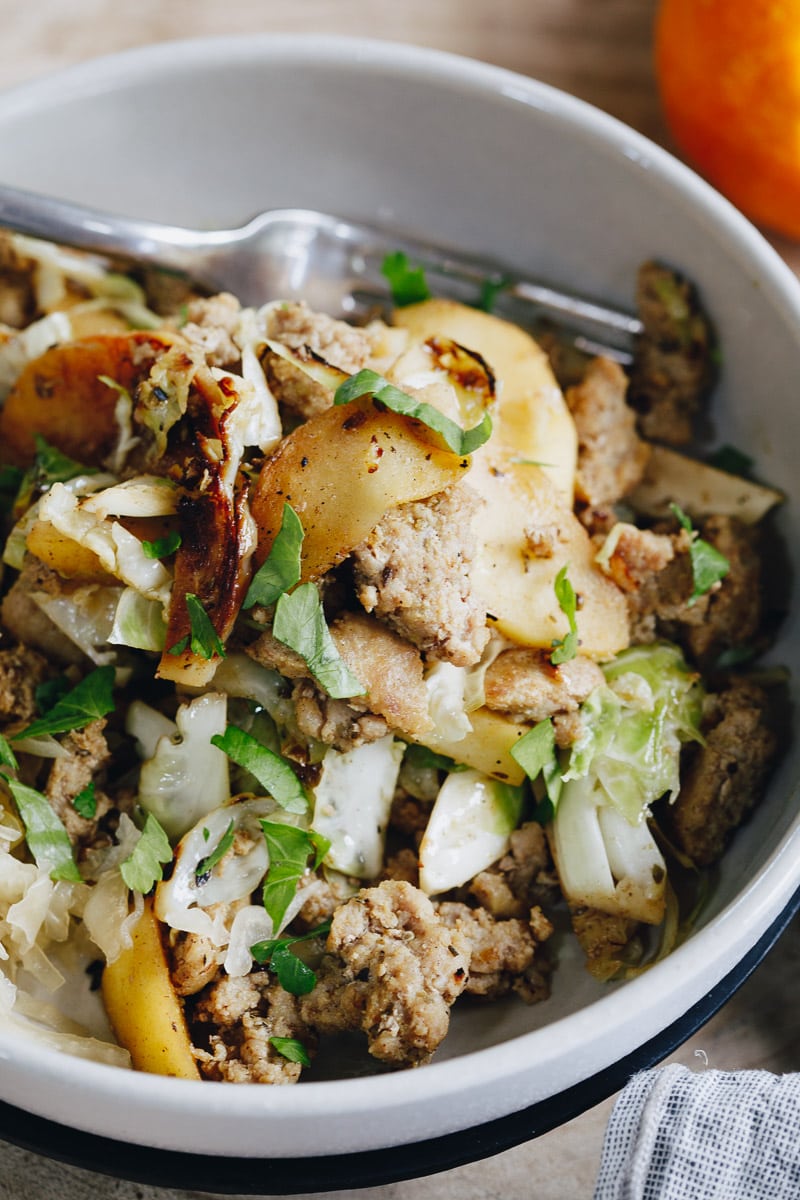 A Comforting Fall Breakfast
One of my favorite parts of the fall and winter seasons are all the zesty and warming spices. They have a special way of making your home smell like a scented candle, only it's from your food so it's even better! Adding warming spices to your breakfast is a great way to change things up a bit and add extra flavor. Plus, it is a great way to get in some extra veggies. I think spices can make all the difference in changing a standard bland dish into a comforting and delectable meal.  
For this egg-free paleo breakfast bowl, I used Primal Palate's Breakfast Blend spice mixture to season both the apples and the pork. It is one of my favorite spice blends from them! I like to always have a bottle on hand to add to my breakfast or sprinkle on some roasted sweet potatoes. It is a blend of Himalayan pink salt, garlic, onion, oregano, cinnamon, turmeric and sage. If you don't have a bottle of Primal Palate's Breakfast Blend, you can make your own! Just add about 1-2 Tbsp of each spice and shake it up and store in a glass container.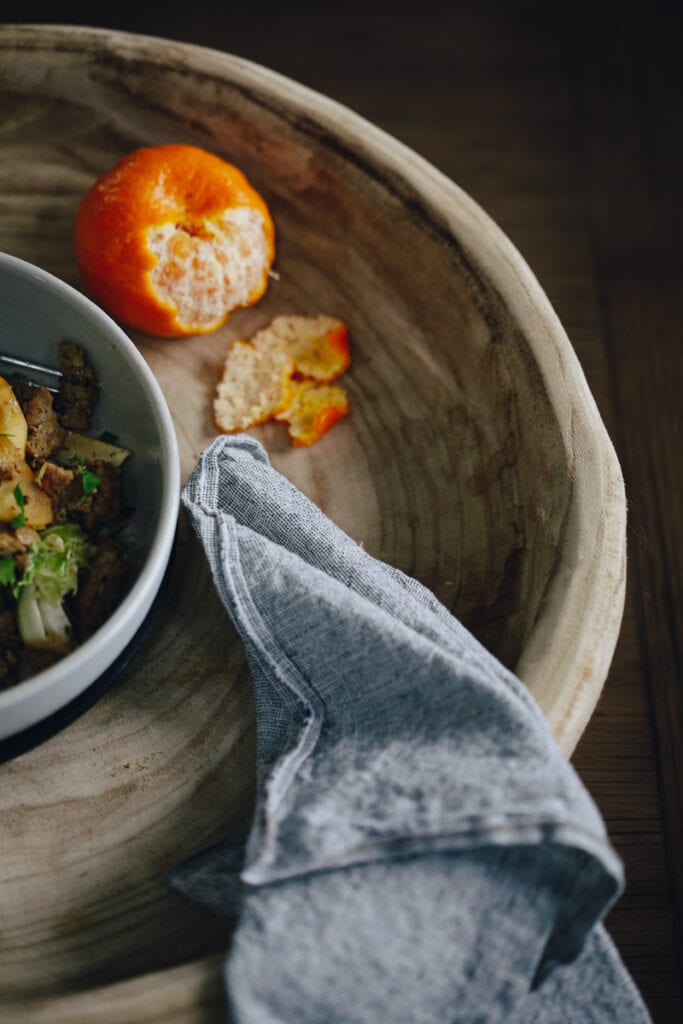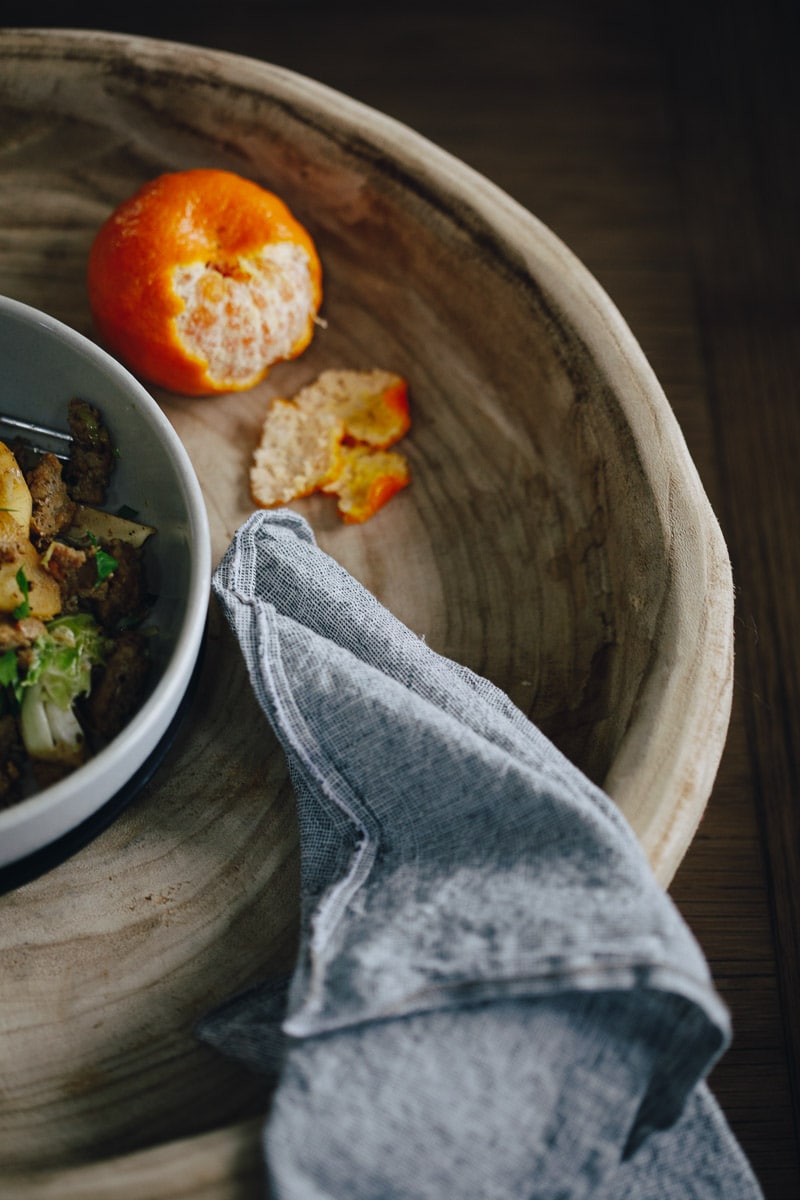 Fermented Foods
One of my favorite superfoods is fermented vegetables. I know fermented vegetables are having an uptick in popularity recently, but it is actually an ancient technique used for preserving foods. Fermented foods are high in healthy probiotics, which can help aid in digestion. Fermented foods contain a large amount of friendly bacteria. This bacteria can help heal the gut and therefore boost your immune system. Eating fermented vegetables can also enhance the nutritional benefits of those vegetables and make them more digestible. If you have never eaten fermented vegetables before, just start with a small spoonful and work your way up. If you have an unbalanced gut microbiome, too much fermented foods can cause slight digestive upset. 
Making homemade fermented vegetables is super quick and fun to make at home. If you prefer to buy store-bought, just be sure to read the labels and watch out for unnecessary additives. I like to buy local and organic when I can! 
If you aren't a fan of the bitter and sourness fermented vegetables can have but would still like to add natural probiotics into your diet, you can try making homemade yogurt or Kefir for a little more subtle flavor. I have a recipe on page 312 in my cookbook Eat What You Love or on page 46 in my cookbook Against all Grain!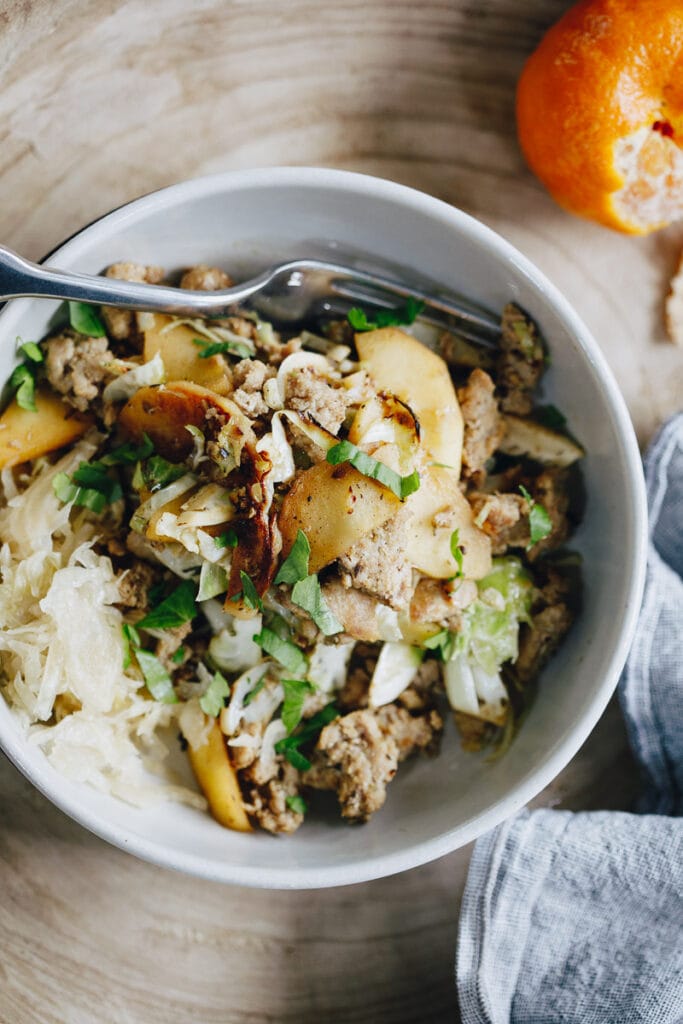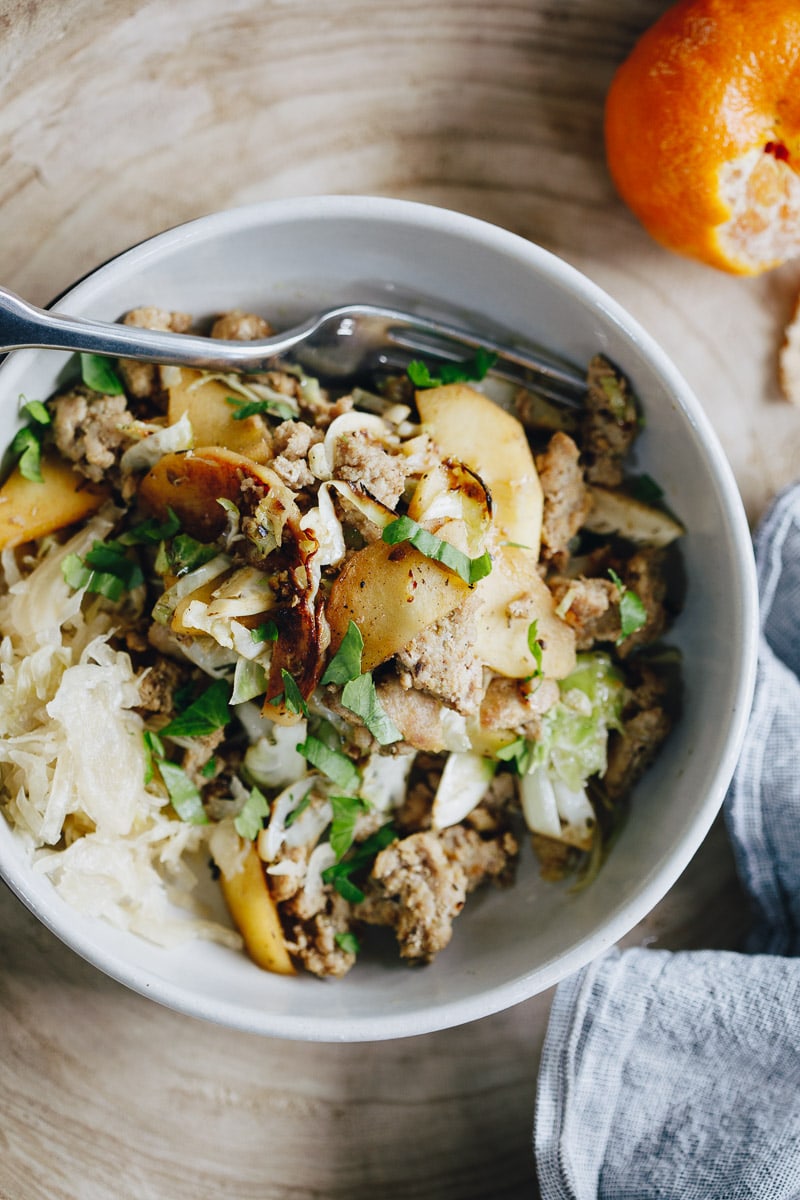 More Egg-Free Recipes
If you are interested in more egg-free breakfast recipes be sure to try my recipes for Paleo Pumpkin Chia Seed Pudding, Gluten-Free Acai Bowls, Breakfast Hamburgers from page 233 in Eat What You Love, or my recipe for Maple Sage Sausage with Cinnamon Apples on page 32 in my cookbook Against all Grain. 
More Whole30-Compliant Recipes
If you want more Whole30 inspiration and recipes to keep you on track for the full 30 days,
I hope you enjoy this recipe! Be sure to post a photo on social media and use #daniellewalker and @daniellewalker so I can see it!
Shop This Recipe: