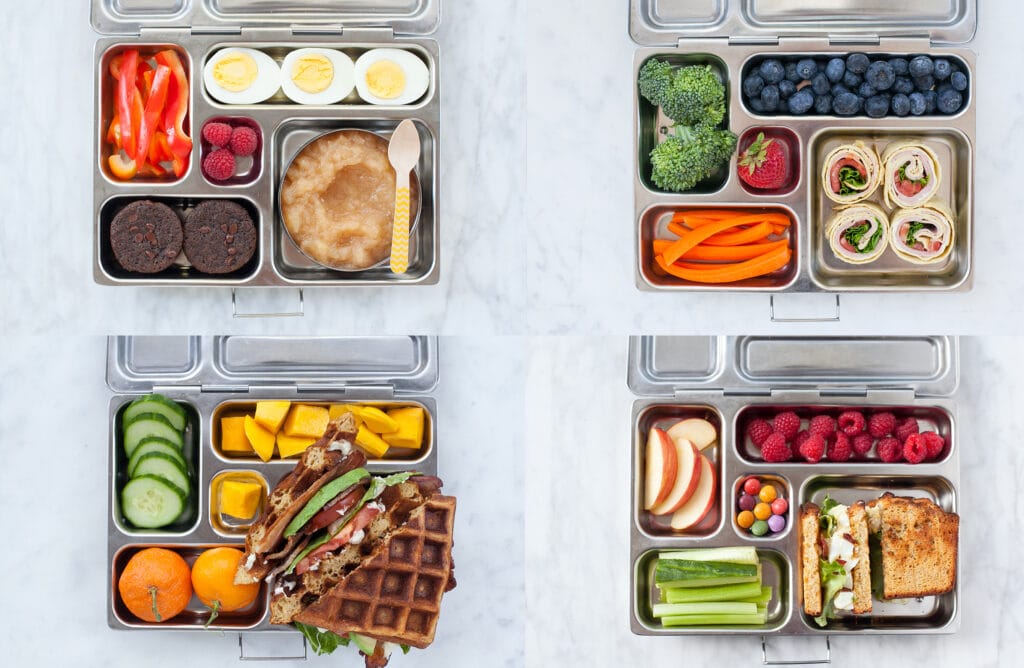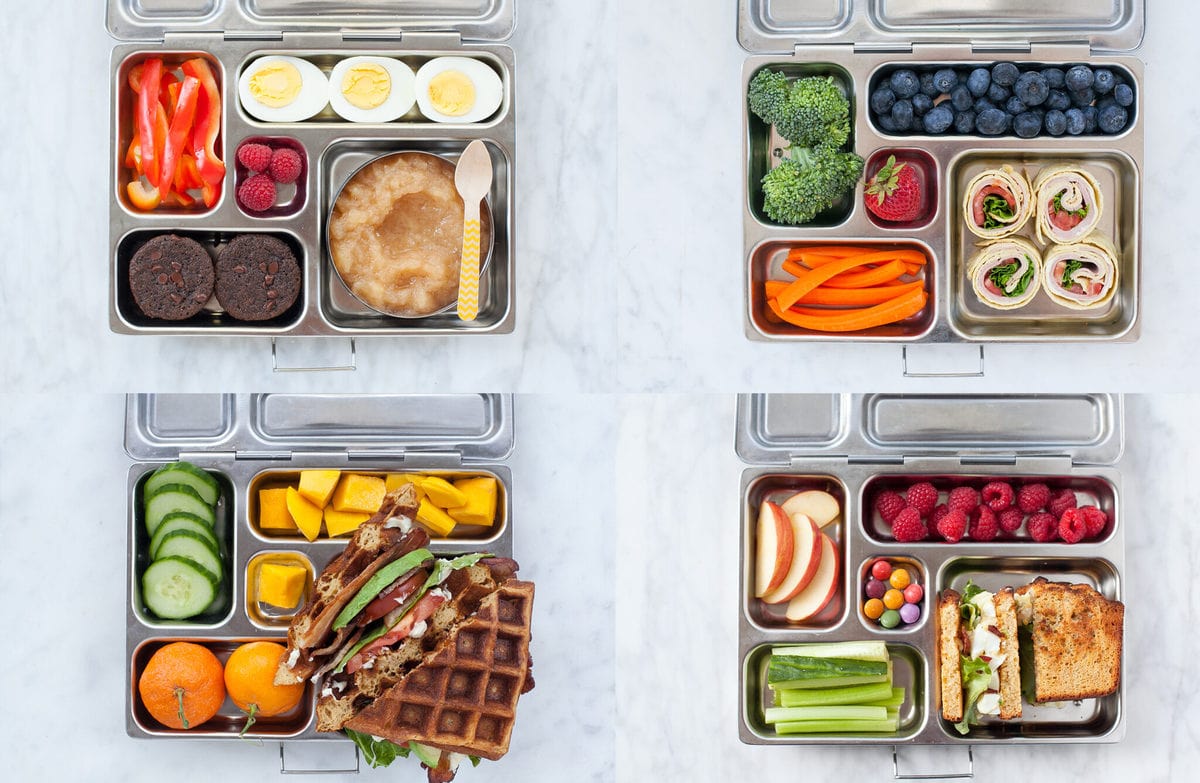 I have been brainstorming ideas to make this situation as normal as possible for my kids and to really take advantage of our extra time together that we will likely never get again. I am hoping to maintain a similar routine as if they were physically going to their schools. Starting with making sure we wake up and get ready for the day, give Asher a designated spot for his school work, and keeping lunchtime as exciting and hands-on as possible. I find that these little things help keep them motivated throughout the day.
You can make home-lunching or packed lunches more exciting by offering different sauces and dips to dress up leftovers from dinner the night before, or add a little pizzaz to an otherwise monotonous lunch. My kids love all of the sauces and dressings from Primal Kitchen. They have so many different flavors of paleo condiments without the added gluten and refined sugars, so I feel extra confident letting them dip all of their snacks and entrees into any of their products.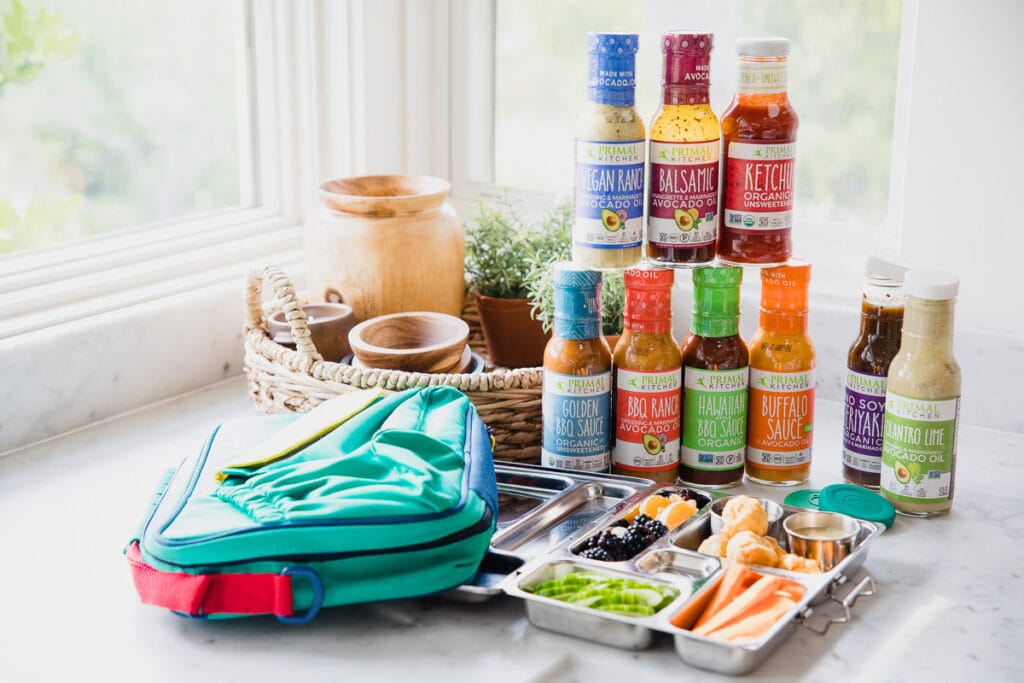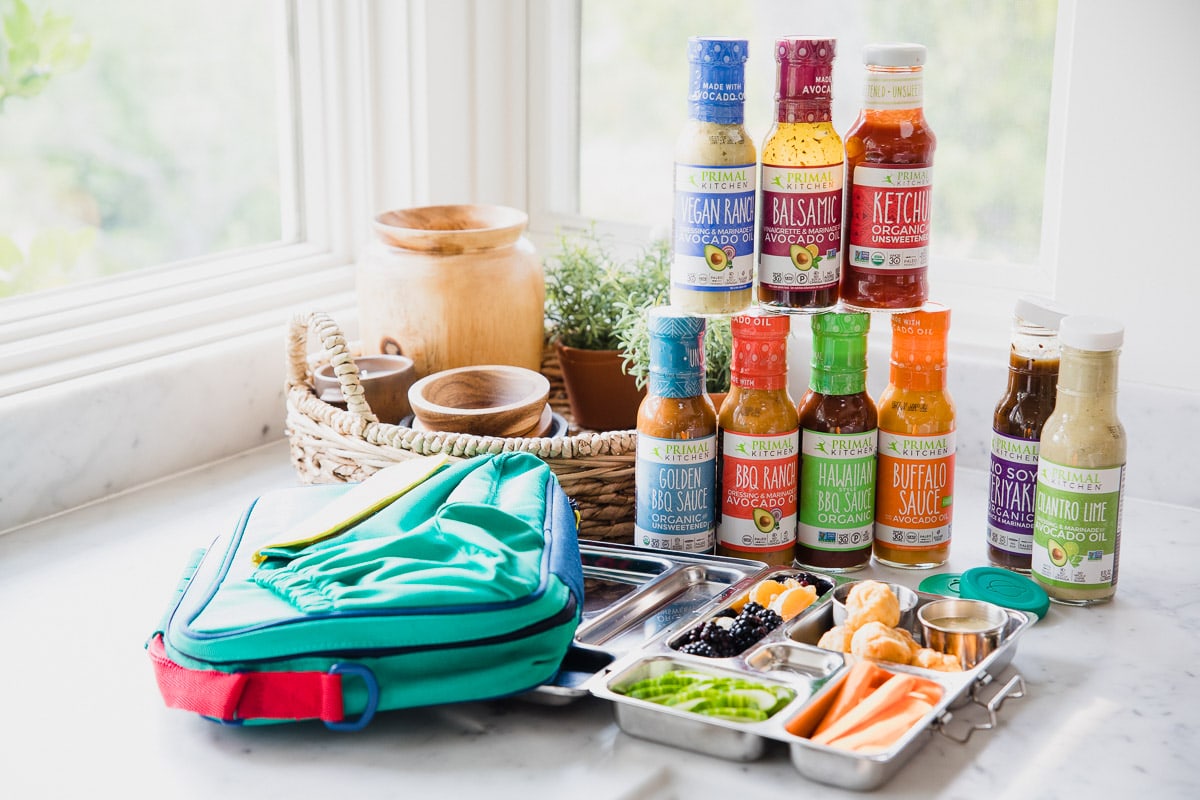 A few of our favorites to pack are their Ranch and Balsamic Vinaigrette for carrots, cucumbers, or celery. They also love the Primal Kitchen's Ketchup, Hawaiian BBQ sauce, and No Soy Teriyaki to dip Grain-Free Chicken Nuggets in. Ryan is obsessed with the Buffalo Sauce for those nuggets or to drizzle on top of a wrap with roasted chicken. I also always pack a dip container of Primal Kitchen's Marina Sauce for my Power Meatballs from page 244 in Eat What You Love.
Having these sauces and condiments in my pantry at all times comes in handy, especially when I am short on time, but still want to give them a healthy and nutritious lunch.
You can check out more of their products and sauces here and save 10% by using code DANIELLE. Check the Primal Kitchen website for further savings!
This back to school blog post has a ton of ideas and recipe inspiration for school lunches, plus ways to involve your kids. I will definitely be using some of these tips and tricks to keep my two youngest occupied!
Kids Snack and School Lunch Products
Tips: Repurpose, Prep & Get Them Involved!
One of my biggest tips for school lunches regardless if you are packing them to go or for eating at home, is to utilize and repurpose leftovers as much as possible. Utilizing those, as well as stocking my freezer with items from my Make Ahead chapter (starting on page 228) in Eat What You Love keeps me sane. Some of my staples are my Chocolate Zucchini Muffins from page 234 or here on the blog, and my Gluten-Free Chicken nuggets on page 262 or here on the blog.
To help get more veggies in their diets, I cut up extras while prepping dinner the night before and store them in the refrigerator in jars of filtered water to keep them crisp. It makes it easier to have them already prepped. This way, I always have something nutritious as a side for lunch or even breakfast.
It is also really nice to get the kids involved! My kids love helping me in the kitchen. Plus, when they have ownership of what is being packed, it is more likely they will finish the food! I find that it is something they can really look forward to while still being homebound.
Click below to download my Lunchbox Bonus Chapter from Eat What You Love for even more helpful tips and over 20 different lunch varieties! Plus a few sneak peek recipes from my Eat What You Love book!
Download my Packed Lunch Guide!
When I am short on time or want to treat my kids with their favorite snacks made from ingredients I trust, I search out these store-bought snacks below!
Kids Snack and School Lunch Products
This Facebook Live video shares tons of gluten-free kid-friendly snacks perfect for summer and back to school lunches!
Check out my Facebook Live Video on School Lunches and Snacks in this video! See how I prepare at the beginning of the week. I also answer a lot of questions you have about gluten-free lunches.
Home Learning
I'm no expert when it comes to homeschooling, or virtual learning, but we're doing what we can around here to get organized and provide a few new tools and spaces for the kids to get excited about learning from home.
I didn't want to purchase too much, in hopes that we will get back to campus sooner than later, but these are the items that I picked up and have loved. Asher has a designated desk space in his room thankfully, so we didn't have to do too much there organizational wise, but I did get him a wobble stool that is supposed to help with concentration and getting the wiggles out after sitting in front of a screen most days. I also got him blue-light blocker glasses for all the screen time he's going to be having.
For the little kids, I created a simple and colorful cart full of their art and school supplies that we can wheel out to the kitchen table and put away when the day is done. I really wanted to make sure that school didn't feel like it was surrounding them at all times, all day long.