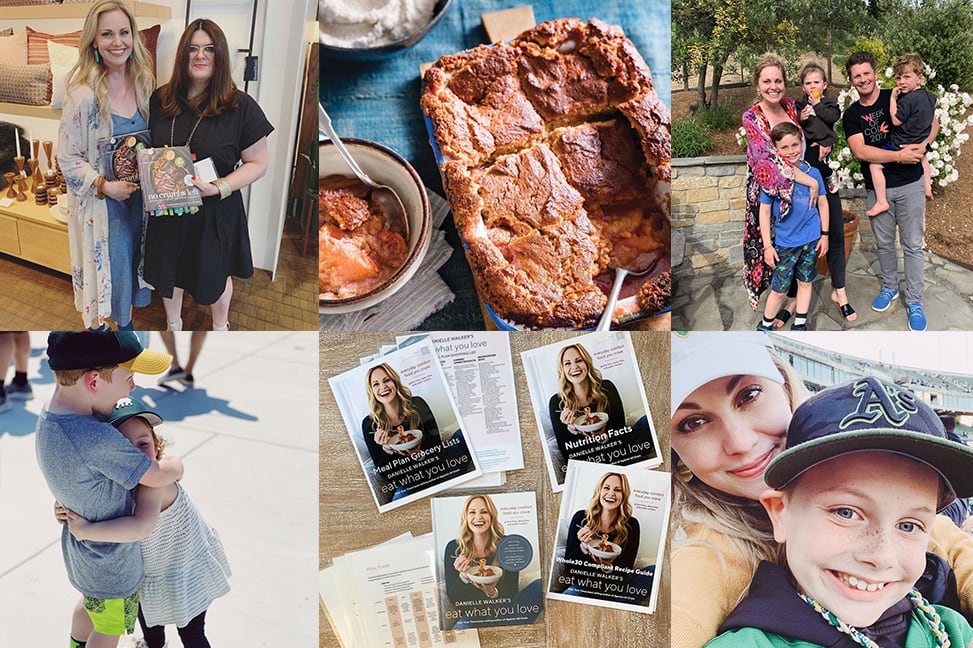 Hi! This week's digest is packed with fun things that happened this last week!
You will see a peek at my time with @nocrumbsleft, an exclusive Peach Cobbler recipe from Celebrations Cookbook, a look at our Father's Day weekend, my new Facebook/ Instagram Live, and a new blog post with date ideas for you and your kids!
Scroll down to read more!
Such a lovely night moderating @nocrumbsleft book signing last night and meeting so many of you in San Francisco!
Ok so Teri's readers are called #crumbles and @nomnompaleo are #nomsters, so what does that make all of you?! We need a catchy name too! 😂
Any suggestions? I'm serious. Give me your best, and we'll make it a thing.
What dessert do you crave the most this time of year?
Cobbler is the ultimate summer dessert, from the baked fruit filling to the fluffy topping! This one, in particular, is unique because it is dairy-free and gluten-free. You can taste a very subtle buttery hint of cashew in the topping, and it is absolutely divine.
When I sent out a poll to my readers for comfort food desserts, I received an overwhelming amount of votes for Peach Cobbler. Obviously, you guys have a hankering for some paleo cobbler-so I did it! I created this recipe for those summer days when you grill out and end the evening with a bowl of cobbler and dollop of dairy-free vanilla ice cream. 🍨 ☀️ Find the recipe on page 132 of Celebrations Cookbook or here on the blog!
Pc Erin Kunkel
WorthyBar Margs! You guys seem to love this recipe as much as my family does. We have them at nearly every summer gathering, and they're always a hit! The fun name was coined by my brother, Joel Norsworthy (my maiden name!), who came up with this paleo version of the classic cocktail.
Traditional Margaritas and most mixed drinks are so full of sugar that I get an upset stomach after a couple of sips. This margarita uses fresh lime juice, honey, and pure 100% agave tequila to create a refreshing beverage for dads to enjoy on their special day.
Do you have a favorite drink for celebrations? Will you be making this cocktail at your Father's Day gatherings?
Find the recipe on page 135 of Celebrations Cookbook!
pc Erin Kunkel
We hit the jackpot with this one! Happy Father's Day Ryan, we love you tons!!!
I hope they stay best friends forever. 👫
Last month I posted a photo with Kezia and mentioned that I would be taking each kid on individual dates throughout the week to spend some one on one time with them. Ryan and I both try to do this from time to time, but I was overwhelmed by the response on here. You guys had amazing suggestions! I wanted to gather together my favorites to share with you guys, especially now with summer break. Click here to read the list! I hope you find some fun ideas for your own families. If you use one of these, take a photo and tag me! 📷
Tuesdays with Danielle: Gluten-Free Protein Zucchini Chocolate Muffins!
Have you downloaded your freebies yet?! It's practically a second book 😂
I laminated the meal plans and grocery lists that go with them so I could use a dry erase marker to check things off and then erase it and use it all over again!
Here's what you get 
• 4️⃣weeks of meals plans for breakfast, lunch, and dinner ➕ FULL grocery lists organized by store department
• Nutritional Data for each recipe
•  Whole30 recipe guide
A very happy day celebrating all the Dads in our lives!
Kezia absolutely loves cheering on her brother at his baseball games!