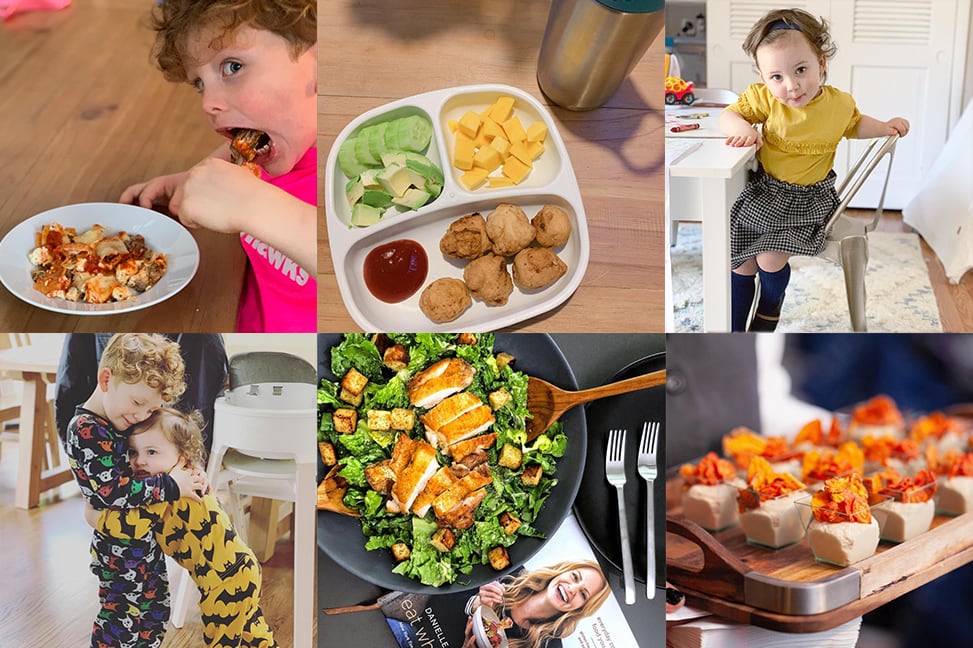 Happy March friends! This week's digest includes my new episode of Feeding Friendships with Michelle from Nom Nom Paleo, a new coffee creamer recipe, an inclusive recipe from the Eat What You Love book tour, and a look into our week!
Episode 6 of Feeding Friendships is with my friend Michelle of @nomnompaleo and is live on YouTube and Facebook!
Have you tried her famous crackling chicken? We made it in this episode to go on top of my Caesar Salad and it was such an amazing combination!
Are you enjoying this web series?! I'm working on my line-up for season 2! Who would you love to see an episode with?
Have you tried my new Dairy-Free Vanilla Coffee Creamer recipe yet?! I'm going to make a few different flavor variations next week. Hazelnut is calling my name.
☕️☕️☕️
Dairy-free Vanilla Coffee Creamer
AUTHOR: Danielle Walker – AgainstAllGrain.com
SERVES: 10
INGREDIENTS:
12 ounces raw cashews, or cashew pieces
3 pitted medjool dates
4 cups filtered cold water
1/2 vanilla bean, seeds scraped out
small pinch of sea salt
1/2 can full fat coconut milk, shaken up to mix the fat with the water
INSTRUCTIONS:
Place the cashews and dates in a bowl and fill it with enough hot water to cover the nuts.
Soak for 1 hour then drain and rinse the cashews and dates. Add them to a blender with 4 cups fresh, filtered water. Blend on high for 60 seconds, until very smooth.
Place a piece of cheesecloth in a mesh strainer and pour the cashew milk through to strain out some of the pureed cashews. Gather the cheesecloth together and squeeze to release the remaining liquid.
Return the strained liquid to the blender. Add the vanilla bean seeds, salt, and coconut milk. Blend for 30 seconds to incorporate.
Store in an airtight container in the refrigerator for 1 week.
You know you're a food blogger's son when: you say "mom can you take a picture of me with my lasagna before I eat it?" 
👀 those layers though! Gluten-free and grain-free (dairy-free too) Skillet Lasagna from my new book Eat What You Love  (I took a shortcut and used Kite Hill ricotta and we added a little sheep's milk Gouda to it tonight because I can tolerate sheep's milk 🧀!)
From our Roam Burger and Build A Bear one-on-one date today. 😍😍😍 Just an iPhone photo at a grass-fed burger joint, but I just looked through the pics I snapped during lunch and I'm like "hey, no need for a professional photo shoot this year!" 😂🙌🏻
Did you know my first job was working at Noah's Bagels?! Back when I could eat gluten all day long and not be affected. 😂
Saturdays used to be bagel day (or occasionally donuts) in my family. My mom would run down and grab a bag of various flavors and have them ready for us when we woke up. I think my favorite back then was a cinnamon sugar one that got all crispy and crackly on top when you'd toast it, but as a I grew older I started liking the more savory options like Everything or garlic and onion.
I missed having bagels so I created a grain/nut/dairy free recipe in my Eat What You Love cookbook ! Have you tried it?!
What was your favorite bagel flavor growing up?
The newest episode of Feeding Friendships with @nomnompaleo is live! Head to my YouTube channel or my Facebook page to watch live with us! We'll be making Michelle's Cracklin Chicken and my Caesar Salad (with croutons and "Parmesan"🎉) from the new book.
Starting to really see the sweet side of this 22 months apart thing. 😍😍😍😍
👻 🦇 jammies never die.
Yesterday was busy with running around to multiple sports so I was so thankful to have a batch of my grain-free nuggets in the freezer.
Out of all the chapters in Eat What You Love, we "real-life" utilize the Make It Ahead chapter most. Like at least once a day. I filled the chapter with recipes that I stock my freezer with on a consistent basis to help make my life as a full-time working mom of 3 sane. I want to feed my kids healthy food that nourishes them, but I also run out of a time most days like any normal person.
We definitely fall back on grass-fed hot dogs or chicken apple sausages often (or a can of wild tuna for me), but I use the chicken nuggets and hidden-liver pesto meatballs in that chapter the most often. For school lunches or for dinner. But I don't let Ryan eat them because he eats like 20 in one sitting and those babies take time to make!
I usually take 1 day a month to stock it all up and make a 3x or 4x batch so I have something at all times. I even bought a compact deep freezer that I found on Amazon to keep extras in! I figure – it may take a little longer one day a month, but it's less dishes than if I was making things once a week so it really saves me time in the end!
What's your fall-back go-to dinner when you don't feel like cooking?
💛💛💛💛
The Cauli-Hummus from my Eat What You Love Book that we served with @BareSnacks veggie chips was such a HIT during my book tour! We used their carrot chips, sweet potato chips, & their beet chips, & everyone devoured it.
I wanted to share the recipe with you here too so you can make it if you haven't picked up a copy of the book yet (which if you haven't – what are you waiting for?! 😉😉)
Enjoy!
PALEO CAULI-HUMMUS
From Danielle Walker's Eat What You Love Book
Makes 2 cups
INGREDIENTS
1 large head cauliflower, cut into florets
1 head garlic, top one-third cut off
1⁄4 cup melted ghee or avocado oil
Fine sea salt & freshly ground black pepper
2 T tahini
1 T freshly squeezed lemon juice, plus more to taste
1 T extra-virgin olive oil, plus more for serving
1 T chopped fresh flat-leaf parsley, for serving (optional)
Sweet paprika, for serving (optional)
METHOD
Preheat the oven to 450°F.
In a baking dish with a lid, toss together the cauliflower & garlic head with the ghee, 1⁄2 tsp salt, & a pinch of pepper. Cover the baking dish & roast the cauliflower & garlic for about 12 minutes, until they begin to soften. Uncover & roast for 10 minutes more, until the cauliflower is crisp-tender. Toss the florets, & roast for 10 to 12 minutes more, until the cauliflower
is golden brown & completely tender.
Squeeze four large garlic cloves out of their papery skins & place them in a food processor with the cauliflower, tahini, & lemon juice. Reserve the remaining garlic for another use (see Tidbits). Blend on high speed until smooth. With the motor running on low, drizzle in the oil. Scrape down the sides of the processor as needed & blend again until smooth. Add more salt & lemon juice to taste.
Transfer the hummus to a bowl & drizzle with oil. Sprinkle with parsley or paprika if serving immediately. Otherwise, store in an airtight container in the refrigerator for 3 days & add your desired toppings just before serving.
Tidbits: Use the leftover roasted garlic as a spread for crackers or whisk it into a vinaigrette.