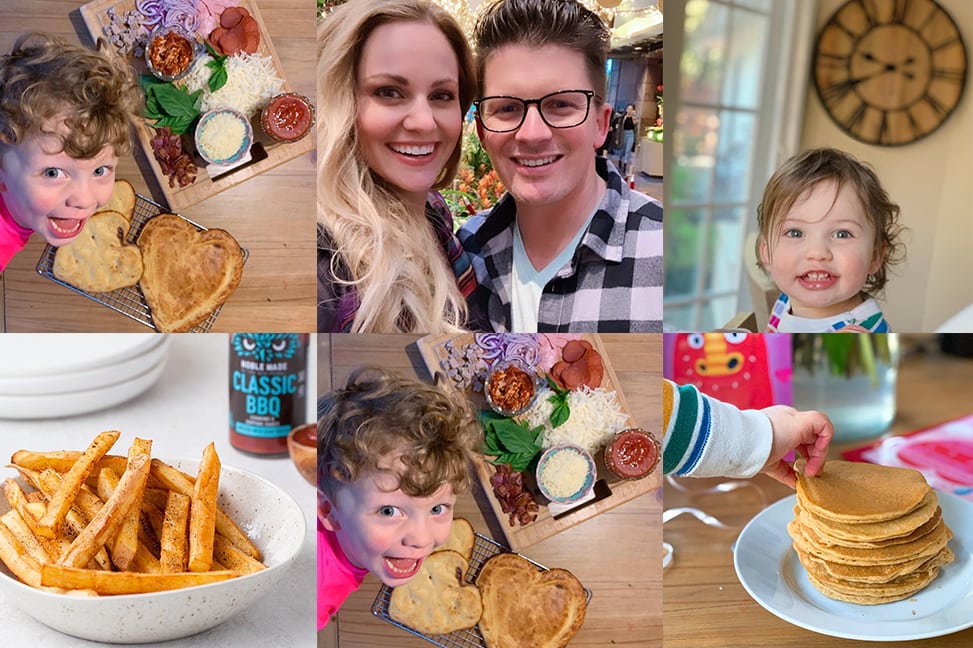 Hi everyone! This week's digest includes a look into our sweet little Valentine's Day celebration, my Birthday getaway with Ryan in Vegas, the nutritional facts for Eat What You Love, and the recipe for my Seasoned Fries from Eat What You Love! Scroll down to read more!
My 3 year old loooves a good photo bomb. 😂
We used the pizza dough from Eat What You Love for a make-your-own pizza night! I use sheep's milk Gouda because I tolerate it better than mozzarella, and then lots of other toppings to choose from. The little kids loved topping their personal pizzas, while my oldest asked if we could order delivery from his favorite gf place 😂
17 birthdays spent this one. Half my life. And I'm so thankful to have had him by my side all this time.
Last year, I was bedridden and too sick to celebrate my birthday. Ryan was overwhelmed with trying to take care of the kids, work a full-time job, and take care of me. So we ended up skipping it altogether. We skipped his too.
So we took advantage of seeing a friend perform in Vegas for the first time and made an entire 48 hour birthday celebration out of it. After the last month away on tour and the last year flying by, we loved every second of reconnecting and just being kids in a big (crazy 😜) city. We ate allll the good food, slept in super late (til 8am), stayed up past our bedtime (9pm), walked a ton, saw friends, and treated ourselves to the spa. It was perfect. And then he surprised me with the most unexpected, meaningful gift.
I plan to spend 34 grateful for this man who has stood by me through sickness, for my health during 33, for our beautiful children, and for the work I get to do. And I'm hopeful for continued health for 34 and beyond!
Also I remember being in my teens and just wanting to be 30, married, and with kids. Where did those other 4 years go?!
p a n c a k e s 🥞🥞🥞
The kids asked to make pancakes for my birthday breakfast so we pulled out Celebrations and made our favorite recipe!
Are you a pancakes or a waffle person?
I'm waffles all the way but the kids win. 😉
It's been so fun to hear from so many of you that you've watched my episode of The Paleo Way with Chef Pete Evans on Netflix recently! I'm so grateful for how they shared my health journey on the documentary & 2 great paleo recipes!
Here's the first dish we made, in case you watched the episode & wanted to make it! And if you haven't caught the episode – it's free on Netflix – Season 2, ep 1!
Pad See Ew is a Thai dish featuring wide, flat rice noodles in a light brown sauce with broccolini, carrots, & a scrambled egg. It's sort of like Chinese fried rice, but with noodles. I use a vegetable peeler to make very thin ribbon noodles from carrots & then sauté them with the other ingredients until they are soft & flavorful.
THAI PAD SEE EW
Serves: 4 to 6
(from my first cookbook Against all Grain pg 148 – aka red shirt book)
INGREDIENTS
10 medium carrots (about 1 pound), peeled
1 pound boneless, skinless chicken breasts
2 T coconut oil
6 cloves garlic, minced
3 cups broccolini, stalks trimmed to 1-inch long
1⁄3 cup coconut aminos
2 eggs
METHOD
Lay the peeled carrots on a cutting board & use a vegetable peeler to create very thin but wide ribbons. Peel down to the core of the carrot, then flip over & continue peeling.
Slice the chicken very thinly on a diagonal. Place the oil in a deep sauté pan or wok over medium heat to warm. Add the garlic & chicken & stir-fry them for 5 minutes, until the chicken is white on the outside.
Add the broccolini & coconut aminos & cook for 5 more minutes, until the broccolini has softened a bit. Add the carrot noodles & stir-fry for another 5 minutes.
Push the stir-fry aside in the pan, then crack the eggs into the pan & stir vigorously to scramble them. Let them cook until firm, then mix everything together. Serve immediately.
We've had so many people ask about nutritional facts for the recipes in Eat What You Love. Good news- we sent them out to be analyzed by a nutritionist and they're now available! 
Who doesn't love fries?! And who remembers those salty and spiced bottomless fries from Red Robin growing up? 🙋‍♀️🙋‍♀️🙋‍♀️
I'm teaming up with @thenewprimal to give you a sneak peek recipe from Eat What You Love today!
If you came to any of the stops while I was on tour, then you had the opportunity to taste the amazing Seasoned Sweet Potato Fries from Eat What You Love. We served them with The New Primal's Noble Made Whole30 compliant BBQ sauce, which is not only delicious, but it has amazing ingredients that I have confidence in and trust.
I'll be making them during my weekly live segment next Tuesday as well as giving away some New Primal goodies! So make sure you tune in at 4pm PST.
In the meantime, enjoy the full recipe plus a special discount on The New Primal products like Beef Thins and their sauces!
When there's only 1 last Cowboy Cookie (gluten/grain/dairy/egg-free!)
😱😱
Have you tried them yet?
Find them in Eat What You Love!