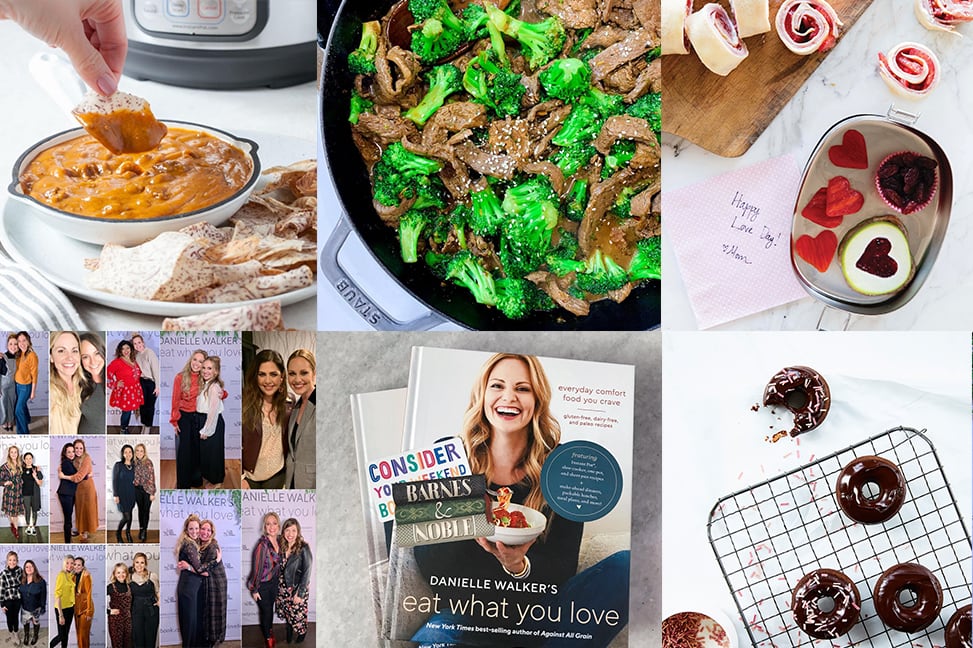 Hello! I hope you all enjoyed your week. It is my first week back home after my Eat What You Love book tour and it feels so good to be back home with my family. I missed hanging out with my kids and having big dance parties with them in the living room. Now that I am back though, I can't wait to start sharing parts of the tour with you all! I have videos with my guests along with recaps and of course outfit details coming your way! This week's digest includes a look back on this very special tour, my recipe for Nacho Cheese and a Live showing you a recipe from Eat What You Love. Scroll down to see more!
Well folks, that's a wrap!! Thank you for SELLING OUT 13 cities, and for driving and flying near and far to spend your evenings with me.
I've left this tour even more inspired to continue spreading my message of the healing power of food than I've ever been before.
There's something huge happening here you guys.
People walking who were in wheel chairs with MS, children on the spectrum who couldn't form sentences and are in mainstream school and flourishing, children with Crohns who have had clear scans, women who experienced infertility having babies. I can't even begin to do the stories I heard along this 13 city journey justice.
I have so many new ideas for ways to amplify your stories, and ways I want to serve you, and our community. And I can't wait to see what 2019 holds!!
⭐️⭐️⭐️
If you were in the audience- tell me: What inspired you most during the night?
For everyone else – keep an eye out during the month of Feb as we start to release the videos of each evening!
Want to know something funny? This cheese-free Queso was supposed to be in my new book, Eat What You Love, but I cut it last minute because I wasn't sure if anyone would like it!! Now, it's the most popular recipe on my blog. 😂
Paleo Skillet Queso Dip
Serves 4
*click here for stovetop instructions
6 ounces white-fleshed sweet potato (such as Hannah or Japanese), peeled & diced (about 1 cup)
3 ounces carrots, peeled & diced (about 1/2 cup)
1 cup Chicken Bone Broth (recipe in my books!)
3 T melted ghee
1 T nutritional yeast
2 1⁄2 tsp sea salt
2 cloves garlic, peeled
1⁄4 cup mild roasted tomatillo salsa (or salsa verde)
3 tsp arrowroot powder, or 2 tsp tapioca starch
1⁄4 pound grass-fed ground beef
1 T Taco Seasoning (page 67 Eat What You Love), or store-bought taco seasoning
Taro or plantain chips, for serving
METHOD
Put the potatoes, carrots, bone broth, ghee, nutritional yeast, salt, garlic, & salsa in the bowl of the Instant Pot. Secure the lid & set the pressure release to sealing. Select the manual program, & set the cooking time to 10 minutes at high pressure.
When the cooking program is done, press cancel & quickly release the pressure, then remove the lid.
Transfer contents of the Instant Pot to a blender & add the arrowroot. Blend on high until very smooth.
Return the bowl of the Instant Pot to the machine & select the sauté program. Add the ground beef & taco seasoning, &
sauté, stirring frequently, until the beef is cooked through.
Return the potato mixture to the Instant Pot. Whisk constantly until the sauce is bubbling & thickened, about 5 minutes.
Serve the dip hot with chips & the toppings of your choice.
Store leftover sauce, tightly covered, in the refrigerator for 1 week.
Reheat in a saucepan on low heat for 5 minutes.
Tidbits: White russet potatoes will work if you tolerate them.
Orange sweet potatoes will also work, but will make the dip a little sweeter.
I use ghee for its buttery flavor, but it does have trace amounts of lactose & casein. To make this completely DF, sub avocado oil for the ghee.
Just made this gluten free and paleo Beef & Broccoli from my new book Eat What You Love live in my stories! If you missed it, you can watch the replay below!
Tons of you commented that this has become new weeknight staple for your family. If you have the book- is this a favorite? Are there any other new recipes from the book that you've added into your rotation?
Incase you missed it, here is the Live I did showing you how to make the Beef and Broccoli recipe from page 182 in Eat What You Love.
I've never done a WCW post before, but how could I not today after spending the last month sharing a stage with some of my favorite ladies?!
My WCW goes out to all of these fabulous friends and boss babes who joined me on tour last month and who inspire me daily to be a better friend, business owner, and mom.
Social media can be a double-edged sword sometimes, but some of my most treasured friendships have come from it, and I'm so thankful to know and be inspired by all of these ladies daily!
Also – don't you think they should all be on Feeding Friendships at some point?! Just need to figure out how to align our crazy schedules and then we'll make it happen. Season 2 🙂
Well my little chain-letter gift card idea totally fell flat 😂😂 Apparently the directions were too complex. But hey – 2 people played along so maybe that means 2 new people will discover the healing power of food. 💪🥒🍎🍉
Those 2 lovely ladies who played along won a $100 B&N gift card plus a signed copy of my book so hopefully they'll continue to pay it forward and keep spreading this message! ♥️