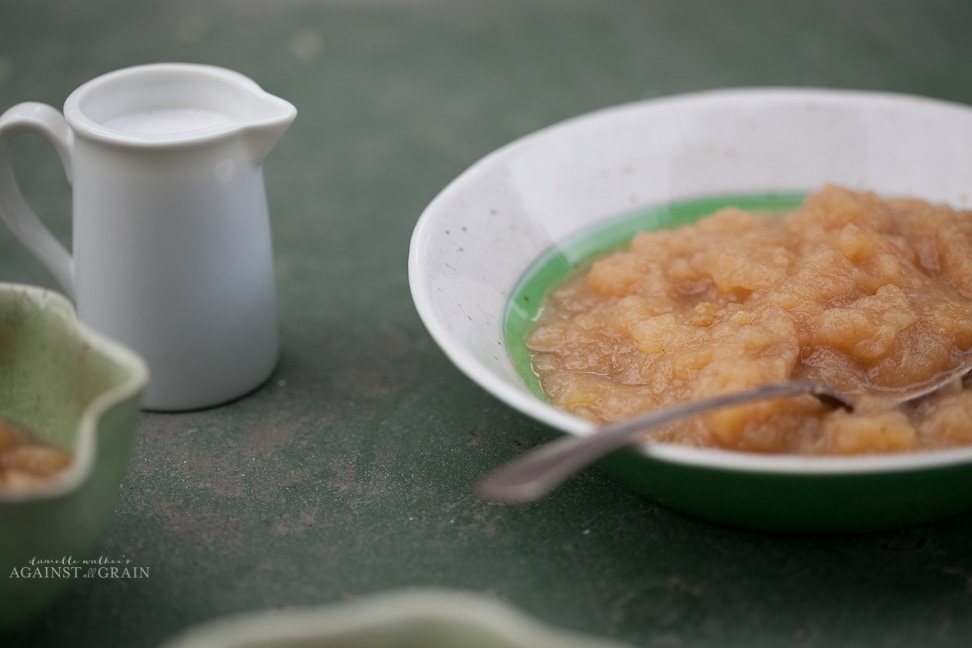 If you have only ever had the packaged applesauce that comes in those little plastic containers with foil tops, you are seriously missing out. Homemade is the only way to go. And this Instant Pot Apple Pie Applesauce will give you all of the warm fuzzies of Fall, in a bowl.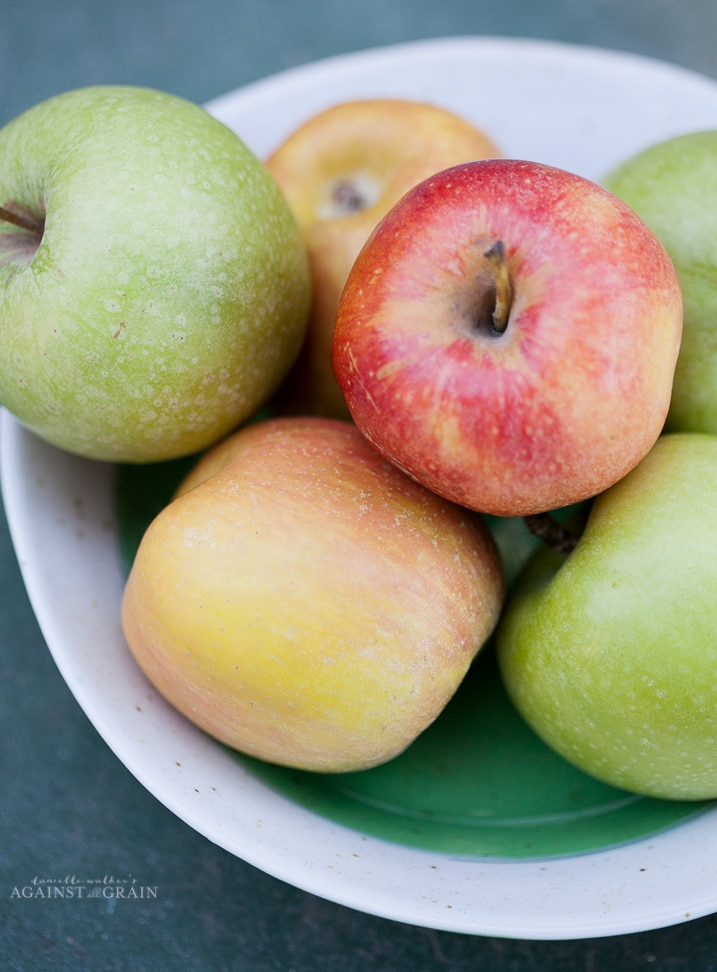 I've had it on my agenda to use my instant pot for more than just bone broth for, oh, about two years. My instant pot wreaks of bone broth so strongly that I can't get rid of the smell for the life of me. I think I may have to get a second one and designate one as the bone broth maker.
So far I've only made soup, a Blackberry Mole Beef for my Cookery App, and just recently tried it for homemade dairy free yogurt. I've seen so many things made in it, but just always forget to experiment with it! My friend Michelle at Nom Nom Paleo is the queen of the instant pot, and inspires me to use mine more often!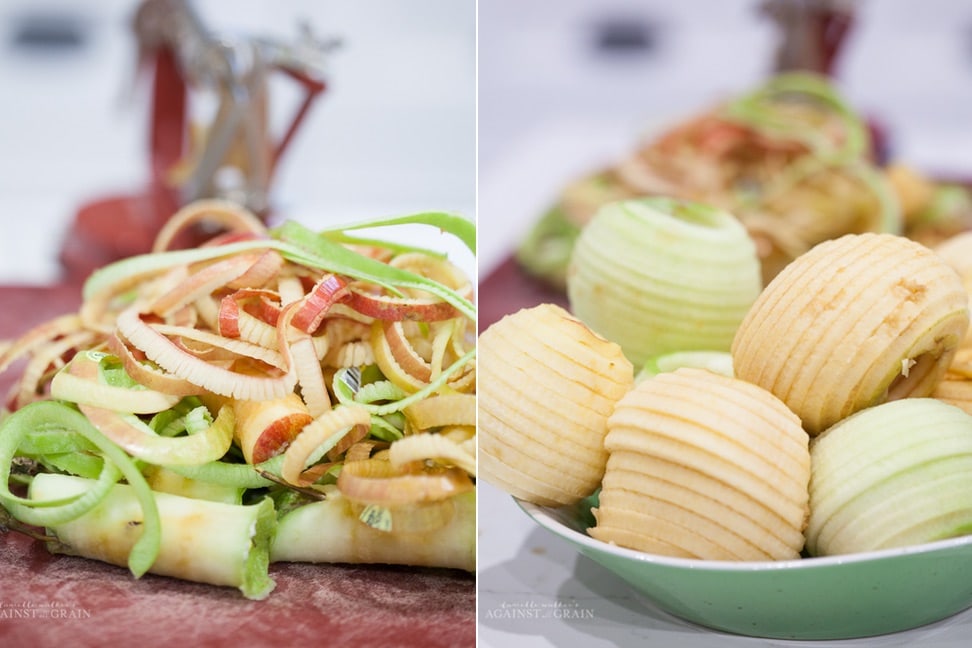 I've been craving applesauce and wanted to try giving it to Easton too. Besides bananas, babies need their fruits and vegetables cooked when they're first starting to eat foods. Not only to make them soft enough for them to eat without teeth, but also because their digestive systems are not yet equipped to break down raw produce. I also peeled my apples, because I've always tolerated them better without the skins and cooked. You could leave the skins on though for a little extra nutrients and color.
As an adult though, can I just say that cooked fruit is so deliciously sweet, syrupy, warm and comforting! It's no wonder we love a good bubbly peach cobbler (which by the way, I created a recipe for in my 3rd book!!), or a gooey apple pie. I usually make it in the slow cooker, but figured it was the perfect occasion to try the pressure cooker. I also made an apple pie the other day for my book and realized that my favorite part of apple pie is the buttery flavor with the tart and sweet apples, and the hint of spice from the cinnamon and allspice that I use.
Enter Instant Pot Apple Pie Applesauce. I cooked the apples with a little ghee and my favorite spices so it has all of the goodness of the pie filling, without the crust. To be honest, this isn't an apple pie substitute, because who can resist that flaky crust, but it is a darn good applesauce when you want applesauce!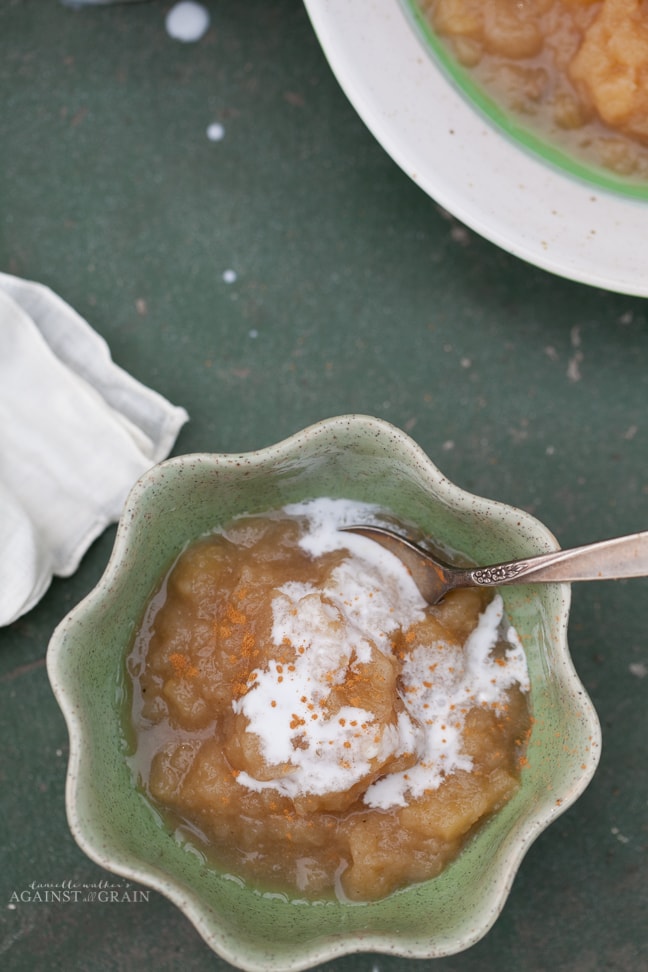 I use a mix of sweet and tart apples, so there's no added sweetener needed here, which also makes this Whole30 compliant. It also works great for baby food. I've  been putting just a touch of ghee in a lot of Easton's vegetable purees because the fat helps their little bodies (or anyone's body for that matter!), absorb the nutrients. Fruit is a little different obviously, but this also just tastes amazing and has a rich texture from the ghee and he loves it. He also doesn't mind the spices which I wasn't sure about. I've been mixing it with sweet potatoes as well when he doesn't just have a few spoonfuls on it's own.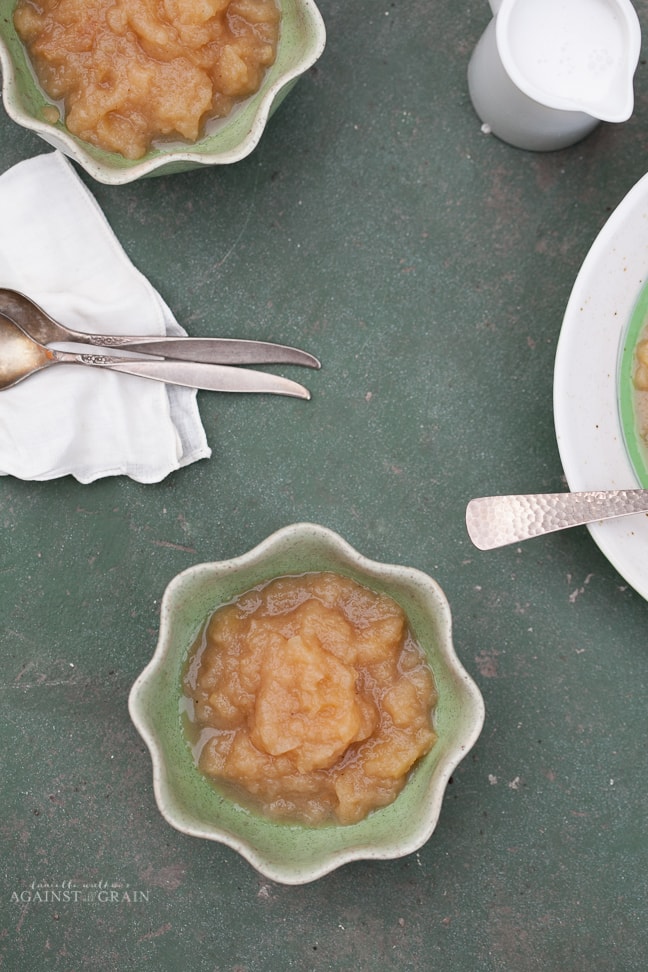 SO how do you serve it? 
It's really up to you. Warm, cold, on top of something, or just by itself. When Ryan used to travel to Chile a lot for work, he ate homemade applesauce with heavy whipping cream swirled in and always came home asking for it. I serve this with a drizzle of coconut milk which just adds even more to the velvety texture and flavor that the ghee gives. You could also serve it warm spooned over my Maple Dijon Pork Tenderloin (Meals Made Simple Cookbook, page 180) or my Indian Spice Rubbed Pork (Against all Grain Cookbook, page 178).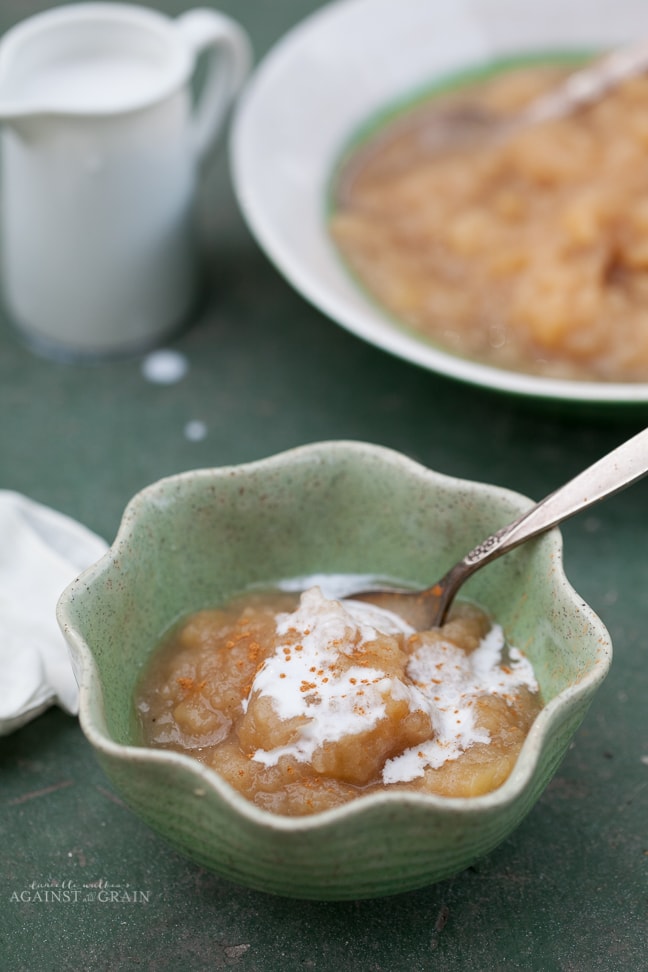 Enjoy!
xo