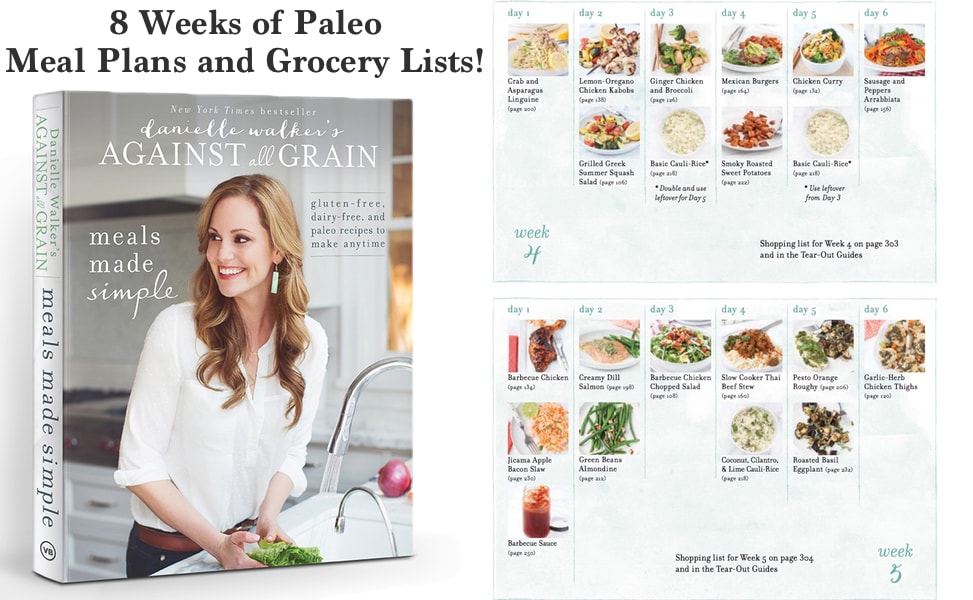 [ssba]
As many of you know, I participated in the Whole30 in January. It forced me to revisit some of the foods from my books that I haven't had time to make lately. I realized there were so many recipes in both books, but especially Meals Made Simple, that were Whole30 compliant to start out with, or would be compliant with a few slight modifications. It's so nice to have meal plans and grocery lists in general, but especially when you're on a cleanse or challenge. These meal plans and the grocery lists as well (found in Meals Made Simple) helped me so much to think outside of the box and get out of some of the cooking ruts I fell into. I hope they help you too! If you already used your tear-outs, you can also download extra copies of the grocery lists HERE.
My experience with it was much better than the last time I tried it. I went into it with more of an open mind knowing what foods my body can and can't tolerate, didn't beat up on myself when I had days that were less than perfect, and went in with a goal to come out craving less sweets. It was good to be reminded to rely on healthy snacks in between nursing like hard boiled eggs, beef jerky, and nuts, rather than my go-to frozen chocolate chip cookies! Also, a word from the wise… don't do cake recipe testing for a book during your Whole30 challenge 😉 Bad news.
Don't have Meals Made Simple? You can grab a copy HERE!
Week 1 Notes:
Omit the honey from the Coconut, Cilantro & Lime Cauli-Rice
Skip day 4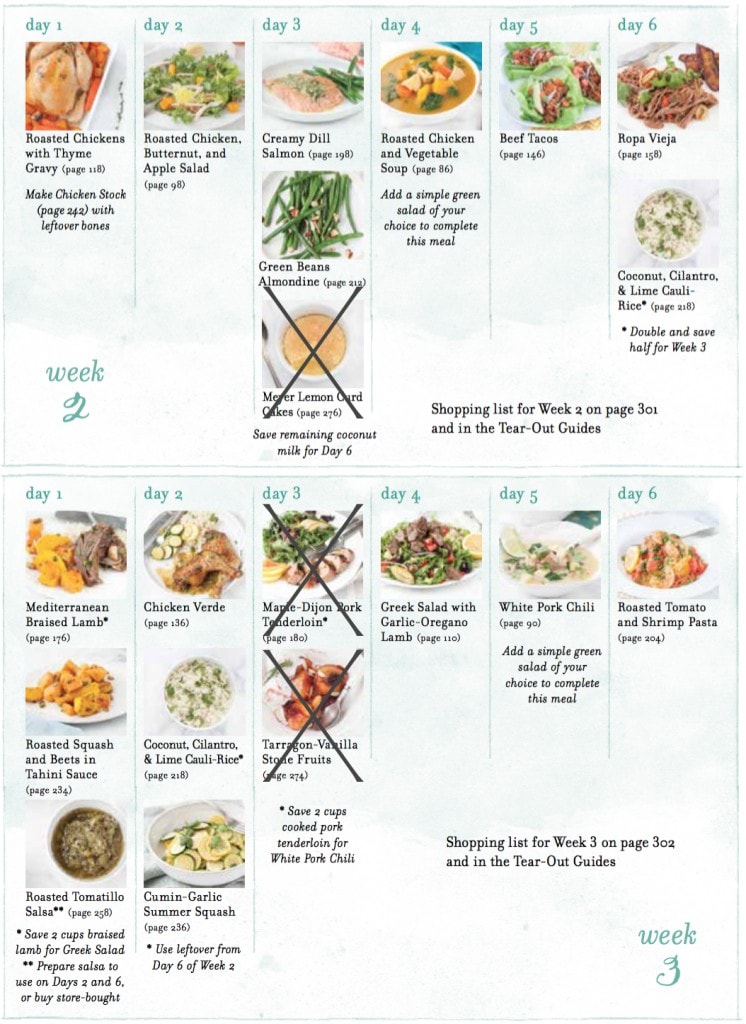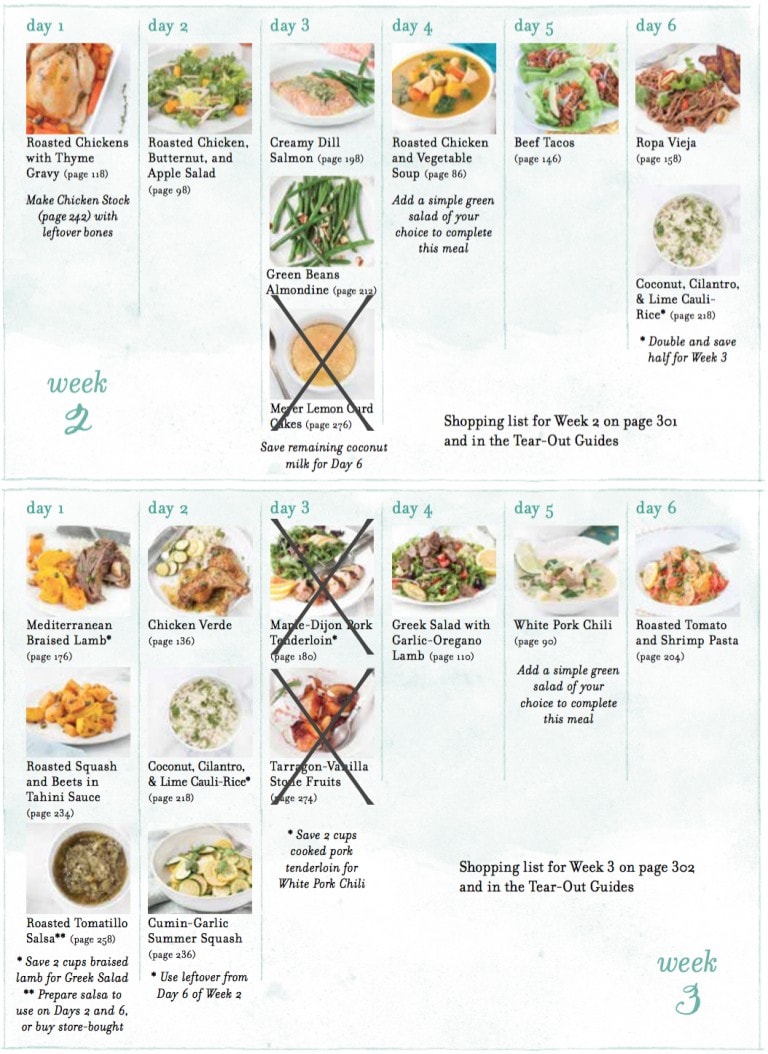 Week 2 Notes:
Omit the Dijon mustard in the Champagne Dressing in the Roasted Chicken, Butternut, and Apple Salad
Omit the Dijon mustard in the Creamy Dill Salmon & use chicken stock for the sauce
Omit the honey in the Coconut, Cilantro, & Lime Cauli-Rice
Week 3 Notes:
Omit the honey from the Coconut, Cilantro & Lime Cauli-Rice
Skip day 3
Omit the Dijon mustard in the salad dressing for the Greek Salad with Garlic-Oregano Lamb
For day 5, use leftover roasted chicken or another protein in place of the pork in the White Pork Chili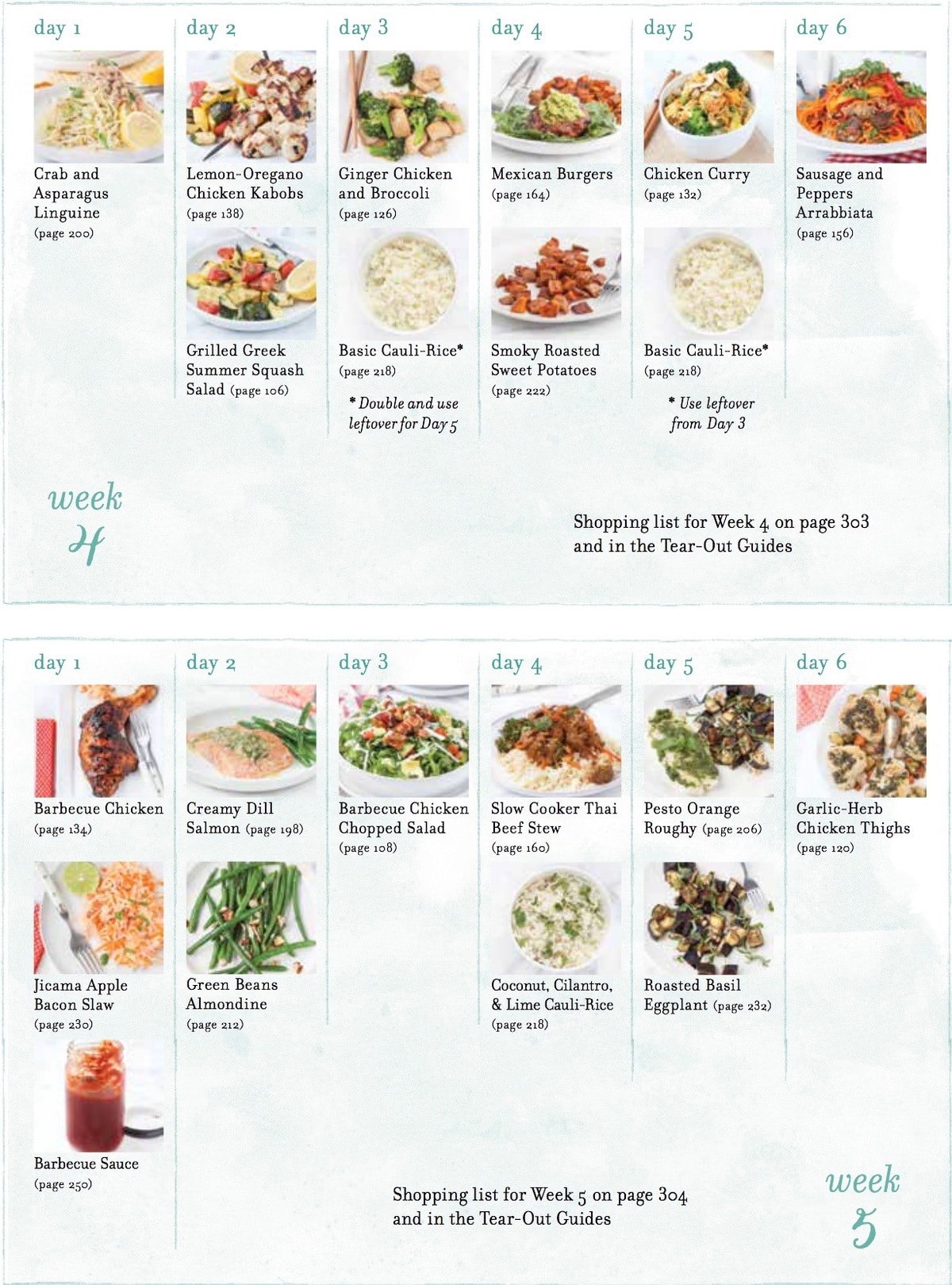 Week 4 Notes:
Omit the white wine in the Crab and Asparagus Linguine
Omit the Dijon in the Greek Dressing used on Day 2
Omit the white wine in the Sausage and Peppers Arrabbiata and sub in stock
Week 5 Notes:
Use my Whole30 compliant BBQ Sauce in place of the standard BBQ Sauce
Omit the honey from the Jicama Bacon Slaw
Omit the Dijon mustard in the Creamy Dill Salmon & use chicken stock for the sauce
Omit the honey in the Coconut, Cilantro & Lime Cauli-Rice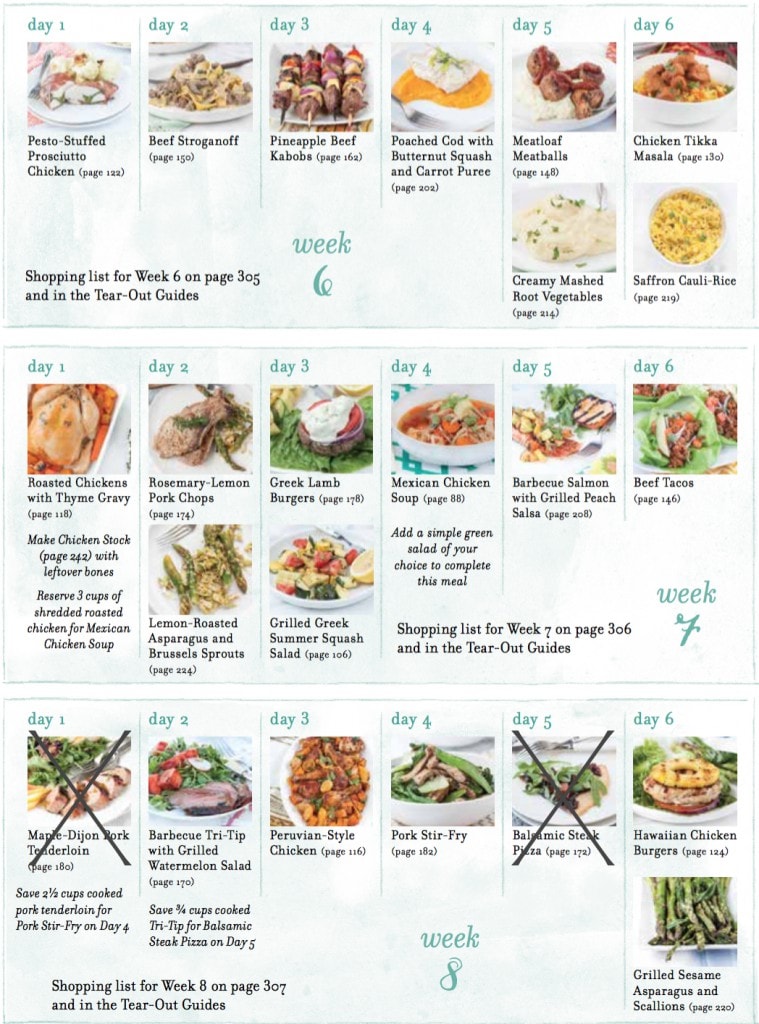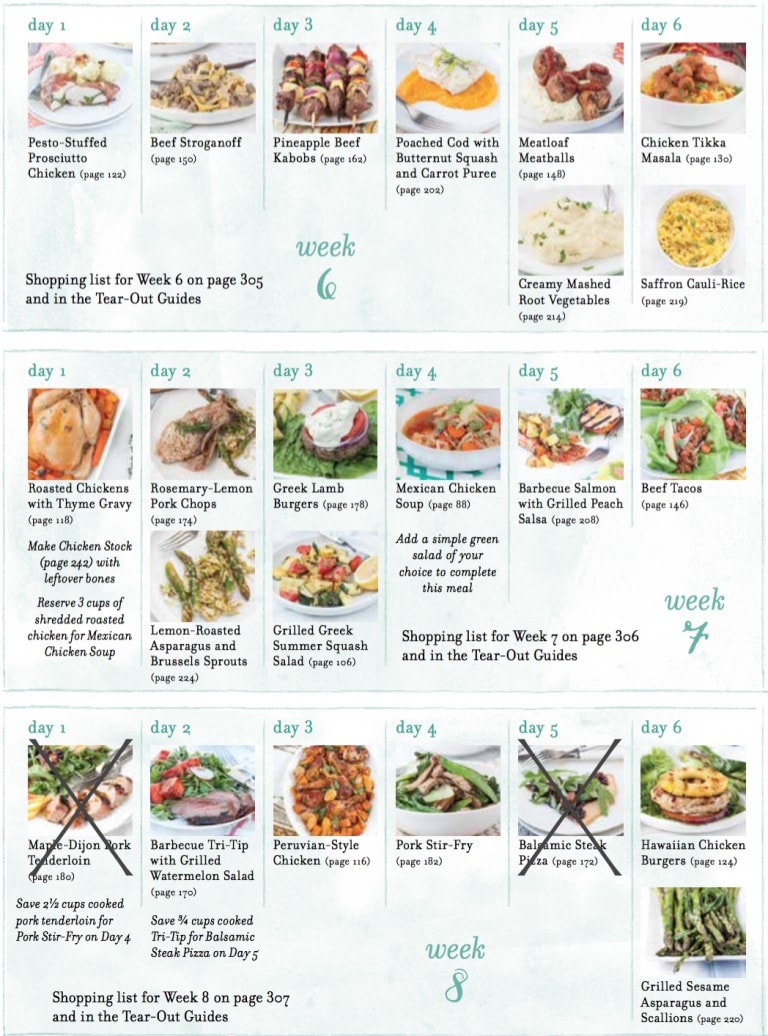 Week 6 Notes:
Omit the sherry wine in the Beef Stroganoff
Use my Whole30 compliant BBQ Sauce in place of the sauce in the Meatloaf Meatballs
Week 7 Notes:
Omit the Dijon mustard in the Greek Dressing for the Grilled Greek Summer Squash Salad
Omit the coconut crystals for the dry rub in the Barbecue Salmon
Week 8 Notes:
Skip days 1 & 5
Omit the coconut crystals for the dry rub & the honey in the Barbecue Tri-Tip
For the Pork Stir Fry, use a different leftover protein in place of the pork (the pork would have been leftover pork from day 1 and it is not Whole30 compliant)