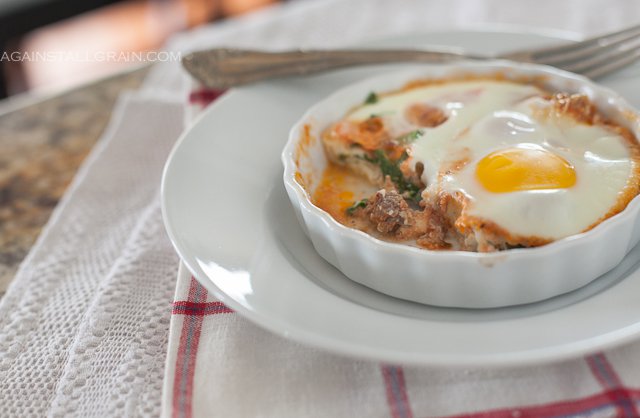 Here's the Italian Baked Eggs recipe (Oeufs En Cocotte) you've all been waiting for! I put my Italian flare on the traditional French dish oeufs en cocotte (or eggs baked in a small dish). The coconut milk tomato sauce ends up tasting like melted cheese (don't ask, just taste!) and the eggs are cooked to perfection with the yolks slightly runny. I alternate between sausages but my favorites so far have been the US Wellness Meats Italian Sausage and their sugar-free Pork Breakfast Sausage. Any nitrate/sugar/gluten free sausage should work though. Applegate Farms and Niman Ranch make some great ones and Whole Foods has a few in their meats counter as well. Just check the labels carefully, sausages tend to have a lot of hidden ingredients in you're not careful.
As you know, I have been attempting a Whole30 challenge for the past few weeks. I say "attempting" because it hasn't been a perfect journey. I've been very transparent on Facebook and let you know when I've messed up and eaten things I wasn't supposed to. Technically, you're supposed to start your 30 days over again when you fall off the wagon, but I made the decision early on that I would just continue on and not dwell on the mistakes that I would inevitably make during my first challenge.
I made this decision for a few reasons but mostly due the things I have learned about myself after multiple battles with eating disorders when I was younger.  I don't think it's healthy to beat ourselves up for human mistakes. I also didn't want to confuse my notions of what is healthy food and what isn't. I knew that if I ate something that was considered a treat, but still "paleo" ingredients, it would lead to self-deprecation and feeling like I failed. But the things that were maybe considered not Whole30 are still by all means nutrient rich and much better than the standard American diet, so there really should be no shame. I found myself stressing out if there was one tiny ingredient in something that I didn't notice until after I consumed it, or that a crepe made without sweeteners and fiber-rich coconut flour was 'against the rules.' And the reality of it all is that even with the 'mistakes' I made, I was still eating well. 100% Paleo. No grains, soy, dairy, or legumes. I ate almond or coconut flour, a little honey, or paired something together with whole30 ingredients that "looked" like dessert. All pretty good in my book.
"You will not be perfect. Don't even try to be perfect. No one is judging, no one is keeping score, and there are no penalties for acknowledging that you are struggling. Be kind to yourself, be patient with yourself." -Whole9.com
I will probably not do another challenge, but it has absolutely made me realize that we do eat too many sweets and treats. I have always believed that they are fine in moderation, but sometimes I have trouble with the moderating!  The last few weeks has made me realize that we don't need it so frequently and that I don't even need that teaspoon of honey I would often add to salad dressings or other dishes on autopilot.
With all that said…. it forced me to come up with a lot of new recipes and get creative! And I have to say that I do feel much better about my meal choice when I eat something "whole30 approved" rather than a waffle or a muffin. I just want to be able to enjoy those waffles and muffins from time to time without feeling pressure. I know, it's only 30 days and shouldn't be that hard, but it was for me. It could possibly have something to do with the fact that I'm writing a cookbook and have a 2 year old that requests those things, but it is really about my own self-control. Once I deprive myself of something for so long, I end up overdoing it when I allow myself to eat it again or if it's lingering in the house, which turns into a slippery slope. So I've decided it's best for me to stick with what I have been doing for the past 4 years and not get myself into anymore uncomfortable situations like this month has been. I am also deciding to end the program a few days early (we're technically done on Jan 28th) as my family and I are heading to Denver Friday to visit my sister. It will be the first time in 3 years where my siblings and I will all be together in one household so I want to be an easy houseguest and enjoy the moments with them (and the great wine!).