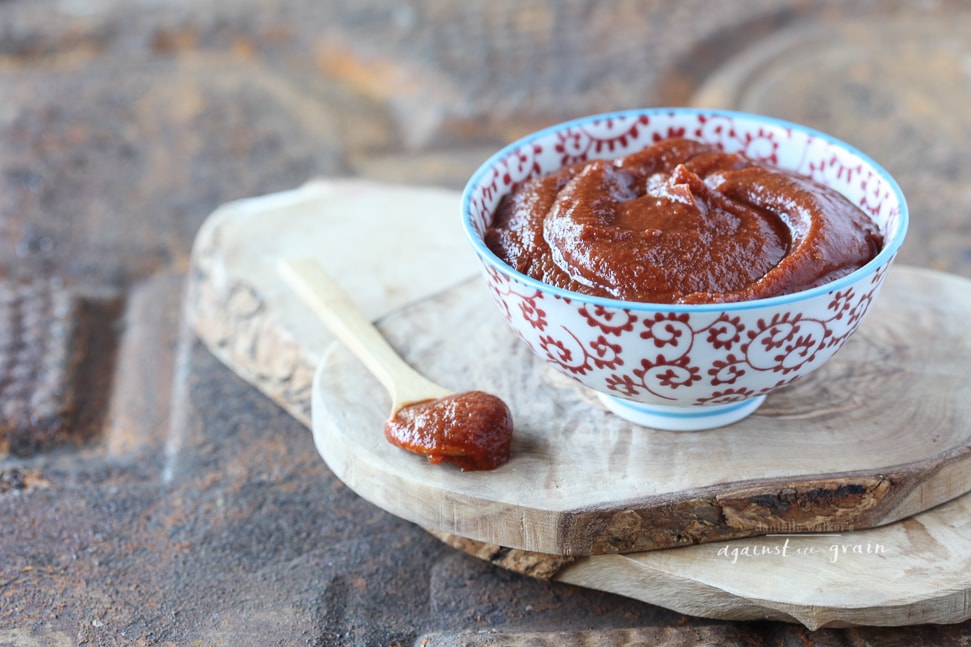 So many of you have asked for a Paleo BBQ Sauce recipe that is strict Paleo without the use of added sweeteners, so I converted the barbecue sauce from my books Against all Grain (page 326) and Meals Made Simple (page 250) and experimented with using dates. The smell that fills the house when you're cooking this will make you drool and just ache to have a barbecue!
We love to make a big batch and slather this on my Barbecue Burger or as a dip for Chicken Nuggets. Keep in mind you can sub this in for any other recipes I have that use a paleo bbq sauce recipe, such as my Barbecue Beef Short Ribs (Meals Made Simple, page144) or my Barbecue Chicken Chopped Salad (Meals Made Simple, page 108).
Watch the Video! 
You will notice in the video that I do not simmer the sauce, as called for in the recipe. I recently started cutting that step out to make this recipe that much easier, and really don't notice too much of a difference in taste! Simmering it helps to thicken it a little and also helps make the tomato less acidic. Either way works! 
Shop My Kitchen!