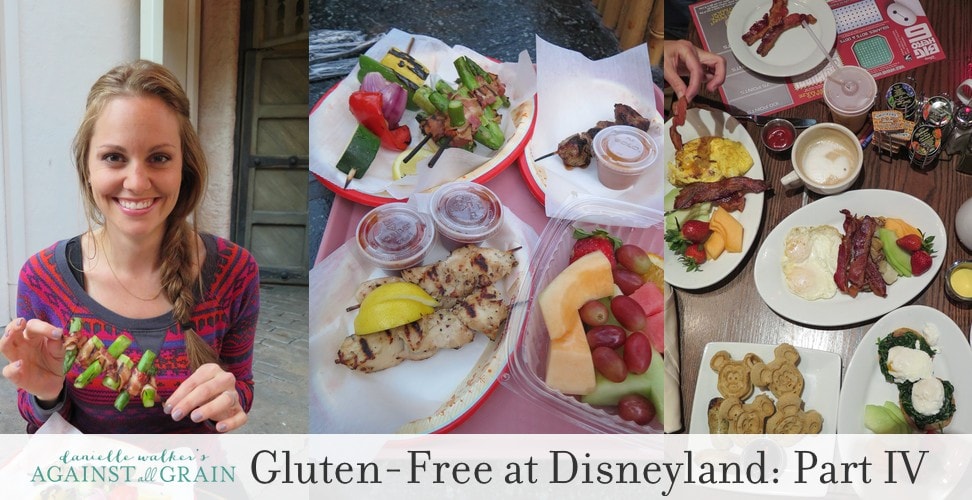 This is part IV of my Gluten-Free Dining at Disneyland series! To see my first post for snacking in the parks, click here, for my post on breakfast and lodging click here, and for my post on dining in the California Adventure Park click here.
Subscribe by clicking the button on the left and see more of my videos on
Youtube.com
including recipes, tips and tricks, behind the scenes, instructional cooking videos and more . . .
Bengal BBQ
The Bengal Barbeque in Disneyland's Adventure Land, near the famous Indiana Jones ride, is one of our favorite affordable and easy options in the Disneyland parks. You can get beef or chicken skewers, all-veggie skewers or, asparagus wrapped with bacon. The sauces are not gluten free, so make sure to get those on the side. I actually grab a side of aioli from the nearby Riverbell Terrace and use it to dip the meat in sometimes if I'm bored with just the plain salt and pepper. And, if you have problems with cross contamination, this is not a good place for you, as they don't have separate grills.
What We Ate:
Banyan Beef Skewer (no sauce)
Outback Vegetable Skewer (no sauce)
Chieftain Chicken Skewer (no sauce)
Safari Skewer
Fruit Plate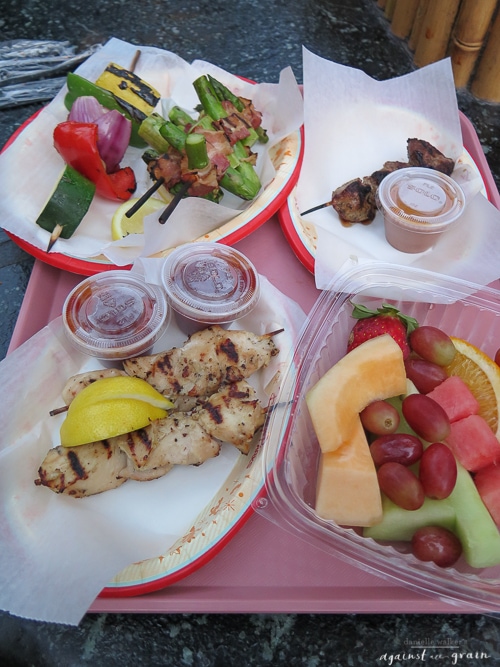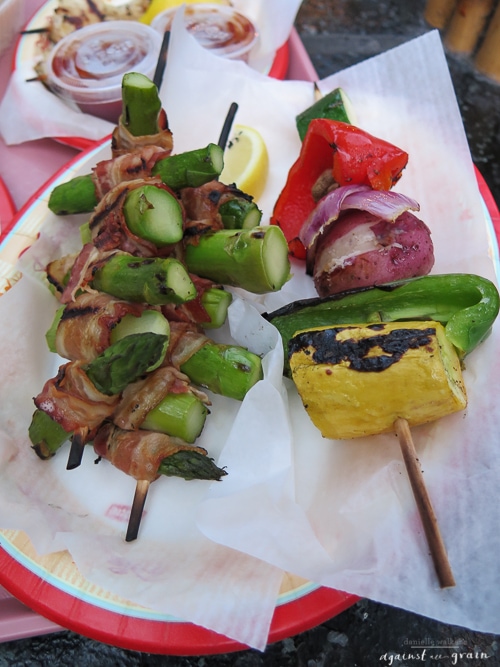 Carnation Cafe
We try to eat breakfast at our hotel, or our rental house before we come in to Disneyland (which you can read more about here), but if you want to stop for a nice breakfast on the lovely Main Street in Disneyland, the Carnation Cafe is actually a great option.
You can easily find something here if you're gluten free or Paleo and they are extremely accommodating. The chef came to our table and walked us through the entire menu and told me what they could do and couldn't do gluten free. They use a gluten free flour mix, so they can make their pancakes and their waffles gluten free for you, they have gluten free buns for your Eggs Benedict or you can just take it out and sub it with spinach. And of course, they have your basics like eggs and bacon. Overall it was great breakfast!
What We Ate:
Gluten-free Mickey Mouse Waffles
Oscar's Choice: All American Breakfast (no potatoes, sub a side of fruit)
Made-to-order Omelette
Eggs Benedict (served over a gluten-free bun or sautéed spinach)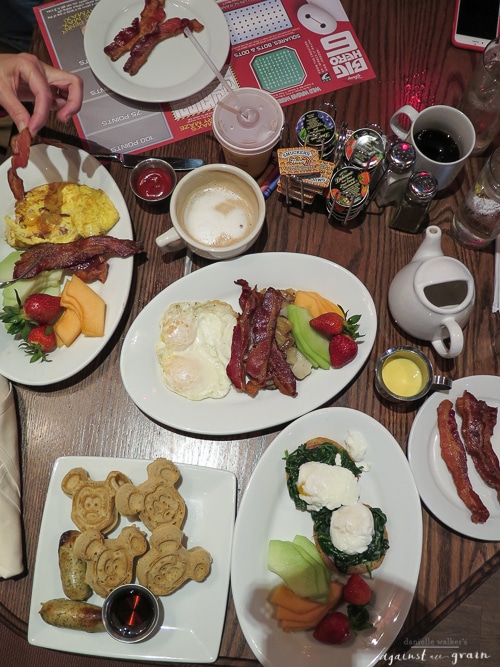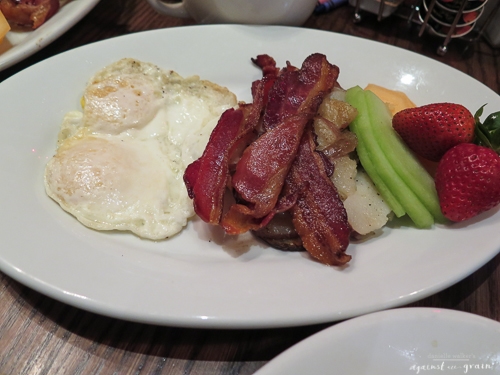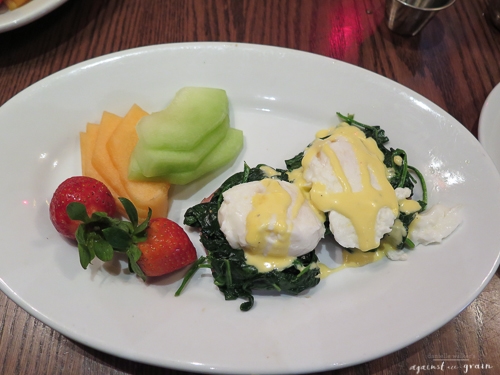 Blue Bayou
The Blue Bayou Restaurant has been in Disneyland since 1967, so it is definitely an iconic Disneyland restaurant that is worth visiting, especially if you've never visited the park before. The price point on this menu is more than some of your walk-up stands where you can get a burger, but the food really does match up to the price, and all of the entrees actually come with a starter salad or soup, so it does add to the value of the meals. We celebrated my birthday with lunch here and it was my favorite meal of our whole trip. Almost everything on the menu was actually already gluten-free do we had an easy time ordering.
What We Ate:
Pan-seared Salmon (sub the risotto for extra vegetables)
Jambalaya
Herb Marinated Flank Steak
Slow Roasted Beef Strip Loin (no fried onions)
Kids Pan-seared Chicken Breast with Spaghetti, Broccoli, and Fruit (sub Gluten-Free Pasta)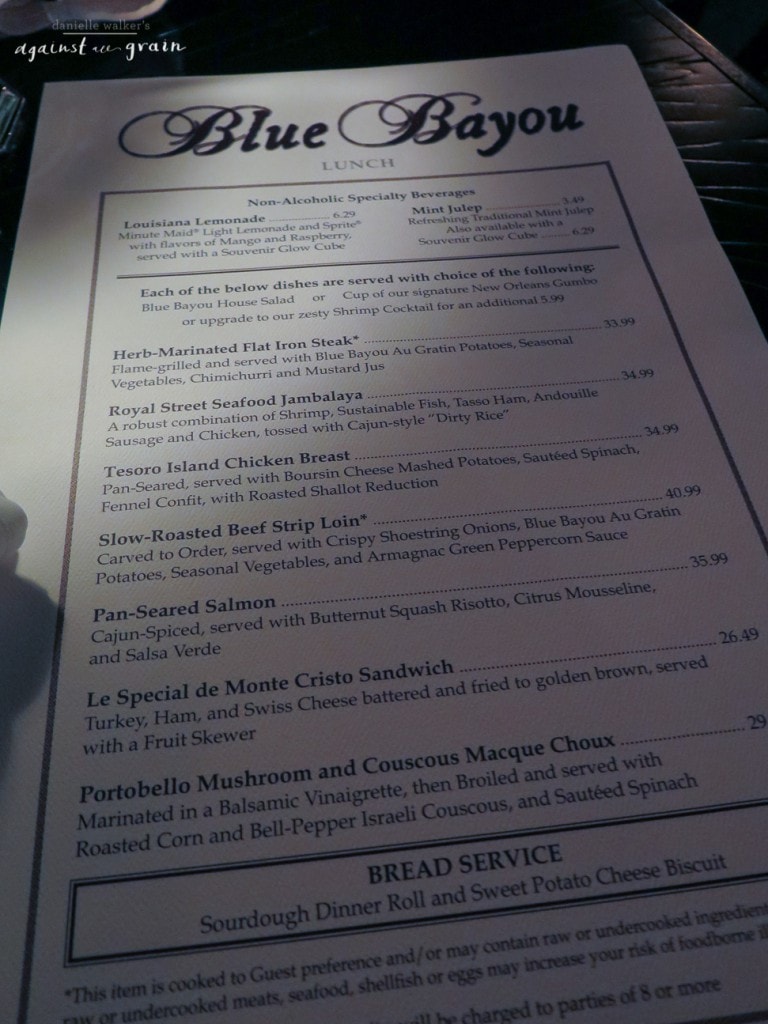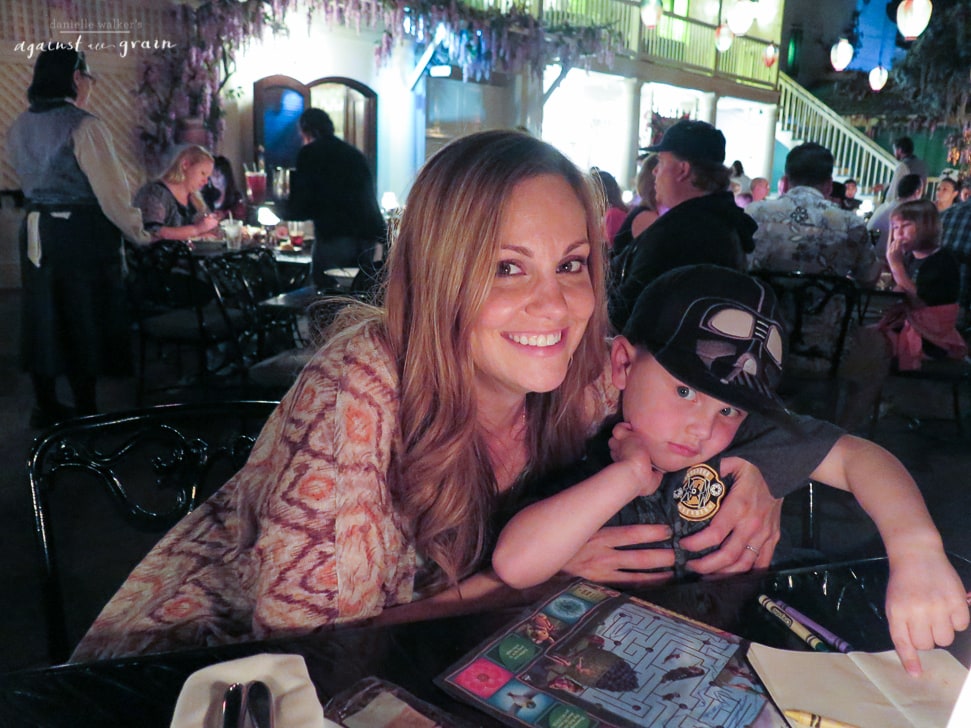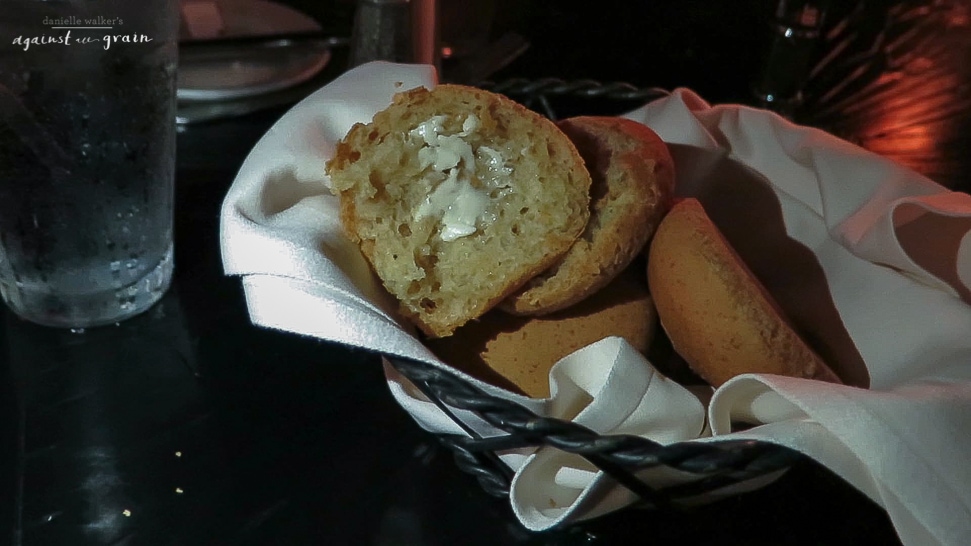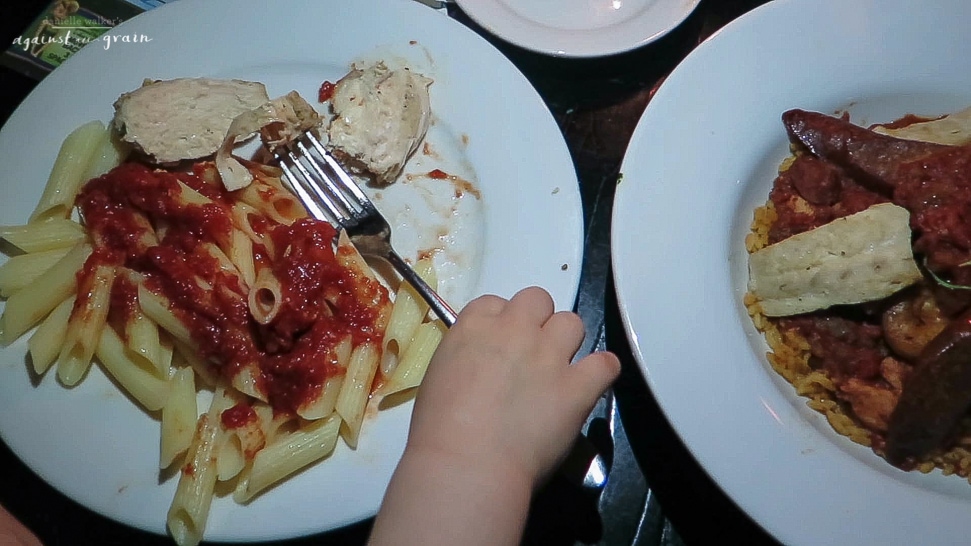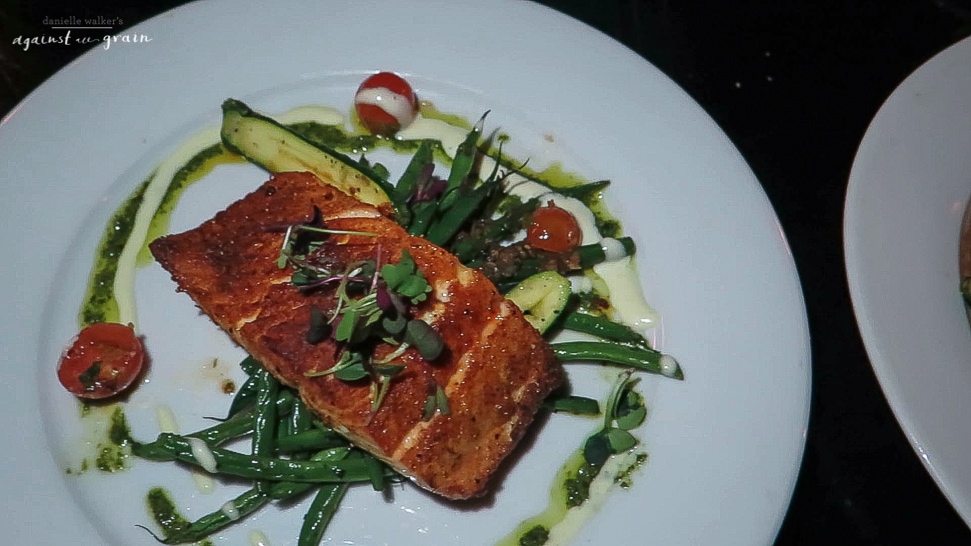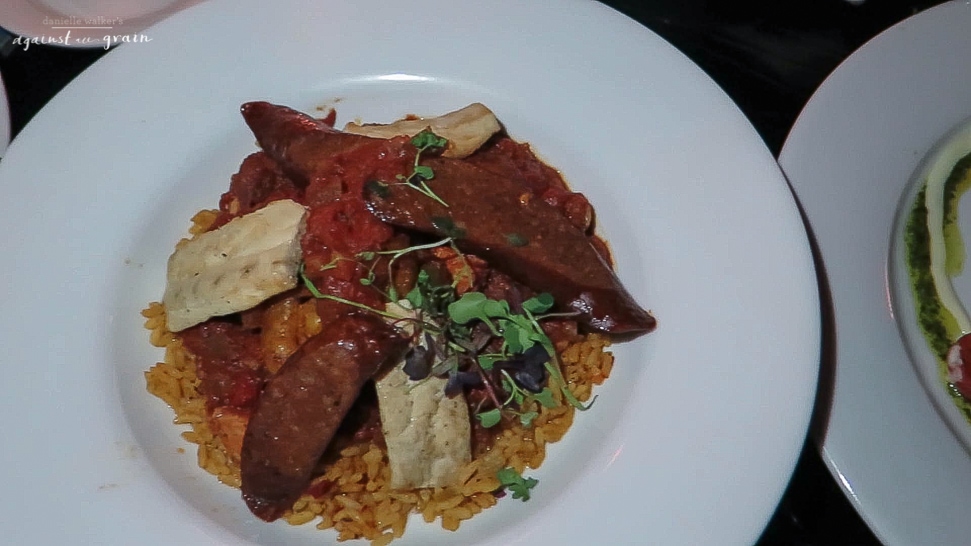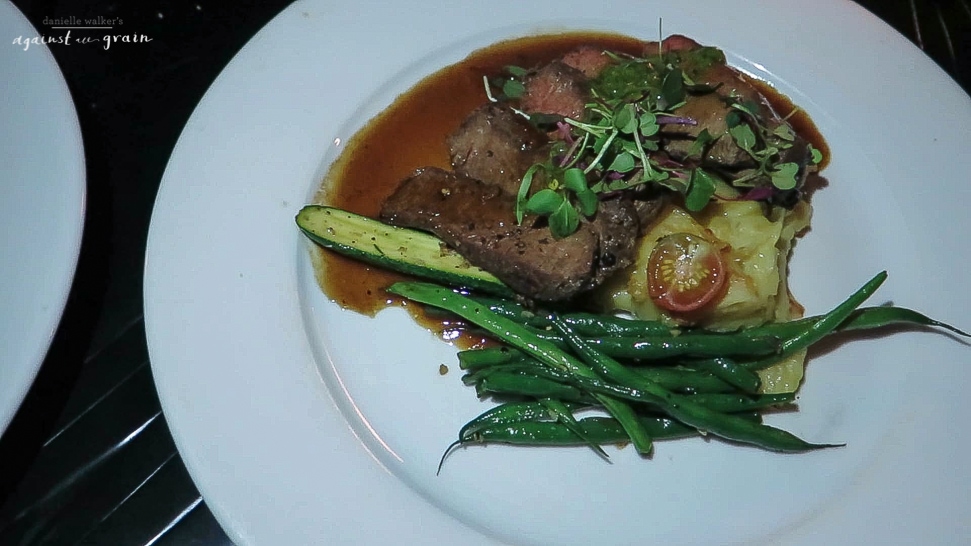 Hungry Bear Restaurant
For a quick bite in a serene atmosphere, grab a lettuce-wrapped burger and some sweet potato fries at the Hungry Bear Restaurant. Tell them you're gluten free and they'll switch their friers and their grills.
What We Ate:
Classic Cheeseburger (lettuce wrapped, no bun or ask for a gluten-free bun)
Sweet Potato Fries (make sure they switch to their dedicated fryer. The fries are coated in a rice flour, so these are not paleo but are gluten-free)
Big Al's Chicken Salad (remove the candied pecans and dried cherries for reduced sugar)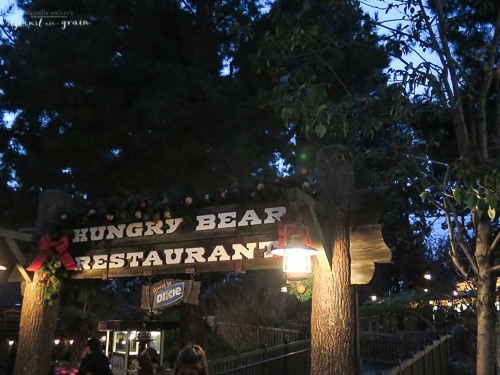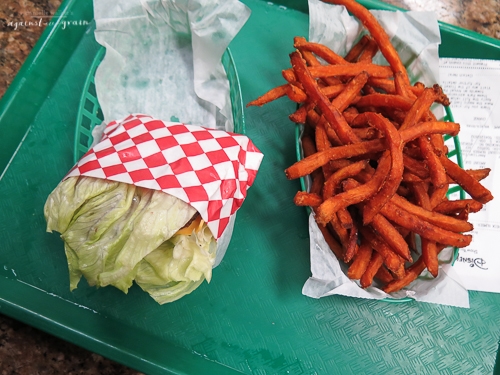 Uva Bar
One of our favorite places to eat when we are leaving the parks for the day, is the Uva Bar in Downtown Disney. It's connected to my favorite Mediterranean restaurant, Catal but it's a little bit more casual so you can get your food a little bit quicker and more affordably which is important for families with kids at the end of the night.
What We Ate:
Lamb Burger (lettuce-wrapped with a side salad or vegetables, instead of the fries)
Market Fish a La Plancha
Manchego Salad
Kid's Hot Dog (no bun)