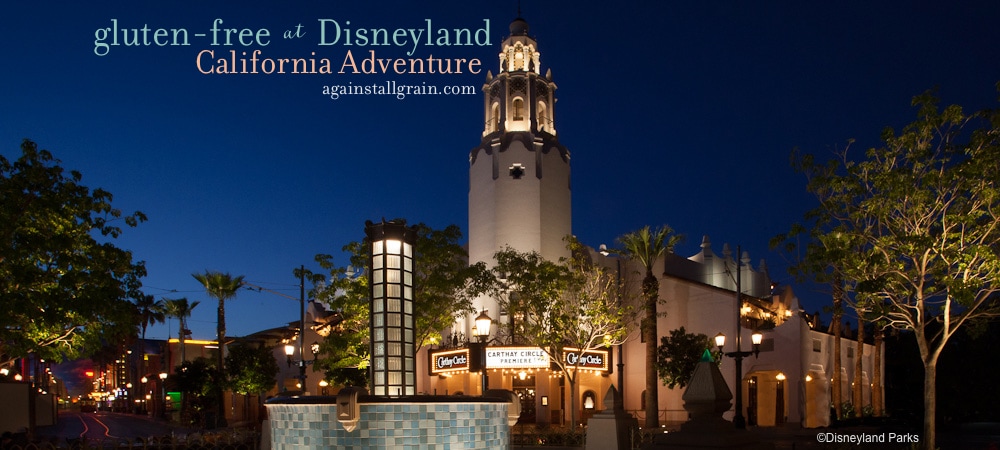 This is part III of my Gluten-Free at Disneyland series! To see my first post for snacking in the parks, click here, and for my post on breakfast and lodging click here.
Dining in California Adventure
While dining gluten-free or paleo at Disneyland is absolutely doable and enjoyable, it does take some work. Most table-service restaurants accepting reservations are able to provide allergy-friendly meal options, but you should indicate any food allergies when making your reservations and upon arrival at a dining location. The grab-and-go type restaurants are actually very accommodating as well, but I found that there was occasionally a lack of understanding from the servers compared to the sit-down restaurants. If you feel uneasy about their answers, always default to asking the chef.
Every restaurant we visited, whether walk-up or sit-down, if my request for gluten-free was an "allergy or preference." Be warned – if you say allergy, you will need to wait for a chef come out to discuss your options and your food will also take longer as they switch out their gloves, grills, or fryers. It really is amazing that they do this, but if you do not have contamination sensitivities, I suggest saying preference and get your food faster! They will still put a lot of care into preparing your order and are very careful to not serve you anything with wheat in it.
I'm going to highlight our favorites, just click the restaurant names to navigate through or scroll to read and see photos of our food!
Carthay Circle
Cocina Cucamonga
Award Weiners
Taste Pilot's Grill
Paradise Garden Grill
For an extensive list, you can obtain a packet of gluten-free dining options from the City Hall on Main Street in Disneyland. You can also see the list here, although it hasn't been updated lately. Things are always changing though, so I recommend chatting with the chef or a knowledgable person at each location.
Carthay Circle
Carthay Circle Restaurant is our favorite place to eat in the park, but the prices are pretty high so we save it for special occasions. It's located on the second floor of a detailed reproduction of the iconic 1920's Carthay Circle Theatre. The restaurant's decor reflects the glamour of Hollywood's Golden Age, including references to the accomplishments of Walt Disney and his original animators. The painted ceilings and photos of old Hollywood stars is charming, and the menu and cocktails are top notch.
Seating is also available on 2 open-air terraces where you can view the Disneyland fireworks with a broadcast of the music and they also have 4 private dining rooms. The servers are very aware and cautious of food allergies, and are incredible helpful in preparing the perfect meal for you. The biggest thing I found lacking was the kid's meal. We ended up having to order Asher a regular burger from the menu which was was more money than I would like to spend on a 4-year old. The next time we went, I went across the street and got him a hot dog instead!
What We Ate:
Ceviche of Blue Cobia
Carthay Autumn Salad
Roasted Chicken with Dried Figs
Sustainable Fish of the Season (Salmon)
Carthay Angus Burger (no bun or gluten-free bun)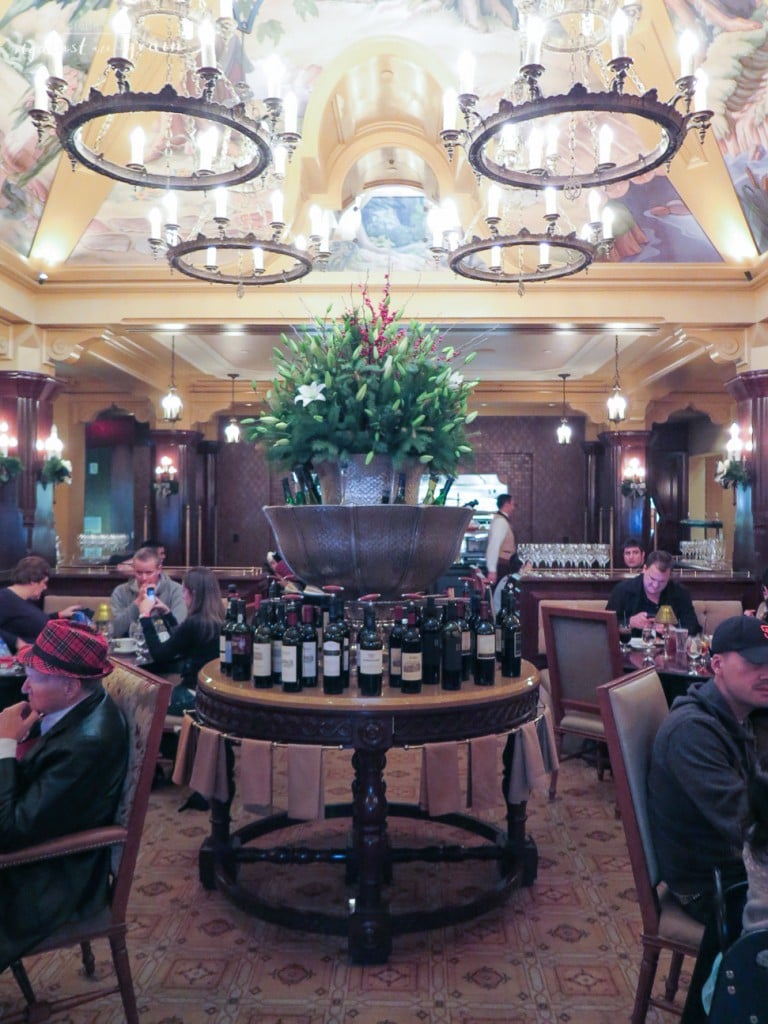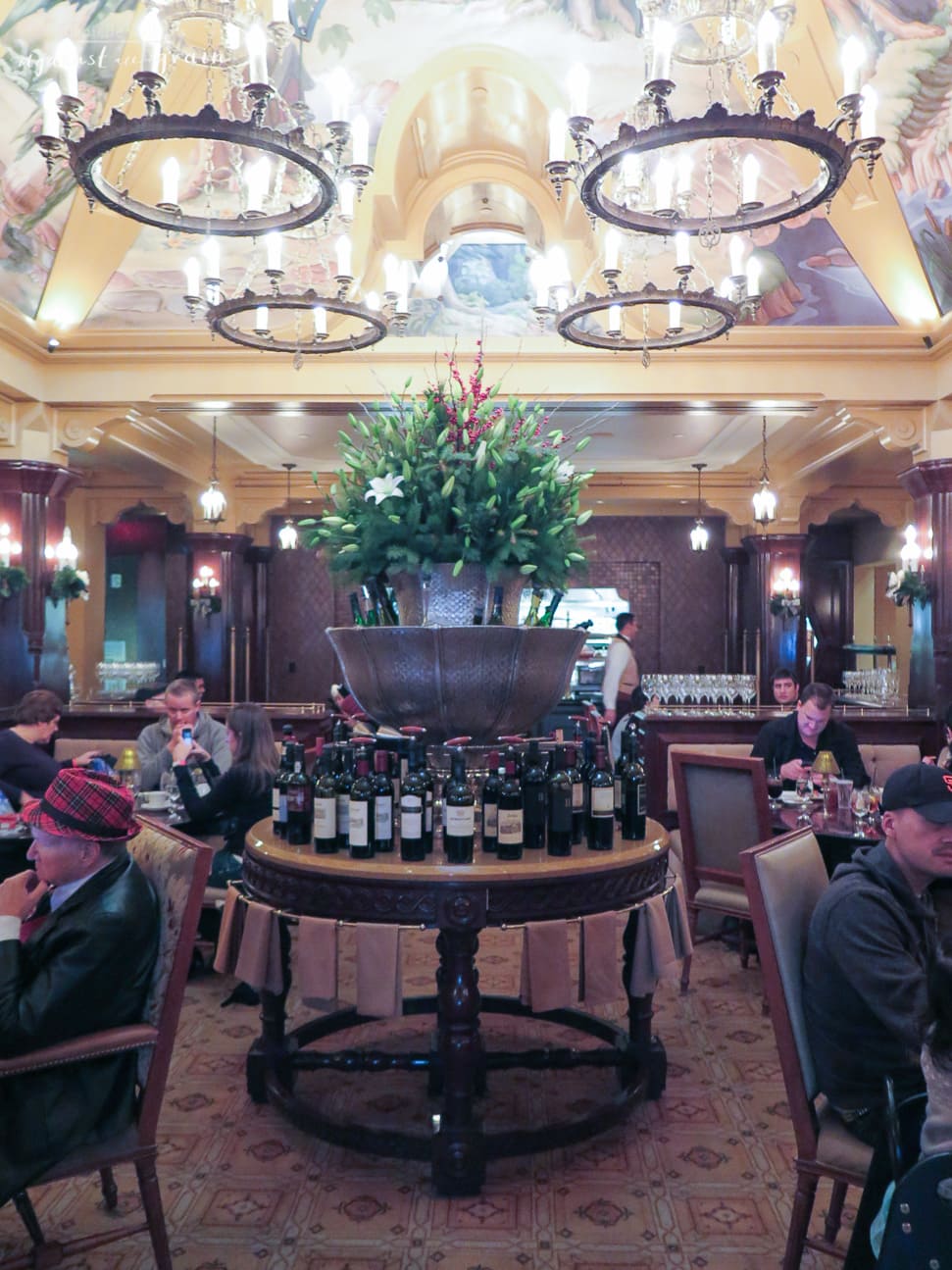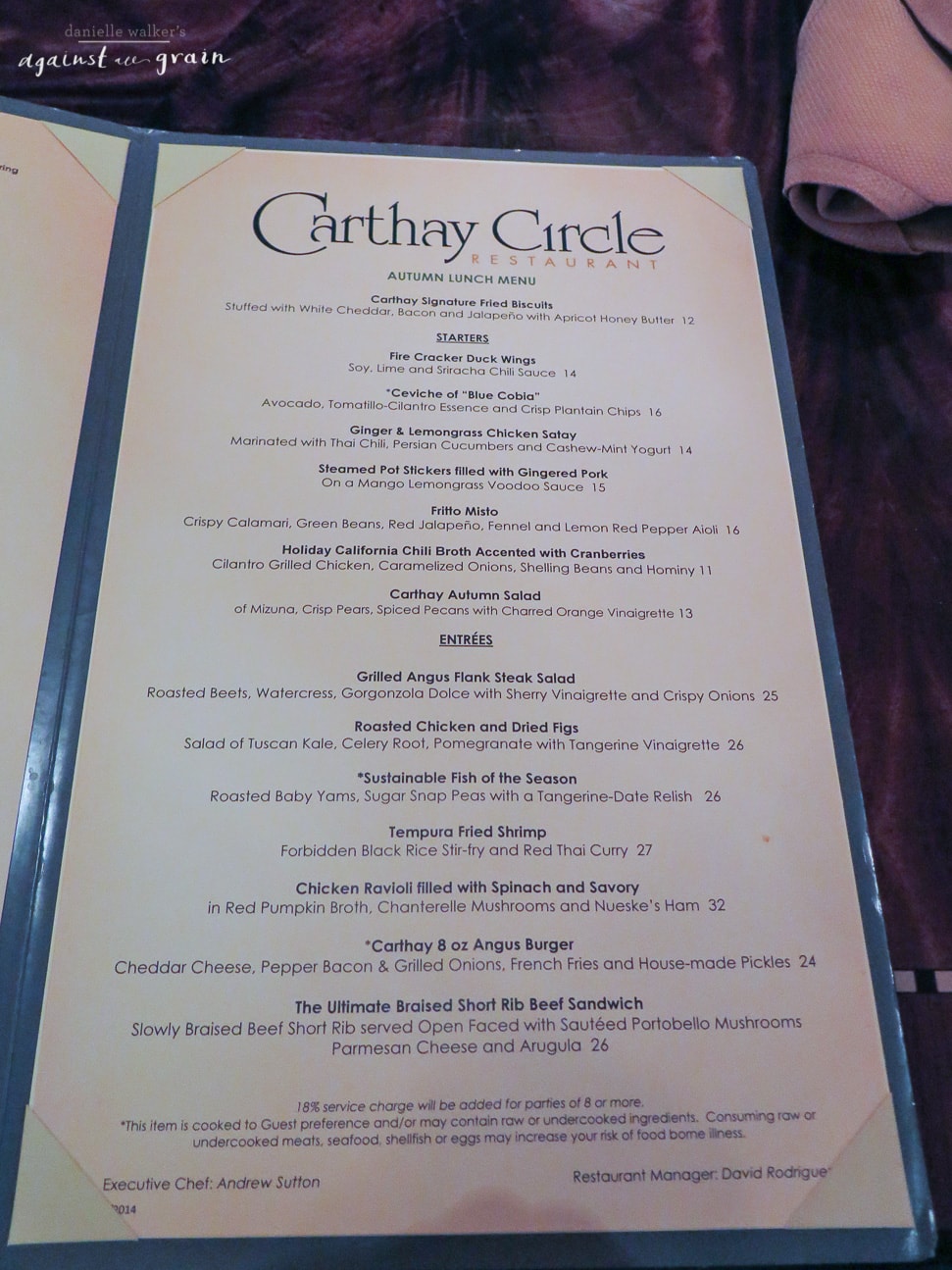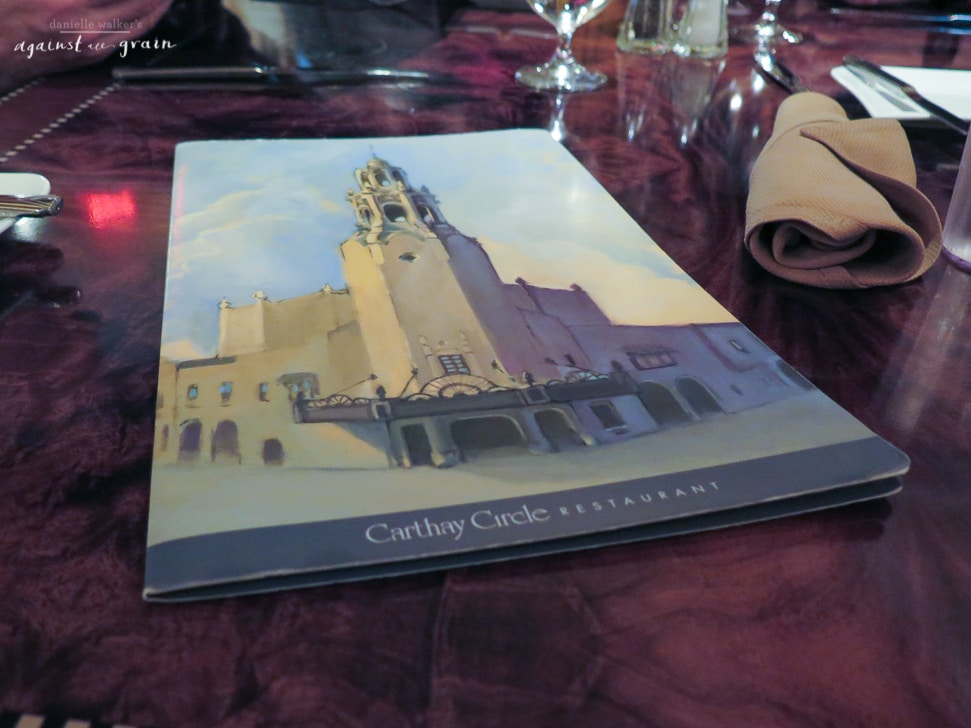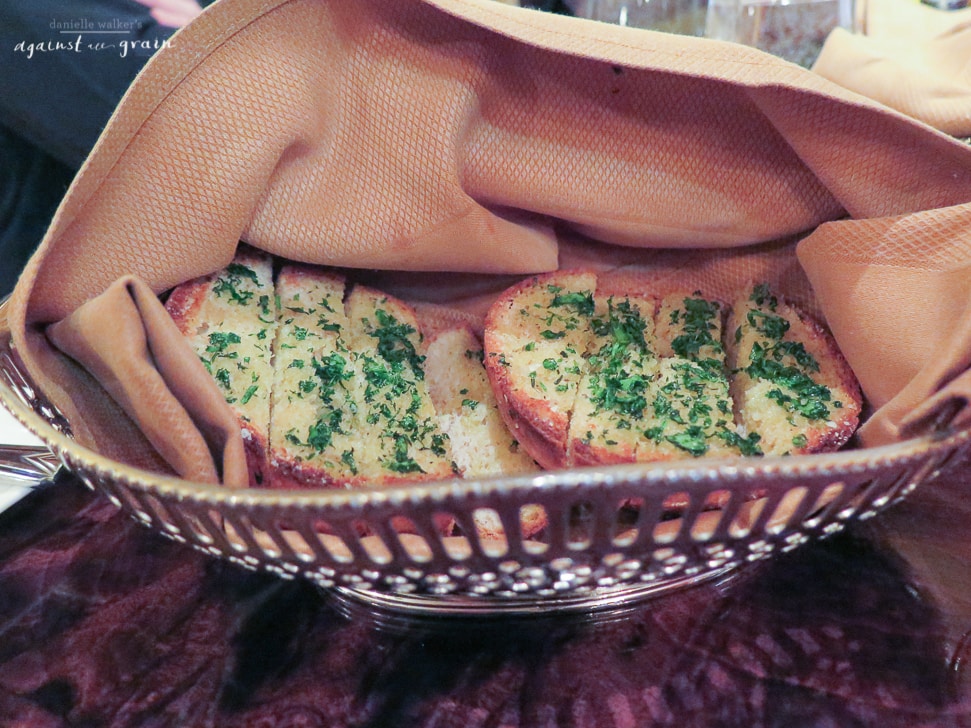 Considering the parks offer gluten-free hamburger buns at most restaurants, I wasn't completely surprised that they offer gluten-free bread to start dinner. But I was surprised to hear they make their own gluten-free flour blend and fresh bake this bread in the Carthay kitchen. Unfortunately, it does use rice, corn, and gums, but I tried a bite before letting the rest of our party devour the rest, and Oh My Gosh was it good. It was buttery, garlicy, and perfectly pliable.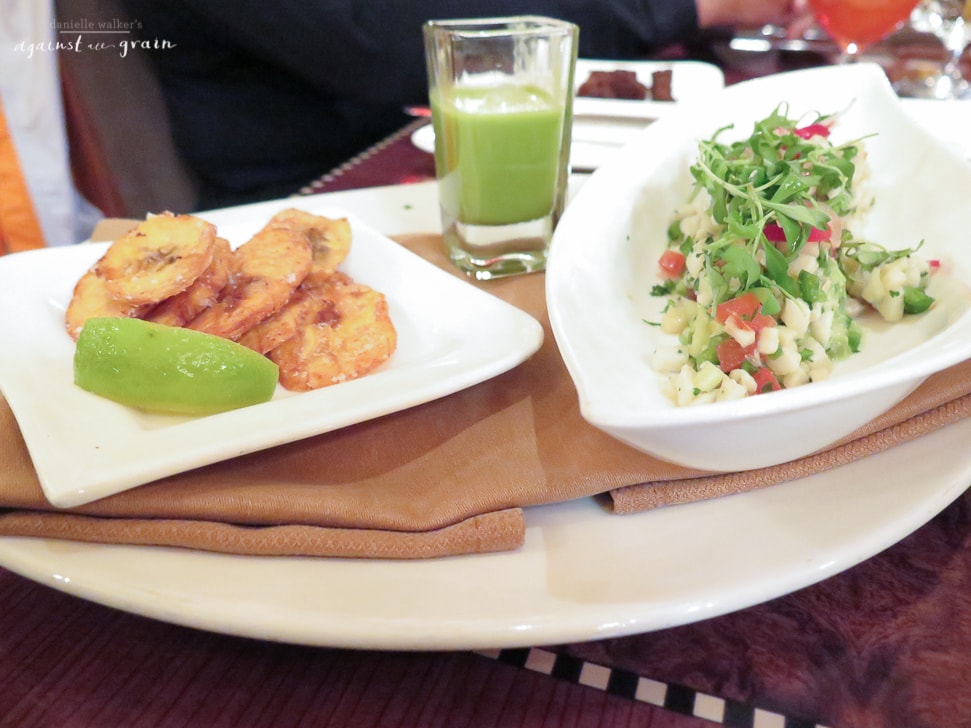 This was my favorite dish of the entire trip. The Blue Cobia ceviche was precisely butchered and tasted incredibly fresh. I couldn't believe my eyes when I saw Plantain Chips on the menu, and they ended up being one of my favorite parts of the dish. I could have just sipped on that shot of tomatillo-cilantro salsa that was poured overtop.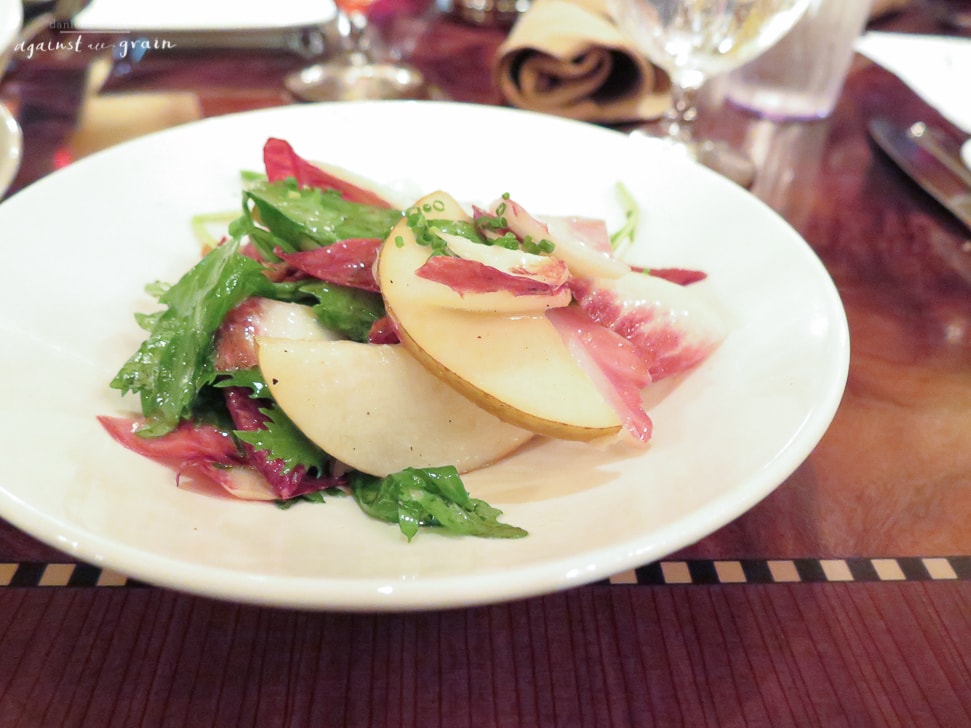 We started with an Asian Pear and Radicchio Salad which was nice, but nothing to write home about. The Charred Orange Vinaigrette was good, but fairly sweet and I should have ordered it on the side.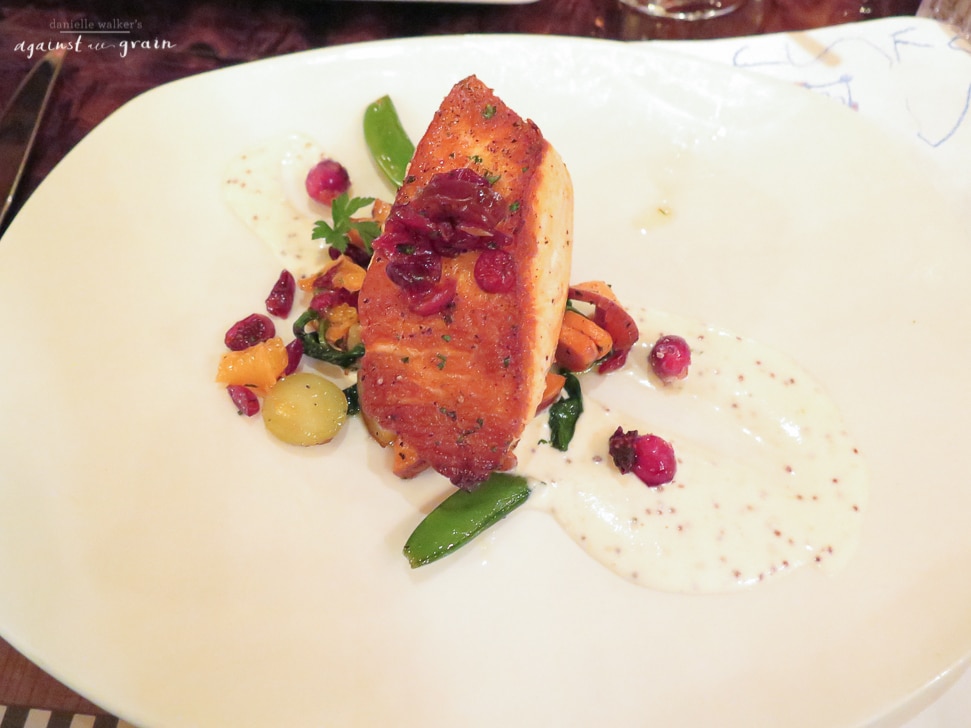 I ordered the Salmon with Roasted Baby Yams, Sugar Snap Peas, and a Tangerine Date Relish. I was pleasantly surprised to see the cranberries were unsweetened and they added a really nice tartness. I picked around the relish assuming there was a lot of sugar in it, but the mustard aioli underneath was lovely.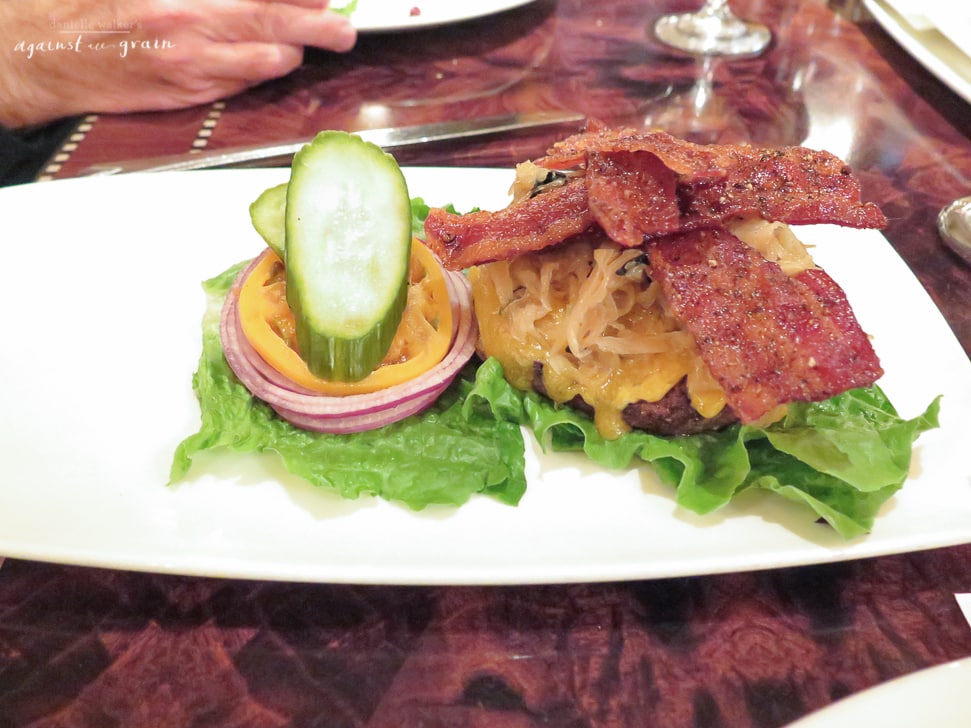 As always, Ryan ordered a burger no bun. There were some killer fresh cut fries that he and Asher chowed down on too.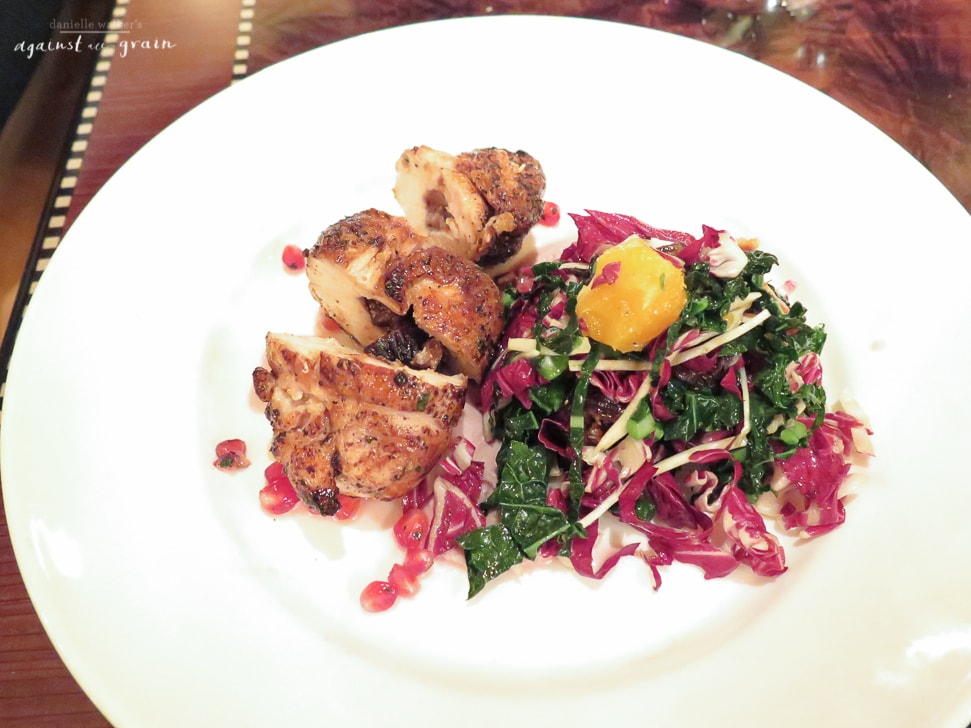 Another dish ordered at our table – the Roasted Chicken with Dried Figs. It came with an amazing tuscan kale, celery root, pomegranate, and tangerine-date relish that complemented it really well.
Carthay Circle Lounge
Don't fret if you forget to get a reservation for Carthay's restaurant, you take a seat in their bar and lounge and order a great 1920's style cocktail and something off of their tapas-style menu. The menu is a little bit more affordable, and it's a nice option to get in and out quickly. They don't have as many gluten-free options as upstairs, but the few options that are on there are pretty amazing!
What We Ate:
Butcher Plate (omit the sourdough toast)
Tosaditas with Mole Verde Braised Pork Cheeks (sub house made potato chips for corn shells or ask for it on a bed of lettuce)
Queso Fundido (sub the potato chips)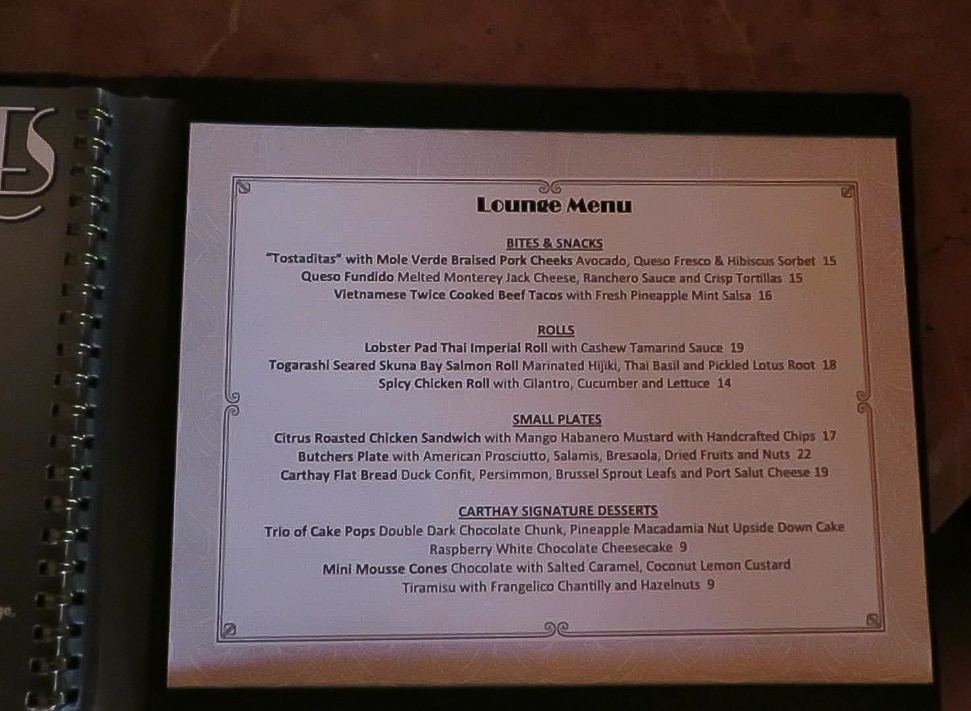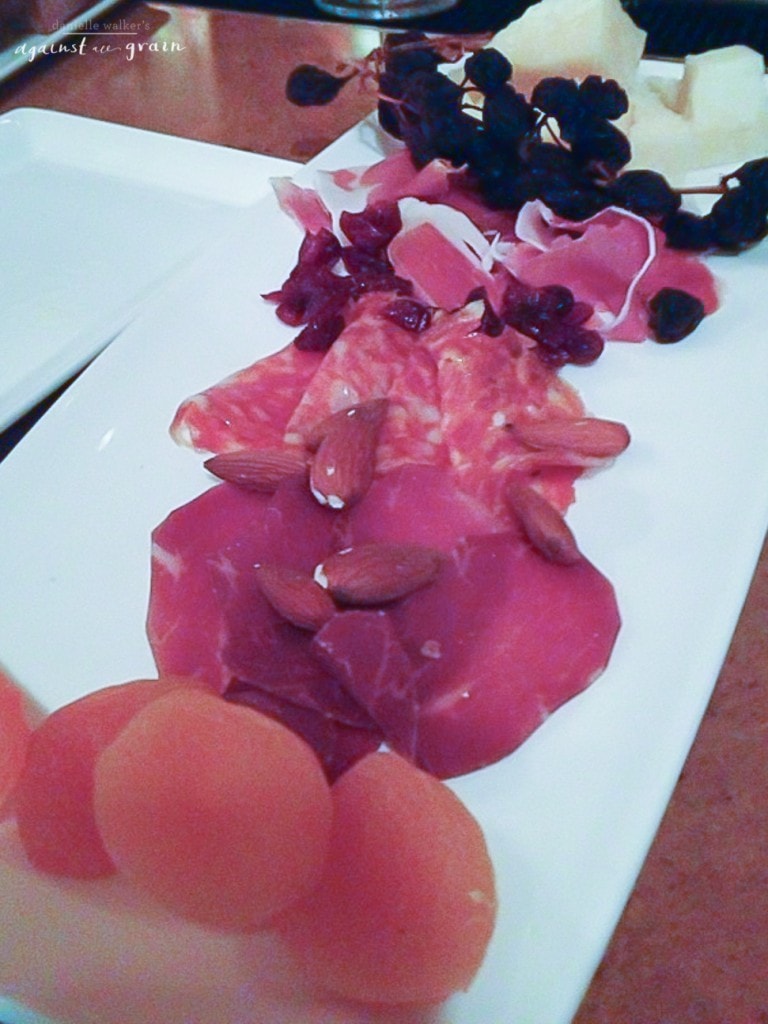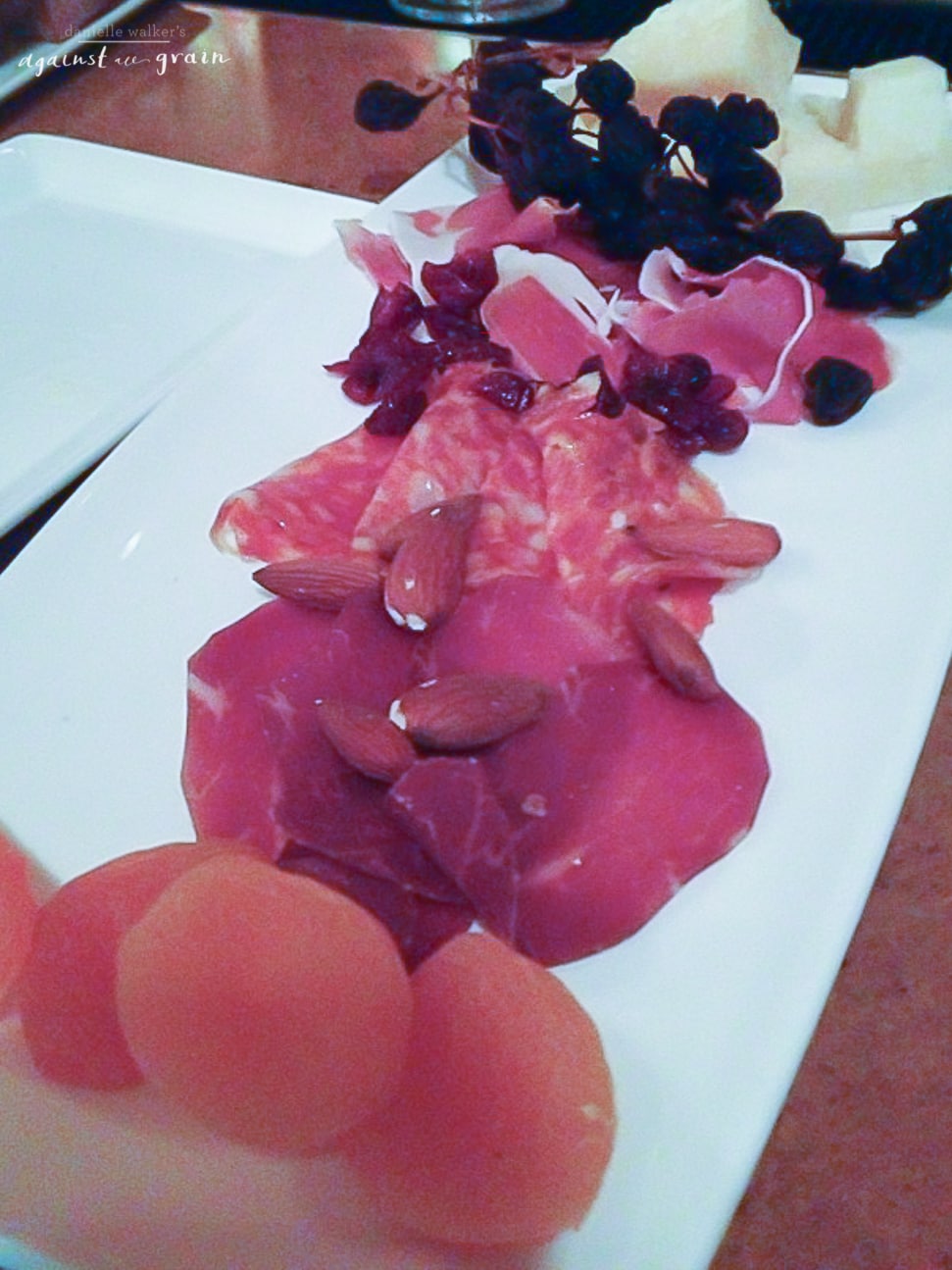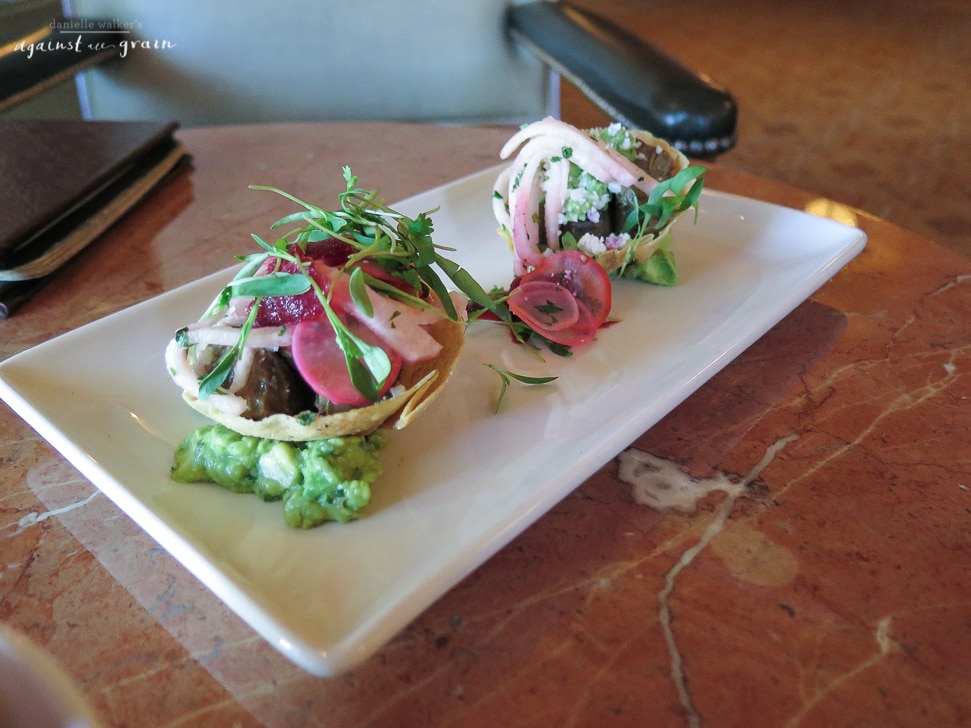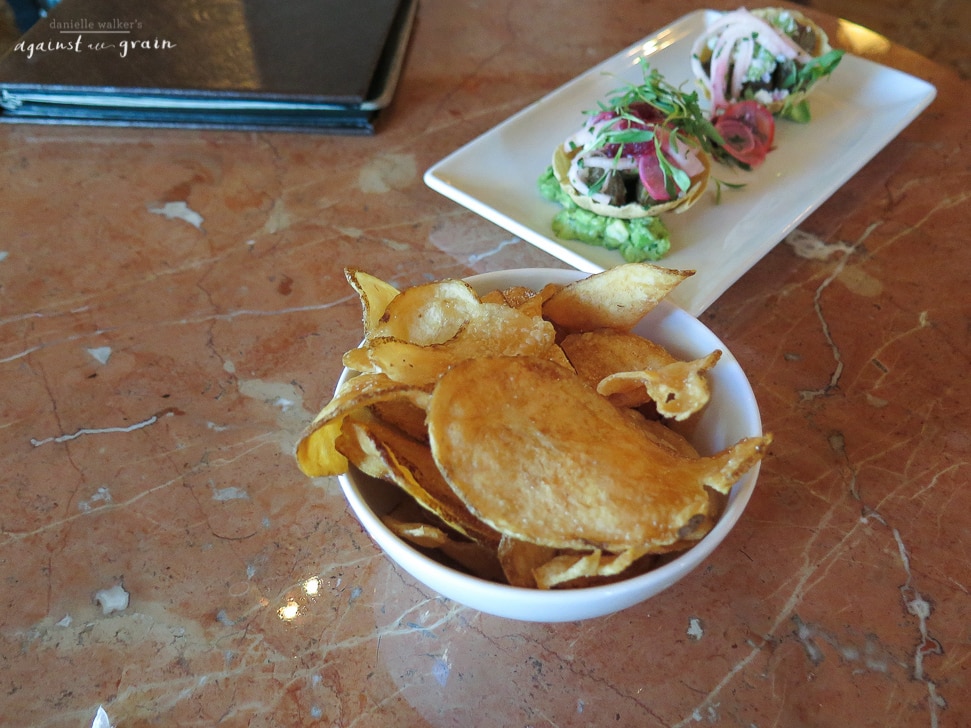 Cocina Cucamonga 
Located Pacific Warf area, Cocina Cucamonga celebrates California's Mexican tradition with fast, fresh Mexican fare and a relaxing waterfront view.
If you inform the person at the register that you are gluten-free, the chef will come out and personally chat with you about modifications. We've tried the salads and they were great, but our favorite thing to order is Fire-Grilled Citrus Chicken. The chef substitutes the rice and beans for grilled vegetables and they bring out corn tortillas instead of flour for Ryan. It's a lot of food for $13.99 and is really satisfying.
What We Ate:
Fire-Grilled Citrus 1/2 Chicken (no rice and beans, sub grilled vegetables and if desired sub flour tortillas for corn tortillas)
Beef Fajita Salad (no refried beans, dressing on side)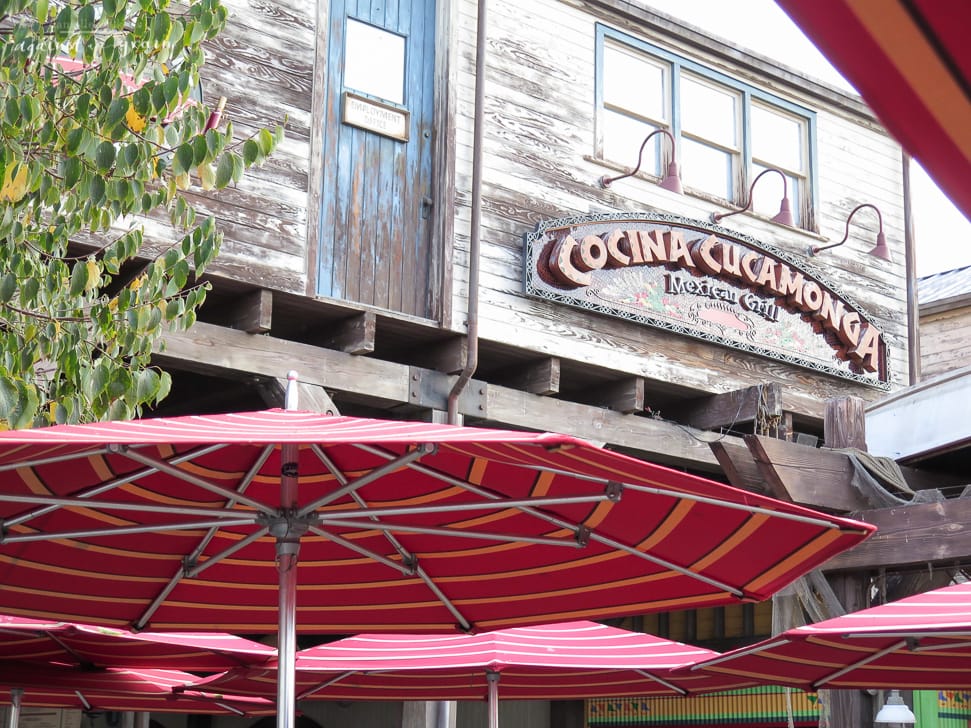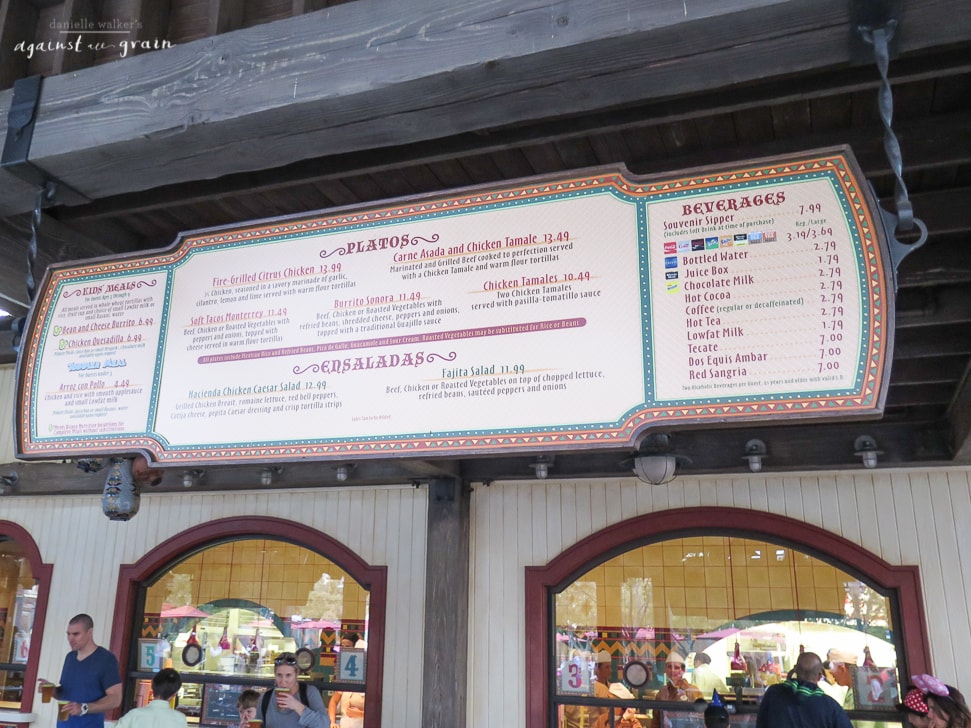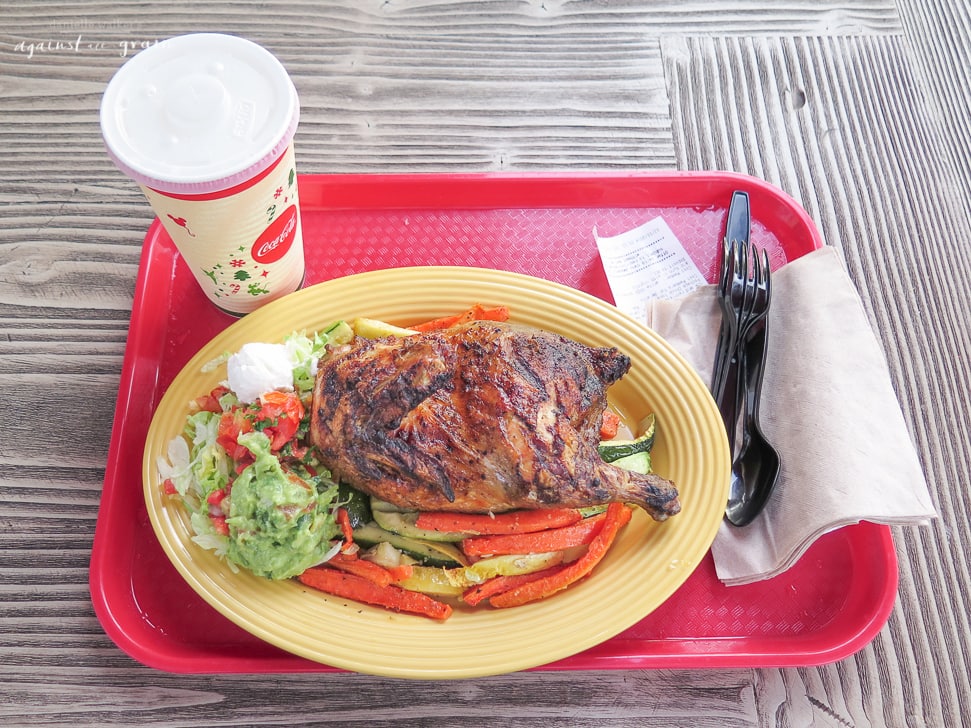 Award Weiners
Located in Hollywood Land, Award Weiners is a great option for kids who are hungry and need something quick! They're not grass-fed, but there's choices from simple hot dogs to Sicilian sausage to vegetarian portabella Philly, all with an optional gluten-free bun! Asher just throws the bun off and eats it with a fork and knife. Oh and the ketchup is free of high fructose corn-syrup, but less than perfect ingredients. Stick to mustard if you're being strict.
What We Ate:
Hot Dog Combo with Apples and Gluten-Free Bun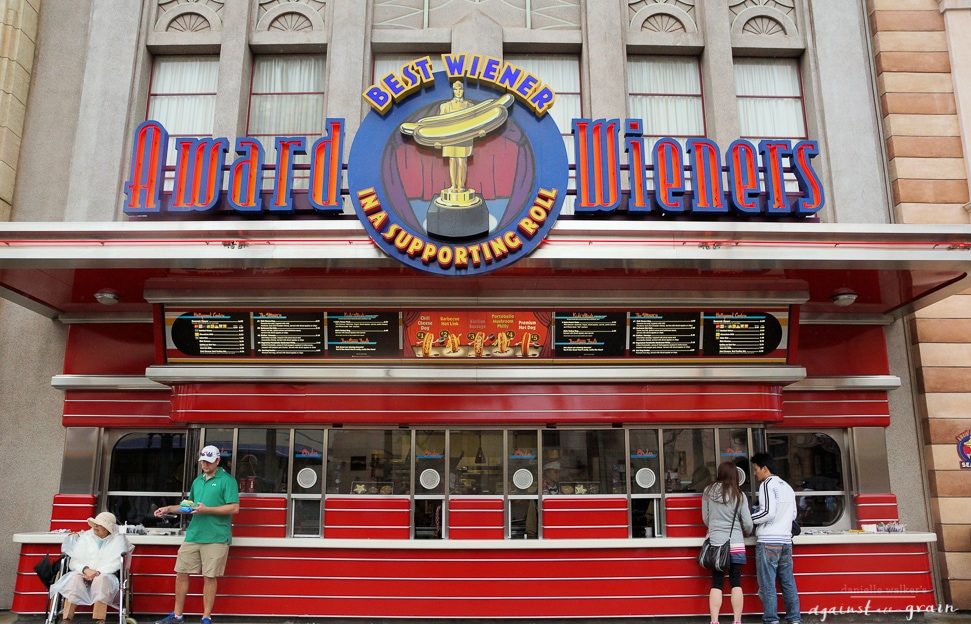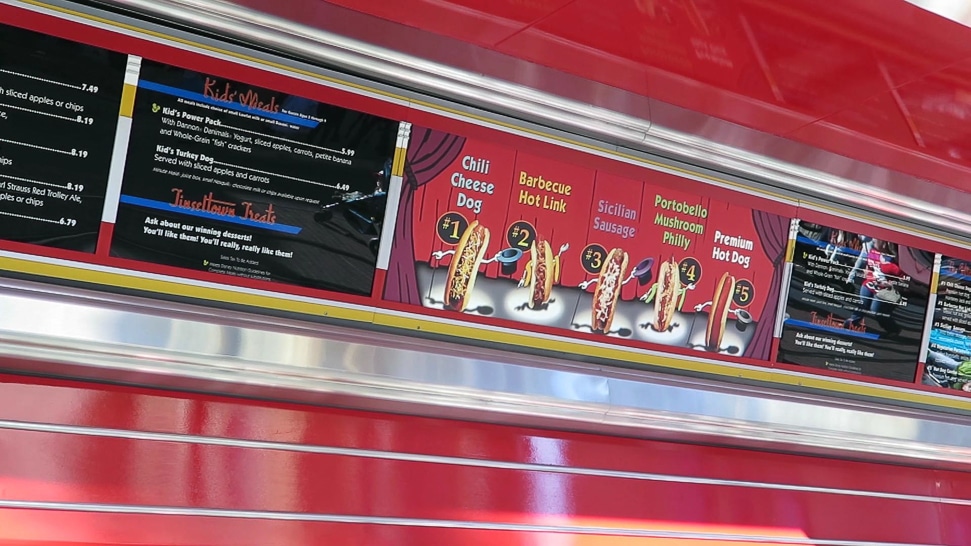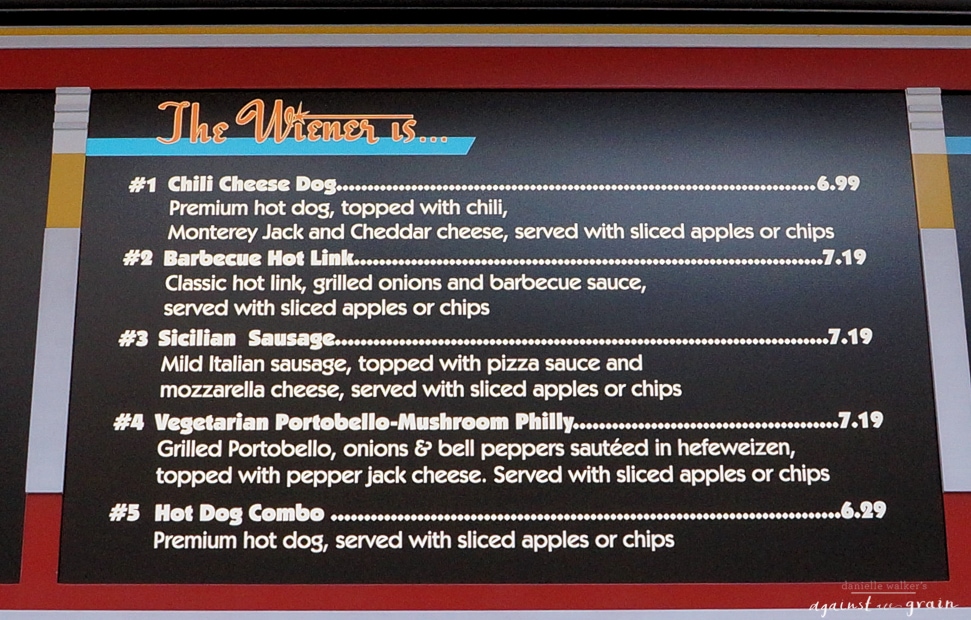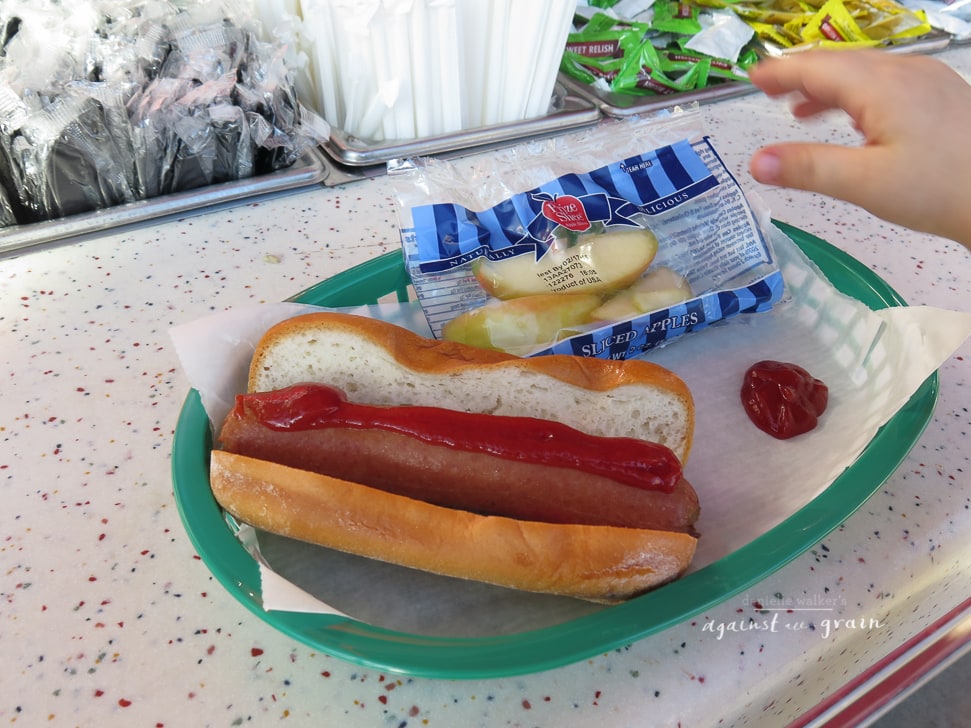 Taste Pilot's Grill (closed until May 2015)
This quick-dining experience is located in the Condor Flats area of the park, next to the Soaring Over California Ride. All of the condiments and toppings are self-serve so it's nice to be able to pick and choose what works for you, and also load up on extra lettuce, tomatoes, pickles, and onions to make up for the lack of bun!
What We Ate:
Grilled Chicken Salad (no won ton strips, no feta for dairy-free)
Blue Cheese Bacon Burger (gluten-free grill, no bun, no blue cheese or steak sauce, it's just for the bacon!)
French fries (ask for the fries only fryer)
Kids Burger with apples (no bun or gluten-free bun)
Paradise Garden Grill (serving burgers until May 2015)
This is actually my favorite place to eat in California Adventure, but they have been closed for the past couple of months! Right now they're serving burgers, but they are supposed to be back to their standard Mediterranean cuisine in the Spring!
What We Ate:
Lemon-Oregano Chicken Skewer with chimichurri (no rice or pita, sub salad)
Beef Kefta Skewer with Moroccan Chili Sauce (no rice or pita, sub salad)
Greek Salad (no feta)