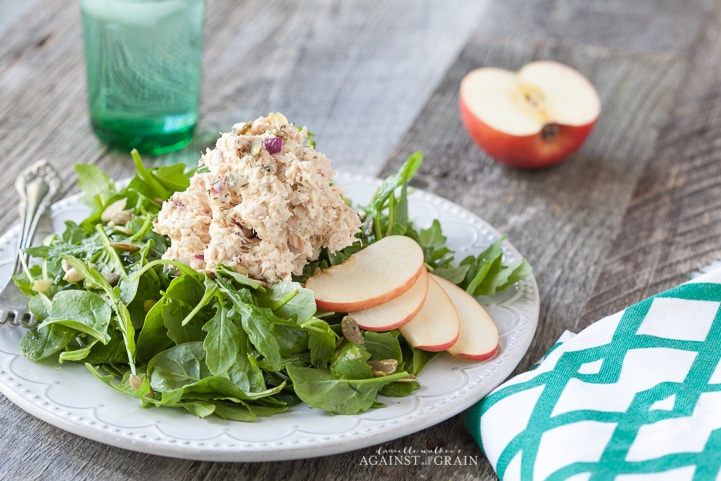 I posted this tuna salad a few months back on my Instagram when I was in editing for Meals Made Simple. While I underestimated the excitement it would receive, everyone kept asking for the tuna salad with apples and pumpkin seeds so I threw it into the book last minute! I wanted to share the recipe with you here as well though as a little bonus!
It is one of my favorite salads to throw together when I don't feel like cooking or I'm in a rush. I always keep a few cans of tuna in the pantry for days like those and a jar of mayonnaise in the fridge. As  much as I love the recipe from my first cookbook, in reality I use this jar more often because I'm usually too busy to make it! I usually purchase Primal Kitchen Avocado Oil Mayo or sometimes Sir Kensington's.
You can make your own champagne vinaigrette dressing (recipe is below), or to cut even more corners, purchase a great paleo-friendly dressing from your local health food market. We also love to make a double batch of this Tuna Salad with Apples and Pumpkin Seeds and keep it in the fridge to eat on top of cucumber rounds, between two toasted slices of my sandwich bread, or wrapped up in one of my grain-free wraps from page 262 of Meals Made Simple).
Watch The Video!