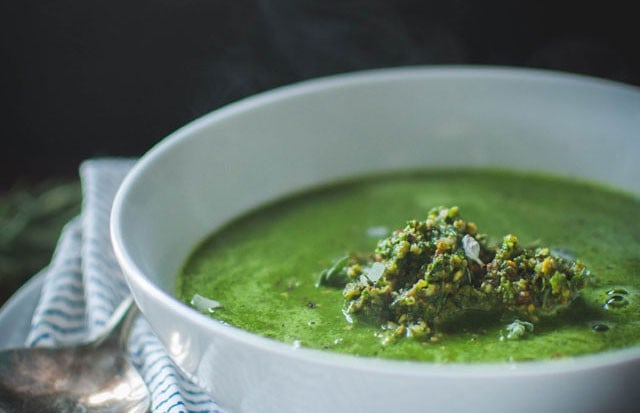 Please welcome James Trenda (aka ImNoChef) back to Against all Grain! You may remember his lovely photos and recipe from the Blackberry Ice Cream post he did a while back. Follow James on Instagram for stunning food photos! James is sharing a Winter Minestrone Soup to help warm up all of you who are experiencing record low temperatures and blizzards! Enjoy!
xo Danielle
I grew up in the Northeast, Maryland to be more precise. I know some of you wouldn't consider that the Northeast, and I wouldn't argue with you, but when you've been called a Yankee as many times as I have by "real" southerners, you learn to accept it because you're never going to win that argument. So, as I was saying, I grew up in the Northeast.
When I was a kid, it wasn't uncommon to wake up to several good inches of snow and school closures across the state. Those were the days, I tell you. I remember one winter in particular that brought us almost 40 inches! They called it the "Blizzard of '96". I was about 11 years old at the time, and in some areas the snow came up to my shoulders. My sister and I had to walk to the grocery store one day because the parking lots were buried under heavy blankets of snow. Don't ask me how or why the grocery store was open. In our
neighborhood, cars were only visible by a mound of snow that formed on the surface of each car, like a young child hiding beneath the covers. You can tell she's under there, but you can't see her.
When I left for college and moved to East Tennessee, I thought snow days were behind me. As it turns out, they cancel schools down here for just a light dusting. But it was during the warmer months, the hot summer months, that I began cooking for myself. I mean
really cooking. While most college students were likely ordering pizza and microwaving Ramen noodles every night, I was in my tiny, white-cabinet kitchen in a one bedroom, barely-off-campus apartment tossing homemade pizza dough for a fresh, rustic take on a dorm room classic; hand-stuffing homemade ravioli for my then girlfriend's (now wife) birthday dinner for two; rolling sweet potato gnocchi and failing miserably to achieve that perfect "pillowyness"; and whipping softened cream cheese for a decadent vanilla bean cheesecake, all for the very first time.
I'll never forget the intense gratification I felt when I tasted the finished product of what seemingly took forever to prep, which in reality was only about 15 minutes. The extra time I spent hand picking the freshest, greenest produce from the local market, and peeling and chopping all the vegetables – things a college student isn't usually accustomed to – was worth every delectable bite.
The dish I have prepared for you is inspired by one of the first recipes I ever made that used fresh, seasonal produce. This is my cold-weather spin on Tyler Florence's Summer Minestrone. First, I wanted to start with the greens. During these colder months, the leafy stuff is typically what's green and in season. Since I'm not a huge fan of soft, overly wilted greens, I decided to steam them separately with a little stock and then blend it all up together with parsley, coconut milk, lemon juice, and some of the other cooked vegetables. The result is a vibrantly green puree speckled with tiny green flecks of fresh parsley that adds a ton of flavor and thickens the soup without the mushy texture of soaked greens.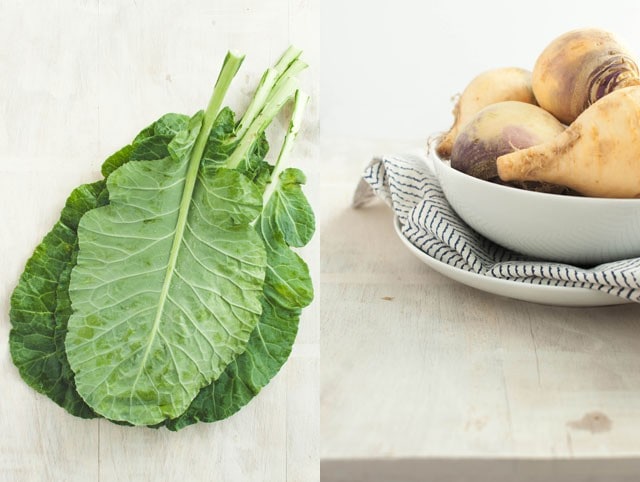 The other thing I did was swap out summer's array of warm-weather veggies with winter's weatherproof variety, such as rutabagas, celery, and leeks. Leeks are notoriously dirty, but they're not really that difficult to clean. For this recipe, I like to cut the trimmed leeks in half lengthwise, rinse, and then cut in half again lengthwise (now quartered) before chopping and adding to the water bowl. Also, if your knife is kind of dull, you might find that it's easier to chop them cut side up.
Lastly, the soup is finished with a winter herb pesto. Pesto is one of those condiments that is delicious on its own, but can also be that
extra little something that takes each bite to the next level. This version is incredibly fresh with a punch of rosemary and garlic. Its sharpness is balanced by the subtle fruitiness from the olive oil, as well as the acid from the lemon.
ALLERGEN NOTE: contains dairy and nuts. If you have a dairy or nut allergy or are just avoiding those things, you'll want to pass on the pesto. Wait, "pass on the pesto?" Now, there are four words I'd never thought I'd say. Without the pesto, the minestrone will still be quite comforting, but it just won't have that extra little something.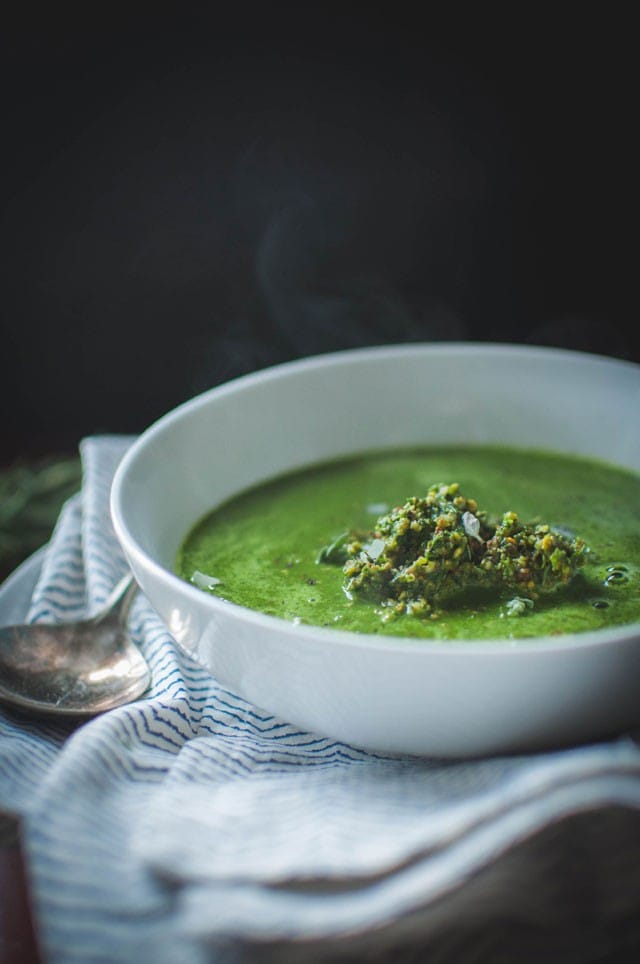 Blogger Bio: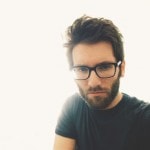 James Trenda is a front-end web developer with an intense passion for food photography. When he's not in the kitchen or behind the camera, you can usually find him hunched over on his Mac cranking out code for a job or just for fun because he's a geek like that. James currently lives in East Tennessee with his wife, Mary Lynn, a Registered Dietitian and Health Coach. She introduced him to the Paleo lifestyle in December of 2012 and they've been – mostly – grain free ever since. You can follow James' food blogging journey over on Instagram and Facebook.