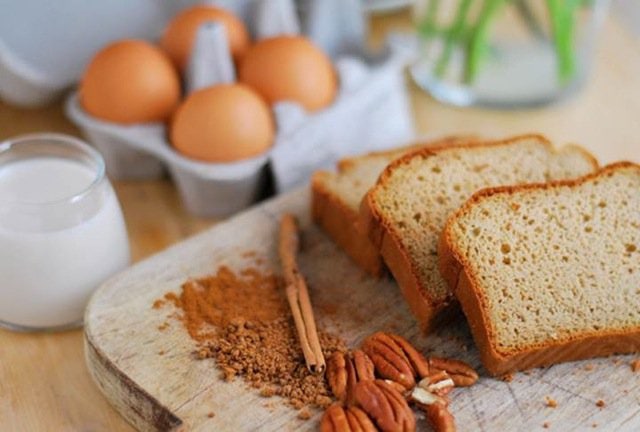 Hi everyone! I am excited to be guest posting on Against All Grain today and sharing this Paleo gluten-free french toast. I have been following Danielle's blog for quite some time now and was thrilled when she released her first cookbook. All the recipes that I have tried both from her blog and book are equally delicious. One of my favorites is her World Famous Grain Free Sandwich Bread. It came out perfectly the first time I made it despite not being able to whip the egg whites correctly! Even my non-Paleo, bread-loving husband gave it a 2 thumbs up and said that this bread was a winner.
To make it an extra special breakfast or weekend treat, I whipped up some Cinnamon Pecan French Toast using thick slices of the grain free bread. Served with whipped grass fed butter and raw honey, this is definitely a feast for the senses.† The texture and flavor comes together perfectly that no one would ever guess that this is grain free!
Give this a try and I hope you will all enjoy it =)
Jenny Castaneda lives in Southern California with her husband D and grain-free cat Mochi. She started a blog to share recipes with family and friends and also as a way to keep herself on track and connect with other fellow Paleo friends who have provided daily doses of inspiration and motivation along her journey towards a Paleo lifestyle. She enjoys traveling, photography, broadway musicals and swinging kettlebells.
Connect with her on Facebook, Instagram and subscribe to her blog Paleo Foodie Kitchen to receive email notifications whenever new recipes are posted.