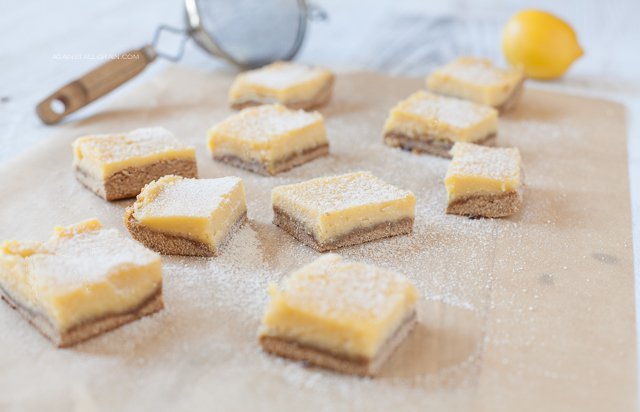 Don't let what I am about to say turn you off from this recipe or decide that it is not incredible. Because it is. Well, according to a dozen lemon-loving testers these Luscious Lemon Bars are incredible.
I do not like lemon bars. There, I said it.
But don't judge this recipe by the sheer fact that I have never been a lemon dessert fan. My readers consistently ask for lemon bars, lemon meringue, or lemon cakes, so I bit the bullet for you all and worked hard on getting this recipe right. It took quite a few tries because I wasn't sure what the original really tasted like, and came up with a cheesecake tasting bar and a lemon jello bar before hitting the nail on the head. I performed some R&D (I even took a bite of a store-bought one just for the sake of the experiment!) and gathered a team of friends who adored lemon bars and came up with something so close to the original you won't even miss them. Well, you may miss the dusting of powdered sugar because that is so not paleo friendly, but the taste and texture of these is spot on.
The nut-free crust is sturdy like a shortbread and holds its own against the rich, creamy, gooey lemon filling. I dusted these with coconut flour for visual appeal, but it doesn't really do much for the taste so you can either leave it off or splurge and dust them with organic evaporated powdered cane sugar.
Enjoy these lemon bars with the special mothers in your life this weekend. Me? Well you can bet there will be something chocolate and not lemon. 🙂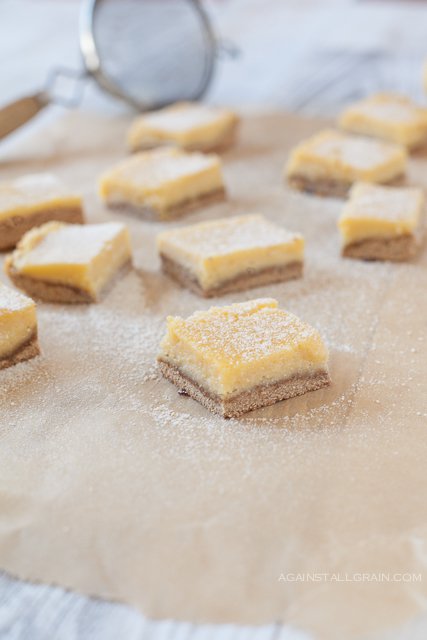 tip: these seeds are fully raw and all natural. grind the sunflower seeds in a blender or coffee grinder. Sift and discard any large fragments before measuring. Blanched almond flour may also be used in place of the ground sunflower seeds.