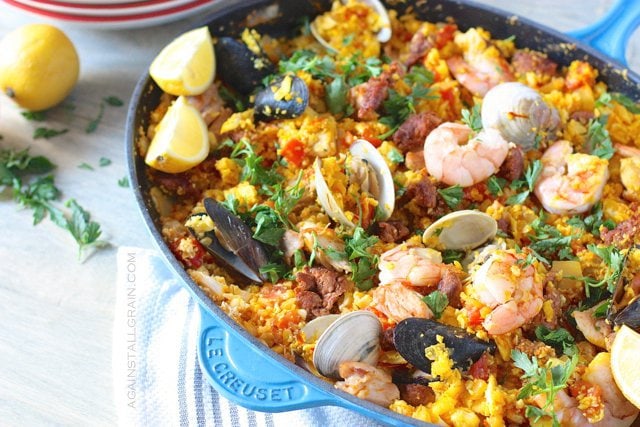 When I came up with this recipe, I couldn't decide if I should do all meat, vegetarian or a seafood paella; so I compromised and made what I am calling Mixed Seafood Paella.
I am notorious for being indecisive. Now you know why I frequently post "this or that" questions for you to all decide for me on Facebook so I don't have to! After 10 years together, my husband has learned to love me despite this fault, although it used to drive him crazy. When we're out to eat, he even offers to order my runner up dish when I can't decide what to chose from the menu.
I'm also a people pleaser and always worry about making the wrong decision and letting someone down. We were having friends for dinner last month and I wanted to make paella. I didn't know whether they liked seafood paella, strictly meat or a vegetarian paella so after going back and forth I took the leap and decided to throw everything but the kitchen sink into it.
Paella is a traditional Spanish dish of short-grain rice, saffron and good quality olive oil. There are 3 different popular versions: seafood, vegetarian, or mixed meat and seafood. Keeping with the theme of my indecisiveness, my favorite is the mixed version The variety of seafood balances the spice of the chorizo and gives it a subtle smooth flavor. Plus it keeps me from having to chose and I get the best of all worlds!
Being grain-free, the traditional short-grain rice that is normally used is not an option to me, so I used cauliflower chopped up very finely to resemble rice grains. Once cooked, the "riced" cauliflower tenderizes and mimics the consistency of rice. Cauliflower rice is nothing new to the grain-free world, but it is extremely versatile. I use a spiced saffron cauli-rice when I make Indian food to serve under the rich sauces. You really can substitute it for any of your favorite rice dishes.  Try using it in this Cajun Dirty Rice, Vietnamese Fried Rice, or just as a simple side dish with butter and seasoning.
Never cooked shellfish before? Don't'fret. I didn't have much experience with it either before this dish but it's really simple. If you don't like seafood, feel free to make this Paella your own. Add more chicken or sausage, or replace the meat with vegetables. You will want to use the largest shallow skillet you have so the cauli-rice cooks evenly.  I use this oval skillet from Le Creuset. It's not meant to be a paella pan necessarily, but it works perfectly!