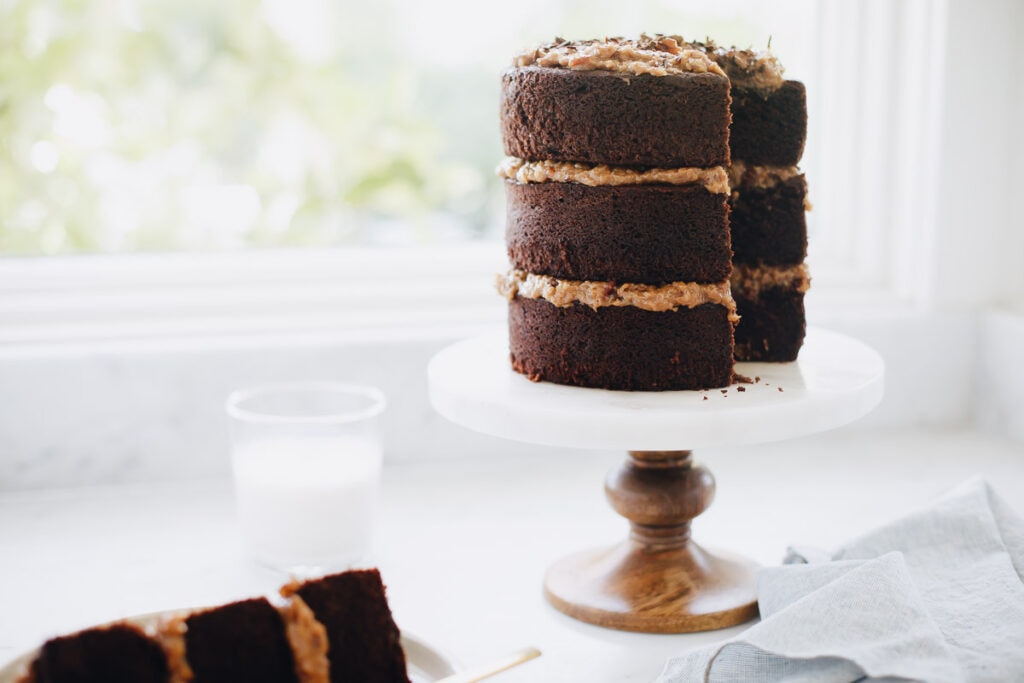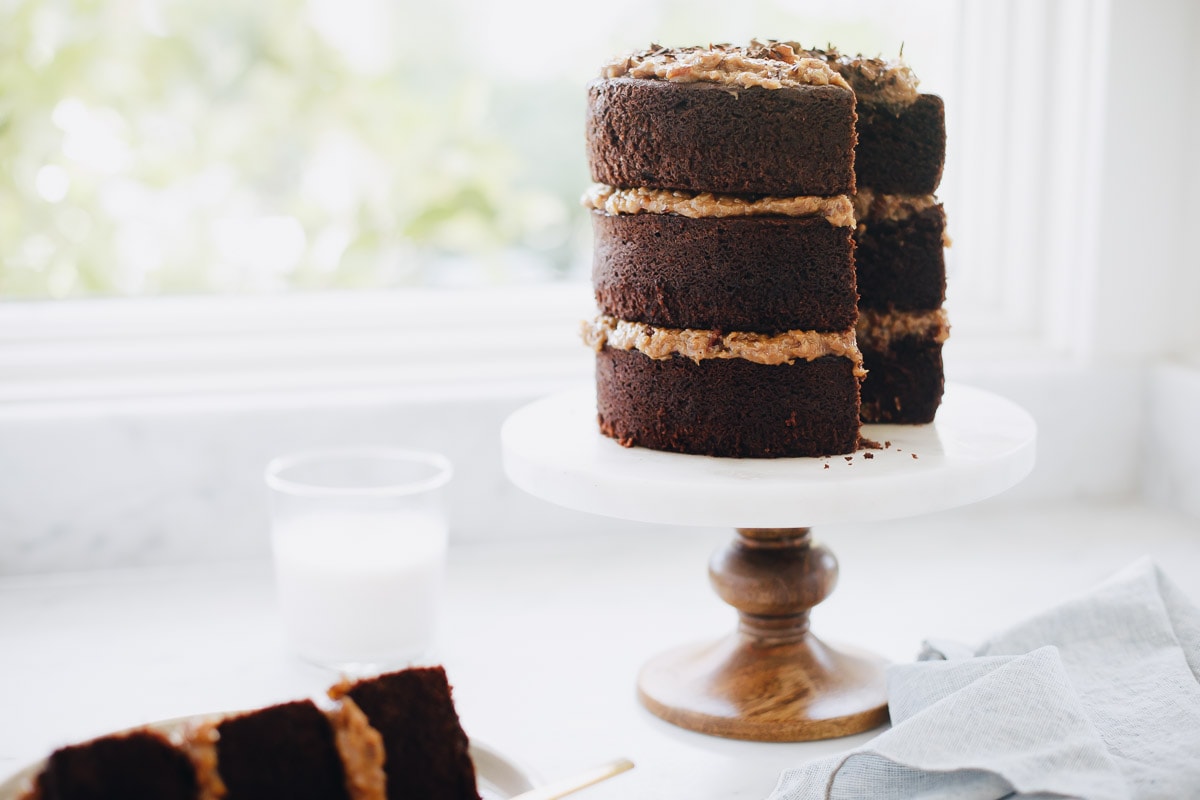 In June, for Father's Day, I posted a photo and some behind-the-scenes stories on my Instagram of a decadent chocolate cake that was under construction.  At Ryan's request, I  was busy in the kitchen, excitedly creating a gluten-free German Chocolate Cake. So many of you immediately requested the recipe! I'm thrilled to finally share the how-to for this mouth-watering dessert. It is a layered cake rich in chocolate flavor with an indulgent pecan coconut filling. 
I was thrilled when Ryan asked for this cake since I hadn't tried a paleo version of it before. Growing up, my mom and grandma were always making German Chocolate Cake to celebrate special occasions. It makes me a little nostalgic, even though I'm not a big fan of coconut. A German Chocolate Cake is also one of my father-in-law's favorites, and since they were spending Father's Day with us, so I just knew that I had to perfect a grain-free and primal-friendly version (no pressure!).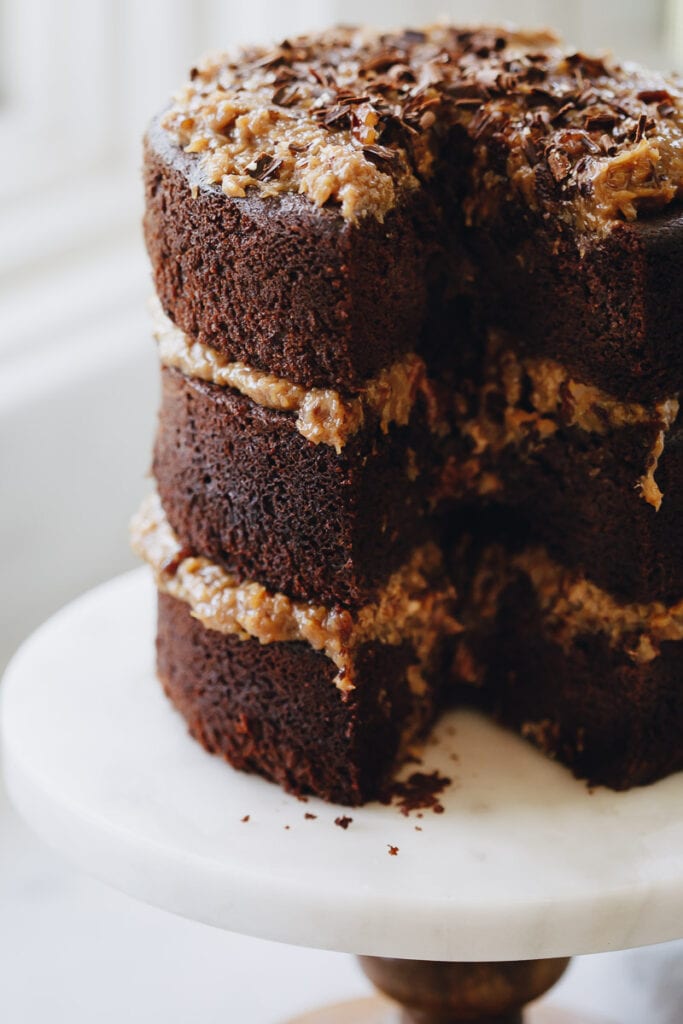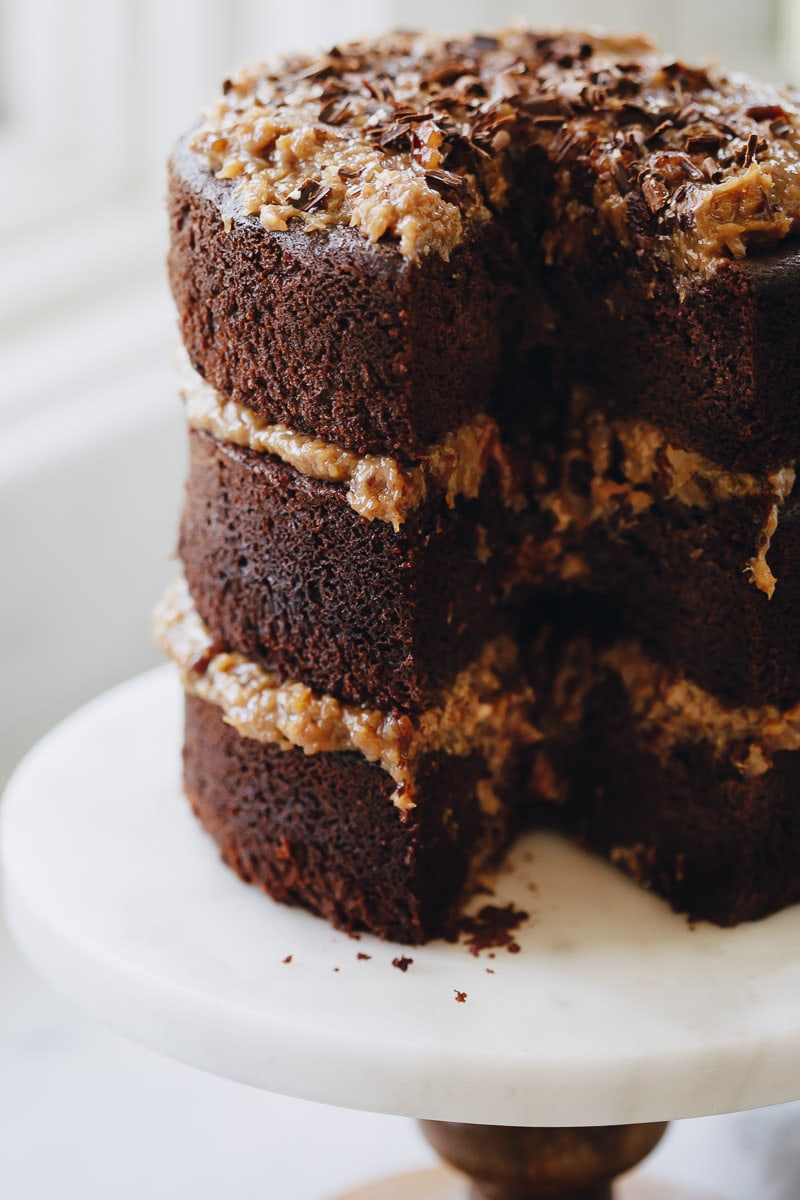 Is it German?
You may be wondering why the cake has "German" in its name – in pictures, it looks like a classic American cake. My mom's side of the family is German, so I grew up thinking this cake must be a traditional custom in Germany. Not so much!
It turns out that it did not come from Germany at all. It actually comes from an American chocolate maker named Samuel German. He developed a mildly sweet dark chocolate, under the Baker's brand, that quickly became a staple in this well-known cake. 
The recipe sprang to popularity when it was highlighted as the "recipe of the day" in a Dallas newspaper in 1957. So while it's retro, it's definitely not traditionally German. The recipe quickly spread all over the country and was named German Chocolate Cake after Samuel German's famous chocolate.
Germans do make some phenomenal desserts though. My family spent a week there when I was in middle school and I'll never forget all of the delicious and creative treats. I still dream of the Schwarzwälder Kirschtorte, or Black Forest Cherry-tortes. I created a cupcake back in 2012 to mimic those flavors if you're more of a chocolate-cherry person than a chocolate-coconut lover.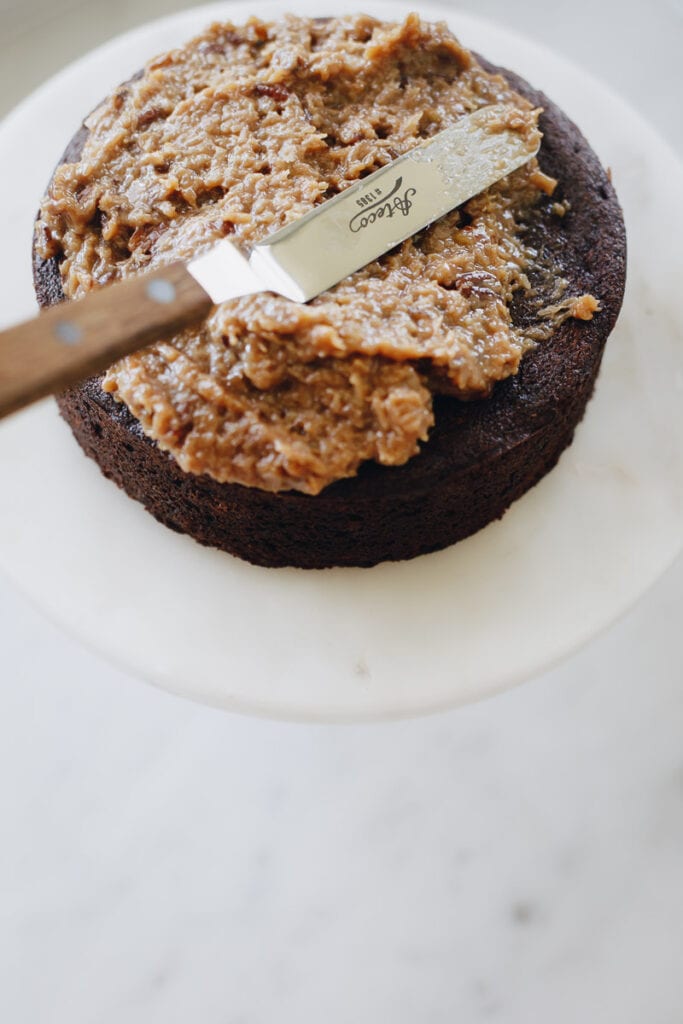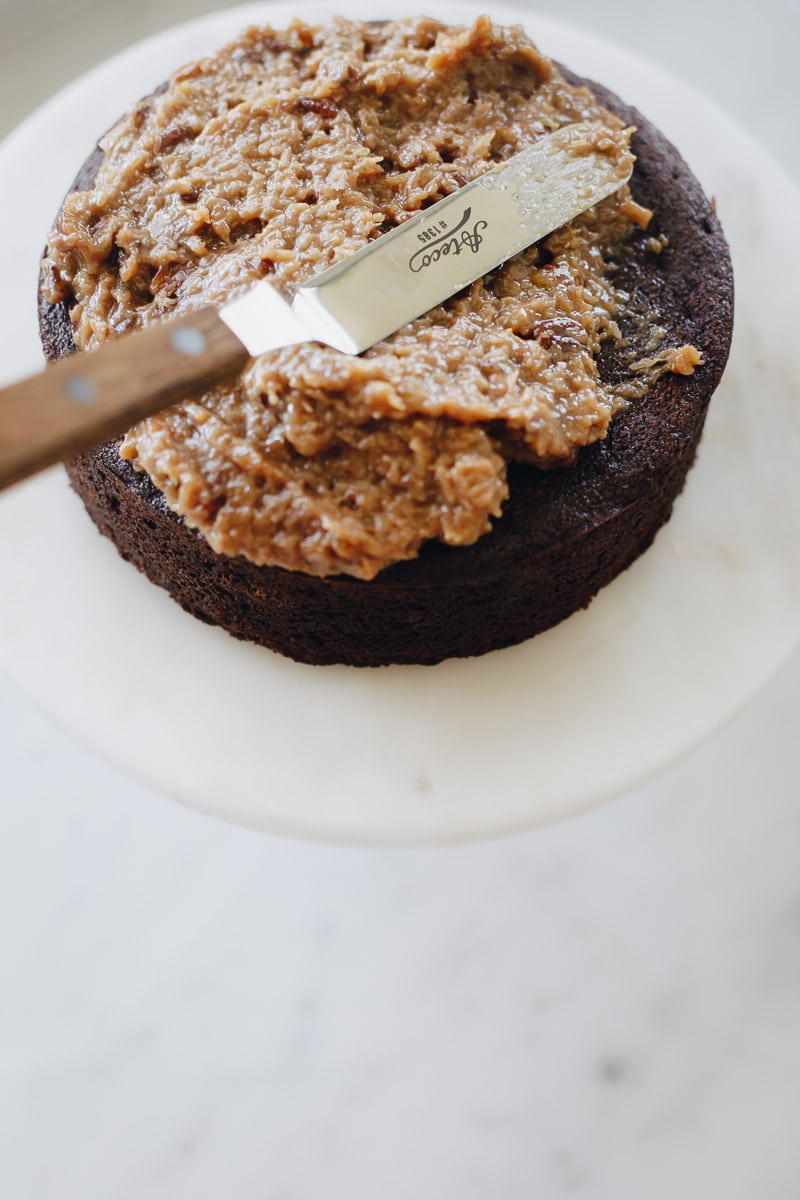 Dairy-free
In this recipe, I used grass-fed butter to achieve the most authentic traditional flavor reminiscent of the classic. I also tested it with sustainable palm shortening to keep it dairy-free, and I am happy to report that the alternative works great! The flavors just aren't as rich. I didn't test it with ghee, but I think that would work too. Your frosting just may be a little less thick, but the flavors will be there.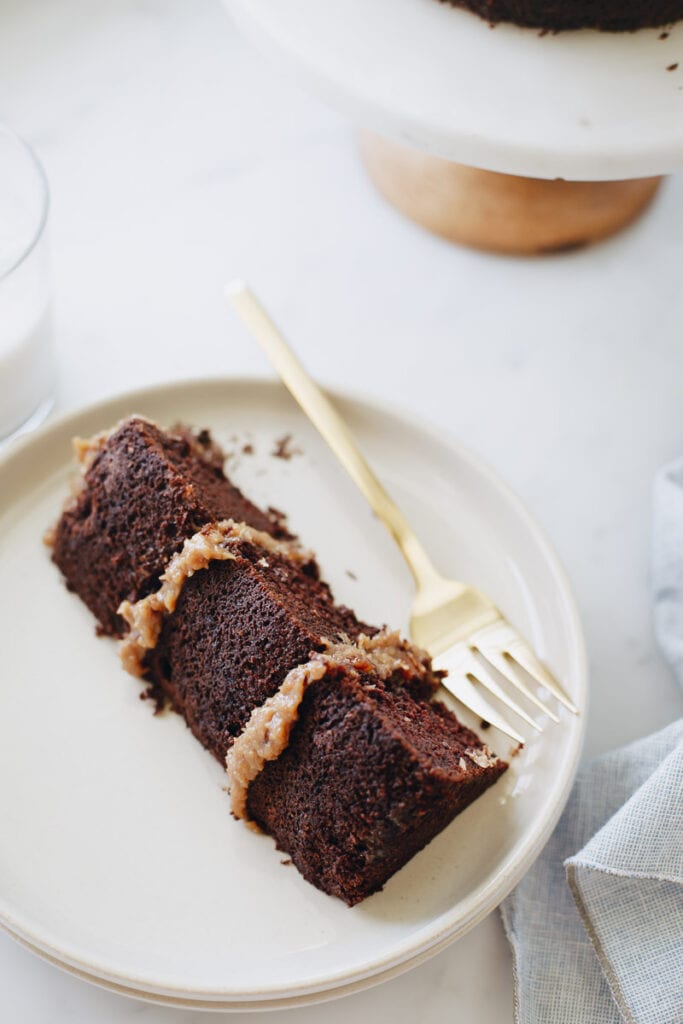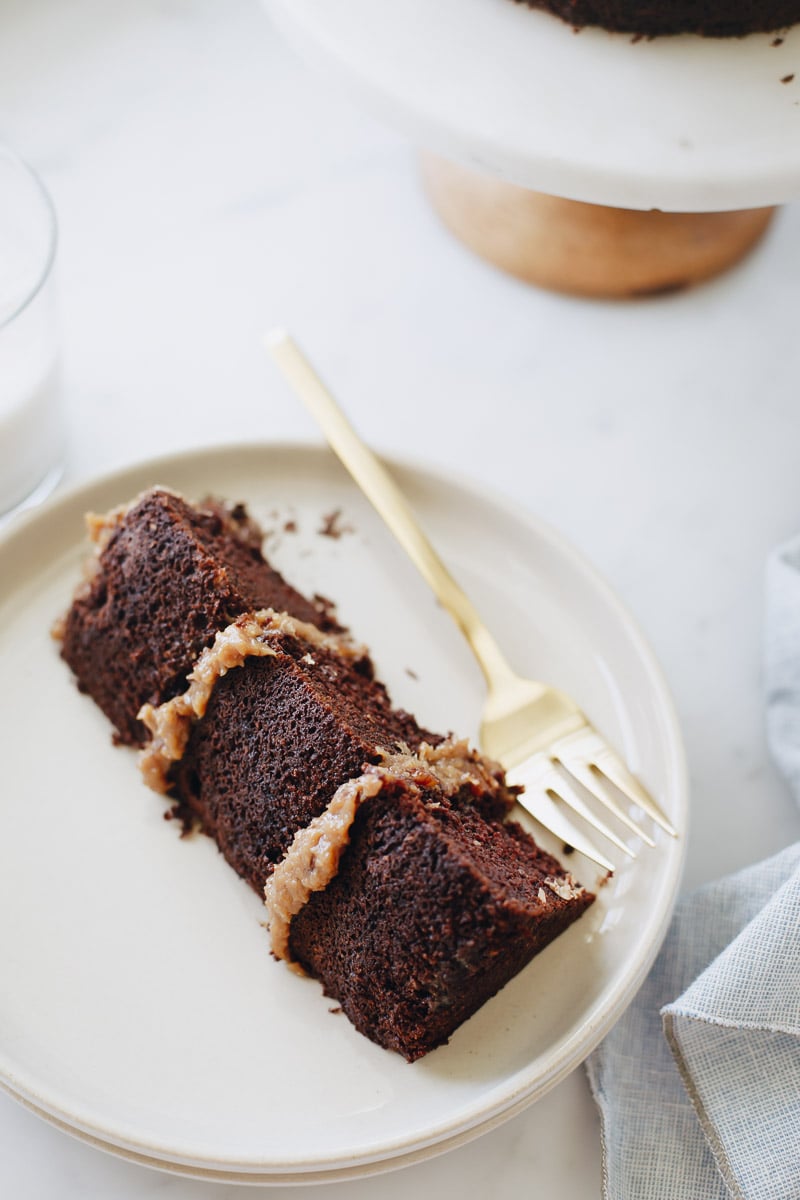 To frost or not to frost 
I chose to omit the additional chocolate frosting for this cake. I love the look of a "naked" cake and wanted the rich pecan-coconut filling to speak for itself. If you are interested in adding a chocolate frosting you can use my Chocolate Buttercream recipe on page 160 in my cookbook Celebrations. My chocolate ganache from my first book, Against all Grain, would also be pretty great drizzled over top and down the sides of the cake.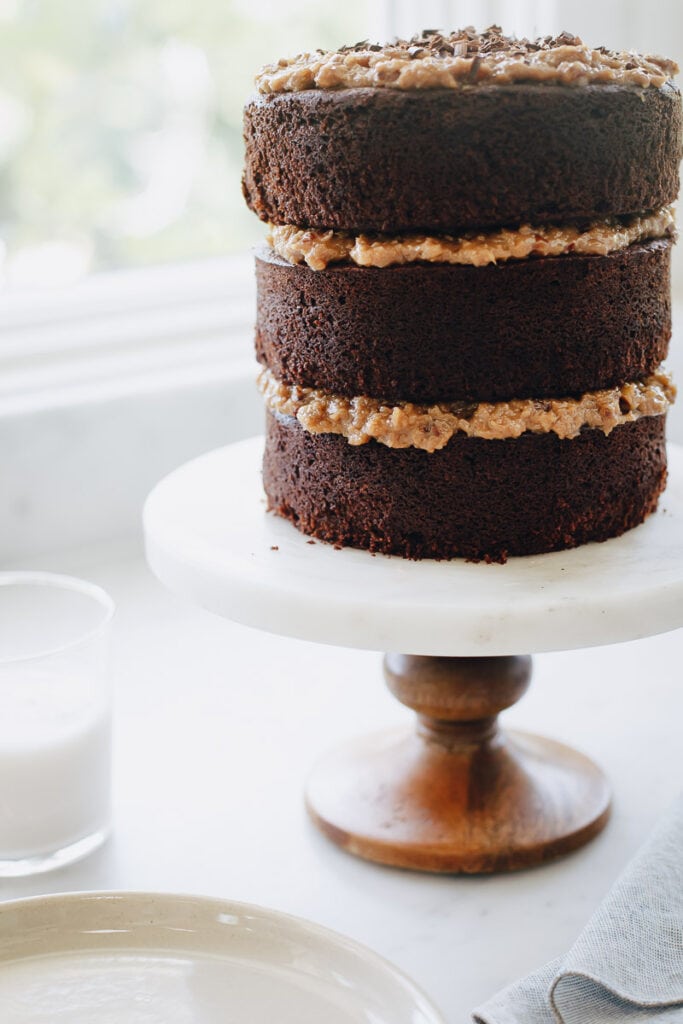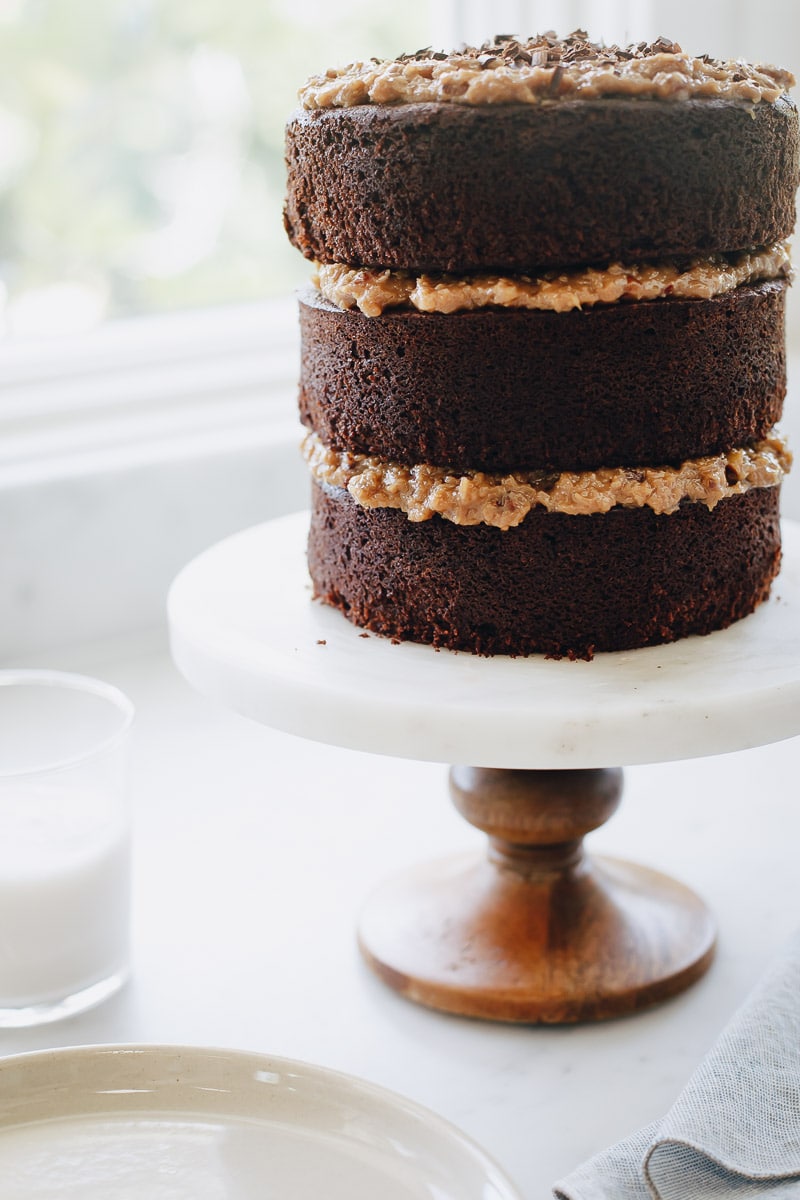 The Chocolate
To keep the recipe as close to the original as possible I used Guittard Semi-Sweet Chocolate. I tried it with unsweetened, 100% cacao chocolate, sweetened with maple and it was too dense and had too deep of a chocolate flavor.
After a couple of attempts at the cake, I decided to test a "real" German Chocolate Cake from Food&Wine by Ali Larter (it has 5,800 5-Star reviews!) and subbed in an all-purpose gluten-free flour blend so we could all taste it against my own. I even used all of the regular refined sugar and butter the recipe calls for. All in the name of R&D, for you, my lovely readers. It's a tough job, but someone has to do it. I had to distribute the rest of that cake to all of our friends and family. Otherwise, I would devour it and pay for it, but the few bites I had were glorious.
I love Guittard chocolate because it uses fair trade practices, is 100% non-GMO, does not contain soy or dairy. It's also a  great female-run business right here in the Bay Area. It does contain 100% pure cane sugar though, so if you are looking for something that is cane sugar-free I would recommend using Hu Chocolate baking gems.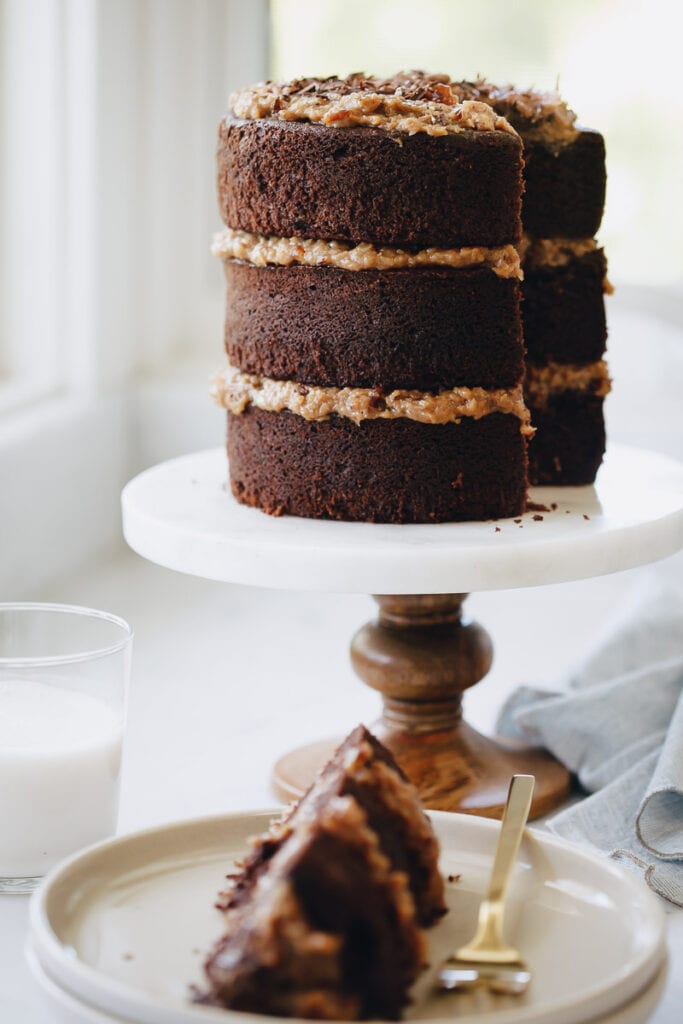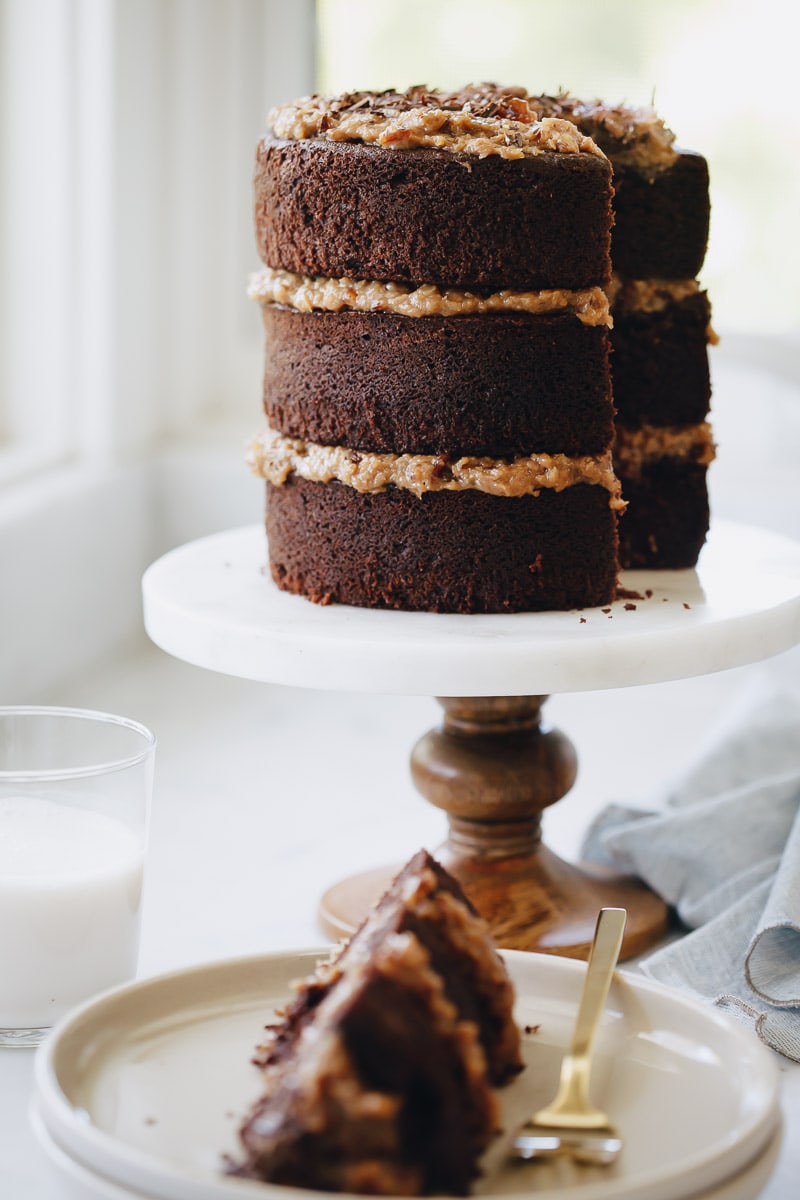 Prepping the Cake 
You can prep the cake and the pecan coconut filling separately up to 3 days in advance to help save you some time. I would recommend wrapping them tightly and storing the layers in the refrigerator to help keep it fresh and moist. Keep the frosting tightly covered in the refrigerator, but bring it to room temperature before frosting the cake.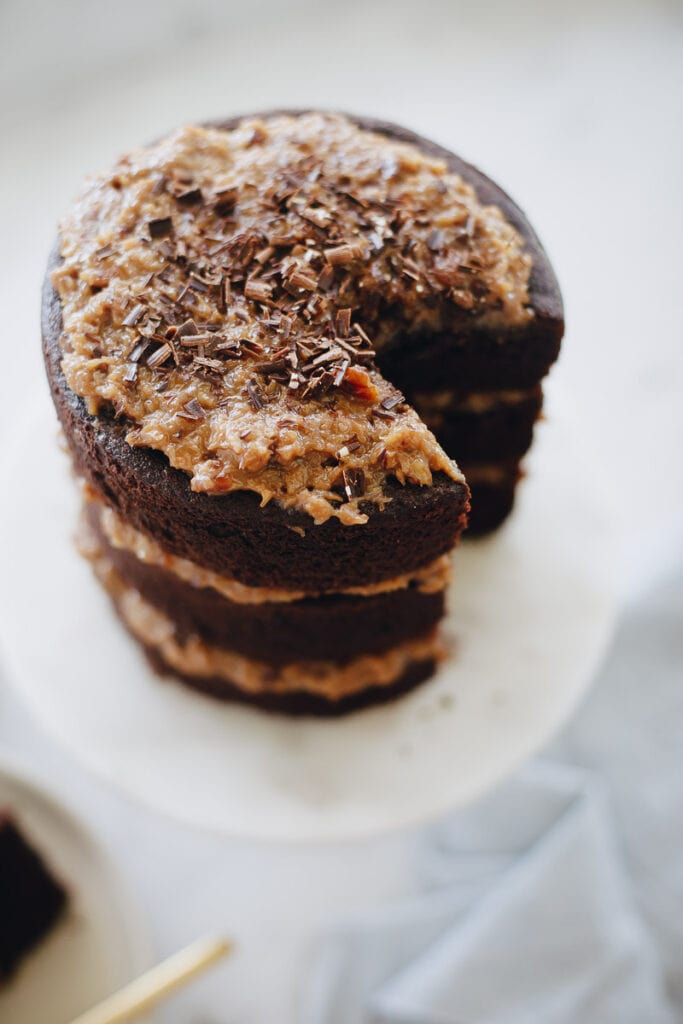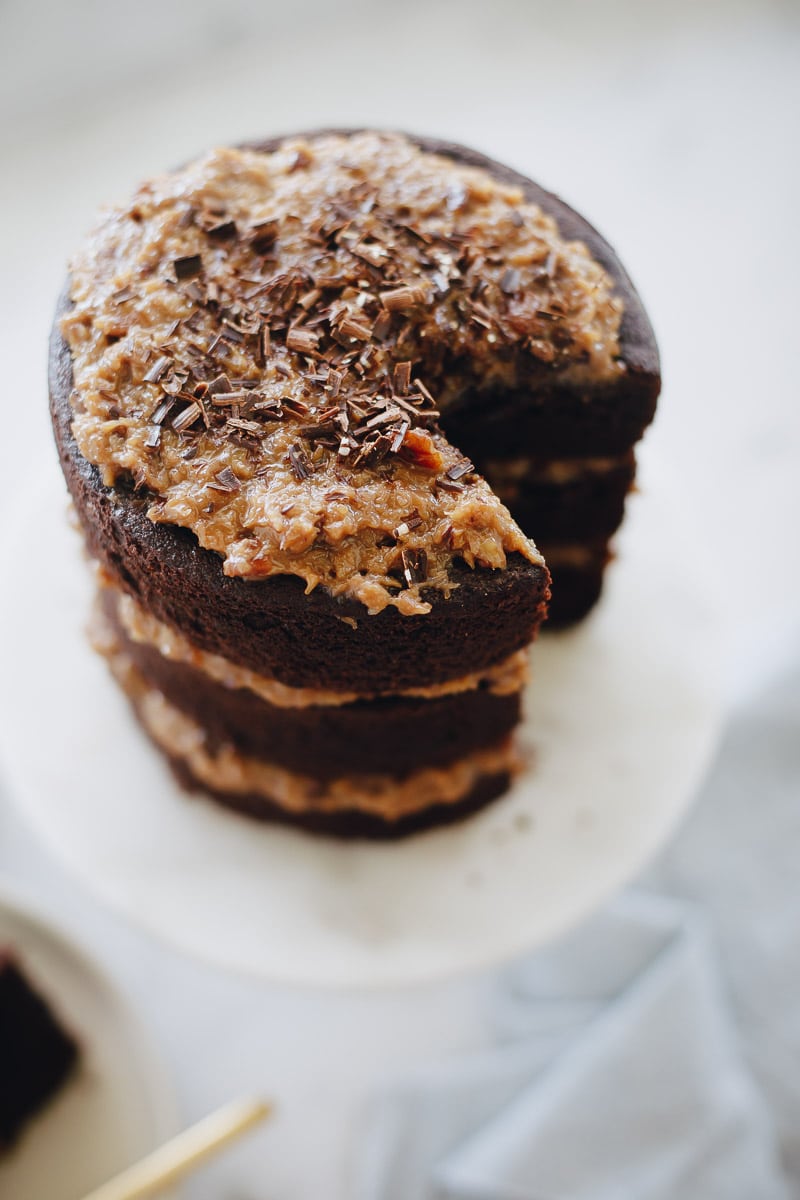 I hope you all enjoy this Gluten-Free German Chocolate Cake! I had so much fun recreating it, especially since it carries so many memories from my childhood. It is the perfect cake to make for a special occasion or just for fun during these crazy times.
Shop My Kitchen!