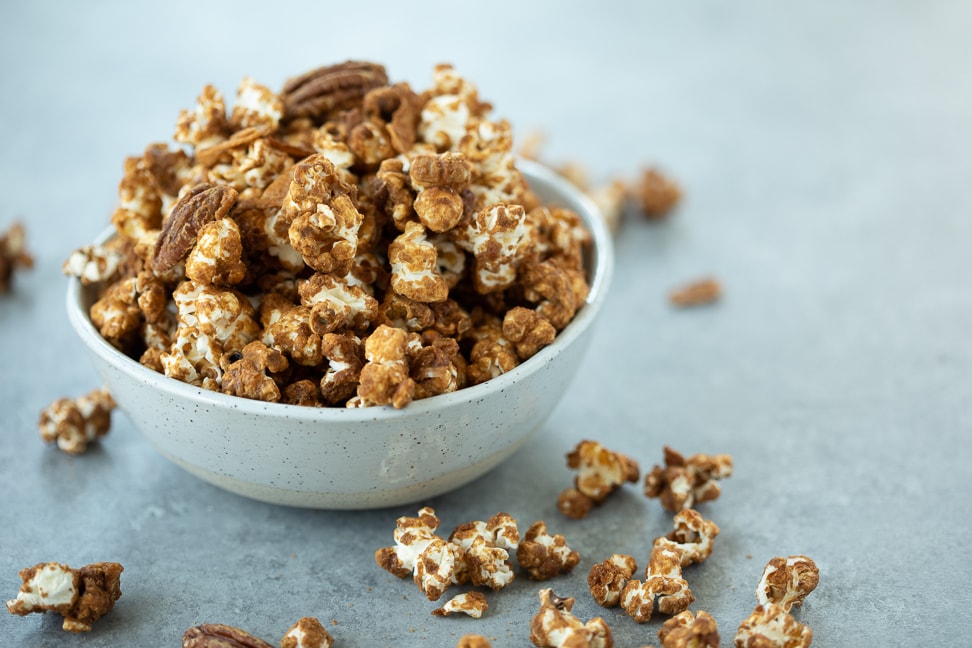 Caramel Corn always takes me straight to Halloween. Growing up it was one of those classics that we always made around the month of October and I continue the tradition with my children. They love making (and eating) this gluten-free caramel corn! 
I decided to jazz up the standard caramel corn by adding in some toasted coconut and pecans. The additions give it a nice crunchy nuttiness. I created this recipe over the holidays to give as gifts, and while it's not grain-free, it is free of refined sugars! Most caramel corn recipes use corn syrup or white sugar, so I love that this one uses pure maple syrup and coconut sugar.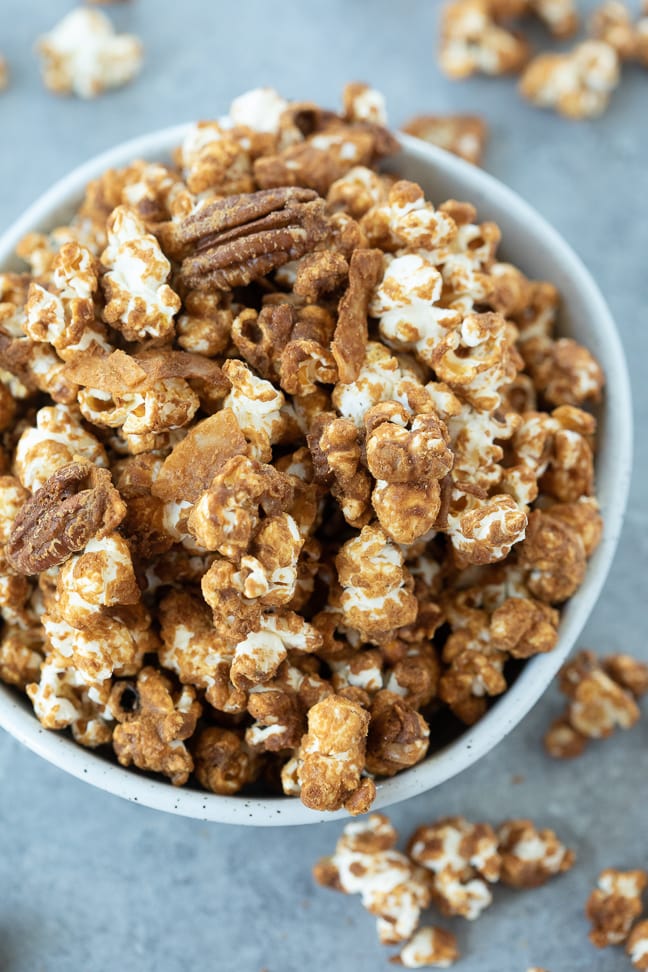 Sprouted Popcorn Kernels
I love popping sprouted, organic popcorn kernels fresh on the stovetop so it's easier on my kids' digestion and free from GMOs. Sprouting grains breaks down the phytates and makes them easier to digest. It also makes the nutrients in them more easily absorbed. While I can't tolerate grains, my kids and Ryan can indulge in the occasional gluten-free grain. I feel much more comfortable feeding them ones that are soaked and sprouted.
Of course, you can also use the microwave packs if that's easier for you. Just choose one that is free of salt and butter.
Making This Grain-Free
Since corn is a grain, and this is againstallgrain.com after all, I wanted to give you a grain-free substitution as well – grain-free cereal! There's quite a few brands on the market made with cassava, pea protein, or other grain-free ingredients. I'll be honest, I've tried them all and don't really care for them as a cereal. However, they'd be a great stand-in for this recipe, or the Rice Crispy Treats I'll be sharing soon.
Make sure to choose one that is no larger than the size of a cheerio for the best results. You could also use my granola recipe in this! The granola would be my top pick if you can tolerate nuts. I also have a nut-free version in my Meals Made Simple cookbook.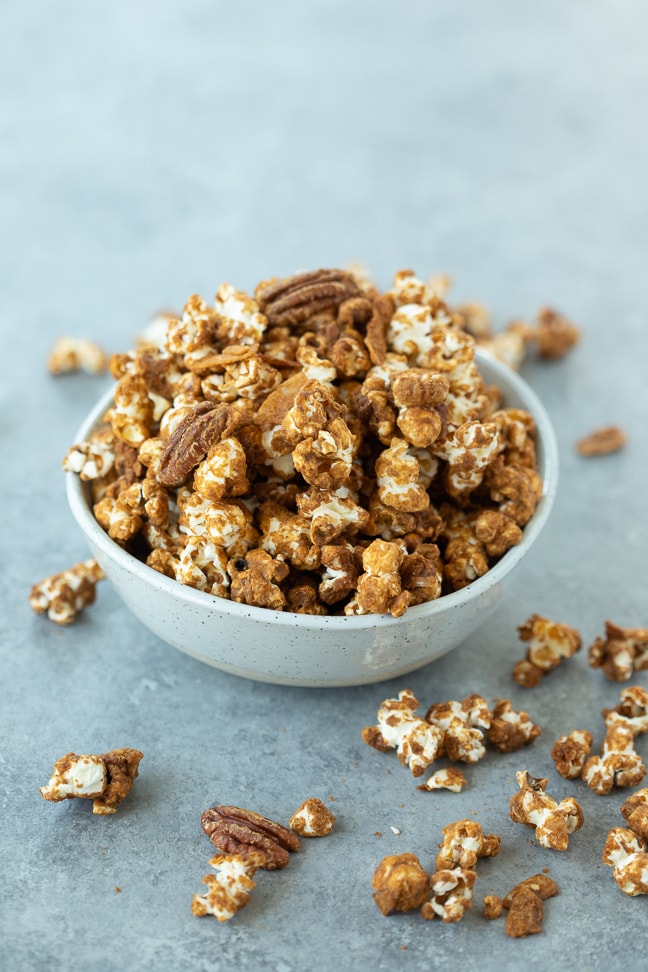 Quarantine Holidays
You may be reading this post and thinking "Holidays? What?" Rightfully so! The world is confusing right now as it is, haha!
Here's the story:
A few weeks ago, I was sautéing some onions, celery, and carrots for a soup I was making. The smell reminded me of Thanksgiving (as those 3 vegetables cooking always do!). We decided that we would have a Thanksgiving dinner during our quarantine as something to look forward to since I was unable to enjoy the meal in November. I had just recently been released from the hospital and couldn't tolerate many foods.
As we started getting excited for the Thanksgiving dinner, and the shelter in place date kept getting pushed out further and further, we decided it would be fun to celebrate what we have now dubbed Quarantine Holidays. Each week we pick a holiday to celebrate, and everything we cook, read, watch, or craft is related. It gives us a weekly focus as a family and I get to celebrate the holidays I missed or couldn't fully engage in. 
We started off with Halloween, and it was so much fun! You can see all of the crafts we made, books we read, movies we watched, and recipes we cooked over on my Instagram page under the Quarantine Holidays highlight.
We capped off Halloween week with a fun Halloween party for the kids, and let them trick-or-treat door to door inside our house. I wasn't able to take them trick-or-treating in October, or do any of the fun Halloween games we usually love to do, so it was especially sweet for me. They've been asking to do it again every day since! It's a memory I know we will all have forever. 
Now we will move onto Thanksgiving this week, and Christmas the following week! Make sure you follow along with us on Facebook or Instagram to see what we're up to! Depending on how much longer we're sheltered in place, I'd love to do a New Years Eve week and a 4th of July week too!
This Coconut Praline Gluten-Free Caramel Corn is such a fun recipe to get the kids involved with. It was the perfect thing to kick off our Halloween week – or any week for that matter! It also lasts for weeks if stored properly. Due to that, it makes a really great gift. Drop off some to your neighbors or mail some to a friend you've been missing. 
You can check out the video of us making this gluten-free caramel corn on our fun Facebook and Instagram live "show" that we've been doing called Wake Up With The Walkers.
Shop The Recipe!

Watch Us Cook!
View this post on Instagram