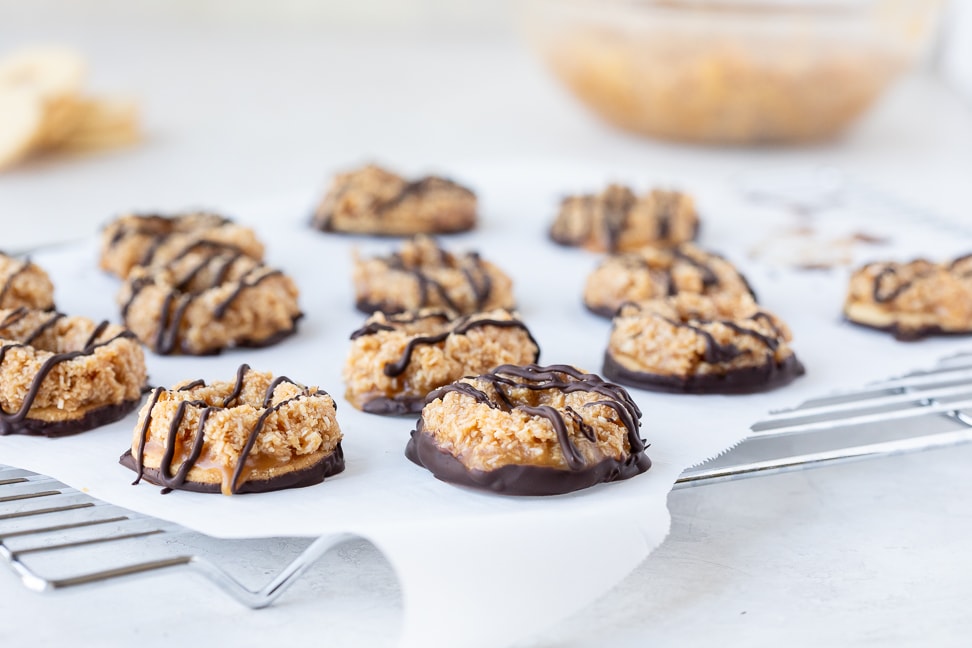 When I took it upon myself to make paleo and gluten-free homemade versions of the ever popular Thin Mint & Tagalong cookies, I knew I also had to include a Gluten-Free Samoas Cookie for my coconut lovers out there! Although I use coconut products in my recipes often, I'm actually not the biggest coconut fan. That said, when you throw caramel and chocolate into the mix, I can be convinced!
These copycat Gluten-Free Samoas Cookies have a buttery shortbread base, topped with toasted coconut and creamy caramel; all dipped and drizzled with dark chocolate. Like the gluten-free Tagalongs that I recreated, I already had a recipe for each component of a Samoas; so it was a no-brainer!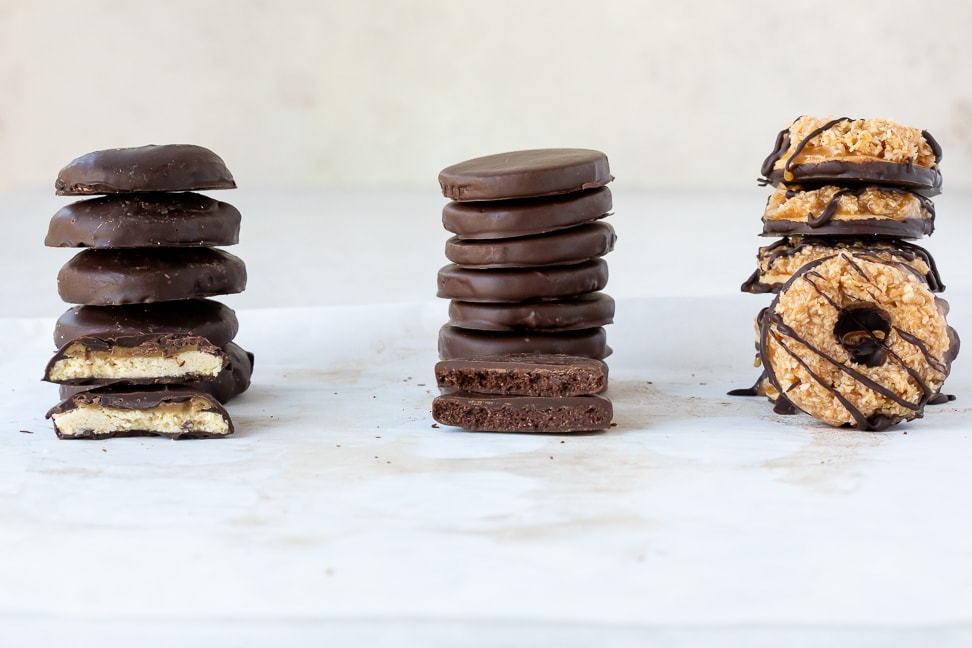 Cutting and Filling the Cookies
While these cookies can certainly be a labor of love, they're the perfect recipe to get your kids involved in. My kids love to cut out the cookies and re-roll the extra dough. A little extra help can't hurt, right? When it comes to punching out the middle of the cookie, I used the largest size piping tip from my piping set. I found it was the perfect size! If you don't care for the classic Samoas shape, you can always leave the center intact
It can be a little tricky to get the coconut and caramel mixture on the cookie though, so sometimes I take over when we get to that step. When you're putting the coconut and caramel mixture onto the cookie, you'll have to use your fingers and get your hands a little dirty! At first, I tried to dip the top of the cookie with the caramel "glue" into the coconut mixture, but I found it wasn't sticking or that the cookie would break. Don't be afraid to roll up those sleeves! Just pinch little bits of the coconut mixture and firmly press them onto the cookie, working around the circle until it's full.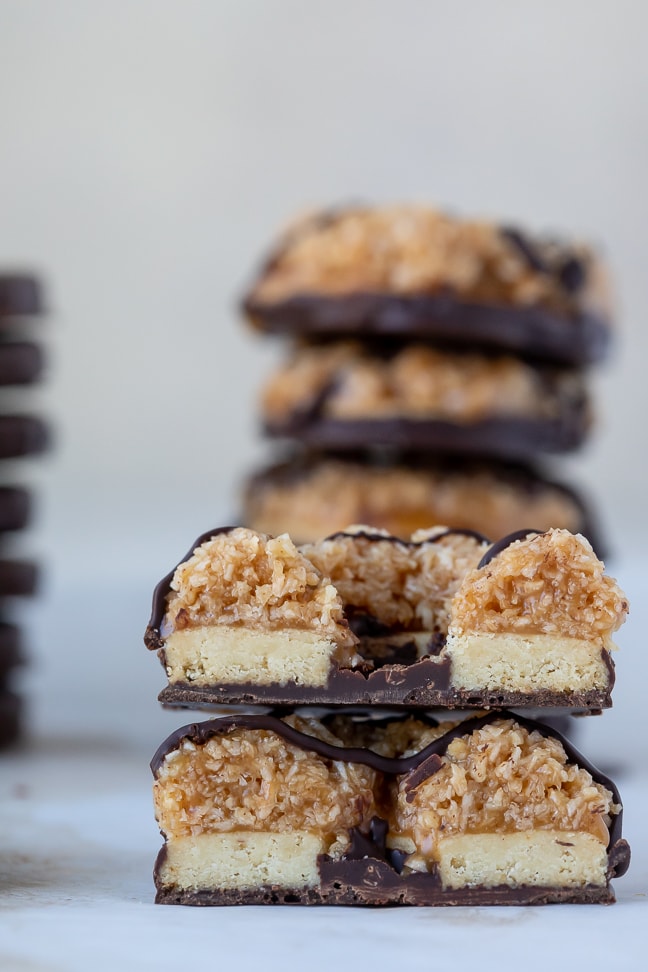 A Few More Tips for You!
You can skip the cutting and pressing steps completely and just make Samoa Bars if you want to make these even easier! Bake the shortbread in an 8×8 pan for 15 minutes, or until golden. Then spread half of the chocolate on top of the hot shortbread so it melts. Pop the pan in the freezer for 15 minutes to set the chocolate, then spread the coconut-caramel mixture on top of that. Melt the remaining chocolate and drizzle it overtop, and you have Samoa bars!
If you have kids that are nut-free, you can always swap out the shortbread in this recipe for the nut-free shortbread crust in my Lemon Bars (Celebrations, page 117) and swap out the almond butter for sunflower seed butter in the caramel.
I hope that you all love this recipe and that it brings back some normalcy and reignites those childhood traditions in your family!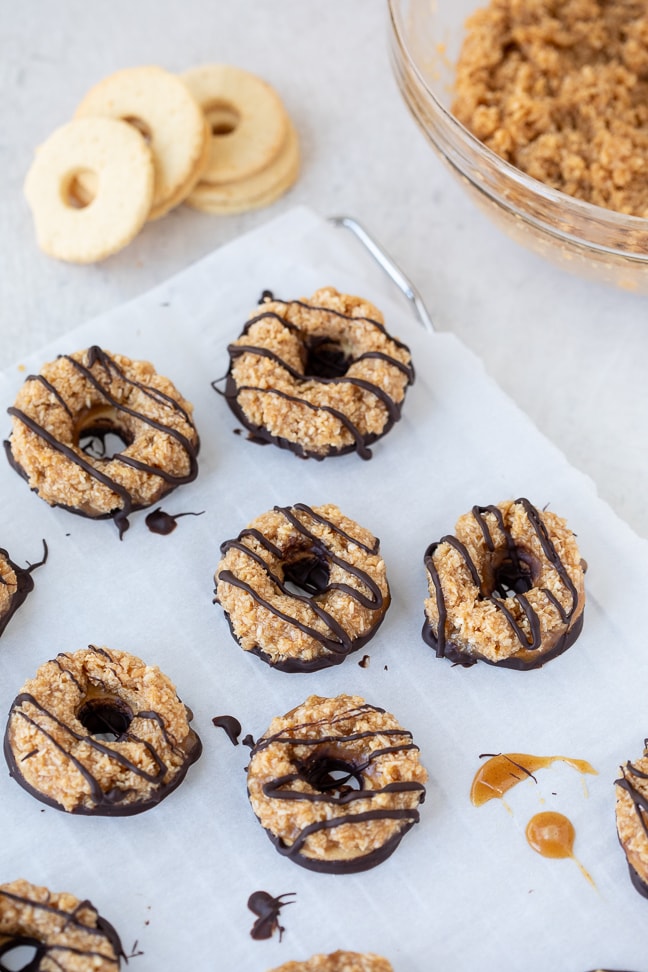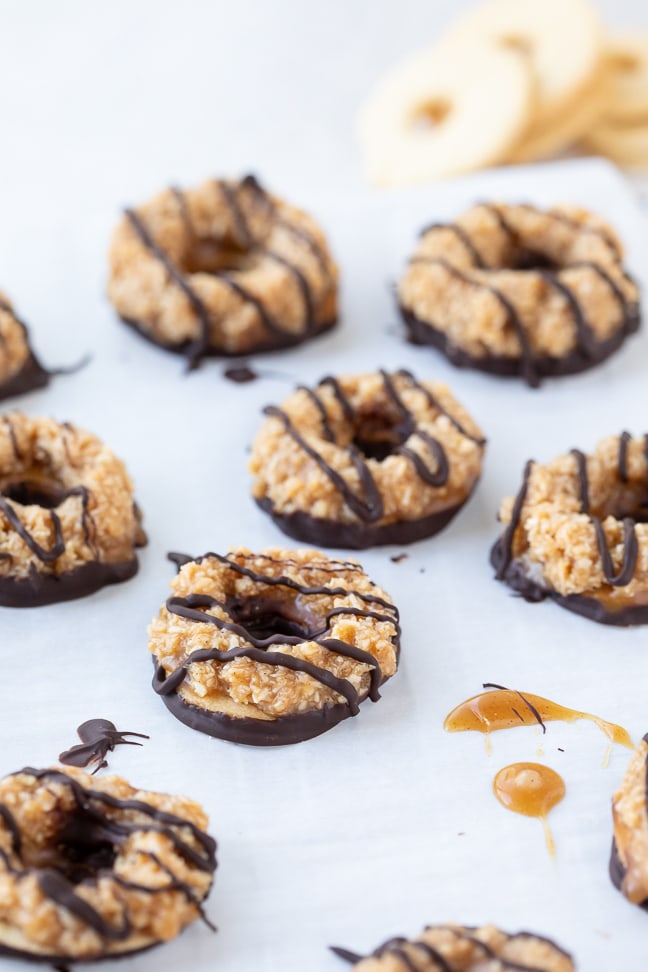 Shop My Kitchen!