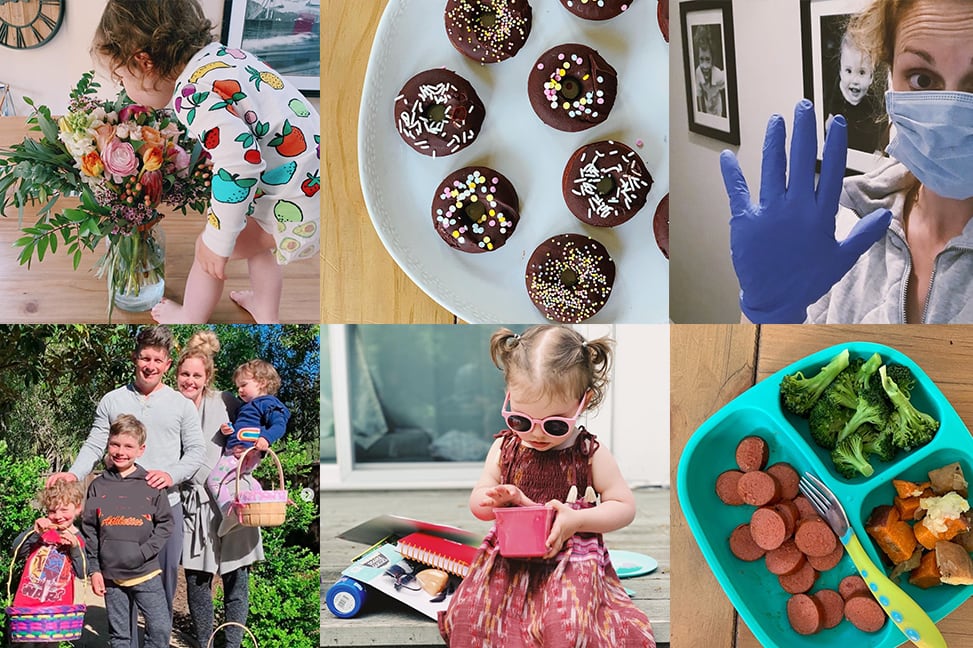 Hi friends! I hope you all had a happy Easter/ Passover weekend! We ended up having a very low key day on Sunday and didn't cook, but we spent some quality time together outside in the sunshine! This week's digest includes a look into what we were up to this week, what we ate, our Easter Sunday, and an update on my sick husband and Asher!
We've been loving these grain-free Everything Bagels with Green Valley Organics lactose-free cream cheese lately 😍 😍
I have a very serious dilemma.
Caramel Pecan Sticky Buns OR Cinnamon Rolls?
Both recipes can be found in my Celebrations Cookbook and have an egg-free modification!
I'm so grateful for each of you and that you choose to follow along with our adventures here daily, and cook from my books in your kitchens.
I hope you all have a relaxing weekend, cook amazing food, and take time to stop and smell the 🌹 💐 like Kezie.
And yes, she's always on the table. Always. Little 🐒.
When you have your heart set on grain-free Sticky Buns (thanks for settling that score for me!) but the kids chose donuts. Kids win.
🍩 🍩 🍩
How was your Easter weekend?
We had a pretty untraditional celebration (for us at least!), and I have to say, it was quite refreshing.
We woke up with donuts (from the freezer that were made last week! 🙌🏻), read the Easter story, did an egg hunt in jammies, and then Asher and Ryan went to the A's game, and I stayed home with the younger 2.
I'm definitely a girl who loves tradition, and holidays, so I thought I'd be disappointed that we didn't have the type of day we normally have. But I found myself wondering if it was because I'd actually miss those events, or if it was because I wouldn't get a perfectly posed and dressed photo out of it to share at the end of the day. The second photo is the best we got, and I love it! We're all in it, and mostly looking, and that's enough for me. It doesn't fit a perfectly composed IG "grid," but it's authentically us in this stage in our lives.
After experiencing a stress-free "holiday" like yesterday, I may just have to implement this every other year or so (because I really do enjoy hosting and cooking up a storm for my friends and loved ones). It was just carefree enough, without a schedule, and without the pressures of doing all the "right" things, to remember what the day was actually about.
And I was able to just enjoy my kid's laughter and play with them without needing to run here and there, or be in the kitchen all morning.
Even behind all the beautiful family photos popping up on here from yesterday, I have to imagine a lot of people had a similar day to us and just didn't share photos telling those stories. Where:
– nap schedules may have gotten in the way of church – kids refused to wear normal clothes and dressed up in their Batman costume to egg hunt
– an "unnamed" older child may have been ungrateful with the contents of their basket, expecting something different
– mom chose to go to the park and play in the water with her kids instead of spending energy to create the big IG-worthy brunch spread
– dinner consisted of playing baseball in the yard, chasing bubbles, grass-fed hot dogs, broccoli, and leftover roasted sweet potatoes
Such is life! 😍
Examining her loot from grandma 😎
Oh, motherhood. And more specifically motherhood and autoimmune disease.
A few years ago we got the Noro Virus and it flared up my UC big time. Last year a bad stomach bug may have contributed to a postpartum flare that was really hard to put into remission.
UPDATE: labs came back negative for Noro 🙏🏻🙏🏻🙏🏻🙏🏻🙏🏻🙏🏻🙏🏻
Ryan and Asher have been down for the count and I spared no effort in taking precautions. Ry went to the ER for dehydration via ambulance this week at 2 am because I had to stay with Asher, and I didn't sleep a wink just listening to hear if the little 2 started up. Cribs, toddlers and 🤢 are no fun. So that was our Monday!
The little ones and I were safe. We're thinking it was food poisoning from something that just the guys ate and that we're spared! I popped a few activated charcoal to be safe and have washed my hands like crazy in addition to quarantining them to the back bedroom together and forbidding anyone else within 5 feet of the door. 😂
Also – I learned during Noro that real bleach has a time and place. I purged my house of all toxic cleaners a few years ago and thought I was doing a greeeaattt job using my more natural, bleach free disinfectant on everything. Nope – pull that ish out of the back of your cupboard and spray everything the sickies have touched because it's the only thing that will keep that virus from spreading! 😷
Besides keeping it from spreading, they're sipping on @nuunhydration electrolyte drinks, I'm working on trying to get them to keep some bone broth down, oregano oil on the bottoms of their feet, and we'll be going heavy on the probiotics for the next few weeks to rebalance their gut flora.
I know you've all been there. What do you do to prevent the plague from taking down your family like flies? And what do you to nurse them back to health? Always love to learn new natural remedies!
bonjour happiness
☺️☺️☺️
happy to report that me and the littles were spared and the other 2 are doing well!
also pretty sure they'll never eat bunless coliseum hot dogs ever again. 😜
Have Cowboy Cookies replaced Real Deal Chocolate Chip Cookies in your home?
This grain-free, dairy-free rendition of Laura Bush's Texas-born cookies has become a winner in our home, and yours! These cookies are made heartier with the addition of toasted coconut flakes, pecans, and a punch of cinnamon.
Find the recipe in Eat What You Love
This is an example of what I order out from my local poke place. I just ask them to do it without the marinade and add my own coconut aminos and sesame oil!
I've had a lot of people ask me if my pesto power meatballs from Eat What You Love taste like liver, and I am here to report my kids have no idea there is liver inside of them! My kids love them for breakfast or in their lunches!
Started going through Kezia's baby clothes and I can't believe she once fit into such tiny clothes, she is so big now I can hardly stand it!