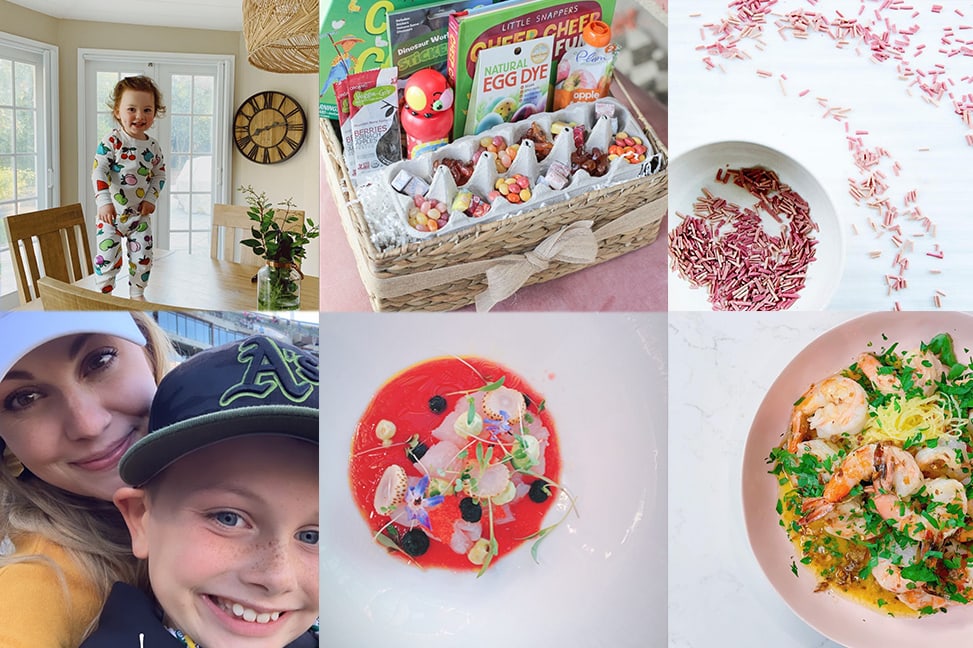 Hi everyone! I hope you had a great week and I hope the weather is starting to feel more like spring wherever you are! This week's digest includes a look into our week and what we ate, a healthier Easter basket, a sweet message from Ryan and his outlook on being my caretaker, and a new recipe that I made on my weekly Live segment!
Breakfast is served.
🍎🍐🍏🍌🍒🍓🍍
Some healthier Easter Basket inspiration for you!
What does the Easter 🐰 typically leave for your kiddos?
Artificial food dyes and high fructose corn syrup are so prevalent in most commercial candy, so we get creative and do a mix of crafts, toys, and a few organic, dye-free candies from the health food store! Click here to see what I buy!
Ryan and I did a little live Q&A together last weekend and we both thought this question was so important. 
"How do I best support my wife (or spouse) through an autoimmune disease/flares?"
This is a question that's not asked enough, and we'd really love to spend some more time writing and speaking about in an effort to help our community.
What would you like to know more about?
I loved Ryan's answers, and especially how he started the answer by taking care of himself. It's not just the person who suffers from the disease that's affected. There's a ripple effect. Be it your spouse, friends, your kids, or other close family members that can often shoulder the burden, but really want to help.
My advice? Let them. Don't be stubborn and try to hold the world on your own shoulders. Allow help. Allow the neighbor to bring you dinner. The grandparent to take your kids for a few hours. Your spouse to do the carpool if you're not able. Or someone to order takeout when you can't cook.
But also know that those helping can be affected emotionally too. Especially those closest and deepest in it. And do whatever you can, in the strong moments you have, to make them feel heard and seen.
I'll never forget the first time Ryan admitted to me, nearly 3 years after my diagnosis, that he would sit on the steps after leaving my room and cry. Feeling hopeless and afraid for my life. But he never showed it to me. He made every effort to be strong in front of me. I was so happy when he let me know that. I had no idea.
I got really lucky when I married this one. We had no idea that 2 months later I'd be diagnosed and we'd spend the next 10 years walking through suffering from disease and the loss of a child. But he's never not been my rock and advocate. My hope is that everyone suffering with chronic illness has someone in their life that is as supportive.
Click here to watch the videos!
A thing of beauty
💕💕💕
I'm curious – Do you call them sprinkles or jimmies?
If you avoid cane sugar, corn products, and artificial food dyes (which can cause behavioral issues and ) like we do, finding sprinkles for treats is impossible!
I created a homemade sprinkles recipe in Eat What You Love so your kiddos (and parents 😉) can still experience the joy of colorful sprinkles on donuts, cupcakes, cakes and cookies as they grow up.
They're actually really easy to make too, and they last in the pantry for over a year!
Is anyone planning to make these for some homemade Easter treats this weekend?
We'll be dipping the donuts from the book in them, and I have plans to make some bunny shaped homemade marshmallows with sprinkles for a little Peeps copycat!
The AAGwich is up on my IGTV! What's your favorite filling?
There are 8 options for fillings in Eat What You Love! 
Ryan and I took a quick overnight trip to Carneros Inn in Napa. We try to get away even if it is only for one night or a dinner date night as often as our schedules allow. This was our gorgeous dinner!
I made this easy paleo Shrimp Scampi during my weekly Tuesday Live stream!
For everyone who viewed live and asked for the recipe, here it is (roughly). I eyeballed everything so I'll have to test it a few times and write it all out accurately before publishing it for real! 😘
Paleo Shrimp Scampi
Serves 4
• 3 tablespoons grass-fed ghee
• 1 tablespoon extra-virgin olive oil
• 3- 4 garlic cloves, minced
• 1/4 cup dry white wine or broth for Whole30 
• 1/2 teaspoon sea salt, or to taste
• ⅛ teaspoon crushed red pepper flakes, or to taste
• 1 pound large or extra-large shrimp, peeled and deveined
• 1/4 cup chopped parsley
• Freshly squeezed juice of half a lemon
• serve it over noodles of choice – I did roasted spaghetti squash tossed with olive oil, garlic powder, sea salt, and parsley.
METHOD
1. In a large skillet, melt ghee with olive oil. Add garlic and sauté until fragrant, about 1 minute. Add wine or broth, salt, and red pepper flakes and bring to a simmer. Let the wine reduce by half, about 2 minutes.
2. Add shrimp and sauté until they just turn pink, 2 to 3 minutes depending upon their size. Stir in the parsley and lemon juice and serve over noodles of choice.
Nut/Dairy/Grain-Free Lemon Bars from Celebrations getting a little dusting of arrowroot+maple sugar for an early Easter celebration.
🍋🍋🍋🍋
What dessert will you be making this weekend? I think I'm going to also have to make my Carrot Cake because I can't let Easter pass by without it!
We got so many questions last week about our relationship, how we met, & the importance we put on dates & overnights.
We started dating in high school in 2002 & met through mutual friends. We spent half of college dating long distance, & then both moved to the same city so we could finish school & be in the same place. We had a 2 year engagement (not recommended 😂), & were together 5 years before we married, right out of college in Sept 2007.
I was diagnosed with an incurable autoimmune disease that turned our life upside down 2 months after our wedding. We learned really quickly what "sickness&health" meant as Ryan sat by my bedside in countless hospitals, rescued & rushed me back to the US after I nearly lost my life in Uganda, & spent the next 5 years fighting for my life & advocating for my healthcare. He never faltered & I honestly am not sure if I'd be alive if he wasn't there through it all.
We learned so much about each other, the freedom to feel emotions, & how important communication is as a young newlywed couple. Allowing each other to feel – anger, frustration, loss of faith, depression, & grief – & to talk through those as they came held us together & allowed us to grow even closer.
Then, about 7 years after we got married & received my diagnosis, we experienced something exponentially more difficult than my disease. We lost our second child, our daughter Aila, shortly after birth.
I'm eternally grateful that the lessons we learned in the first part of our marriage glued us together, while so many families sadly are unable to weather the storm and drift apart. We allowed each other to feel, or to not feel when necessary. We didn't expect the other person to grieve like the other did. And we tried to have grace for that. It wasn't always easy. And we fought & misunderstood each other a lot.
Now with 3 kids & busy work lives, we realize spending time alone is the key for us to keep communication open, to reconnect, & decompress. We aim to go out once a week, but it's usually more like 2 times a month. Even if it's something quick like a lettuce wrapped burger & a stroll through a book store or the aisles of Target or Whole Foods.
I think Asher is the Oakland A's number one fan! Ryan and I love taking him to games and see his face light up!