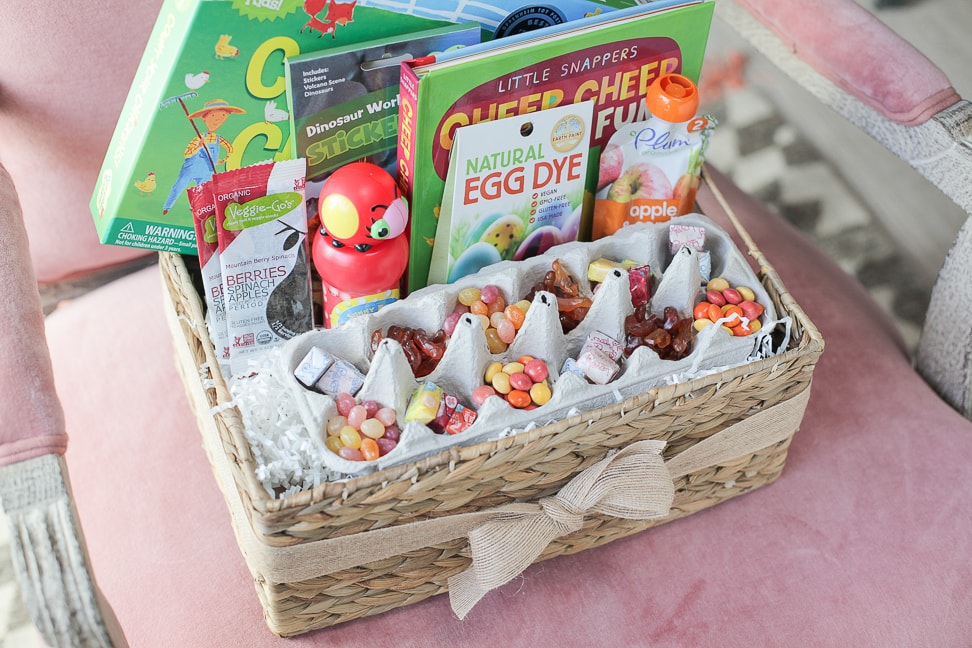 [ssba]
You know it's Easter time when our children become inundated with sugary candy and toys left and right. It may even be worse than Halloween! From an early age, we decided that while we have to uphold special diets for my health, we didn't want our kids to feel left out of the traditions that come with holidays. Easter is one of those times that I still love to have an egg hunt with treats and goodies inside, and hide a beautiful basket full of fun things for them to find in the morning.
I'm asked quite frequently what packaged snacks and candies I purchase when I don't have time to make everything homemade, so I wanted to show you how to put together a healthier Easter basket.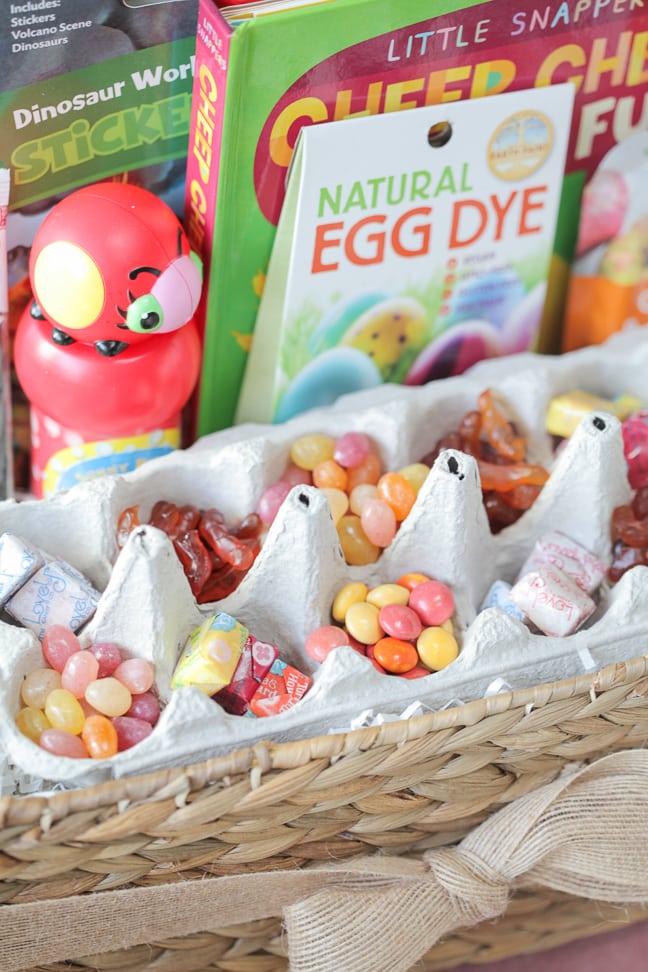 Every time I post photos of the treats that I occasionally send in Asher's lunch, I get loads of questions about where to find better alternatives to candy. We don't buy them all the time, but when we do, they are always free of artificial colors or flavors and high fructose corn syrup, use organic sweeteners, and are free of GMOs and of the top 8 allergens. Staying away from those items is important to us, and it's so nice to still have treats that I can feel comfortable occasionally giving to my kids.
I've found the cheapest prices to be through Thrive Market, so long as you have time to wait for delivery for a couple of days. Otherwise, the bulk section of Whole Foods is best and some of these brands can occasionally be found at Target and even Walmart during big "candy" holidays like Easter and Halloween. Check out my favorite brands below and keep a look out for them them when you're out shopping.
Tori&Howard
Free2b
Surf Sweets
Wholesome
Unreal
Hu Chocolate
Yum Earth
I  love using the bottom of an egg carton for the candy, rather than a billion plastic eggs that will end up in a trail around the house for months! We usually let them have a few pieces when they find the basket and then I keep it up high and ration it out so it's not all eaten in one sitting. Because it would be if it was up to Easton!
I also like to include some fun activities, games, or books in the basket so it doesn't have to be so heavy on the candy factor. My favorite place for these is the Target $1 bins or Amazon! For our Easter egg hunt, I usually fill a few eggs with homemade fruit roll-ups, loose change, stickers, some of the candy, and other small toys. And then hide their baskets as the grand prize.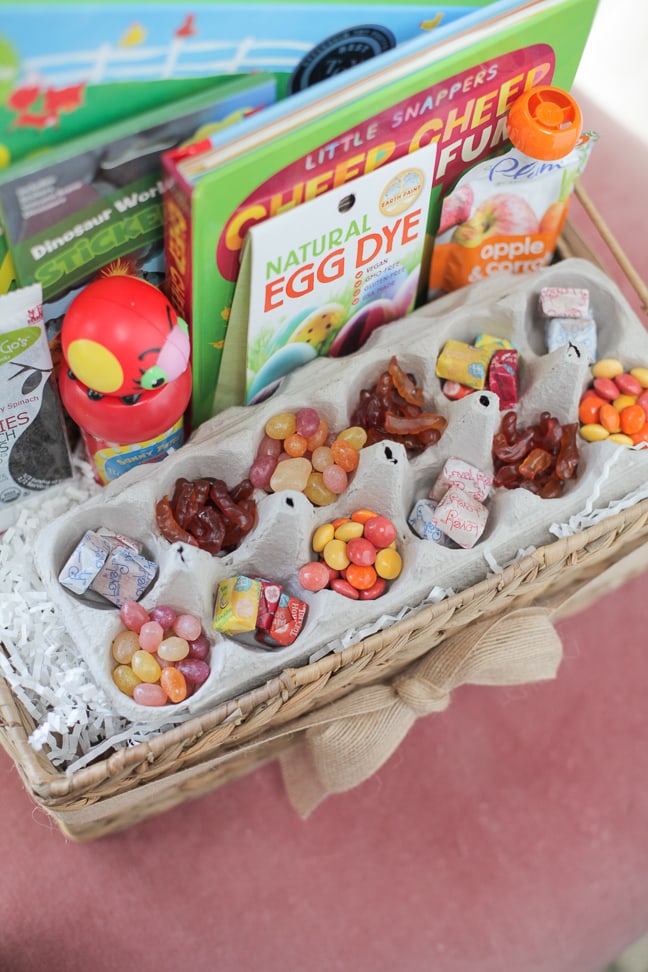 A Grown Up Easter Basket 
If you're tasked with putting together a basket for the hostess or an adult friend, try something a little more practical. In the true spirit of Easter and celebrating new life, a beautiful outdoor pot with a few packets of seeds and some potted herbs to plant is a beautiful alternative to a basket full of sweets.
The potted herbs are usually right outside the front doors of your grocery store or in the floral department, and seeds can usually be found near the produce department or of course at a garden nursery. Those pastel plastic woven baskets typically go to waste afterwards, so a pot makes an alternative lovely useable vessel. Plus it is a fun activity to get to plant the herbs or seeds and watch them grow, then get to use them in your kitchen! I also love to take one bouquet full of spring blooms to whomever is hosting us for Easter brunch.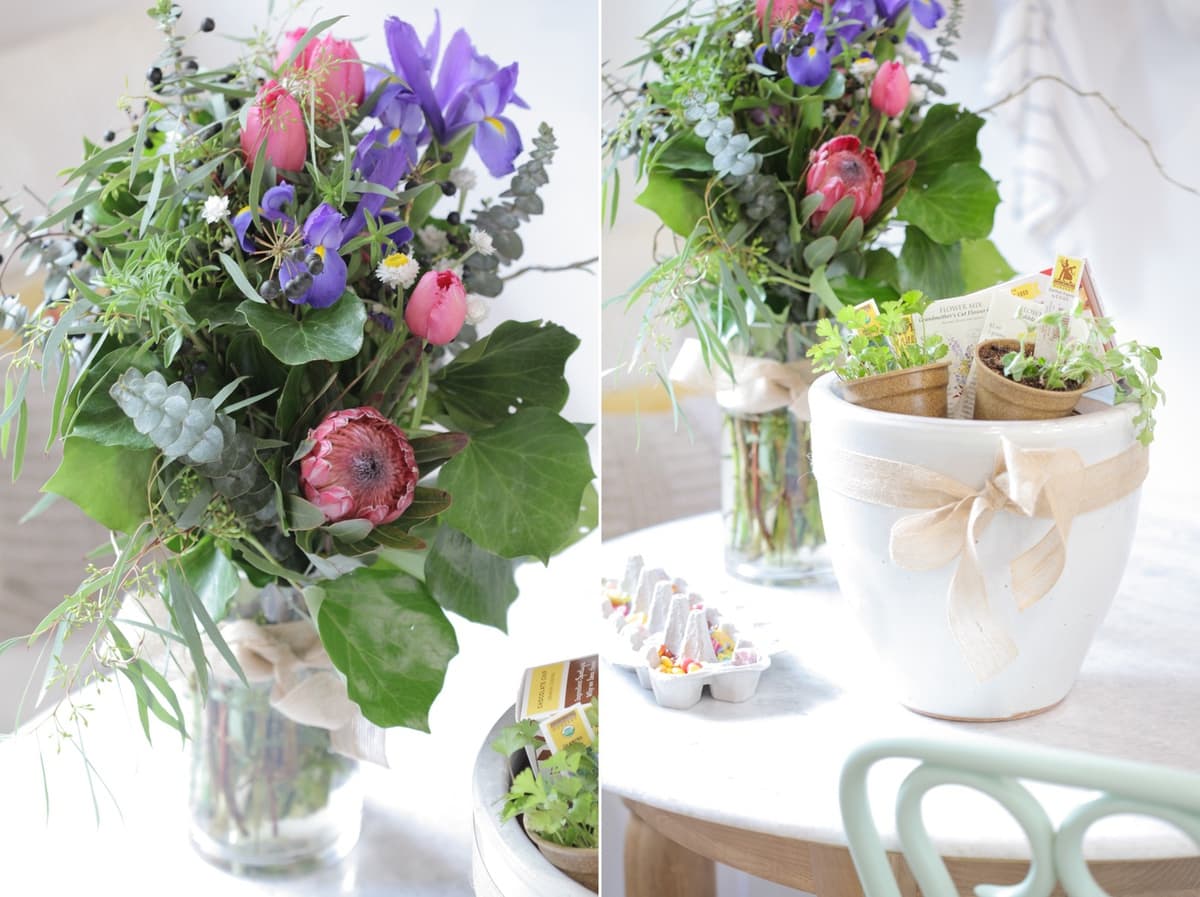 The Easter Brunch Menu!
Once you are done building your Easter baskets, don't forget about all of the food from Celebrations too!