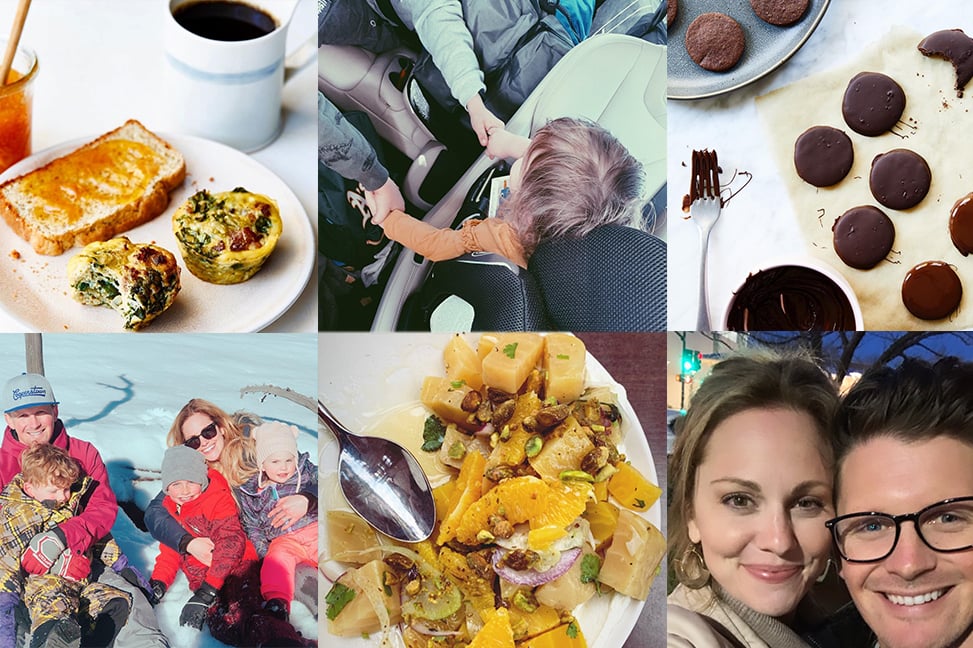 Hi Friends! Can you believe it is almost April already!? I am definitely welcoming spring with open arms. I can't wait for the warmer weather and all the spring produce to fill the grocery stores!
I am also back in the kitchen testing recipes, which is so exciting!! This week's digest includes a look into our mini vacation in Tahoe this past weekend, an exclusive recipe only found in Eat What You Love, and a look into my date night with Ryan this week! Scroll down to read more!
I don't have an inspirational caption. We just hardly ever get photos together these days, so I'm posting it. 😘 Happy Almost- Weekend, friends!
Took some much-needed family time in the mountains last weekend. The kids loved seeing and playing in the snow. Also is there anything cuter than kids in snow clothes? Cute. But annoying to put on and off. 😂
When your kids are all actually getting along a road trip.
Cue the angels singing.
🙏🏻🙏🏻🙏🏻
I pulled 2 of these out of my freezer for a quick breakfast for Easton & Kezia this week & forgot how convenient they are & how much my kids devour them!
It also reminded me of just how practical the recipes are in Eat What You Love. Sure, there's a Chicken Pot Pie that may take 1/2 your day to make from scratch for a special occasion, but it's also loaded with all the things we ACTUALLY keep stocked in our freezer & eat on a daily basis to make eating grain/gluten/dairy-free sustainable, yet delicious. There are tons of other make-ahead breakfasts like this, plus I packed the book with all of my top go-to recipes for my kids, on-the-go snacks & lunches, & my tips & meal plans to help make this lifestyle doable. Plus our family's favorite sheet pan & Instant Pot (labeled as electric pressure cooker ps) or Slow Cooker meals.
Do you have a favorite recipe from the book yet? Or a tip that has made life easier on you? Share it below!
Sharing the recipe for these Crustless Quiche To-Go with you here in case you haven't picked up a copy yet & want to test out a recipe first! 🥚🥚🥚
CRUSTLESS QUICHE TO GO
Eat What You Love cookbook (pg 24)
Makes 12
INGREDIENTS
12 eggs
1⁄4 cup Almond Milk (page 308)
1⁄4 cup full-fat coconut milk
3⁄4 tsp fine sea salt
1⁄4 tsp freshly ground black pepper
3 ounces chopped cooked bacon
3 ounces crumbled cooked breakfast sausage or Breakfast "Hamburgers" (page 233)
1 cup packed stemmed & chopped Swiss chard
1 cup peeled shredded sweet potato
1⁄4 cup finely chopped fresh chives
METHOD
Preheat the oven to 350°F. Place a 12-cup silicone muffin pan on a rimmed baking sheet & lightly grease the cups with ghee.
In a large bowl, beat the eggs with almond milk, coconut milk, salt, & pepper. In a separate bowl, combine bacon, sausage, chard, sweet potato, & chives. Divide bacon mixture among 12 cups, filling each halfway full, & press down on mixture slightly. Pour egg mixture over top, filling cups two-thirds full. Bake for 20 min, until the centers are just set. Allow the quiches to cool in the pan for 20min then release onto a cooling rack. Serve, or let them cool to room temp before storing.
Anybody else having trouble right now walking by those cute little Girl Scouts and saying no?! 🙋‍♀️
We grew up with boxes of these ones in the freezer during this "season" so I had to recreate them for myself (ahem. My kids) in my Eat What You Love book. ☘️💚
Have you made them yet?! Post your photos of you and your kiddos making them on Instagram, or the finished product in your own kitchen and I'll pick some of my favorites to win a signed copy plus some other goodies!
Getting away for a date night doesn't happen often, but we make the MOST of it when it does! Thrilled that we got to enjoy some one on one time together, especially in the midst of a rough week. So thankful for this man and the way he loves our family!