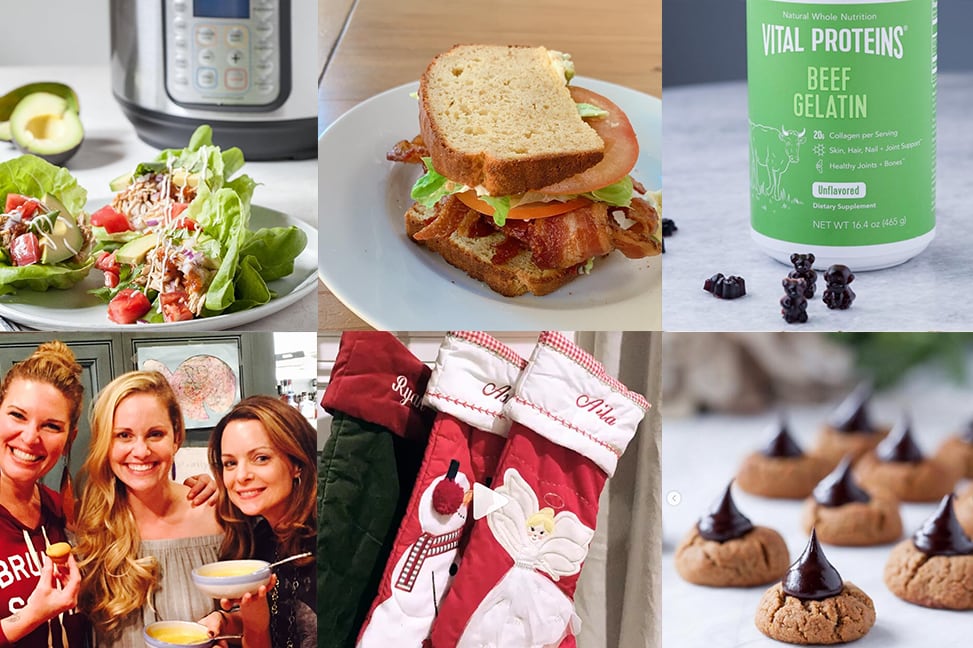 Hi Friends and happy December! This week's digest includes a look into the free download of Instant Pot recipes, the next 3 guest for my Eat What You Love Book tour, Episode two of Feeding Friendships, a sneak peek recipe from Eat What You Love, some of my favorite Holiday baking recipes from Celebrations and a look into one of our most precious Christmas traditions. Scroll down for more!
Just a sampling of the 10 Instant Pot recipes you'll get in my free recipe booklet! You can enter your order/confirmation number here if you pre-ordered Eat What You Love or bought tickets to my upcoming tour
You guys!!! Eat What You Love is out so soon!! There's still some tickets left for my January book tour too and each ticket comes with a signed copt of the book, so 2 tickets wrapped under the tree would be a great gift! Tag a friend/ spouse who needs a little present hint, or some girlfriends who you'd want to do girls' night out with!
BLTAs for a tree finding/trimming lunch today.
If you pre-order Eat What You Love, you'll be able to make this new nut/grain/gluten/dairy-free sandwich so soon! I have to say- it's the best tasting gf bread I've ever created (and tasted)
I visited one of my best friends Angie Smith in Franklin TN and showed her some of my go-to healthy snacks and school lunches for her kids. We even did some taste testing with her girls to get their real-time reactions! Angie will also be joining me on tour for my first stop in Tampa!
See the list of products we use here! 
I'm giving you a sneak peek recipe from Eat What You Love and this one will help you fight cold and flu season! These Elderberry Gummies made with vital Proteins gelatin are great for the gut and immune system, and you can get the recipe on my blog here!
I'm getting tons of Dms asking if I have recipes for Gingerbread Houses (or men!) Fudge, Gingersnaps, and Thumbprint Cookies- so you must all have holiday baking on your brains! The answer is of course YES!! All in my Celebrations book!
I gave away the same gift I gave Angie Smith from Feeding Friendship episode 2 on my Youtube Live Premiere. If you missed it this week be on the look out for future giveaways!
Both of these incredible ladies will be joining me on my Eat What You Love Book Tour but I am here today to announce the beautiful soul on my right Kimberly Williams Paisley! I believe it was Jen Hatmaker who first connected us though, and this night of cooking with them a couple of years ago is a memory my heart will always remember.
Kim is joining me in Dallas (which is already sold out so my apologies!!) She'll come on stage to cook with me, then we will sit down to chat about my new book and projects Kim has going on. And then open it up to you guys for a Q&A!
Here's what I love most about my friend Kim. Her generous heart. She's the epitome of a giver. She gives wisdom to each conversation we have about being a mom who works and how to spend quality time with your kids. She gives her story of losing her mom to Alzheimer's graciously to help others experiencing similar tragedy.
And most recently, she and her husband are starting an amazing grocery store called The Store Nashville.
In addition to all of that- she's an incredibly accomplished actress, author, activist, and producer- who manages to do it all while being dedicated mama to 2 sweet boys (who my boys are obsessed with btw)
Also go watch her new movie on Netflix, Christmas Chronicles because it is the cutest thing ever!! Get excited Dallas!! You're in for a treat!
WELL Minneapolis- you sold out your event a couple of days ago before I had a chance to tell you who your guest was! So get extra excited because Teri from No Crumbs Left is joining me on stage to cook a recipe from my book, have a chat and answer questions from you guys!
Teri creates stunning Whole 30 and Paleo compliant food. Her page is always filled with the most gorgeous images of salads and platters that any home-cook can make. She is one of the most sincere and engaged people here on Instagram and really just loves connecting with her followers. Teri is one of the 2 guests on tour hat I haven't met in person yet and can't wait to be friends IRL!
Raleigh!!! My friend Lisa Leake of 100 Days of Real Food is joining me for your event!! Lisa will be taking part in the main event on stage with me for the cooking demo, chat and Q&A and I'm so excited!
Lisa and her family set out to eat only real, unprocessed foods for 100 days and it changed their lives. She authored 3 cookbooks and her blog is valuable and practical resource read by millions around the globe. She shares such great tips for shopping smartly, reading labels and growing what you can in your backyard.
It's hard to believe because we've been online friends for so many years and have supported each others work for so long, but Lisa and I will be meeting in person for the first time finally at this event and you get to be a part of it!
There's still some tickets left for this event, so go grab them while they're hot!
Talking about our Christmas tradition and how we honor our daughter Aila each season in my stories. I know a lot of you out there who follow me have lost children and babies, and especially feel it during this time of yer. It may not be right for you, but it has been so comforting to our hearts to do this each year.