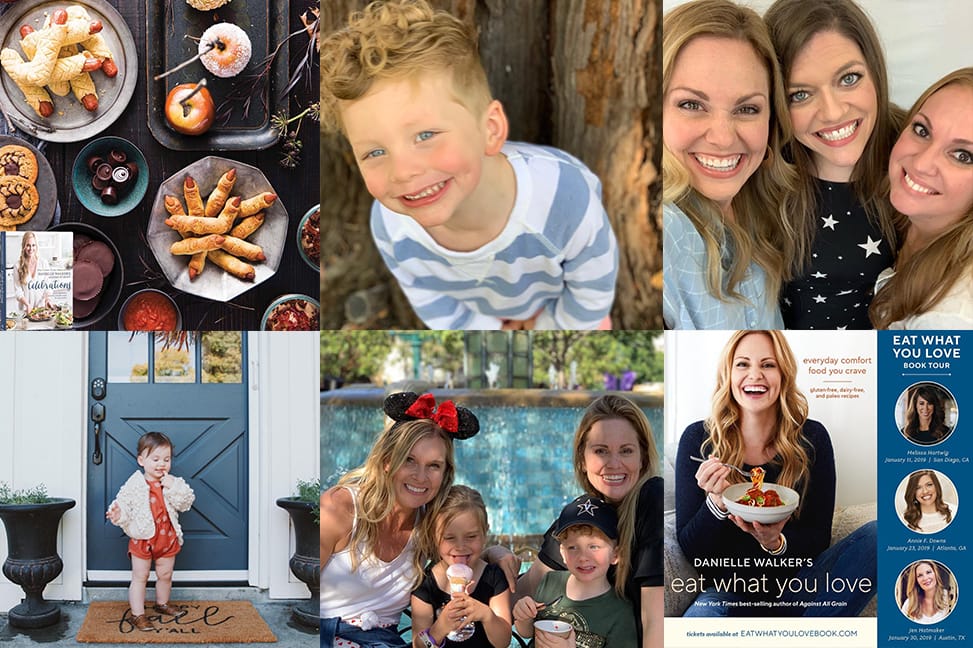 Hey there friends! I hope you all had a great week! This was such an exciting and busy week! We took a VERY last minute trip to Disney with my sister and her kids, Easton got an upgraded hair cut, a new Facebook Live, and I announced 3 new cities and 3 new guest for my Eat What You Love Book tour! Scroll down to find out more!
Who says Halloween has to be all candy with artificial dyes, hfcs, and tons of sugar? All of these fun treats are grain/gluten/dairy and refined sugar free! The Halloween chapter starts on page 205 of my Celebrations Cookbook. Click here to grab a copy for as low as $10!! .
Pc Erin Kunkle
It's 80 here, but we're going to just keep pretending it's fall and wear sweaters.
🍁🍂🍁
Dang you guys are amazing!!
🎉🎉🎉
San Diego tickets are already gone and I just announced it on Thursday! The others are going quickly too!
A note – we accidentally flipped the dates of Raleigh and Tampa when I first announced them the other day. They are correct now on the website and you should have received updated tickets if you already ordered them. If you bought tickets, and can't make the new date – I'm so sorry for the disappointment!
How do I stay healthy while traveling? I pack @Vitalproteins Bone Broth Collagen packets to sip on! Have you tried them? I mix in a teaspoon or 2
of ghee and some sea salt for a simple sipping broth, and if I happen to have spices on hand – a little turmeric and black pepper too! We stayed in a rental house during our trip to Nashville and it's always nice to have the comforts of bone broth on the road!
I'm gave some boxes of these away during my weekly FB and IG live on Tuesday at 4pm PT. You can watch above if you missed it!
💛💛💛
My sister called on Sunday at 6pm and asked if we could go with them and some of our friends to Disneyland the next morning, so we loaded up and drove through the night for a fun packed day with cousins. He's only 3 but was finally above 40" so we rode ALL the rides and roller coasters.
°o° °o° °o°
Our responsible little 8 year old didn't want to miss school, so we left the youngest and oldest at home with grandparents and made it a special solo trip for the middle. He loved every second and was a trooper despite the lack of sleep!
I love the last pic of him walking into the hotel in pjs at 2am. I have memories of my parents loading us up in our pjs into our pop top Volkswagen van and driving to Disneyland from the Bay Area in the middle of the night.
🖤🖤🖤
The story of Easton's new hipster haircut:
His hair was getting crazy long and bugging him because it was falling in his eyes (pic # 4) so I trimmed it (which I usually do just fine). Ryan said to go shorter on the sides so I tried and failed.
Because I cook and write books. Not cut hair.
So it ended up something like a poofy helmet with wings on the sides (pic # 5), so I had to take him in and have a professional rectify the situation!
I love it, but I also love his long shaggy curls. He looks 3 years older to me now! 😭
Update: if you're trying to purchase tickets with the code Danielle and are unable to – it means we've sold out of pre-sale tickets in your city. Official on sale is Nov 1 so set a reminder and check back! Tickets are limited and will go quickly!
I'm so excited to be joining my friends Angie Smith and Annie Downs on the road this spring!! We're hopping on a bus and visiting your city and I hope you can join us!
Click here for tickets. 
Ready for another round of special guest announcements for the Eat What You Love Book Tour?
This one is for you SAN DIEGO!!
🎉🎉🎉
My good friend Melissa Hartwig, head bossbabe over at the Whole30 will be joining me on stage for the cooking demo, conversation, and q&a!
Melissa doesn't need much of an introduction here, so I'll just say she's changing millions of lives and I'm proud to call her friend. If you could peek in to our text streams – you'd see funny one-liners, a hint of sass and sarcasm, and most of all a encouragement for each-other's businesses. Melissa is fantastic at lifting others up around her. She's an incredible mother, business owner, and activist.
Grab a group of girlfriends or make it a date – tickets are almost sold out!
Announcement 2 of 3!!!
I'm bringing Annie Downs along with me to my Atlanta stop (her home turf!).
She'll join me on stage to cook, chat, and do an Q&A with the audience. Be prepared to experience the 😂😂😂 emoji in real life – because Annie brings the fun anywhere she goes.
Annie was diagnosed with PCOS, so she originally found my books looking for gluten/dairy-free recipes; then we met in real life at a conference 4 years ago and became immediate friends. Because that's just what happens when you meet Annie.
Her That Sounds Fun Podcast makes you feel like you're in a room with your best friend (I recorded an episode with her last year – go listen!), and she inspires thousands of lives daily with her writing and speaking. She has a brand new book that just came out and I'm just proud to call her friend.
You know what to do – click here to grab your tickets!!
Final guest announcement!
We moved a few things around to make it work – so I'm super excited to say that my pal Jen Hatmaker is joining me in AUSTIN! Because I just couldn't go there and not have her on stage with me in her hometown. She'll jump on stage with me for the cooking demo, then we'll sit down and have a chat, and do an audience q&a.
Jen is one of those people that feels like a sister, friend, and mom-mentor all at the same time. The first time I "met" her was when I invited myself into a series of live award show tweeting with her and Angie Smith. I was the least funny of the group, which is to be expected with that duo, but they allowed me to keep tweeting nonetheless. 
Since then, we have repeatedly popped up in mutual places (like this fun weekend that our friend Rachel Hollis put on), spent some time in the kitchen together, and enjoyed many chats about food and health. AND the miracle of cashews as 🧀.
We've discussed these things professionally on her For The Love Podcast if you're interested in listening. 😂
Jen is the author of 1️⃣1️⃣ books, including New York Times Bestsellers For the Love and Of Mess and Moxie. She and her husband, Brandon, founded the Legacy Collective, a giving community that funds sustainable solutions to systemic problems around the world. They also starred in the HGTV series "My Big Family Renovation" and live in a 105-year old farmhouse just outside Austin, TX with their 5 (FIVE) kids.
I am so excited for tour! I had so much fun introducing my special guests. If you haven't done so already go grab your tickets here!