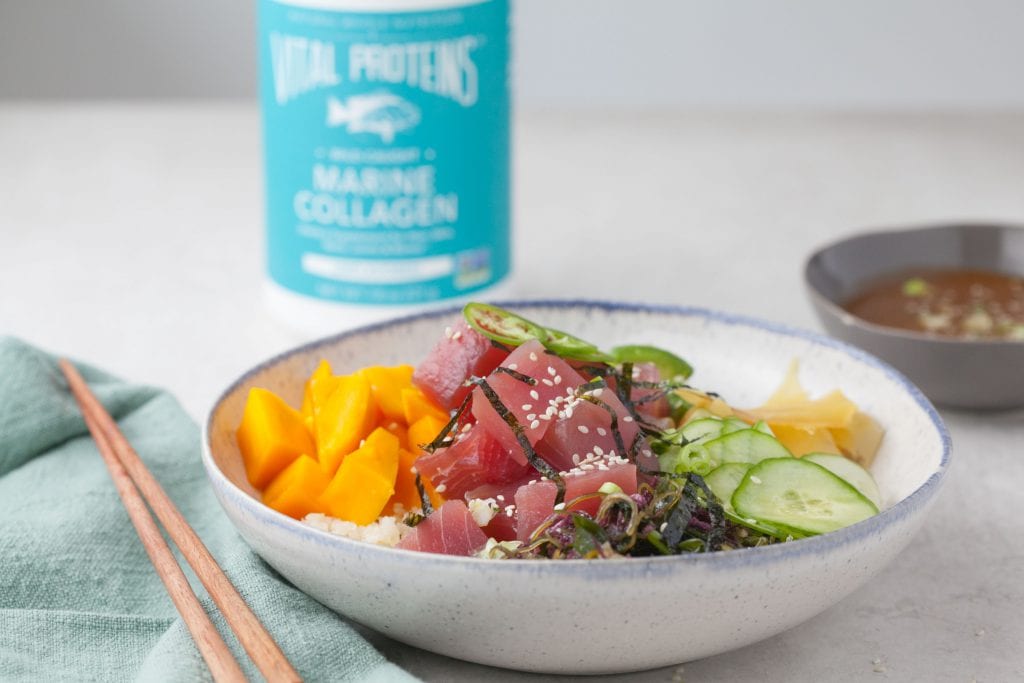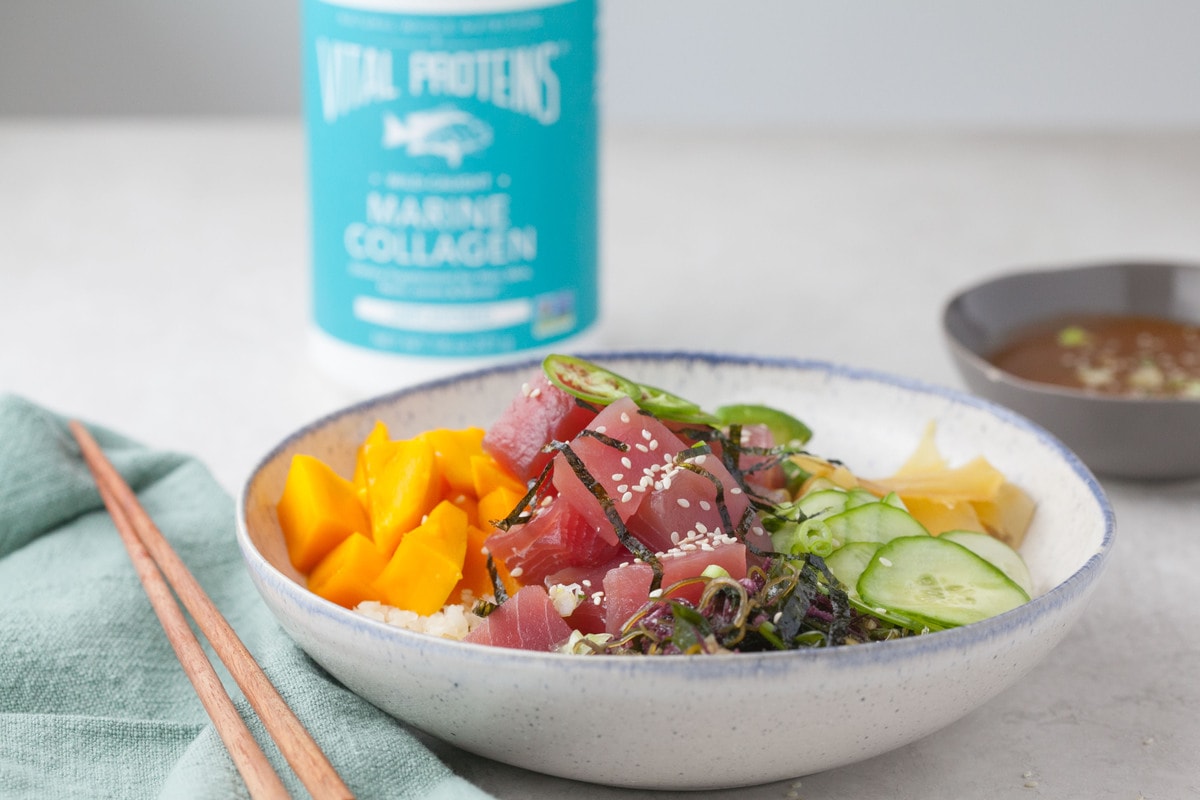 Thanks to my long-time friends at Vital Proteins for partnering with us on this recipe – Gluten-Free Poké Bowls!
Are you as big of a fan of sushi or poké as we are? Thes Poké bowls were inspired from the time that Ryan and I lived in Hawaii back in 2012. We were so happy when the trend finally made its way to California a couple of years ago. However, the places around here that offer poké bowls leave something to be desired. We weren't impressed with the quality of the seafood or toppings. Eventually, a place opened up near us that has the best poke we've tried so far on the mainland, so that's exciting! Although I will say – nothing beats authentic, fresh Hawaiian poké! Especially when found at a little hole in the wall shop by the ocean with freshly caught fish.
One problem though – about 80% of the ingredients they offer have wheat in them. It's actually quite surprising how many of the standard sushi and poké bowl ingredients use soy sauce or even wheat as a binder. They also use a TON of sugar.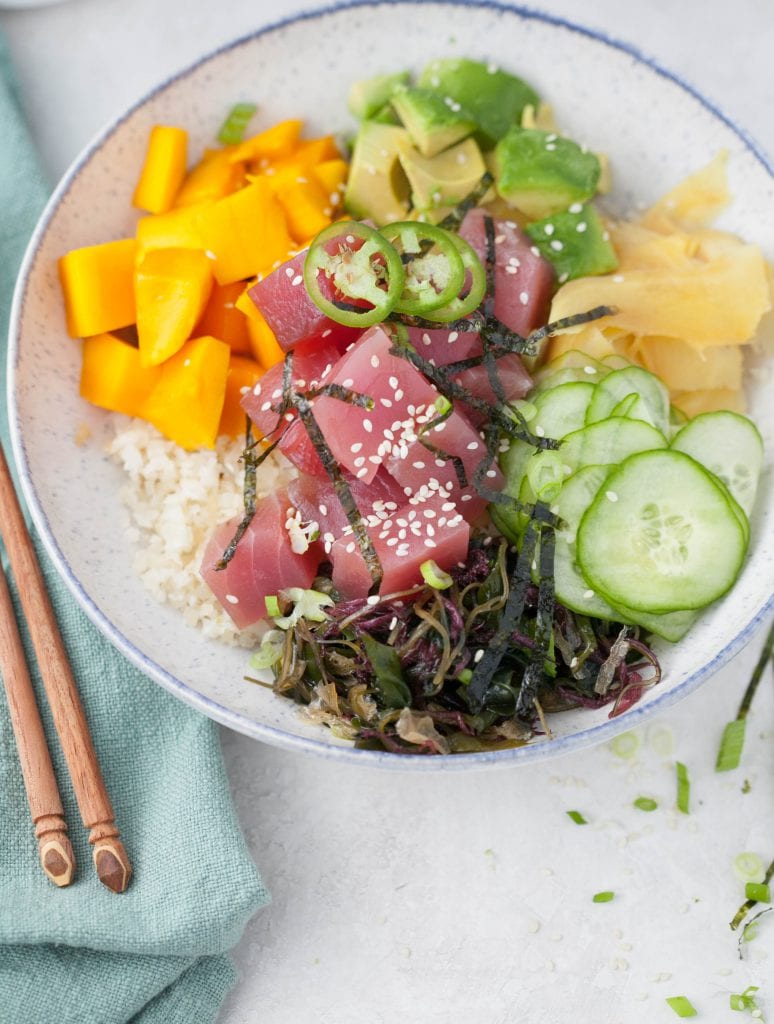 As I mentioned in this Seaweed Salad post, I've been making poke at home for years and have a recipe for it in my first cookbook Against all Grain.  That recipe, along with about 1/4 of the book, was written and photographed while we lived in Hawaii!
Amp Up The Nutrition
I've been working on this new poké bowl recipe for you guys and thought I would amp up the nutritional value. It's already a nutrient-dense meal but can be made more so by adding collagen to the sauce. You all know my love for the traditional collagen peptides and how I love to throw them into anything I can. I'm asked frequently how to include collagen in your diet if you do not consume red meat, and these Vital Proteins wild-caught marine collagen peptides are the perfect way to do it! You don't have to use them in a fish-forward recipe like this though and can throw them into smoothies and muffins just like the regular peptides, but I thought this was a great recipe to utilize them in.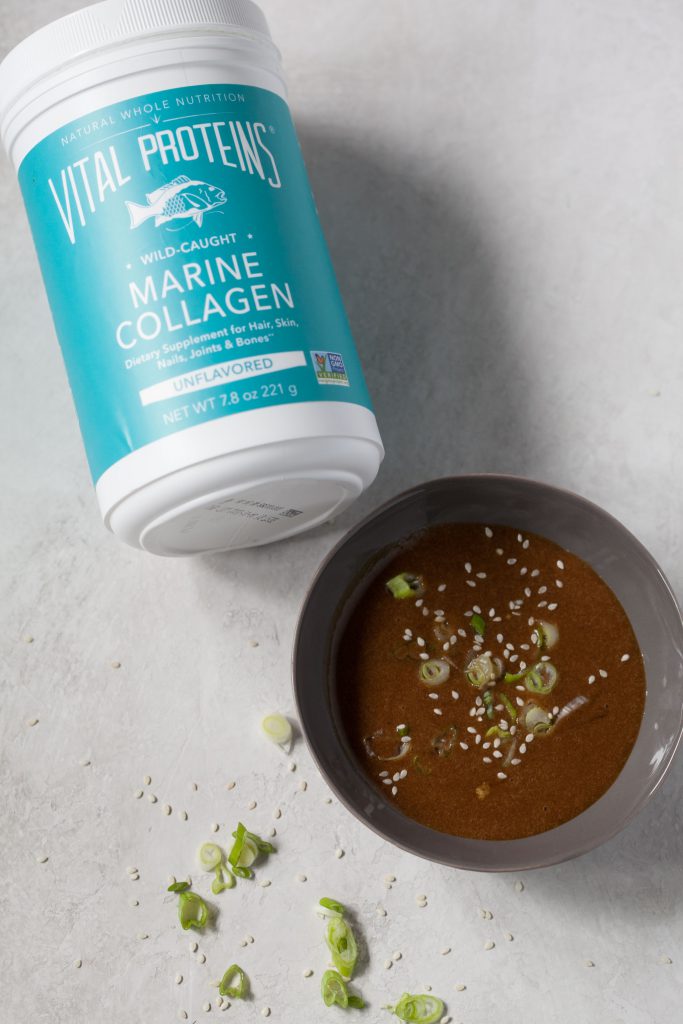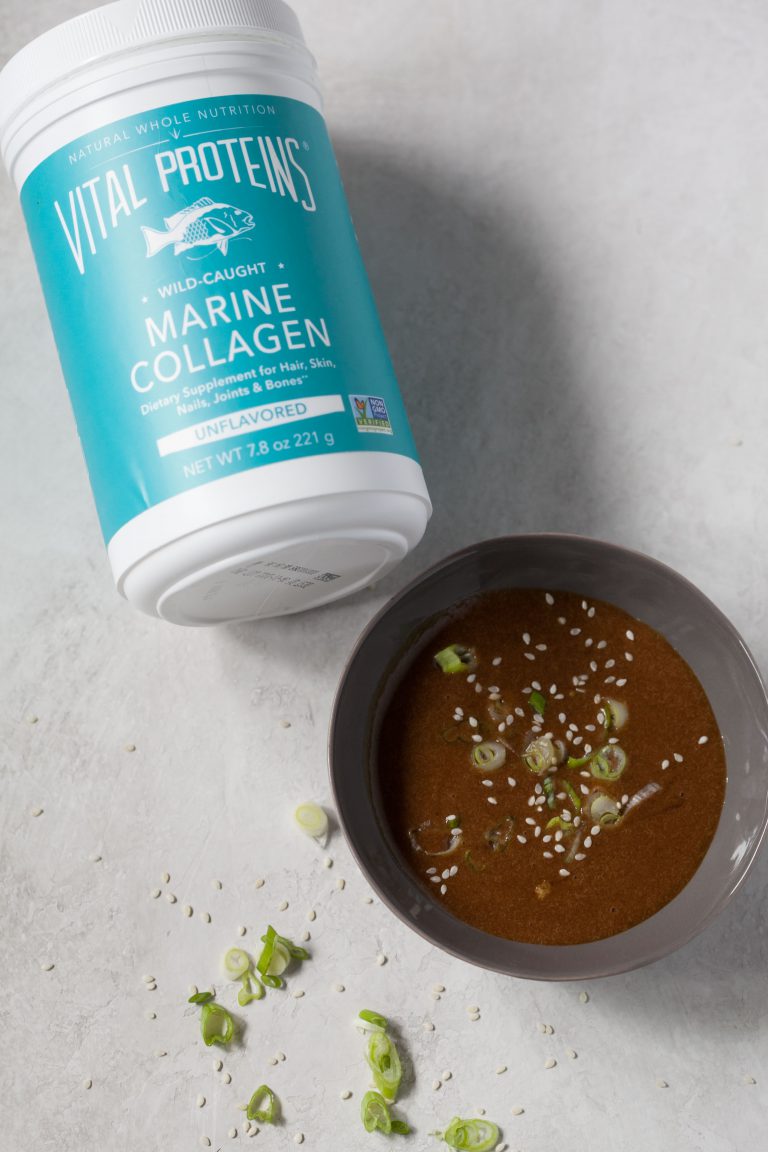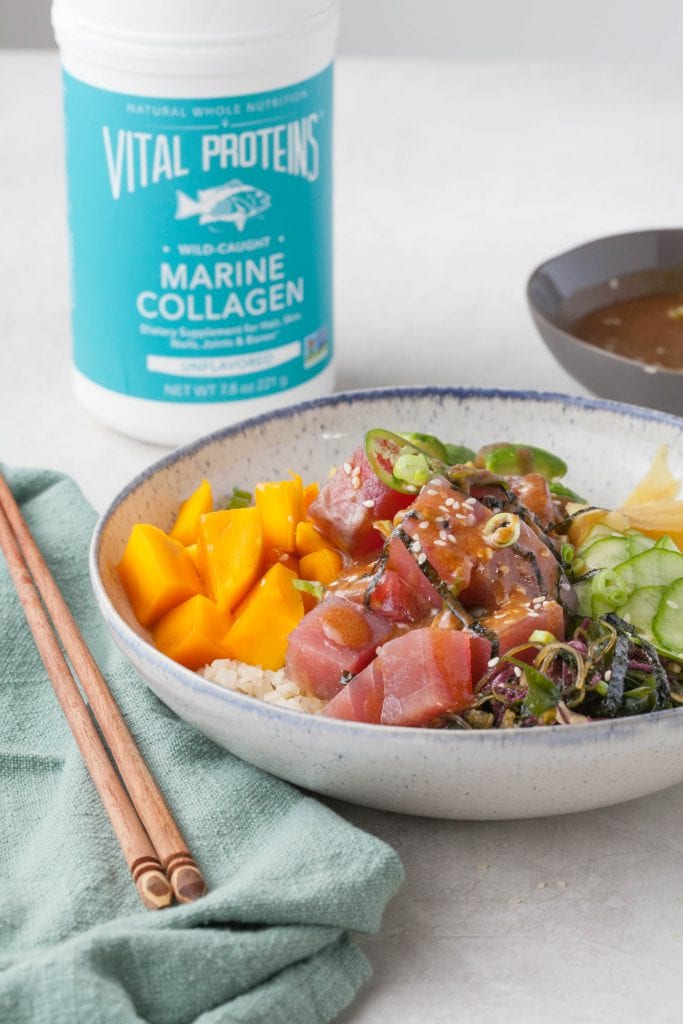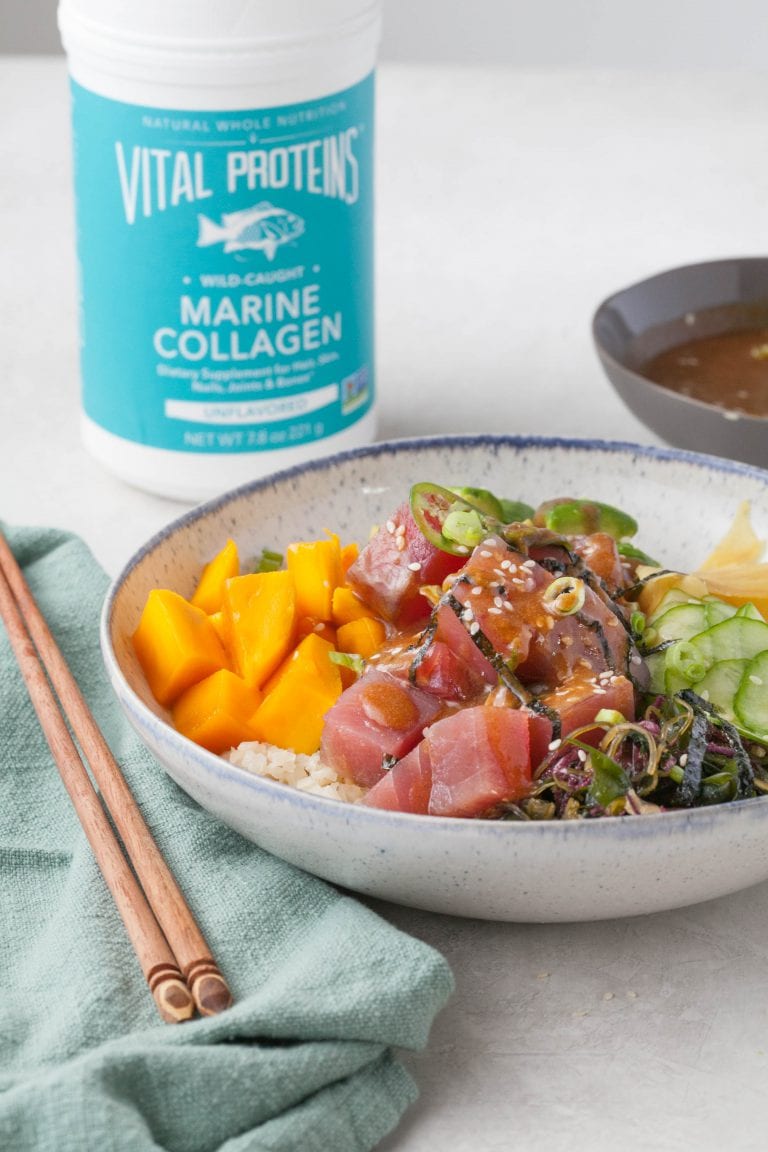 Vital Proteins marine collagen is made from the scales of fresh Non-GMO Project verified wild-caught snapper and are highly bio-available, digestible and soluble in cold water. They promote youthful skin, healthier hair, stronger nails, joint and bone health. They are also a great source of the amino acid proline and glycine. These two things help promote healthy immune, digestive, and central nervous systems.
Customize Your Bowl
These Gluten-Free Poké Bowls are fun because you get to choose your fillings. My favorite fish to use is ahi, but you could use salmon as well. These fillings are some of my favorite, but feel free to add or omit whatever you'd like! I often order from our favorite local spot and bring it home to add this homemade sauce. Most of the sauces found in restaurants are soy-based so I prefer my own. If you're going to order from your local restaurant, see below for my gluten-free guide to poke and sushi!
GLUTEN-FREE GUIDE TO POKE/SUSHI
Sauces : often has soy sauce (which includes wheat) and white sugar.
Wasabi Paste: can include Sorbitol, Rice Bran Oil, Sugar, Modified Food Starch, Artificial Flavors, Citric Acid,  Xanthan Gum, and Artificial Colors.
Ginger : the pink ginger at sushi or poke restaurants typically has Red40 food dye, aspartame, and sugar.
Crab : unless it's 100% real crab, artificial crab (or Krab) is white fish that's shredded and usually has wheat as a binder or soy-sauce as a flavor enhancer.
Furikake : some furikake can be safe, but check with the restaurant because a lot of them have a sugar and monosodium glutamate (MSG).
Masago : this is a cheaper version of tobiko (fish eggs), and are dyed to have a vibrant color. They also sometimes inject it with soy sauce for added flavor.
Tempura : anything labeled tempura is fried and uses a wheat-based breading. Occasionally it can be a rice flour coating, so double check.
Seaweed Salad : as mentioned in my post here, this often contains green food dye, sugar, and soy sauce.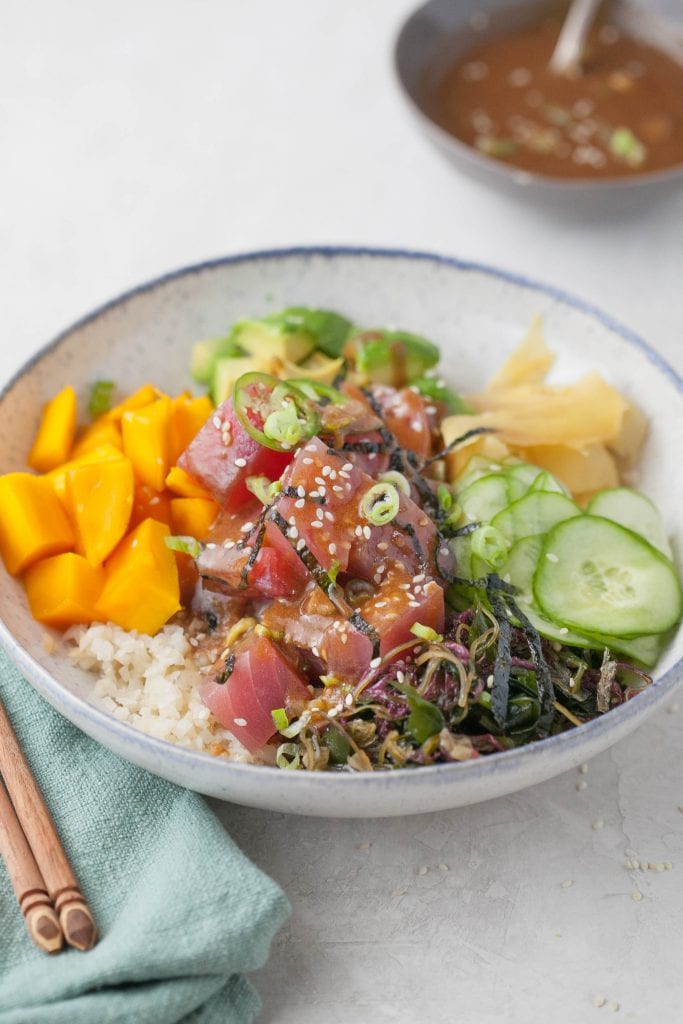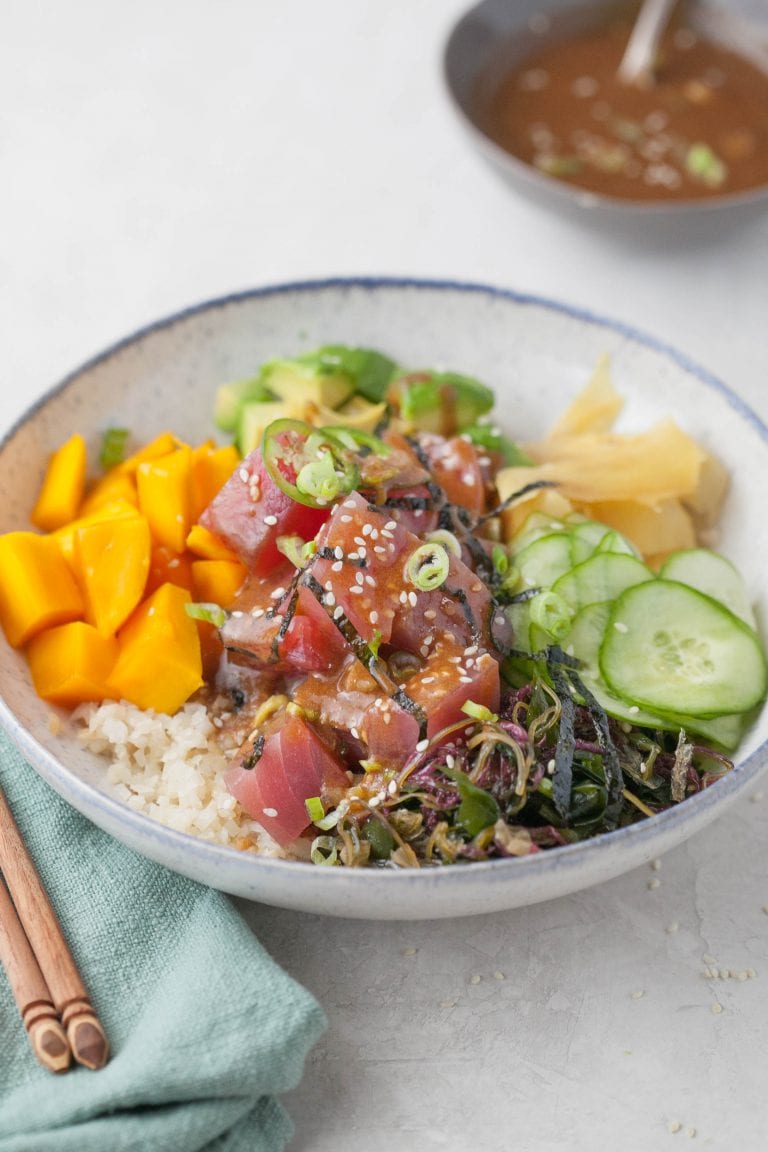 Watch my Facebook Live where I show you how I make these Gluten-Free Poké Bowls!
This post is sponsored by Vital Proteins. I am an ambassador and have been compensated for my participation. However, as always, all opinions are my own. I only promote products and brands that I personally use in my own kitchen. Thank you for supporting sponsors like these so I can continue to create original content and new recipes for you!