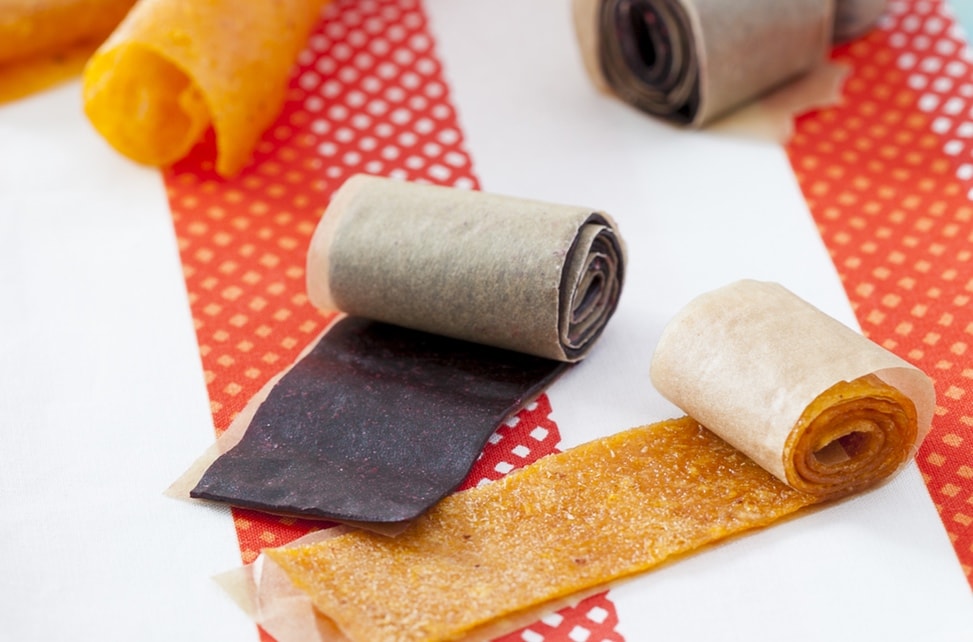 My kids love dehydrated fruit and fruit leathers. I used to spring for the expensive organic ones at the store, but even those usually have added sugar. The conventional versions usually have a laundry list of bad ingredients. It includes high fructose corn syrup, carrageenan, and artificial food dyes. I started making my own homemade fruit by the foot years ago, and included this recipe in the kid's section of my very first cookbook – Against all Grain.
Ingredients in Fruit by the Foot™
Sugar, Maltodextrin, Corn Syrup, Pear Puree Concentrate, Palm Oil. Contains 2% or less of: Carrageenan, Citric Acid, Monoglycerides, Sodium Citrate, Acetylated Monoglycerides, Malic Acid, Xanthan Gum, Vitamin C (ascorbic acid), Locust Bean Gum, Potassium Citrate, Natural Flavor, Red 40.
None of that nasty stuff here!
Make these homemade fruit by the foot easily in the oven or dehydrator! Because they are sweetened with applesauce, they are a much better alternative. And they are consumed just as quickly! You can use any fruit you'd like in them. Usually, we stick to mango fruit roll-ups because they're a favorite with my kids!
Shop My Kitchen

Watch The Video