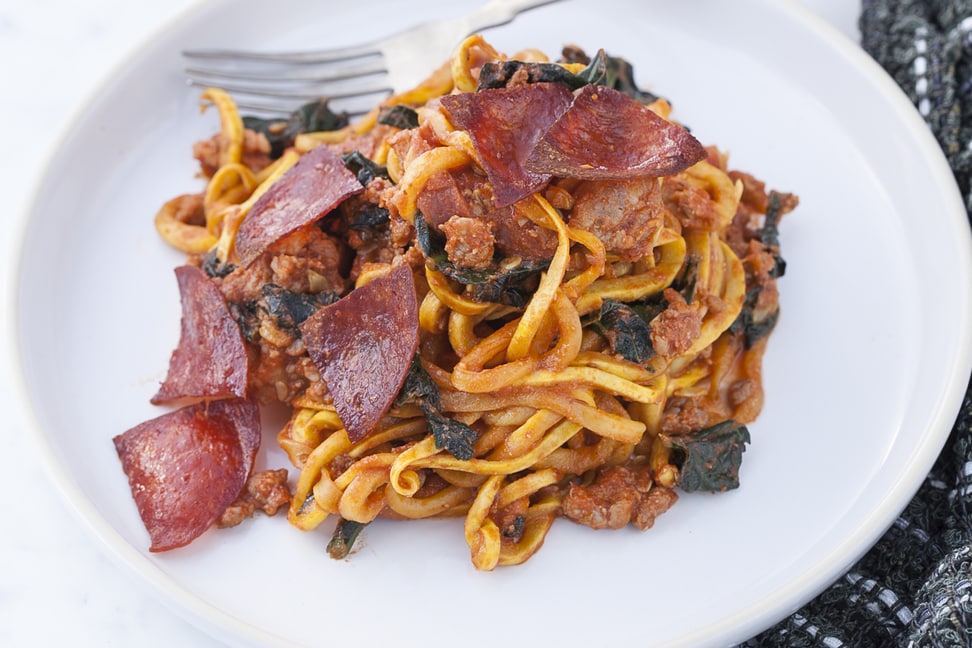 This Pepperoni Pizza Pasta recipe comes from my Meals Made Simple cookbook. I wrote it when I was pregnant with our daughter Aila and was craving pizza constantly, and it remains a special recipe in our household.
I love a good pizza, but sometimes making the crust from scratch is too time-consuming. This simple Pepperoni Pizza Pasta combines all my favorite pizza flavors in a one-pot meal. I love to throw kale or other power greens into this dish, where they are concealed from my boys, Asher and Easton, by the delicious sausage, salami and sauce. If you have the book, you will notice that I switched to salami in the video and the recipe below. I used to be able to find a clean pepperoni at our grocery store but they aren't stocking it anymore so I switched to salmi instead! It is just as delicious, and makes it Whole30 compliant as well.
If you don't have a copy of this book yet, definitely pick one up before the new year! It includes 8 weeks of meal plans and grocery lists, plus all of the nutritional data is in the back of the book (and online here!), so it will be an awesome tool if you're looking to get back on track with your grain-free lifestyle, starting a Whole30, or just need some variety in your weekly meals.
Shop My Kitchen!

Watch Me Make It!