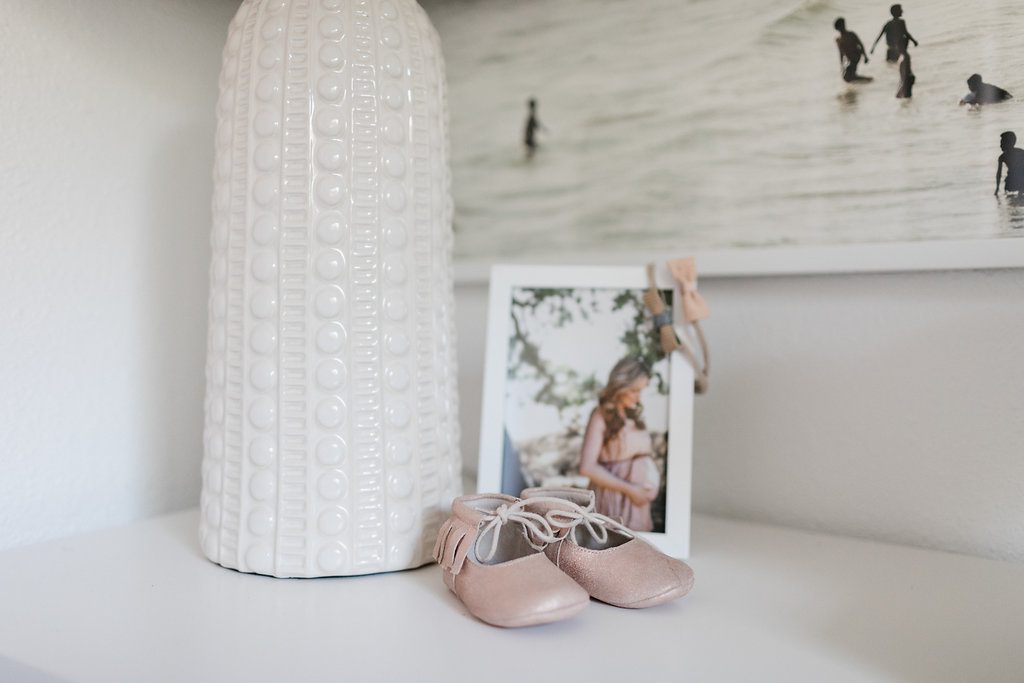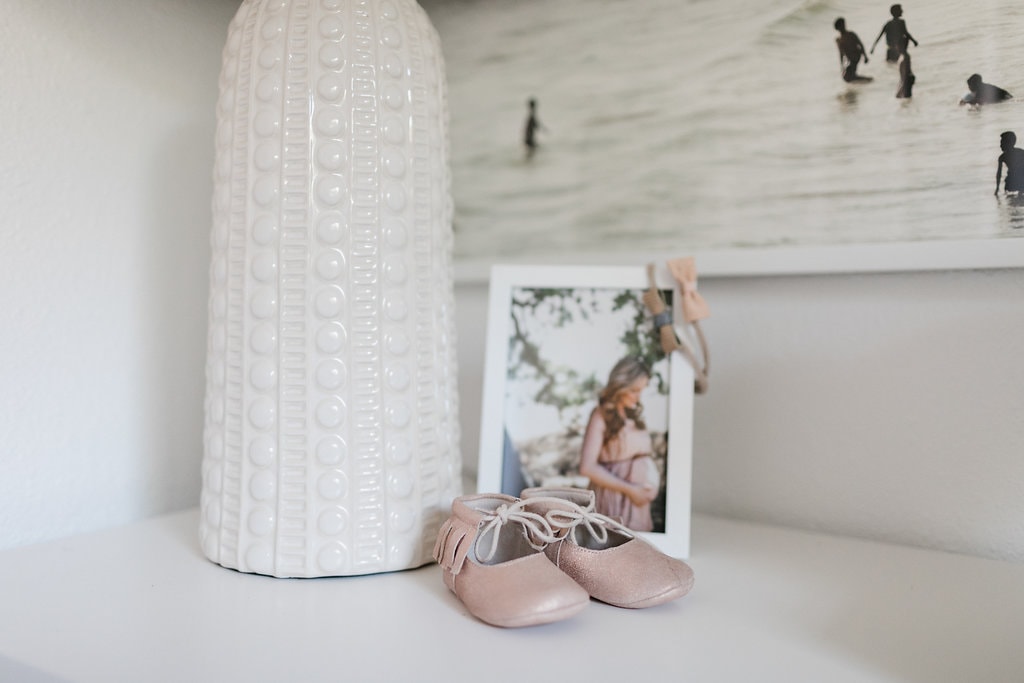 [ssba]
I recently shared a bit of our journey of expecting a baby girl after the loss of our first daughter, Aila, 3 years ago. It was difficult for me to have a boy in between Aila and Kezia, but looking back now, I'm so grateful for the gap. Easton was our most joyful baby yet, truly what we needed after such a devastating loss. I'm thankful for the perspective that you gain with time, and the processing and healing that took place during that time. It made us that much more grateful to welcome another baby girl into our family.
While shopping for clothes and filling up boxes with bows and tiny shoes wasn't very difficult during my pregnancy, designing and decorating a room for her was something that I put off as long as I could.
I vividly remember deleting the folder on my computer entitled "Baby Girl's Nursery," after we found out Easton was to be a boy. It was filled with images I had saved from inspiration nurseries, and where I cataloged my ideas for Aila's nursery. Even though I purged most of what we had purchased for her or saved after Asher was a baby because it was too difficult to see on a daily basis, I held on to the folder for just a bit longer. I saved it in hopes of having another daughter one day. After our gender ultrasound with Easton, I came home and deleted it, giving up that hope.
When we finally decided to change my closet into a small nursery off of our bathroom for Kezia, I had a hard time envisioning what a special space for her would look like. It wasn't until TODAY.com reached out and asked if they could share our story that I started thinking about it. They offered to help to connect me with a designer and follow our journey of decorating the new space, and what it was like to be expecting another baby girl after losing our first.
I've been so excited to share the video TODAY produced. We filmed the first half 4 days before I gave birth to Kezia, so needless to say, my emotions were at an all-time high. I had so many conflicting feelings that day, and as they asked me some questions about preparing for Kezia's birth and remembering Aila, I did't have answers for a lot of it.
As I mentioned in this article, there were just so many unknowns: circumstances and milestones that I knew I wouldn't know how to feel about until she arrived. What I did know is that I wanted to honor Aila's legacy, while celebrating Kezia as a new life and part of our family. I think you will be able to tell from the second half of the video just how much light entered our lives the day she was born. She is truly a gift from the Lord and we are so grateful to have her here with us.
If you know someone suffering through a loss, please share this video with them. My hope is that continuing to share our story will help other grieving parents feel less isolated, and encourage them to look for the joy in the midst of their pain. Thank you to the TODAY show for stewarding our story so well and for this beautiful video that we hold on to as a reminder to always look for light in the depths of even the darkest tunnels.

When I first connected with designer Becki Owens, she asked me to send her some inspiration photos or pinterest boards of rooms I loved. I hadn't saved a single photo in my 35 weeks of pregnancy. It was a little too painful of a process to think about designing a new room after changing Aila's room into Easton's room, and also somewhat surreal to think about planning another girl nursery. I wasn't sure I would ever get that opportunity again.
I quickly went through pinterest and searched for "baby girl nurseries" but nothing really felt right. I sent her two photos of nurseries that came somewhat close to what I was hoping for, and told her simply in an email that the closet was small, so simple and tranquil was what I was hoping for. I wanted a serene, feminine space that she and I could escape into, away from the craziness of the boys in the house. I also wanted something that she could grow with her.
Without having much to go off of, she sent me the first design ideas and it felt so perfect. Completely different than what I ever envisioned for Aila's room, but beautiful and perfectly peaceful. The pieces in the room were simple and I loved how white and airy it all felt. It truly has become our safe-haven, and we spend so much time in there together.
Thank you to everyone involved for making such a special place for my baby girl and me to retreat to. We are so thankful!
Crib | Wallpaper | Animal Prints| Pouf  | Dresser | Seaside Print | Lamp | Glider | Ladder | Basket | Tassel Throw | Jute Rug | Emma Rae Rug: sold out but this and this one are similar | Chandelier : no longer available from Anthropologie, but this one is super cute!
Room Details – designed by Becki Owens, Photographed by Jennifer Skog