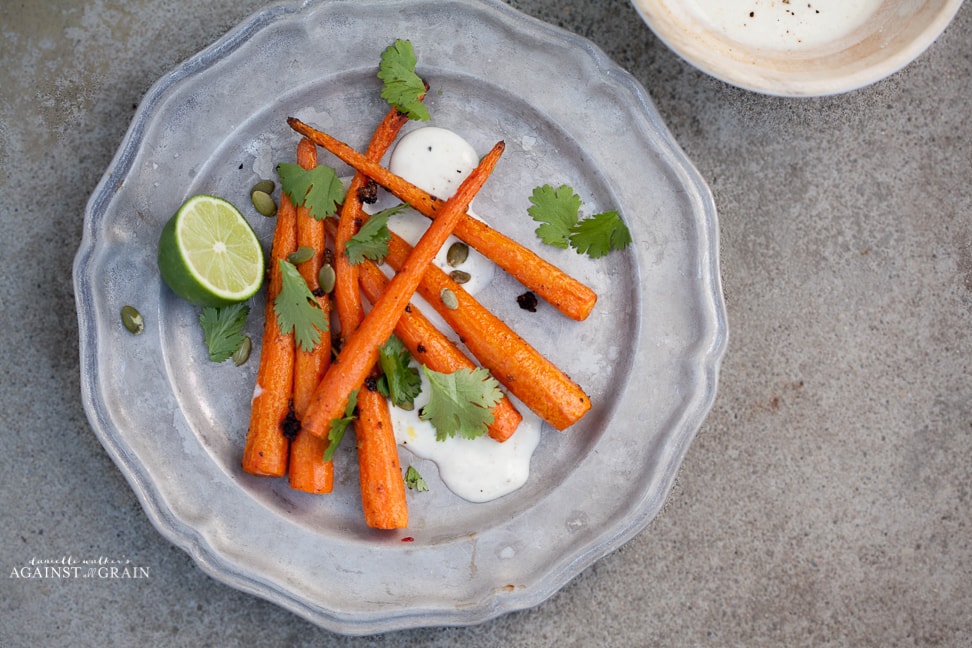 I am so in love with this Roasted Carrots with Tequila Lime Yogurt Sauce recipe lately!
The weather has been so warm here lately, so we have been spending a lot of time outside. Our yard has been a pile of dirt for the past 2 years since we moved in, but we finally put in a patio and a patch of grass so we're able to enjoy the outdoors, and eat dine al fresco, which is Ryan's ultimate favorite thing to do come Spring. We have also been barbecuing a lot, because the clean up is so much easier, and it just makes for the perfect warm-weather meal.
I marinated and grilled Tequila Lime Shrimp Skewers (recipe coming soon!), and thought these Roasted Carrots with Yogurt Sauce would accompany them perfectly. When Asher was a toddler, he used to love roasted carrots tossed in a homemade curry powder type mix. I took some of those same spices and combined the carrots with a cool yogurt dip and added a little crunch on top of the finished dish with raw shelled pumpkin seeds (or pepitas) to create this side dish. It would be great with a chicken or fish dish as well!
For the yogurt, I used my coconut milk yogurt from my first book Against all Grain. You can watch a video of me making the yogurt here. Any unsweetened grass-fed dairy yogurt would work well too. The mescal, which is like a smoky tequila, is completely optional, but gives this sauce a subtle smokey flavor and really makes this dish special. I think it would taste yummy drizzled over some spicy curry roasted cauliflower too. Maybe that will be my next recipe!