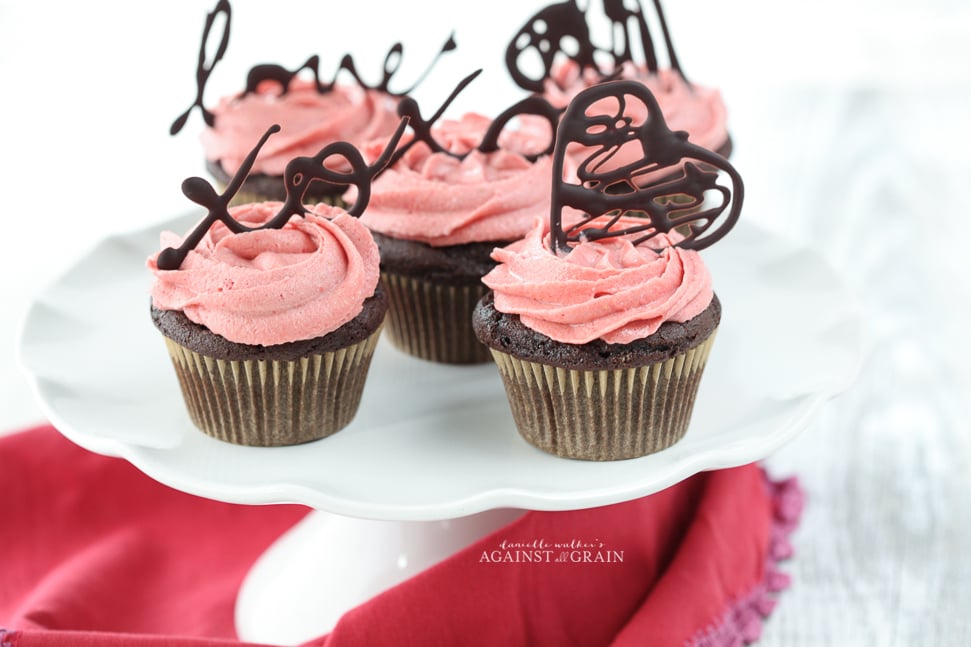 I'm excited to share this recipe for grain free Chocolate Cupcakes with Strawberry Frosting that I have been working on for you. They are nut-free and dairy-free as well!
I love Valentine's Day. I remember waking up every February 14th to hear shaped confetti strewn across the table and a special breakfast waiting from my mom. I also remember the massive See's Candy chocolate hearts that we each got on our plates! While I can't enjoy either of those things anymore, I can still make homemade chocolates, pink themed healthy breakfasts, and cupcakes to share with Asher and preserve those memories of celebrations.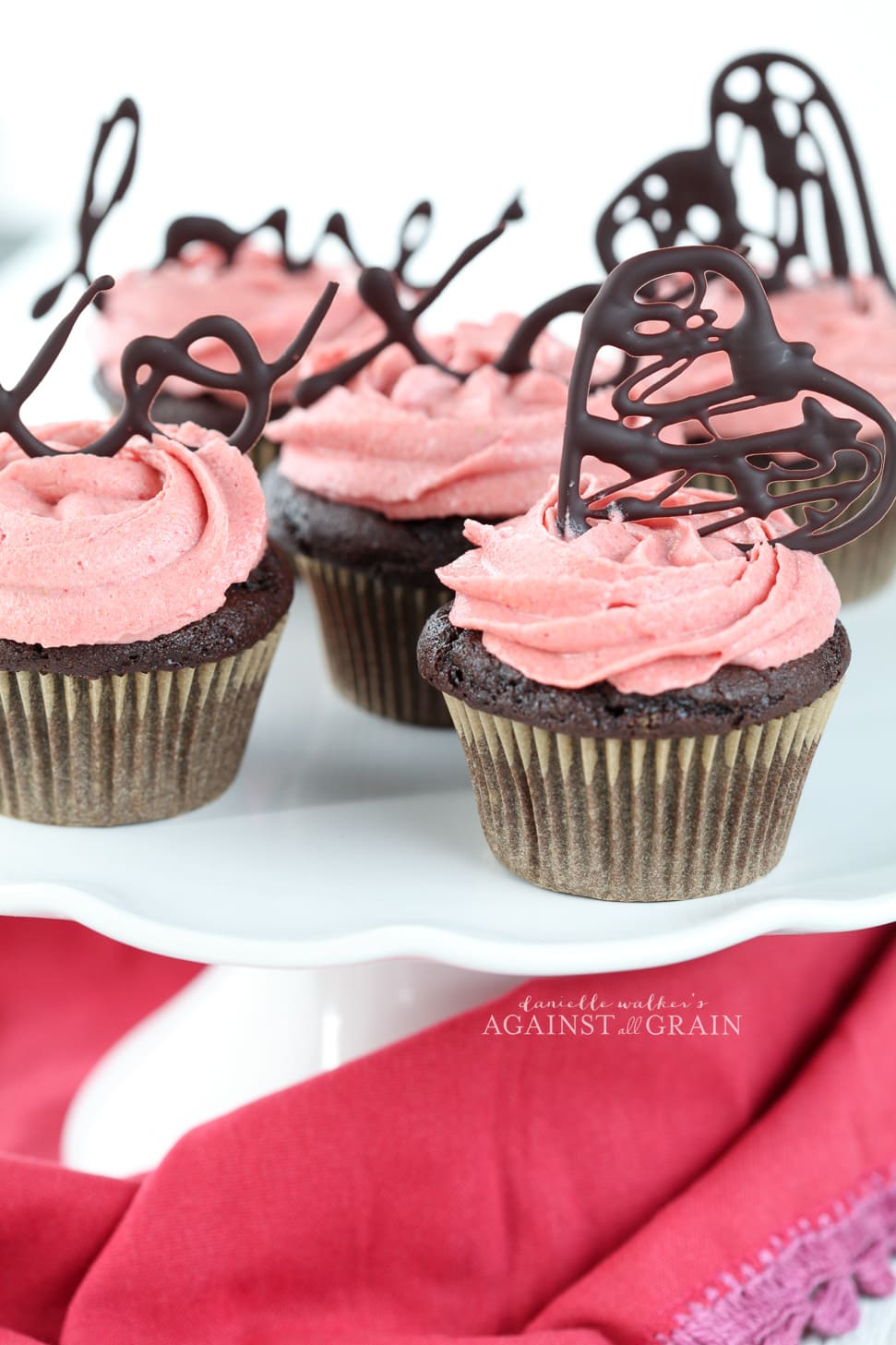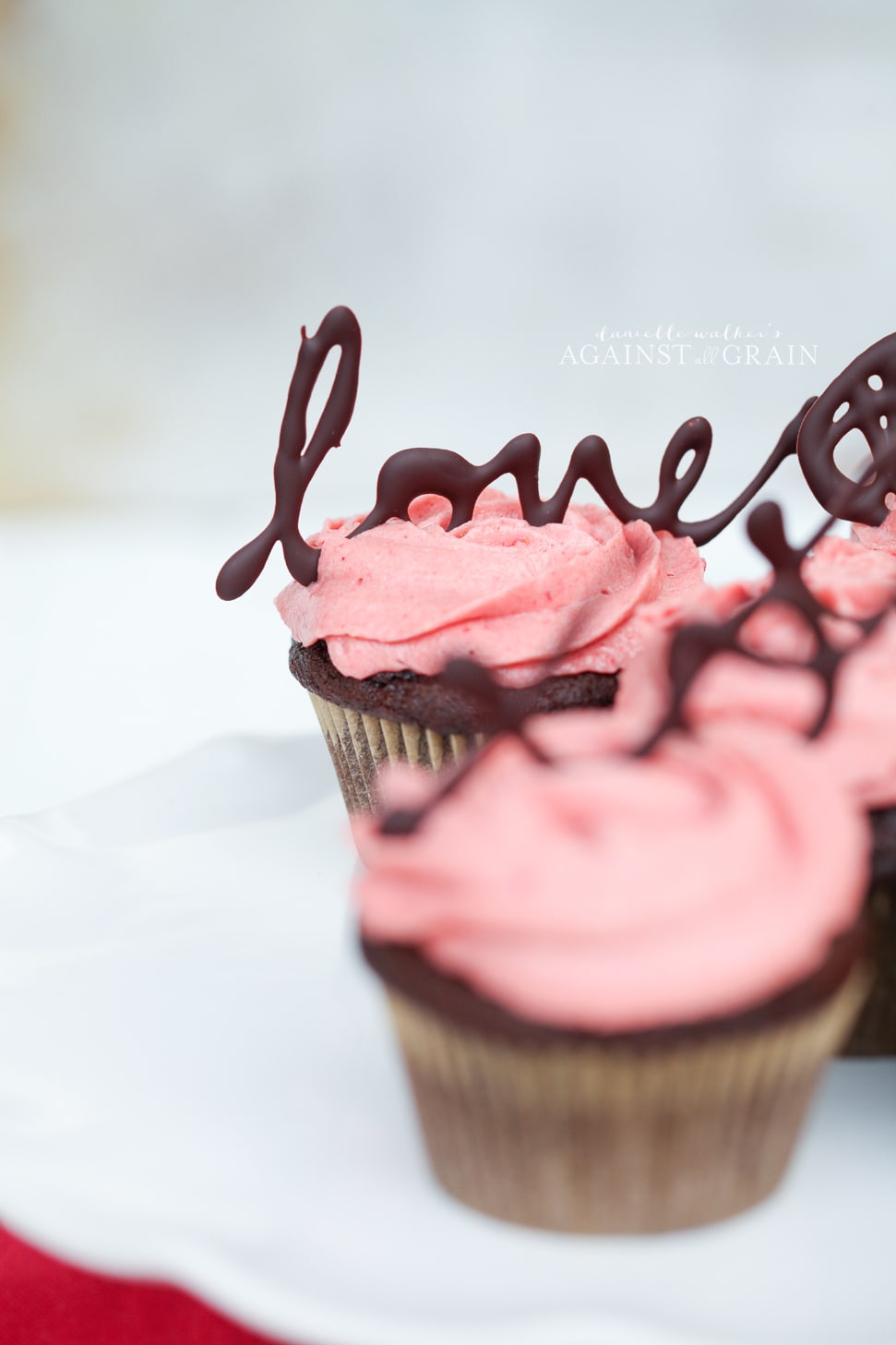 I've been on a mission lately to create more nut-free recipes for you guys, after being asked by so many to do so. While delicious and easy to work with – nut and coconut flours are definitely overused on a grain-free diet and can make it difficult for those with allergies or school allowances, so I've started experimenting with alternative flours. There's so many popping up these days from plantain flour to pumpkin flesh flour, and my current favorite – sweet potato flour. Sweet potato flour has a low glycemic index, is high in antioxidants, and is also anti-inflammatory. The only problem I have with it is that I haven't yet found an organic brand, so if anyone knows of one – let me know! You could make your own by dehydrating cooked sweet potato flesh then grinding it finely, but who has time for that?  Keep in mind that this is not the same thing as potato starch.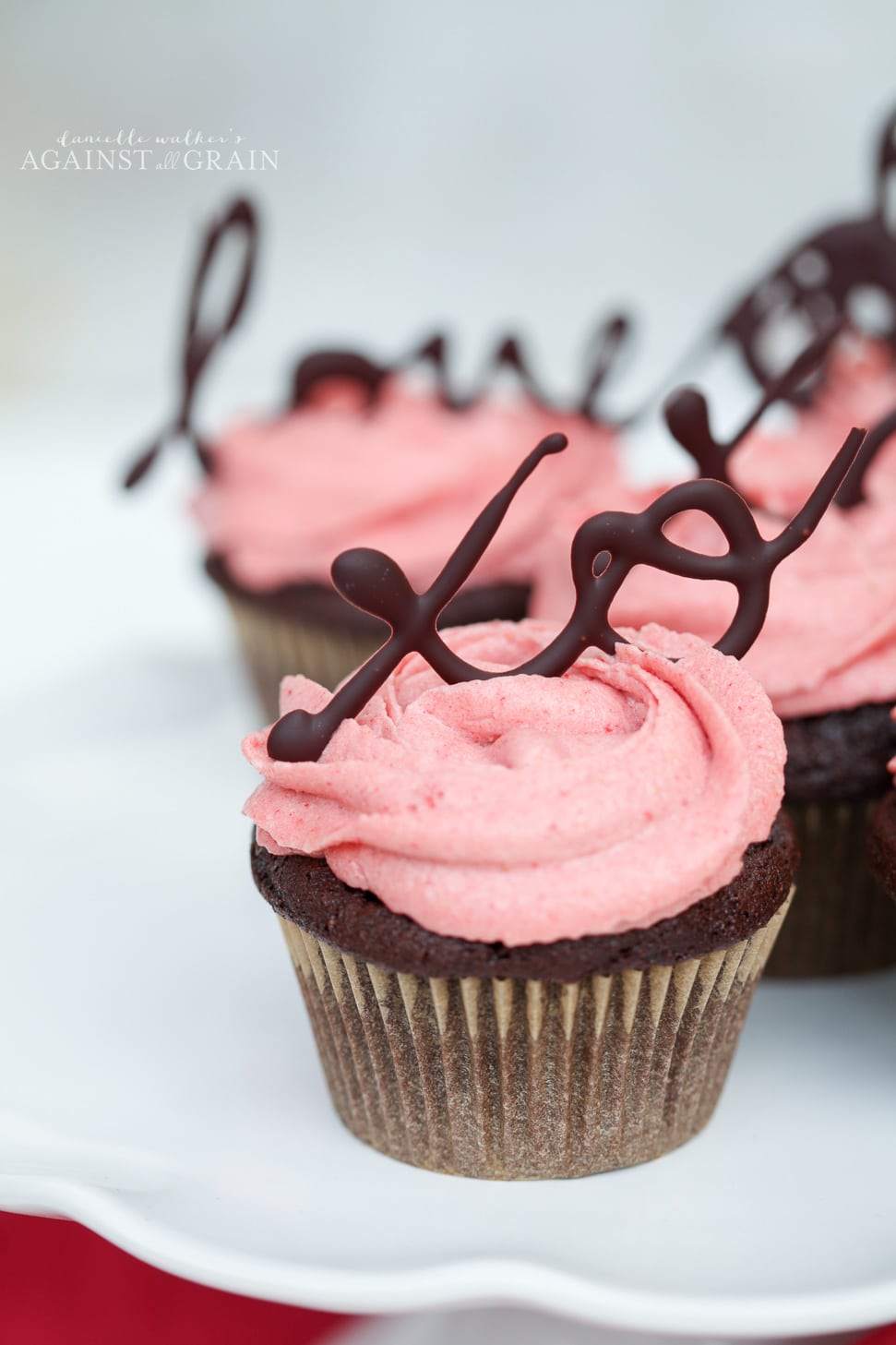 It is nice to move away from nuts, and even seeds, and still provide baked goods for children (or adults!) wanting to celebrate holidays just like their friends. Sweet potato flour is slightly sweet so it works perfectly in these Chocolate Cupcakes with Strawberry Frosting. Mixed with a little arrowroot powder, they have the perfect rise and crumb and are moist on the inside and just a bit crisp on the outside. I think the strawberry frosting is the perfect festive addition to the top, but you can feel free to use any frosting you'd like! I'm sure the Meringue Marshmallow Frosting from my first book Against all Grain would taste fabulous as well or if you can tolerate dairy, a traditional buttercream.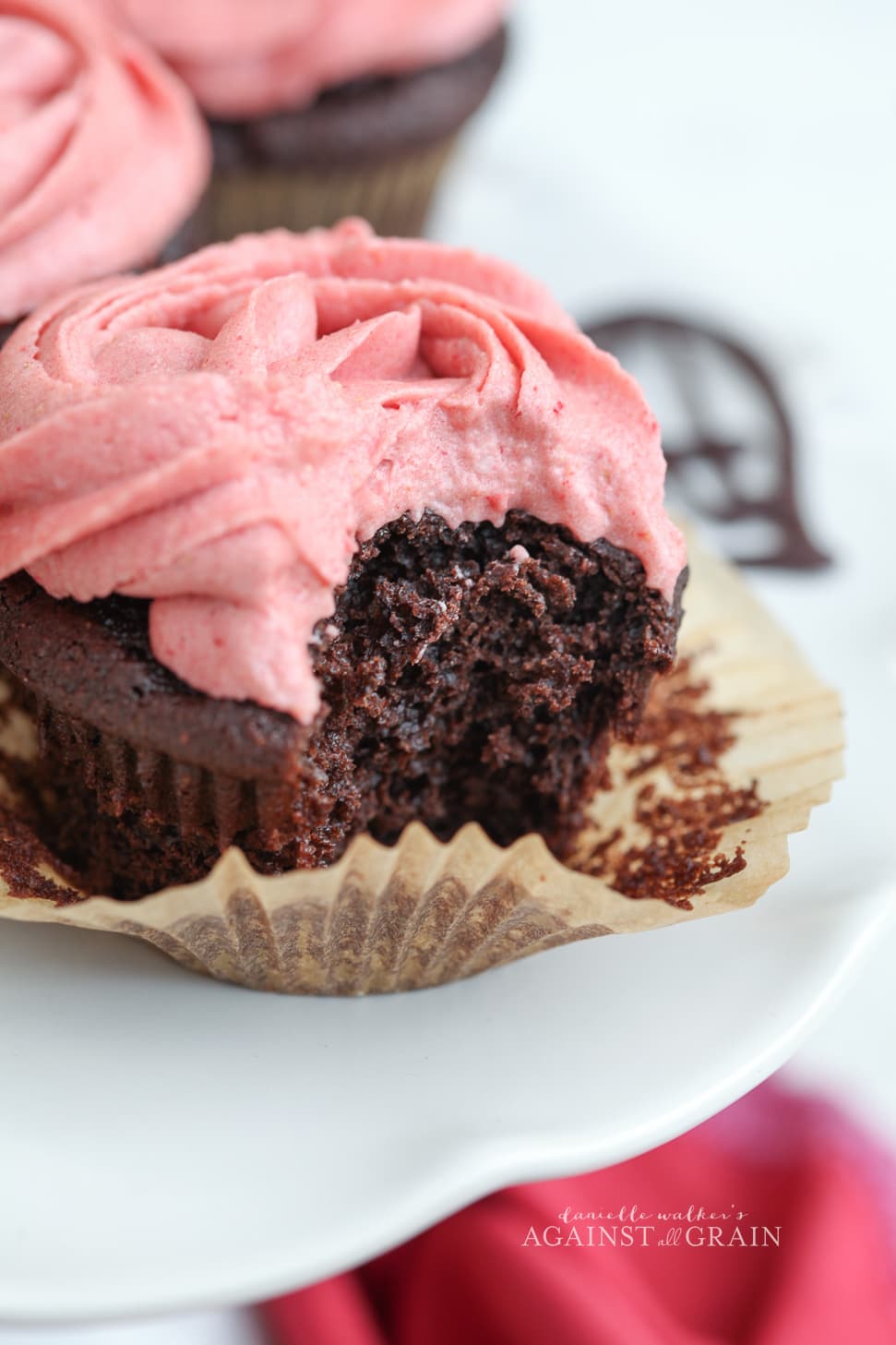 It may look fancy, but the chocolate lettering is simple to do and adds such a unique touch to these. Melt some 85% chocolate over a double-broiler and put it into a piping bag. Then pipe the shapes and/or letters and then place them in the fridge to set!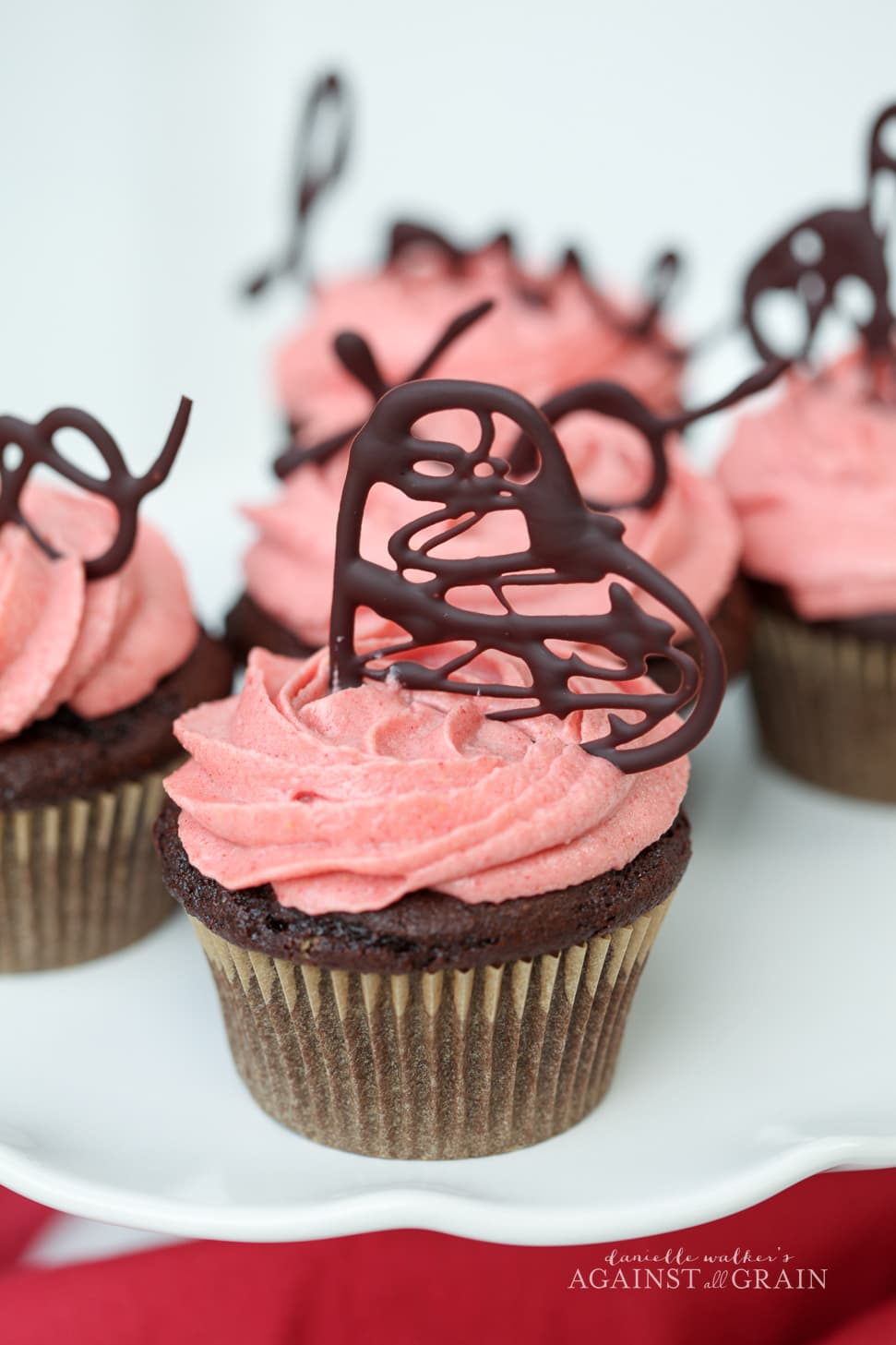 Note: This recipe was specially created with the intended ingredients above. If the ingredients listed do not work for you as stated, please feel free to experiment and let us know your findings or use one of my other cupcake recipes that may better suit your needs.