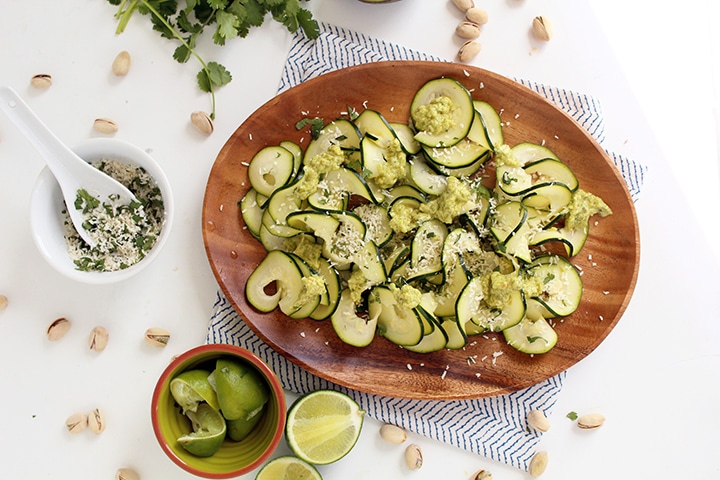 Please welcome Ali from Inspiralized.com back to Against all Grain with this summertime zucchini noodle recipe! If you don't already have a spirilizer, get one HERE now!     ~Danielle
With rising temperatures and the summer months just around the corner, zucchinis are coming back into season. If you've been spiralizing tiny baby zucchinis all winter, I feel your pain. Like me, you are probably counting down the days until the farmer's markets open and large zucchinis are in abundance. However, while we wait for summer to come, we can still enjoy those small zucchinis by using the blade on our spiralizer that produces zucchini "ribbons." With small zucchinis, this blade works wonders and yields many fluffy ribboned spirals. Today, I have the perfect appetizer or salad for your springtime get together: zucchini carpaccio. Traditionally, carpaccio is an Italian dish of thinly sliced meats and raw fish. Zucchini carpaccio is an easy dish to make that's instantly elegant, thanks to the spiralizer.
First, the zucchini is seasoned lightly with pepper, a drizzle of extra virgin olive oil and lots of lime juice for a tangy and delicious taste. Then, it's topped with coconut flakes and cilantro for sweet, natural flavor. Finally, a puree of pistachios and avocado is drizzled gracefully atop the bed of zucchini ribbons to complete this gorgeous carpaccio. To make this carpaccio into a main course, serve it alongside a baked fish or top it with some grilled shrimp. Don't forget a Paleo margarita to bring out the lime flavors in the carpaccio and of course, finish it all off with a real deal chocolate chip cookie!
Thanks for your time and I hope to see you this spring and summertime over at my blog, Inspiralized.com for endless spiralizer recipes.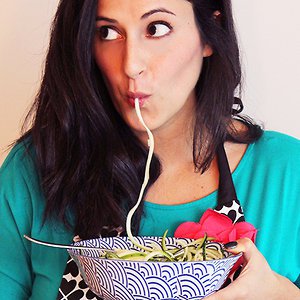 Ali Maffucci is the blogger and founder at Inspiralized.com, the first and only online resource dedicated to the spiralizer. Follow Inspiralized on Twitter, Instagram, Facebook, Pinterest and visit the Inspiralized Vimeo page for spiralizing video tutorials. While she doesn't follow a completely grain-free or Paleo lifestyle, she understands and appreciates that spiralizing is a wonderful and accommodating option for those who do. She currently resides in Jersey City, NJ.