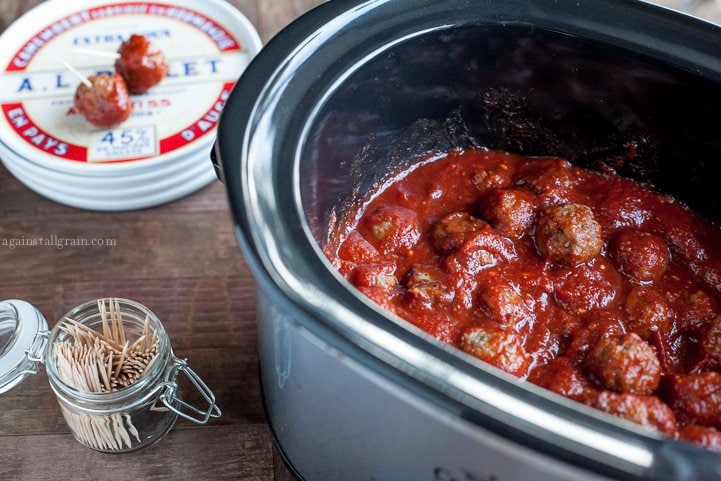 With the Super Bowl quickly approaching, I'm sure a lot of you are thinking about what appetizers to serve now that you're grain-free! Along with Game Day Sweet & Sour Meatballs, I'll probably make my Chili Lime Nuts, Korean Beef Wrapped Asparagus, and of course a few batches of my Real Deal Chocolate Chip Cookies.
I was never a big football fan, but growing up in Colorado and having been born in the San Francisco area, we routinely got together with friends to watch the 49ers and the Broncos when they played. I was usually the one who preferred to be in the kitchen preparing snacks and refilling empty bowls, which still holds true today. My favorite football snacks were, get ready for it – Velveeta chili dip with tortilla chips and those mini meatballs or hot dogs in a sweet and sour tomato sauce. The cheese dip will be impossible to recreate Paleo style since it was practically all fake food, but the meatballs were easy!
They were always such a perfect game-day snack because you could make them in the morning and then keep them warm in the crock pot during the game. No need to have the oven or stove on, or worse – eat cold food that had been sitting out all afternoon! You can make these with any ground meat you choose – I did beef but chicken or pork would taste really good as well.
I suspect a lot of you are still completing January challenges where you're off sugar and may ask if this can be done without the honey. I tried it without and it just wasn't "sweet and sour" but more of a tangy marinara sauce. So you can leave it out but the flavors will be a bit different!
Ps despite the cute French plates, there's no dairy or cheese in this recipe!