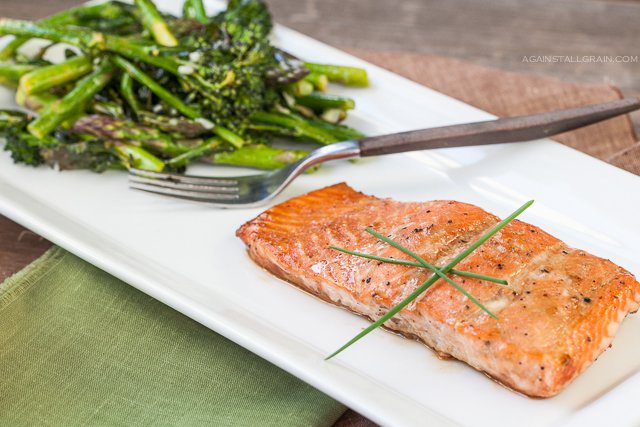 I wish you would have had a window into my kitchen over the last few months. I was preparing and photographing 4 to 5 recipes a day which manifested into a tornado of food and photography props around my kitchen and living room. By the time I worked my way through the assemblage of dirty dishes, cooking dinner was not at the forefront of my mind. Rather than having Ryan pick up dinner on his way home yet again, I concocted a few simple weeknight dinners that took little to no creativity and could be prepared quickly. This recipe for Asian Glazed Salmon with Roasted Broccolini and Asparagus was a hit!
This meal can be on your table in 30 minutes. You frequently ask for more weeknight dinner options (yet my treats are the highest viewed posts on my site!), so I'm making an effort to present you with unique recipes that can be prepared quickly and use minimal dishes. Did you see my prosciutto and pesto chicken from last week? I do miss my treats though, so as soon as this 21-day sugar detox is over, I'll be back with something sweet for you!
I am also captivated with broccolini as of late. The thin stalks make it easy to prepare in a flash and are so tender and sweet. We most frequently roast it with pieces of asparagus in extra virgin olive oil and lemon juice and sprinkle it with savory garlic and sea salt. The salmon is basted in an Asian marinade of coconut aminos and fish sauce and rubbed with a bit of coconut crystals and ginger to balance the salt, resulting in a silky glaze after roasting.