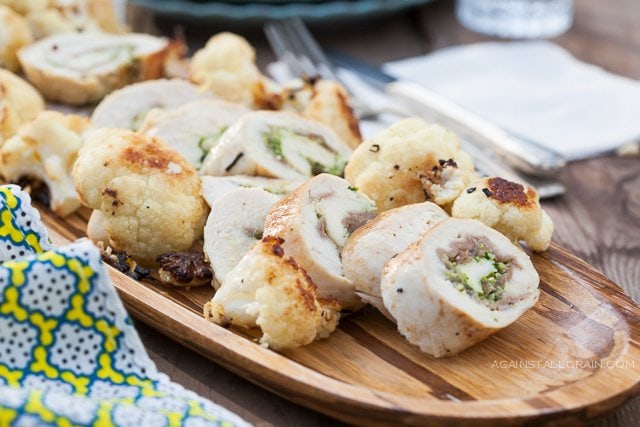 Would you believe that I have only posted 4 savory recipes since December? No joke! You're probably beginning to think we only eat baked goods and desserts. I promise we do eat dinner; I just saved all of the really good recipes for the book! But scroll down to see this quick and easy Prosciutto Pesto Chicken Roulade that I have just created.
Dinner recipes are hard to photograph in our house. Asher has reached his most energetic point of the day by the time Ryan gets home and then everyone is so hungry that I hate to make them wait while I set up my props, lighting, and equipment.
By that time, the food is no longer hot and their stomaches are growling. I learned early on during this blogging adventure that I needed to make dinner and photograph it while Asher napped and simply reheat it when dinner rolled around. That was working like a charm until I moved my cookbook deadline up by 3 months during what can only be explained as an irrational lapse of judgement. I mean seriously, who willingly moves their own deadline earlier? I spent all of January and February with my horse-blinders on and only thought about the book. I apologize for any neglect I showed you all!
In all honesty though, while the last couple of months have been a blur, it has been so nice to have the pressure of writing and photographing my manuscript off my shoulders and onto those of the people editing my work. And we don't all have to wait to see the finished product in November. It will be in my hands in late June and yours in July! I have been having fun getting "reacquainted" with both of my boys and have also been back in the kitchen getting creative again.
The 21-Day-Sugar-Detox that I am partaking in has fueled that creativity. And of course the fact that I haven't offered you anything without sugar in over 3 months! I made a double batch of the dairy-free pesto sauce I posted the other day and have been using it on everything from this Prosciutto Pesto Chicken Roulade, to scrambled eggs, to grilled salmon. We paired this with a buttery lemon roasted cauliflower with crispy shallots. It was incredible and I am so happy to share something with you that is not a dessert! I've been cooking up a storm since starting this detox and have a huge backlog of recipes to give you plus some fun giveaways, so make sure you don't miss a thing by subscribing to my site by email and following me on Facebook.