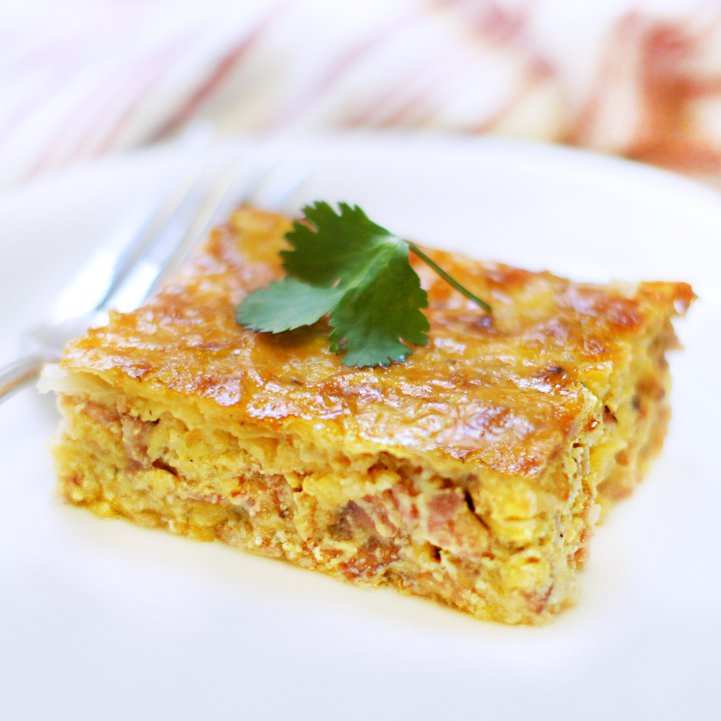 The text and photos from my book have now been submitted but I still have a lot of work to do on it, so I will continue to have some fellow bloggers to do guest posts for a bit longer as I ease back into posting more of my own recipes again very soon! My autoimmune condition is heavily fueled by stress, so in an effort to stay healthy, these friends will help relieve some of the stress and keep recipes still coming your way! I am excited to introduce Megan from the Detoxinista. I first stumbled across Megan's blog after she linked to one of my recipes on her site and then got lost in her delicious looking baked goods and desserts. Her savory recipes look incredible too, like this Bacon and Gruyere Egg Casserole that she is sharing with you today. I emailed her to and asked her to come guest post for me so I could introduce her to you all and she obliged. Please welcome Megan to Against All Grain!
Hello! My name is Megan, the creator behind Detoxinista.com, and I'm on a mission to make healthy living easier and more accessible. I love sharing quick and easy recipes, made with only all-natural ingredients, to prove how delicious real foods can be! Despite my website's catchy name, I do not believe in "detoxing" in the sense of a drastic, quick-fix diet. Instead, I encourage my readers and clients to make gradual steps in the right direction, such as choosing real foods over processed versions, to create lasting lifestyle change.
If you're familiar with my website, you'll know that I love sneaking veggies into any dish that I can, without sacrificing taste or texture.
In this particular egg casserole, I knew I wanted to try adding a hefty dose of spaghetti squash, which contains a wide variety of vitamins and minerals, including vitamin A, B-6, niacin, folate and manganese. I assumed the squash addition would result in a cross between a quiche and a hash brown casserole, but to my surprise, it simply added a subtle texture, still keeping the whole dish rather quiche-like. In fact, if you'd like to add a crust to this dish, you certainly could. However, that's more work you'd have to do in the kitchen, and I prefer to keep my recipes as quick and easy as possible. I promise, no one will miss a crust with this flavorful dish!
This Bacon & Gruyere Egg Casserole makes the perfect addition to any weekend brunch, and none of your guests will suspect that you've swapped out the heavy cream in favor of a sneaky dose of vegetables!
Adapted from Martha Stewart 
Thanks to Danielle for letting me share this recipe with you all today. Hope you enjoy it as much I my family does!
About Megan
Megan Gilmore is a certified holistic health coach and the creator of Detoxinista.com. When Megan isn't working as a professional illustrator, she enjoys experimenting in her kitchen, developing healthy recipes that are both easy and delicious to share with her readers and clients. Her mission is to prove that healthy living is easier than you think! Connect with Megan on Facebook, Twitter, and Pinterest.