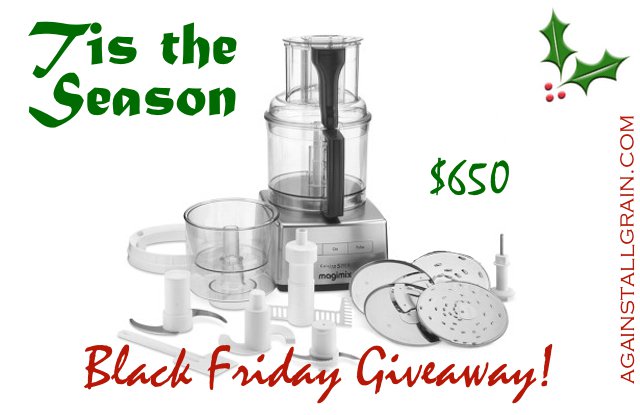 THIS GIVEAWAY IS NOW CLOSED
I am frequently asked what tool is essential to have in a grain-free kitchen. My answer is usually a good set of knives, a good blender, and a food processor. I most often use a food processor in baked goods like my Real Deal Chocolate Chip Cookies to grind the nut flours extremely fine so they have the texture of regular flour or to make rice from cauliflower florets. 
But there's so much more you can do with it! I was recently given the opportunity to test out a new food processor from MagiMix by Robot-Coupe and I am smitten. The motor is so quite and it comes with a plethora of slicing/dicing/grating discs and different mixing blades.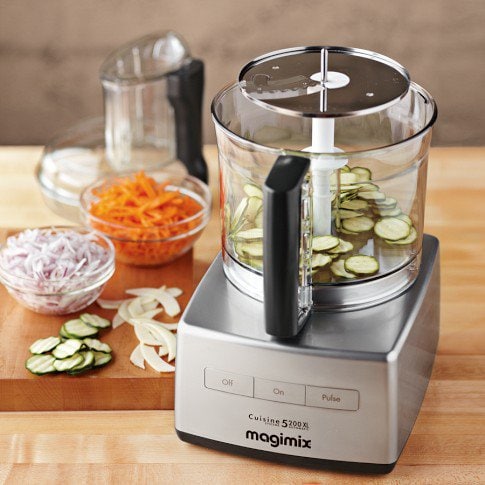 Invented by Robot-Coupe, the French company that was the first in the industry to invent a food processor, the Magimix is a multifunction food processor that has become an invaluable help for everyday cooking and special gourmet occasions. You can slice cucumbers, grate carrots or potatoes, blend chunky soups into a silky creamy soup, knead a dough, whip cream, or even make instant ice cream. The sturdy machine is manufactured entirely in France and comes with a 20-yr motor warranty.
So here's where this all pertains to YOU: I am teaming up with MagiMix to offer 1 lucky reader this amazing machine! And just in time as the holidays are rolling around and you're frantically trying to figure out what to buy everyone on your list.
Giveaway starts at 11:59pm Eastern on Thanksgiving 11/22.
Giveaway available only to US residents (Alaska and Hawaii are included) 18 years and older. 
Comments will not show up until they have been moderated by me, so please do not re-submit if you don't see your comment right away. Please leave only ONE comment. Multiple comments by the same person will be deleted and your entry will be invalid.
Giveaway ends on Monday November 26th at 11:59pm Eastern. Winner will be chosen at random using a random number generator. The winner will be notified on Tuesday November 27th and will have 48 hours to respond to claim their prize. Failure to respond within the allotted time will result in a drawing to find a runner up.