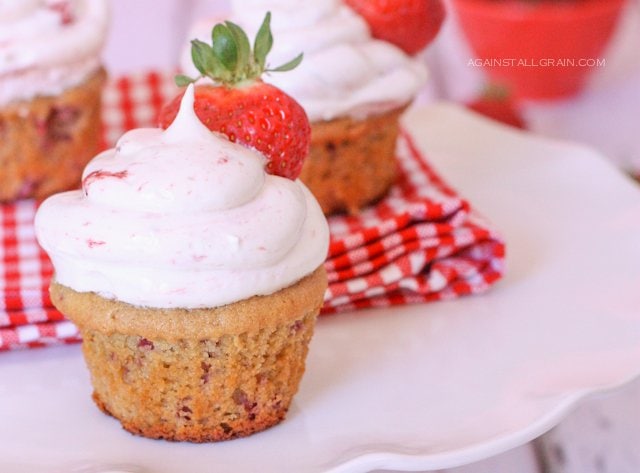 For my son's 2nd birthday party last weekend, I wanted to create two different cupcakes. One for the chocolate lovers, and one using one of his favorite fruits – Strawberries. Even though I knew he probably wouldn't eat one (he's not into desserts oddly!), I couldn't throw a birthday party without cupcakes. He cried when we brought out his "smash" cake at his first birthday party, so this year was at least an improvement when he blew out the candle. Then he promptly went back to playing with his friends while the rest of us dug in.
Strawberry Shortcake Cupcakes
This cupcake is perfectly moist with just the right amount of sweetness. There's fresh strawberries in both the batter and the frosting, so you taste the berries with every bite. I used solely almond flour for this cake, as opposed to a mix of coconut and almond which I usually lean towards. Using a blender to mix the ingredients ensures that the almond flour is blended into an extremely fine grind, making the cake smooth and light. A little lemon juice in the batter and frosting makes the tart strawberries sing.
Italian Meringue Frosting
My plan was to make a coconut whipped cream frosting, but after 3 cans and no heavy cream from the top, I jumped to planB. The guests were already arriving and I didn't have time to chill any more cans, so I made a last minute decision to whip up an Italian meringue. If you've never made or had Italian meringue, you're going to be in heaven. It is made from beating egg whites while pouring in a stream of boiling sugar (or honey in my case) and ends up creating a taste that is between a marshmallow frosting and a whipped cream topping. It's like biting into a sweet cloud. It also pipes and holds up better than whipped coconut cream, so let your creativity juices flow. I mixed in a little homemade strawberry preserves for this cake, but left it plain for my chocolate cupcakes.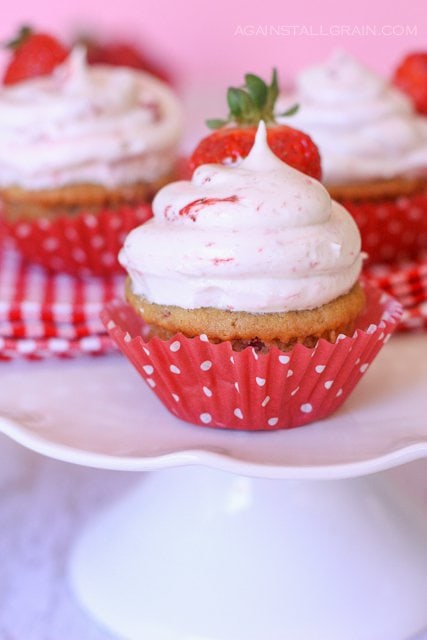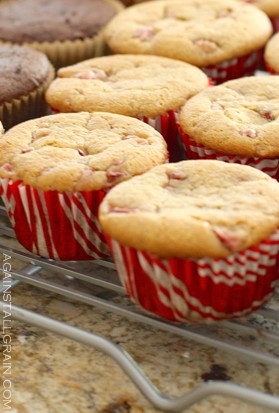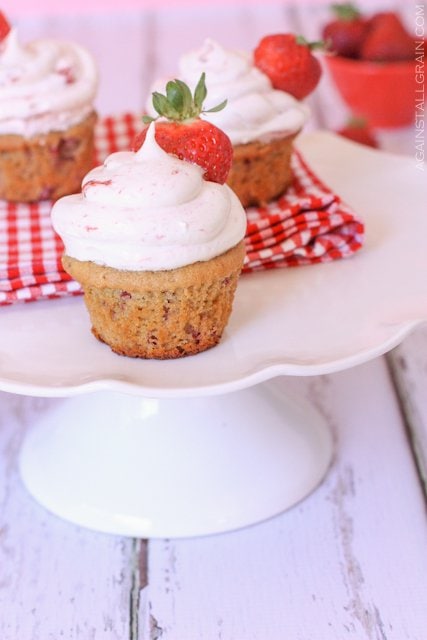 n
Shared with Slightly Indulgent Tuesdays