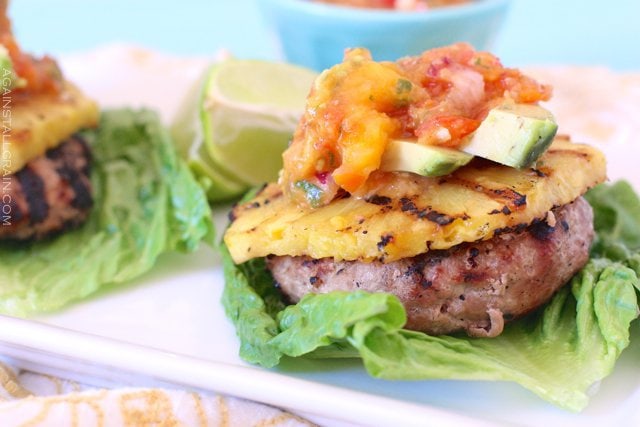 *Note: I have recently learned that letting ground meat marinate in fresh pineapple juice too long completely breaks down the connective tissues, leaving you with mush. Make sure to only marinate these patties for the time listed if using fresh juice. Canned juice should not have the same effect.
These Hawaiian Turkey Burgers are my version of the teriyaki pineapple burgers we used to enjoy prior to understanding that "teriyaki" meant soy and sugar. Instead, I use a combination of pineapple juice and coconut aminos to flavor the patties, and top them with grilled pineapple and a mango salsa.
If you're not familiar with them, coconut aminos are a gluten/soy/grain free soy sauce substitute that is made from the sap of a palm tree and mixed with sea salt. Although they are made from "sugar," they are fermented and the sugar from the sap is used up in the process. Because of this, they have a low glycemic index and are low in carbohydrates, which means that consuming them doesn't give your blood a big glucose spike. The flavor is unique and isn't quite a true match for soy sauce, but it does the trick when you don't have any other alternatives.
The verdict is still out as to whether coconut aminos are SCD legal or not. To make the coconut aminos, the sap is fermented, so much (if not all) of the sugar has been utilized in the fermenting process and is no longer present. It's unfortunate that people following a strict SCD protocol have no one to help keep the book updated with things that are prevalent now and weren't available back when the book was written in the 90's. I find it odd that the book/website hasn't even been updated with the importance of organic produce or grassfed meat! That being said, if you do follow SCD to a tee, keep in mind that the book doesn't veto or give the thumbs up to coconut aminos. You can add a little extra sea salt to the burgers if you decide you'd like to omit them.
Paleo/Primal people – have at them! Mark Sisson did a little blurb on them in his "Is It Primal" series and seems all is well in caveman land! We enjoy a lot of Asian food, so I personally use them all the time. Especially in all of my Thai Dishes.