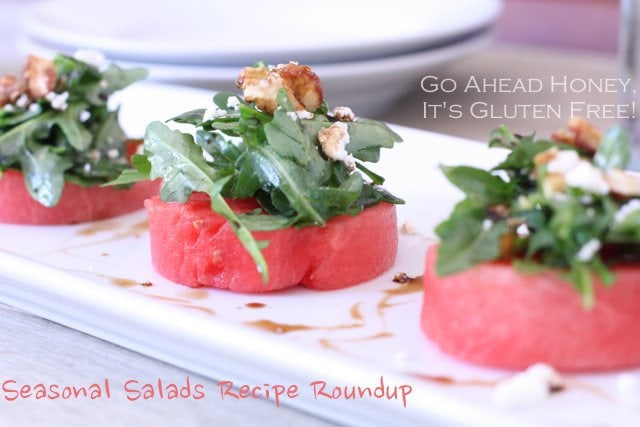 It was such a pleasure hosting this month's Go Ahead Honey It's Gluten-Free event. This recipe roundup was created by Naomi Devlin of Milk For the Morning Cake, and has been carried on by the gluten-free blogging community for quite some time now. As I am still fairly new to the GF blog circuit, it was really nice to get acquainted with some many new bloggers and have the chance to peruse through their sites! There's a wealth of information out there and too many great looking recipes to count! What would I do without Pinterest?
This month's theme was Seasonal Salads, and submissions were to feature a salad using fruits or vegetables that are in season where they live. I was so excited that the theme was welcomed with such enthusiasm! After all, who doesn't love a good salad that boasts seasonal produce? I shared both a savory and sweet salad with you over the past few weeks, and have now compiled an impressive roundup of delectable salads from my fellow gluten-free bloggers. You will definitely not have a lack of dishes to chose from if you're in need of something to take to all of your Summer potlucks!
So without further ado, I bring you the Go Ahead Honey, It's Gluten Free June Roundup! There's over 20 salads, so grab a bowl of… well salad, and enjoy reading through the recipes!
My first submission was a Watermelon Salad with Arugula, Goat Cheese, and Spiced Candied Walnuts. It was inspired by the way my Father-in-law eats his watermelon: sprinkled with salt! It never sounded appealing, but after making this salad I totally understand the savory and and sweet combination. I took it up a notch by adding a little spice to the mix with cayenne pepper candied walnuts.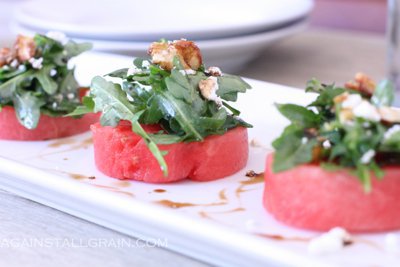 Heather from Gluten Free Cat gave us this gorgeous Strawberry Arugula Salad with Cilantro Honey Dressing. I love the use of a sweet fruit on top of the peppery arugula. They pair so well together and her cilantro honey dressing sounds like something I may want to just eat with a spoon!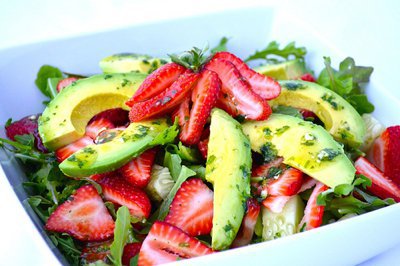 Sunny from And Love It Too shared with us her Whole30 approved Chinese Chicken Salad. It was so nice to read this post from Sunny as I didn't realize she wasn't just gluten-free, but doing grain-free as well! I love when the Gluten-Free world meets the Paleo world. Everything about this salad seems like something I'd love!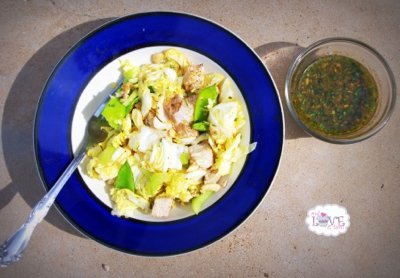 Vicki from Gluten-Free, SCD, and Veggie shared her Waldorf Salad as well as some really important information on using foods to fight prostate cancer. The dressing is right up my alley since I've been so obsessed with the use of cashews lately!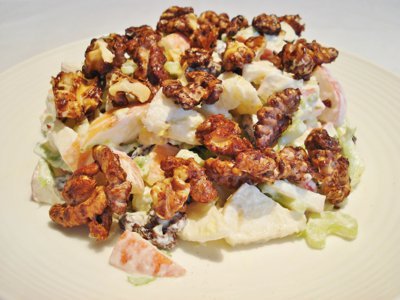 Naomi from Milk for the Morning Cake (and creator of this event!), shared a Salmon Salad with Fresh Vegetables. The radishes, cucumber, and garden peas look so fresh and delicious. Naomi also includes a recipe for Wasabi Pickled Radishes which I will have to try! My husband loves wasabi.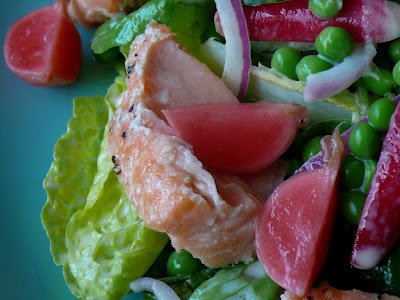 Hallie from Daily Bites brought us her Vegetable, Basil, and Avocado Tossed Salad that uses finely chopped vegetables to mimic a chilled pilaf salad. The flavors sound wonderful! Hallie has so many salads on her site and they all look fantastic.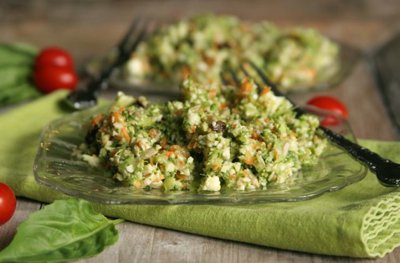 Ricki from Diet, Dessert, and Dogs comes to us with a fully loaded Kale Salad. She gives a base recipe for a simple kale salad, then gives you a plethora of add-in options. All of the flavor combinations look so good, I don't know where I would start!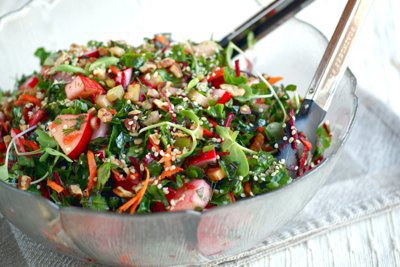 Caralyn from Gluten-Free, Happy Tummy submitted this Mexican Fiesta Salad. I love the vibrant colors of this one and can't turn down anything with homemade guacamole on it. Sadly, no corn for this grain-free gal, so I'd sub in some chopped chopped jicama for the crunch!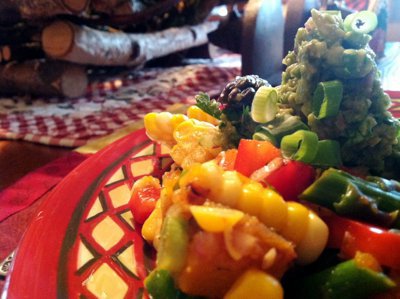 Alyssa from Queen of Quinoa submitted her Grilled Summer Vegetable Salad. In this recipe, she left her beloved quinoa out in favor of grilled mushrooms and squash and topped them with strawberries, watermelon and radishes.  I love grilling vegetables to enhance their flavors too.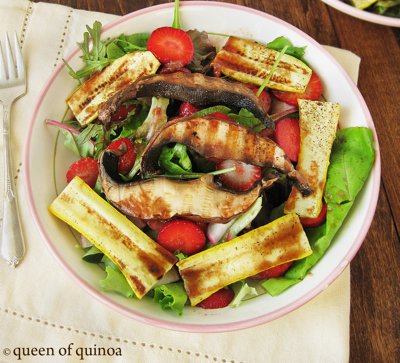 Amber of the Tasty Alternative shared with us her Candy Cane Beets, Strawberry, and Black Plum Salad. I've never seen this variety of beets before! They're so pretty, and with a name like "candy cane," you really can't go wrong!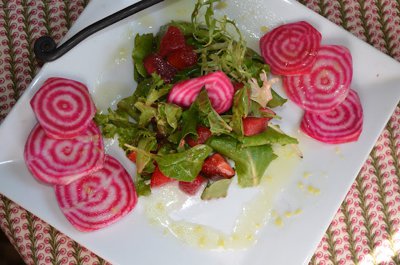 Devin from Nom Yum Free shared her Cucumber Basil Salad. The dressing is simple and compliments the refreshing cucumber well. Her salad is great for a hot and humid day when your body is asking to be rehydrated.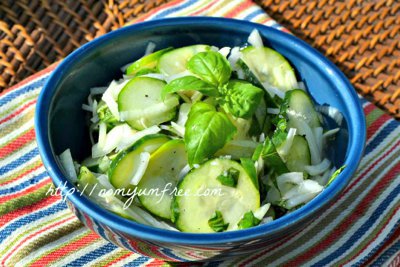 Brianne of Fem Fusion Fitness submitted this Bacon, Melon and Fig Salad. It reminds me of the cantaloupe wrapped with prosciutto that we eat in Italy and that my Grandmother has made for us. Any salad with bacon on it is good in my opinion!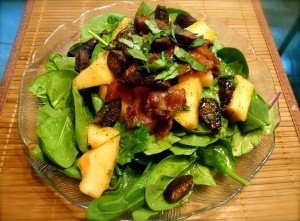 Dawn from Cuter Than Gluten brought us this cute Sesame Broccoli Slaw and Star Spangled Bento. The little music notes and stars are cleverly cut from peaches and she used candied sesame seeds as a fresh alternative to candied nuts.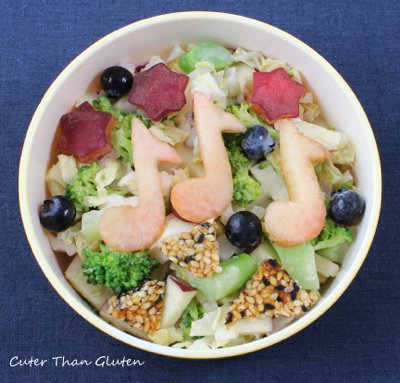 Rachel from the Crispy Cook shared a Dill and Chive Creamy Salad Dressing that makes use of garden herbs and will dress up any type of lettuce.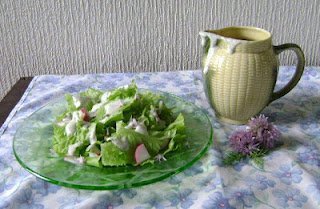 Noosh from For the Love of Food brought us a Beet Dill and Avocado Salad. You won't find lettuce in this salad. Beets are the star and have their flavor enhanced lemon, dill and avocado. Noosh didn't previously like beets until this salad, so if you're in the same boat, maybe give it a try and see if you change your mind!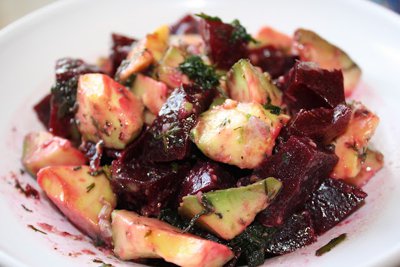 Kate from Eat, Recycle, Repeat shared a Larb Inspired Summer Salad. I actually didn't know what Larb was so I had to look it up! It seems that are a few different variations, but it is generally a meat salad with a tangy spicy dressing that is served in North East Thailand and Laos.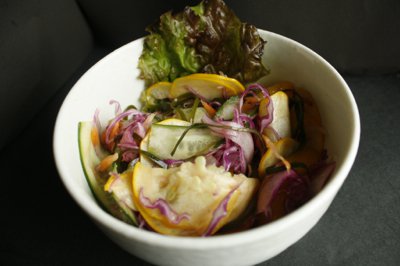 Shelley from A Harmony Healing submitted her Wild Salmon Vegetable Salad with Lemon Miso Dressing. This Japanese style salad looks so substantial and fresh. I can't have miso, but I think the salad would still taste amazing without it or I would substitute a little bit of coconut amines instead!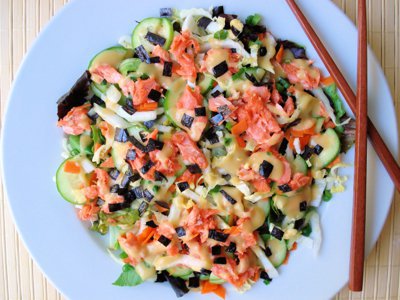 Nicky from In the Raw shared a Berry Salad with Raspberry Vinaigrette. Her homemade raspberry dressing sounds so easy to make and not overly sweet like many of the store-bought ones you can buy.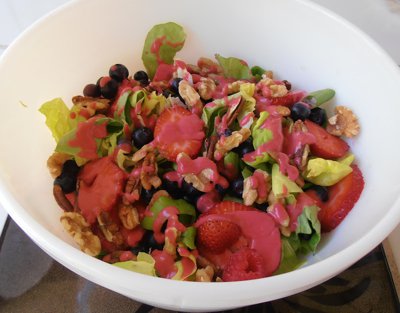 We had one reader submission this month that came to us from Melissa in Illinois. She makes a fresh raspberry vinaigrette and drizzles it over mixed greens with a choice of mandarin oranges, berries, goat cheese, candied walnuts, chicken, or sliced onions. I say all of the above! Email me for the recipe if you'd like it!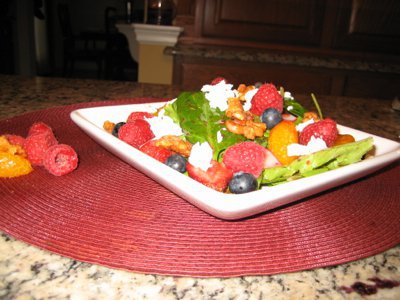 And finally, my last submission – A Paleo take on the classic Tuna Nicoise Salad.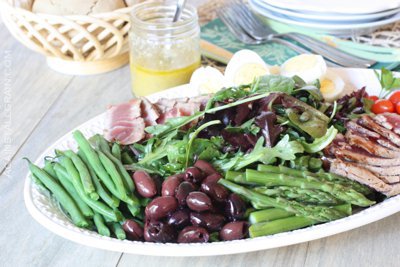 I didn't realize just how many submissions there were until compiling them all this evening! That's half a month's worth of salads for you, so head to your Farmer's Market this weekend and get those greens (or fruit!).
And Happy 4th of July to all of those in the U.S!
Shared with Slightly Indulgent Tuesdays