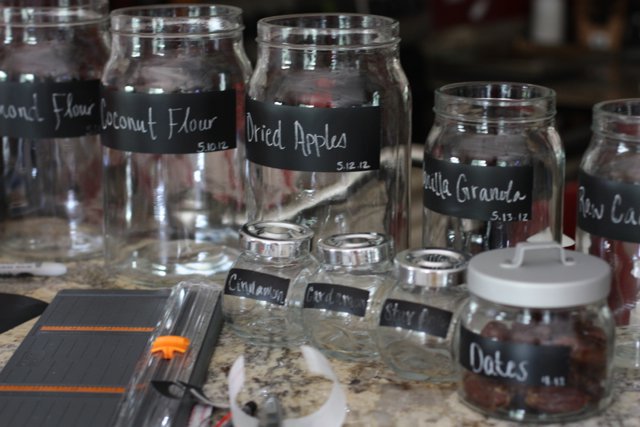 Ready for a peak inside my kitchen? Well, not so much my kitchen but my pantry!
We have this awkward closet under our stairs that used to be used for a the washer and dryer. The previous owners moved the laundry area out to the garage, so the closet hasn't really had much purpose for the past couple of years. Before my son was born, we used it as a mini office (translation : place to throw all of our stuff when we walked in the door). Then, it was the toy closet. The only problem was that there were no doors on it so any visitors could see our mess!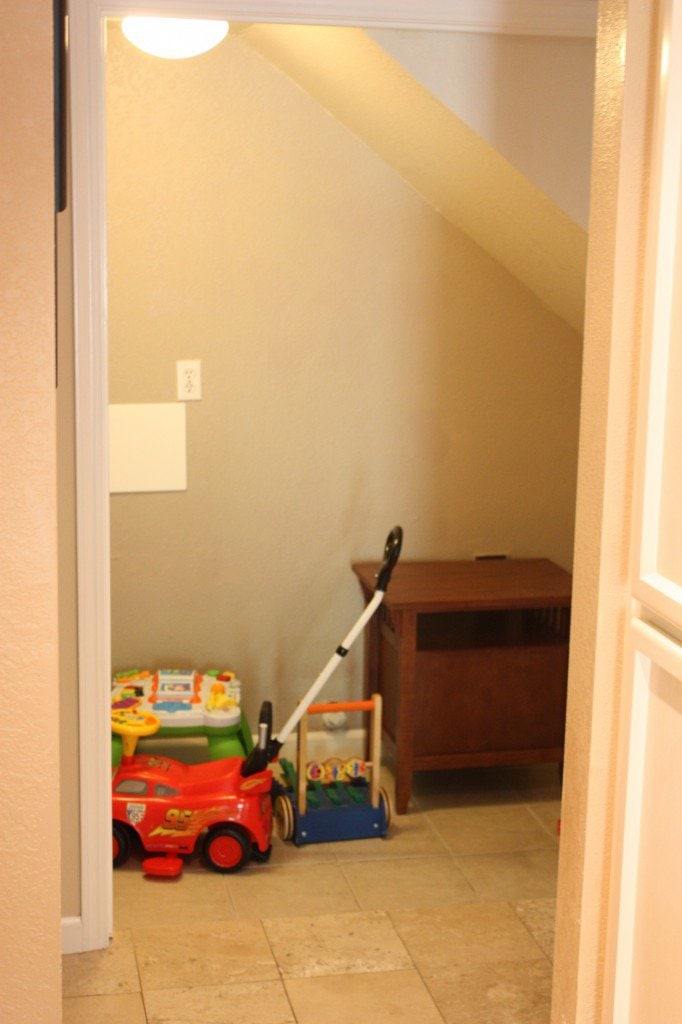 Our kitchen lacks cabinet space and drawers, so I have had this dream since we moved in that the closet could be come my pantry. After selling a bunch of old stuff on Craigslist, and being fortunate enough to know the owners of a 3Day Closets store, we finally pulled the trigger and transformed it! My husband and my dad worked for hours patching holes and firewalls, painting, and cutting wood pieces to make everything fit perfectly. I was literally dancing around the house when they did the big reveal!
Then it was my turn to organize. Which I absolutely love doing, but usually put off to do things like… well, write and post recipes for you! You won't believe the stuff I found deep in the depths of my old pseudo pantry. I kept wondering why I was running out of space, and now I know why! I've been grain-free for almost 4 years, so there's really no excuse to why I've been clinging on to this stuff! The worst part is, most of wasn't even expired yet! My son loved the cans. Yes, you see canned cranberry sauce and Campbell's soup in that tower!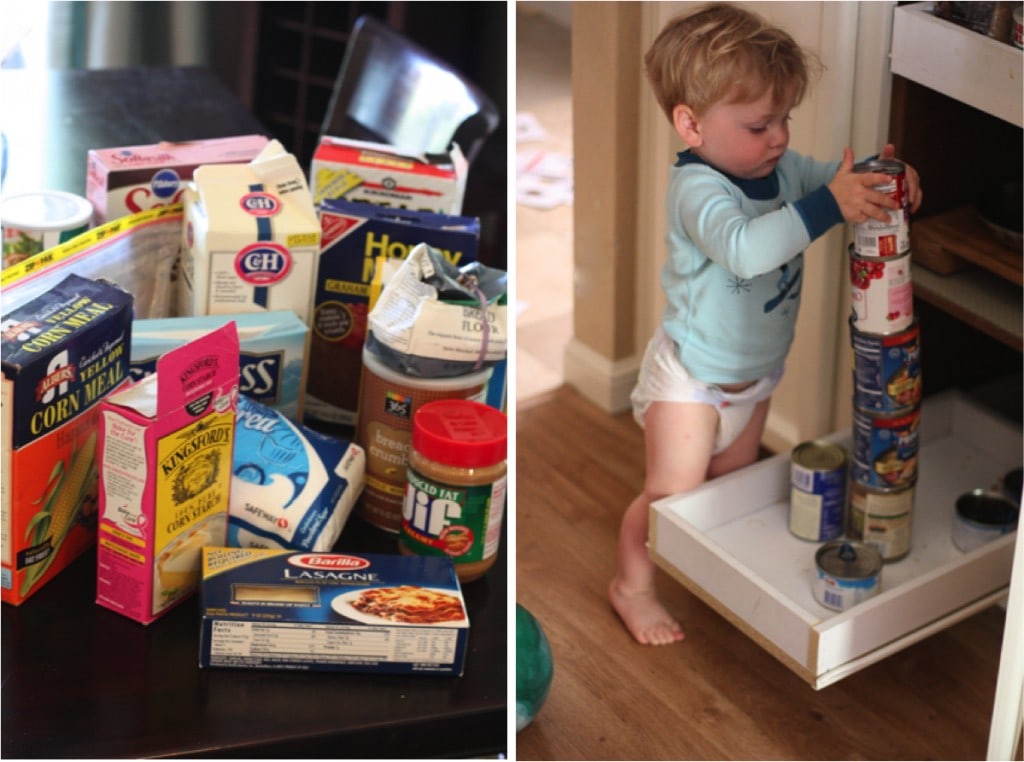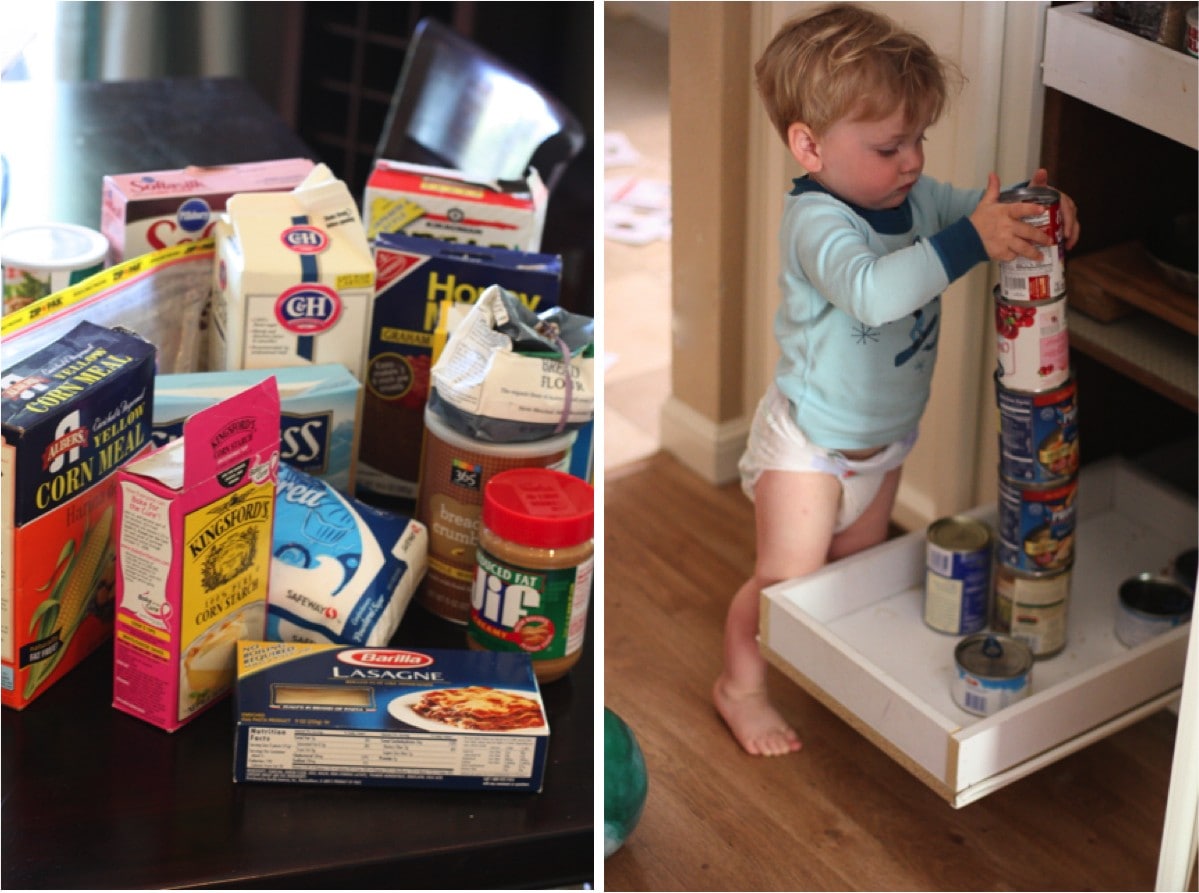 While it seems like you're wasting money because you're throwing things away, cleaning out your pantry is actually one of the best ways to save money. My biggest problem is buying in bulk, which I do to save money but it ends up backfiring on me. See that lump of plastic bags below? Those are all nuts and fruits, some of which have a measly 5 nuts left in the bag and no sign of when they were purchased. There's also duplicates of the same type of nut because I didn't realize I already had them or they were hidden underneath the mound of plastic bags.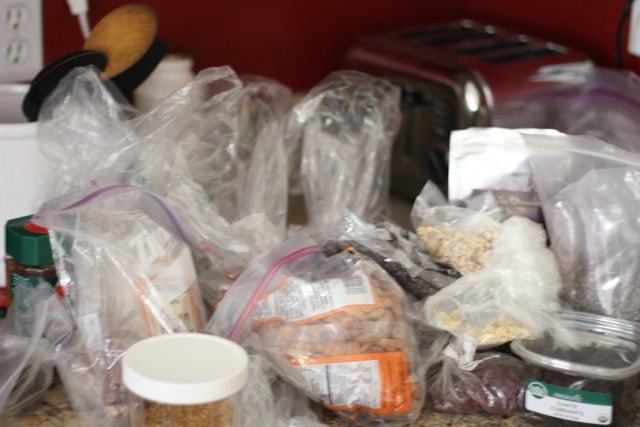 So here's 5 quick tips on getting your pantry organized and ways to save money:
1. Know what you use most and make it visible and accessible:
Pick the things you use the most often to store front and center in see through containers. I bought a bunch of great airtight glass canisters at Ikea for $2-$3 a piece. You can also shop at places like HomeGoods or TJ Max to find good steals on kitchen storage. Just try to use glass if possible, so you don't run the risk of plastic leaching into your foods.
I keep a little almond flour at room temperature at all times so that was the first canister I filled. Then I filled the rest with my main kitchen staples: coconut flour, raw cacao powder, flaxseed, and nuts. Oh and I always keep a huge batch of my granola (vanilla or chocolate) on hand for snacking or a quick breakfast. I ditched the plastic bulk bags and filled a few containers with my go-to nuts like almonds and cashews, and then used zip locks labeled with dates for the rest of the stragglers.
My cooking is also so much more efficient now. I'm able to easily grab the ingredients I need without digging through a mess, or stopping to zip up a bag of flour. I know it sound silly, but when you cook as often as I do, you actually appreciate being able to just pop off a lid!
2. Label perishable items with dates and names:
Canned goods and processed foods have ages as their shelf life, so it's easy to forget that your new real foods won't last as long and you end up having a lot of waste. Nuts, in particular, will go rancid a lot quicker than you think. They're actually best stored in the fridge, but if you're like me and prefer to eat a room temperature nut, follow these guidelines:
Shelled Nuts
Unshelled Nuts
Pantry
3-4 months
Pantry
5-6 months
Refrigerator
12 months
Refrigerator
18-24 months
If you get your pantry organized to where you can see everything and it's properly labeled with the name and date you purchased or opened the item, you won't waste so much.  I also found this awesome chalkboard contact paper on Amazon for $11! I used it on all of my canisters as well as some spice jars and still have 3/4 of the roll left for other uses. I'll definitely be making my son a chalkboard wall in his room!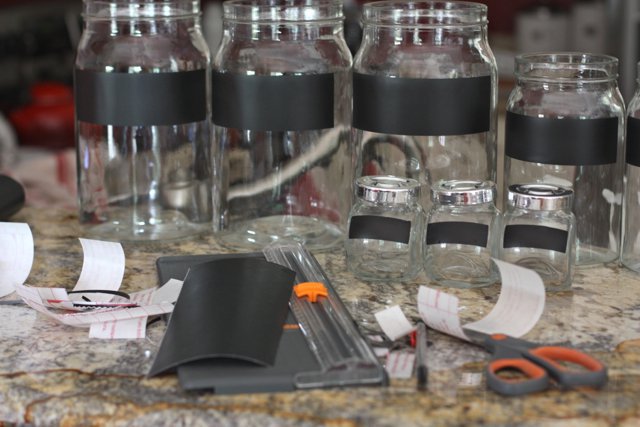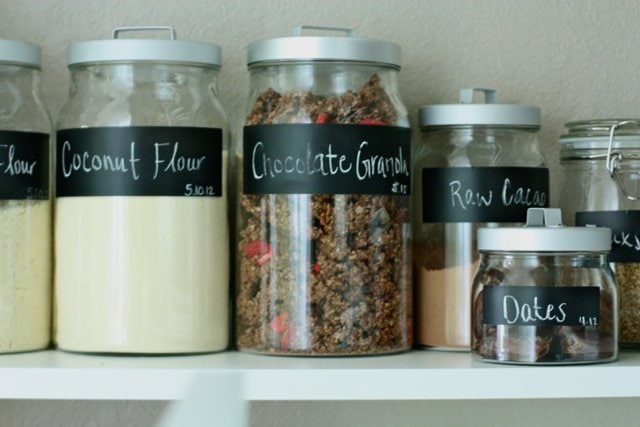 3. Shop in bulk and online when possible:
If you have the storage space for the excess goods, be it in the garage or an additional closet, you will save money shopping in bulk for Paleo/SCD foods. Things like Almond flour, coconut milk, coconut flour, and nuts can be found at cheaper costs online and when sold in larger quantities. I always buy a 5lb bag of almond flour and store half in the fridge. You can purchase a 5lb bag from Honeyville for $.46/oz where you would pay $.90/oz to buy a small 1lb of lesser quality flour from Whole Foods. Tropical Traditions often has sales on their coconut flour, so keep an eye out for that as well!
A lot of sites also frequently offer promotions. Keep an eye out for them, and stock up when you see one. Tropical Traditions for instance, often offers 10-15% off or free shipping, which is the perfect opportunity to stock up on coconut oil, honey, or even household cleaning products. Sometimes they even offer a buy one get one free on their coconut oil!
4. Take advantage of Amazon
I love that all of us grain-free, dairy-free, vegan, etc. folks can find what we need at the click of a button. We use so many specialty items and it is so nice to know I don't always have to trek to my local health food store to find them.
Amazon has three great promotions that we take full advantage of.
1. Get a Prime account and receive free 2-day shipping all year long. By the time I make my list and find time to go to Target (and end up spending an extra $50 on unneeded items they lure you into!), I could have already put it in my Amazon cart and had it delivered to my doorstep. It's $79 a year, but that more than pays for itself with the amount of things we order from there.
2. If you purchase any child related items, you will qualify for Amazon Mom. You'll get three months of FREE Two-Day Shipping with the Amazon Prime as I mentioned above, plus 20% off diapers and %15 off on a lot of grocery items. And it doesn't cost anything to be a member!
3. Use Subscribe and Save! I found out about this when I had Asher and saved a ton on diapers, but now I use it to save %15 on things like Raw Cacao, Coconut Milk, and other pantry items. You can chose to have things delivered to you automatically on a regular interval of your choice and the price drops significantly. For instance, if you do a one-time purchase of my favorite Navitas Naturals Organic Raw Cacao Powder, it is $27.46, but if I do the Subscribe&Save option, it drops to $23.43. The nice part is you can cancel your subscription at any time with not charge, or chose to skip a scheduled delivery if you're haven't finished what you currently have yet. Pair that with Prime shipping, and you're saving  ton!
5. Create zones
Organize your pantry sections by food type— snacks, baking items, canned/boxed goods, snack foods, nuts&seeds etc. Each zone gets its own dedicated shelf or drawer, or if you're tight on space give each zone it's own basket. If you have tall cabinets that don't have natural separations, create the zones yourself. Add an extra level of storage by using one of these removable shelves, or maximize your space and organize your spices with this three-tiered shelves.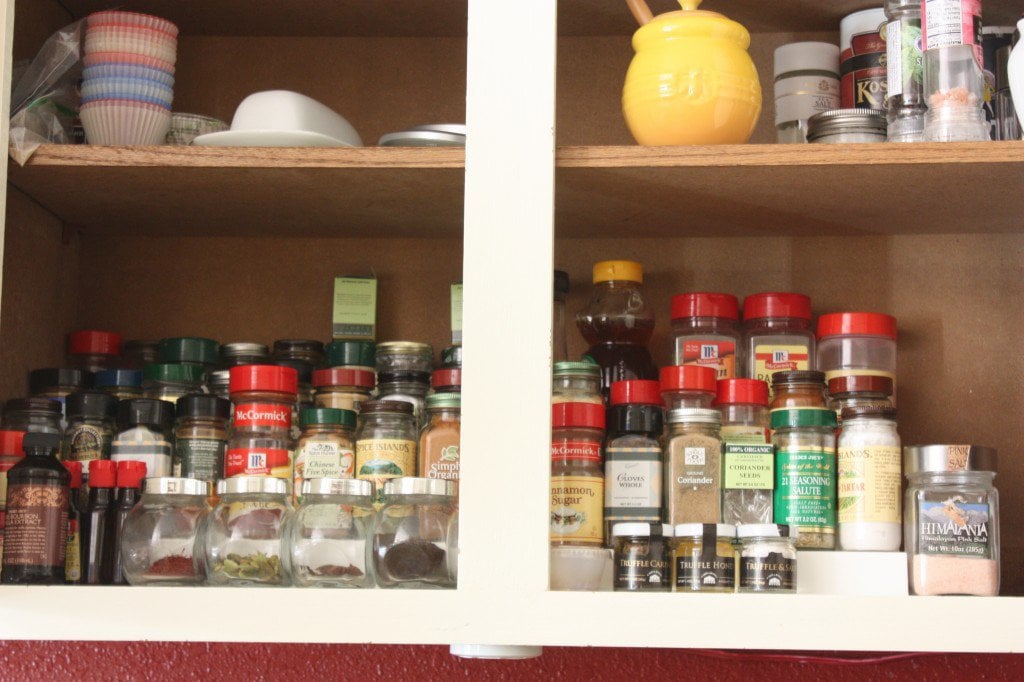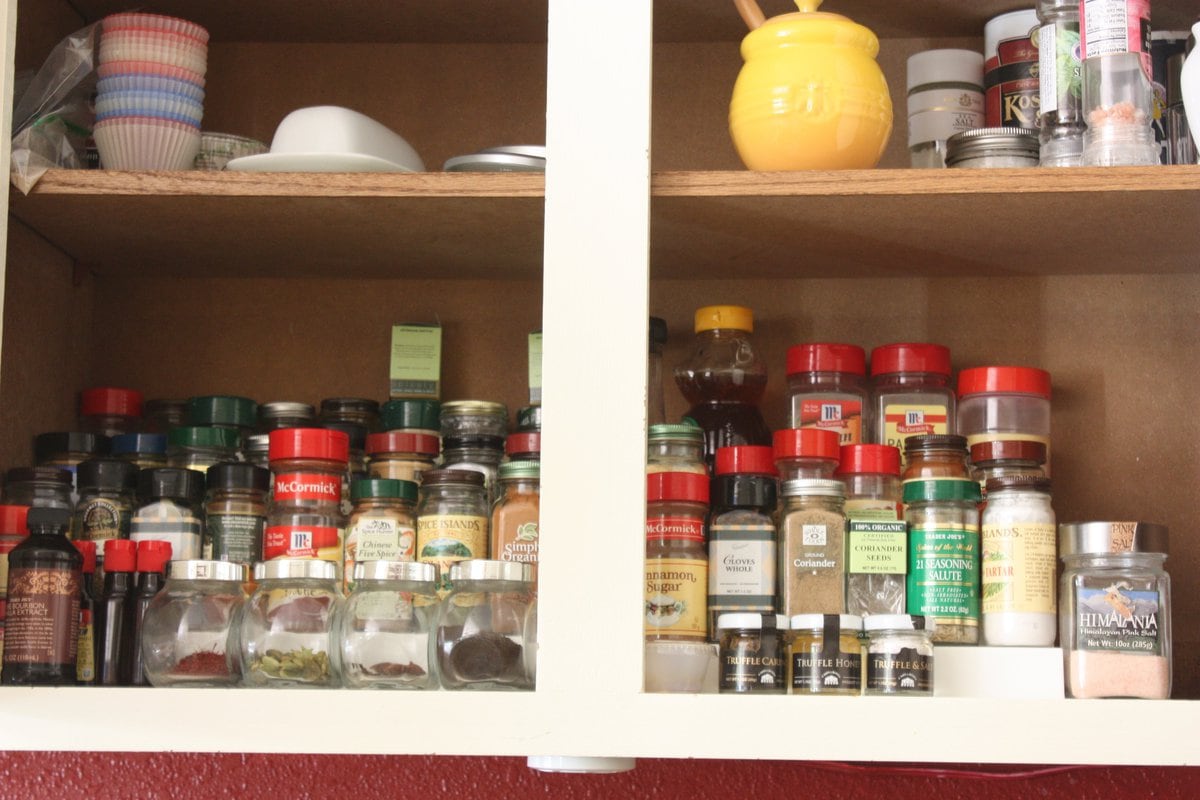 So here it is, my new pantry!
I have a  very busy toddler who loves mischief so I can't fill the bottom shelves yet while we save up for the doors, but it's a start! I love the extra storage at the top for some of my serving pieces and cookbooks. I used 2 baskets we had in another closet to help organize – one for baking items, and one for bags of nuts, seeds, and dried fruits. The drawers are used for table linens, and the top drawer finally gives me a place to keep all of my photography props! The right side where all of my appliances are is probably my favorite part! They were taking up all of my counter space in the past and now I have so much more free prep space!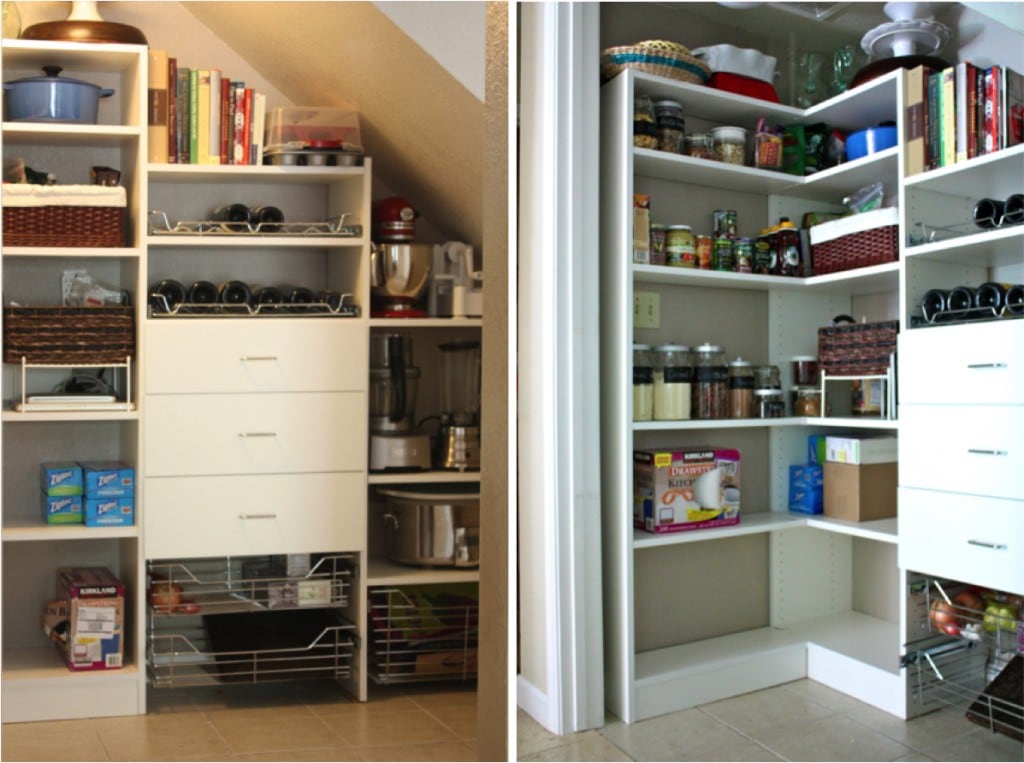 Happy Organizing Everyone!