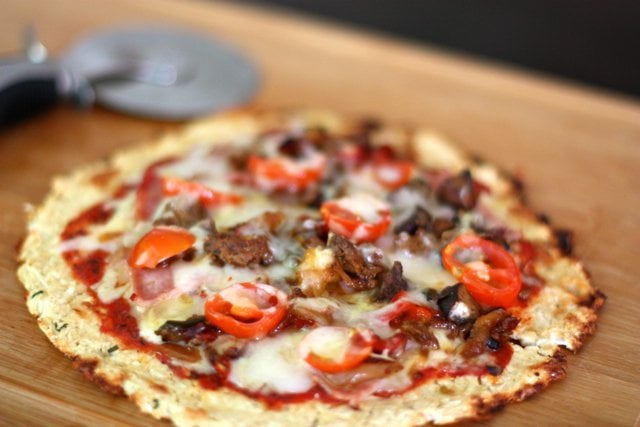 NOW, for the recipe that you all voted for on Facebook last week – Meat Lovers Pizza with Cauliflower Crust!
I kept seeing the infamous cauliflower crust pizza popping up on Pinterest and was very intrigued but slightly skeptical. I couldn't imagine how a pizza made of cauliflower could be sturdy enough to hold all of the toppings I like to pile on my pizza until I made this Meat Lovers Pizza with Cauliflower Crust!
My instincts were accurate, because I was disappointed with the recipes I tried that I found online. First off, all of them use mozzarella which is not allowed on SCD because it is generally processed with emulsifiers and doesn't have bacterial growth. It also melts down to be stringy and didn't create a strong crust. The cauliflower also holds so much moisture in it that it was a little too damp for my tastes. Don't get me wrong, it tasted good, but I like to be able to pick up my pizza and you couldn't with these recipes.
For this recipe, there are no forks necessary! I added some coconut flour and used Parmesan cheese instead and came out with a pizza crust that I love! I like to make them into individual pizzas so people can chose their own toppings, but also because it does make it a little easier to pick up with your hands. 
Cauliflower is fiber rich and contains high amounts of vitamin K and omega-3 fatty acids which both help reduce inflammation. Because the crust is pre-baked, you will need to cook the vegetables and meat before baking the entire pizza.