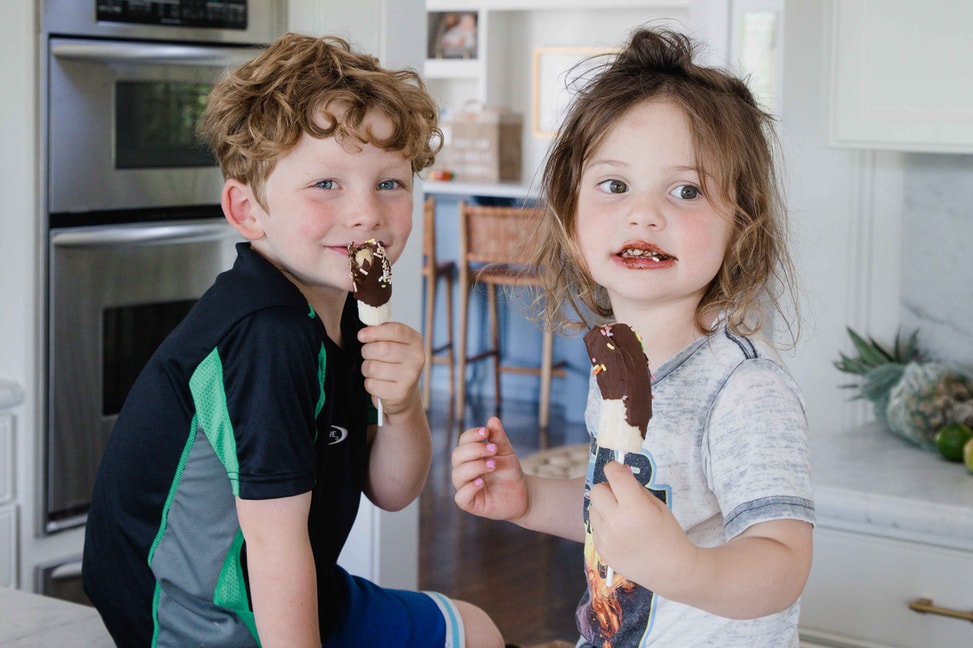 What's more classic than a Chocolate Dipped Banana? You all know how much I love to recreate favorite recipes from childhood, and this dessert is absolutely one of those for me. I think I first had Chocolate Dipped Bananas at Disneyland as a child and introduced them to my own kids when we first took them to the parks. Now we make this nostalgic treat at home to enjoy on hot summer days. It's such an easy recipe and the kids love helping with them.
Zero Refined Sugars!
You can feel great about indulging in one of these on a hot day, or letting your kids have one as an after-dinner treat. These are completely free of refined sugar! We sweeten the chocolate ourselves so we use a natural sweetener, and the rest of the sweetness comes from the ripe bananas.
My sweetener of choice? Maple syrup! It has a lower water content than honey so the chocolate won't seize up (get gritty and less shiny) like it would if honey was used. My favorite unsweetened chocolate chips are by the brand Pascha. I also love Guittard unsweetened chocolate bars.
If you don't have unsweetened chocolate chips on hand, you could use any other chocolate chips or chopped chocolate – just leave out the maple syrup.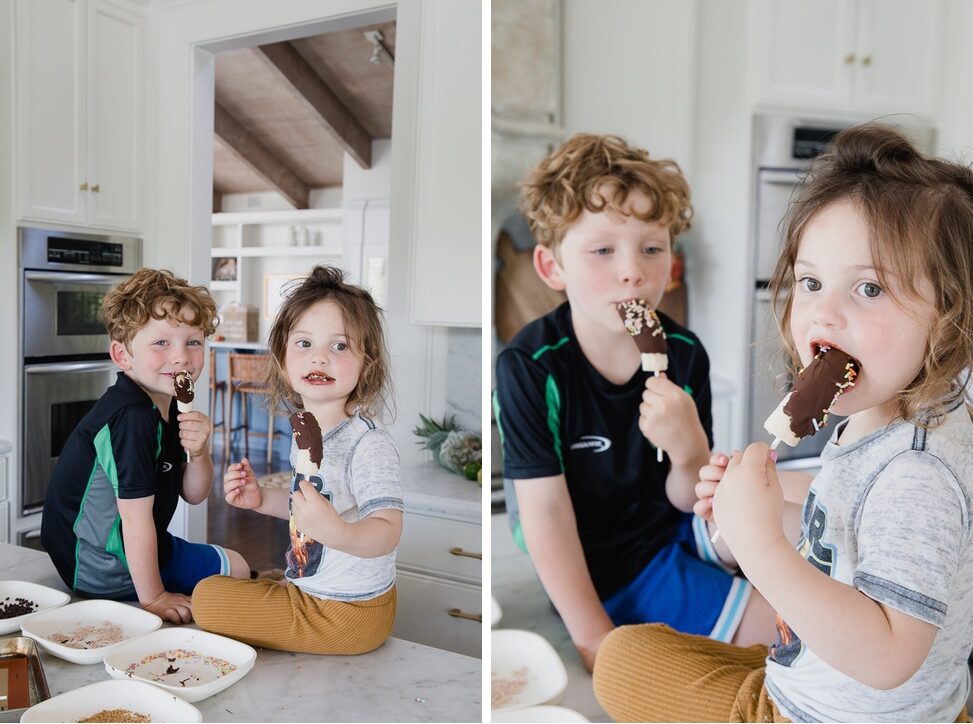 Little Helpers Make Less Work and More FUN
This recipe is so fun to get the kids involved with. It's super simple and quick, and the kids can choose their own toppings and decorate to their hearts' content.
Get creative with your chocolate dipped bananas! My kids usually go for the sprinkles, crushed GF graham crackers, and mini chocolate chips. Ryan and I love toasted coconut flakes, a creamy almond butter drizzle, and chopped nuts.
Make sure you're close-by to help with the process though. The chocolate hardens pretty quickly because of the frozen bananas, so the toppings will need to be added pretty quickly after dipping to ensure they stick.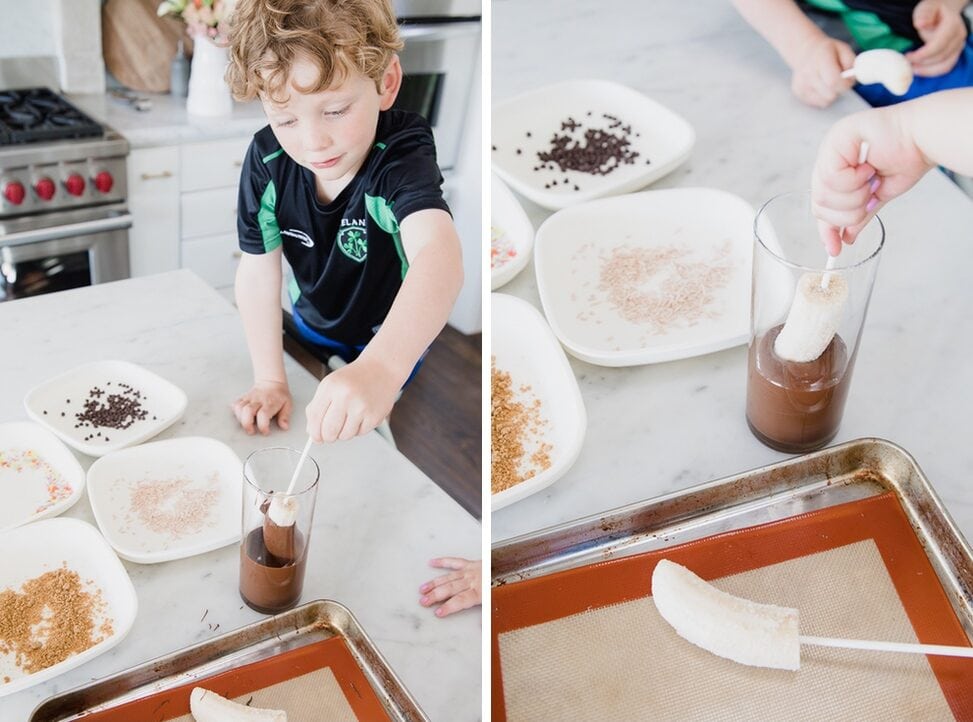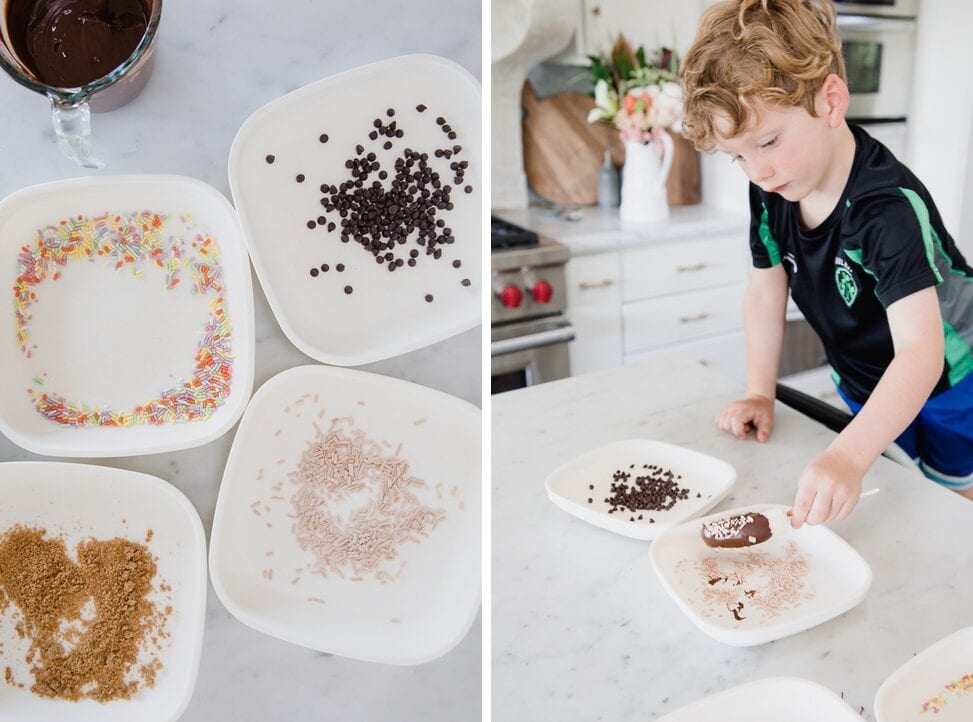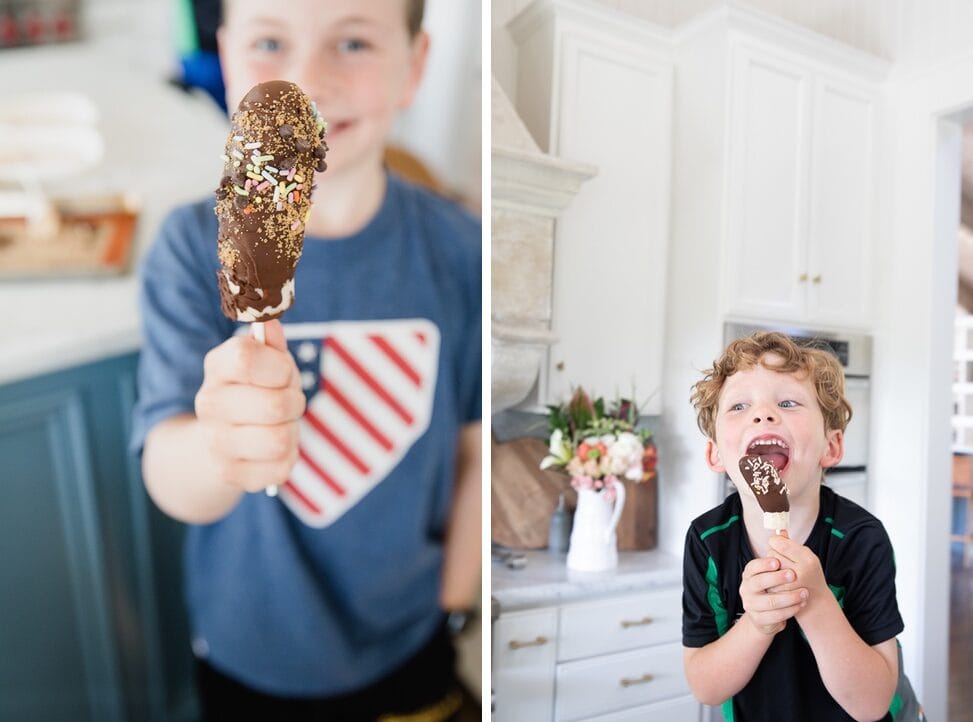 Freezing Tips
Make sure you don't skip the pre-freezing step as it's crucial. If you don't pre-freeze the bananas, they will fall off of the sticks, and the chocolate won't stick to them. Be sure to keep them in the freezer while you prepare your chocolate mixture and toppings. Bananas thaw pretty quickly once out of the freezer! They'll become a bit slimy, which will cause the chocolate to slide right off.
If you don't have popsicle sticks at home, you could use kebab skewers or lollipop sticks. If you don't have any of those you could simply freeze the bananas in chunks or slices and dip them into the chocolate using two forks. This method actually makes for an easier time eating them as well. But beware, you may find yourself standing in the freezer popping a few in your mouth at a time while you search for something to make for dinner. Not that I can speak from experience or anything.