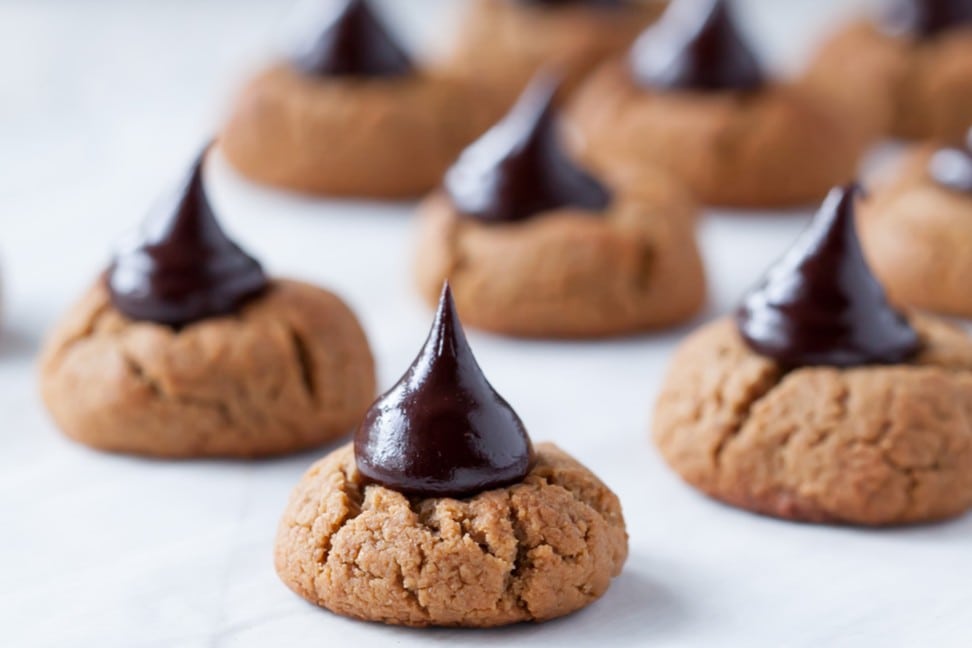 If you've been following me for a long time, you may have a copy of a holiday ebook I put out long before my Celebrations cookbook called Joyful. It's no longer in "print" because may of the recipes were revamped and included in Celebrations, but there's a couple of lost recipes from it that I can't let go to waste! These Gluten Free Peanut Butter Blossom cookies are one of them!
I ended up putting the cookie recipe in the Halloween chapter of Celebrations as the spider cookies, but Peanut Butter Blossom cookies with kisses are such a staple during the holidays, I wanted to share it here. The traditional uses peanut butter of course, but we don't eat peanut butter so I use sunflower seed butter or almond butter. Any of the 3 will work though!
These egg-free, nut-free, gluten free 'peanut' butter blossom cookies are so fun to make and are lovely to give as a gift or take to your holiday cookie exchange. I melt down chocolate and use a piping bag to make the kisses shape, but feel free to use a square of your favorite dark chocolate or splurge and grab some dark chocolate Hershey kisses!
If you're attending a cookie party, or just love to bake for gifting like I do, make sure to gab a copy of Celebrations. There's a dozen holiday favorites in there, repurposed to be grain, dairy, and gluten free! Also, be sure to checkout other cookie recipes on the blog!