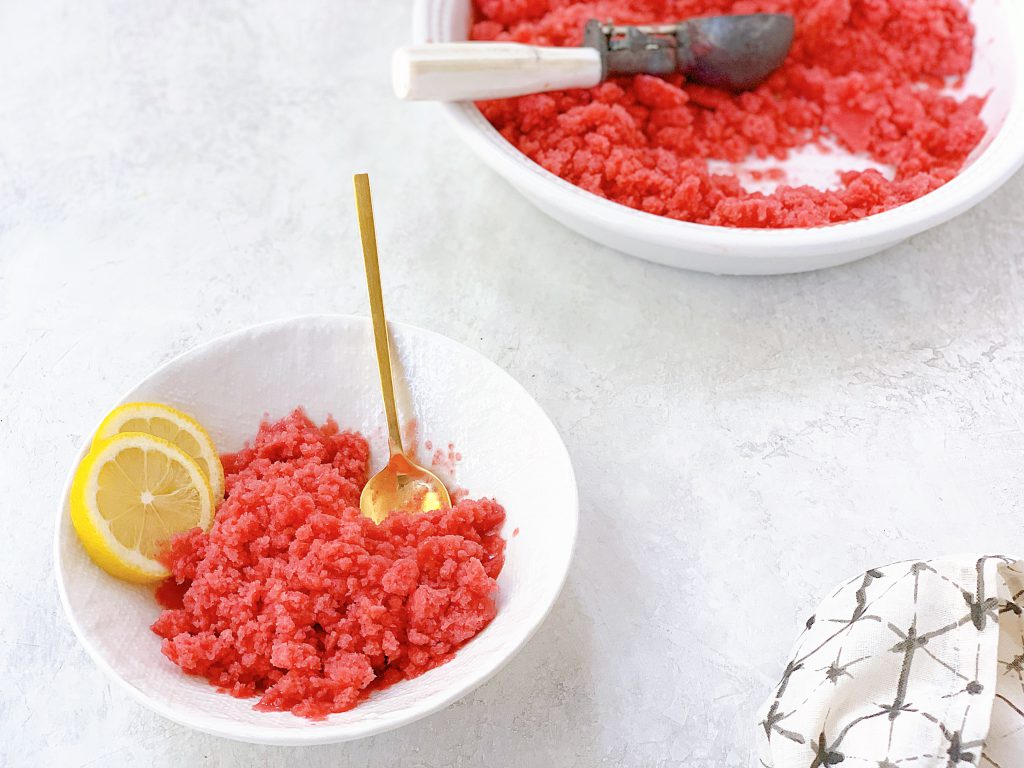 I'm super excited to partner with Vital Proteins to bring you another healthy spin on an old favorite recipe – Vital Proteins Strawberry Granita!
This recipe for Vital Proteins Strawberry Granita reminds me of an iced dessert I loved in Italy! When I first started hearing about collagen, it was more in the form of bone broth, which I still love and drink frequently. I introduced it as a daily staple to help heal my gut, but had no idea it would also help my bones, skin, hair and nails. I didn't always want to sip on a steamy cup of broth though, or eat a bowl of soup, so I started incorporating collagen powder into my daily diet.
I came to know and trust Vital Proteins over the years, and have loved their grass-fed powdered collagen and gelatin products forever. Their products do the job of providing a boost in collagen production, and they make sure that ingredients are clean and minimal. They use only natural sources of essential proteins, and they source cows from Brazil that are pasture-raised. Quality is important to me for anything, most especially the things that I put into my body.
This year, Vital Proteins released their newest product which happens to be collagen-infused waters! They're available online and even at Costco, and they have quite a few flavors, all of which are fresh and packed with 10g of collagen per serving. Not to mention, they're very lightly sweetened with monk fruit and incorporate other real, fresh fruits. These drinks make getting that extra bit of collagen so convenient. Although I'll keep mixing my powder into things, I have to admit it's really nice to just grab a water from the fridge when I'm on the run or taking a long drive!
I thought it would be fun to utilize the collagen waters in a recipe for you to give you a fun way to use them in addition to drinking them, and a refreshing and chilly granita felt perfect. See below for the recipe!