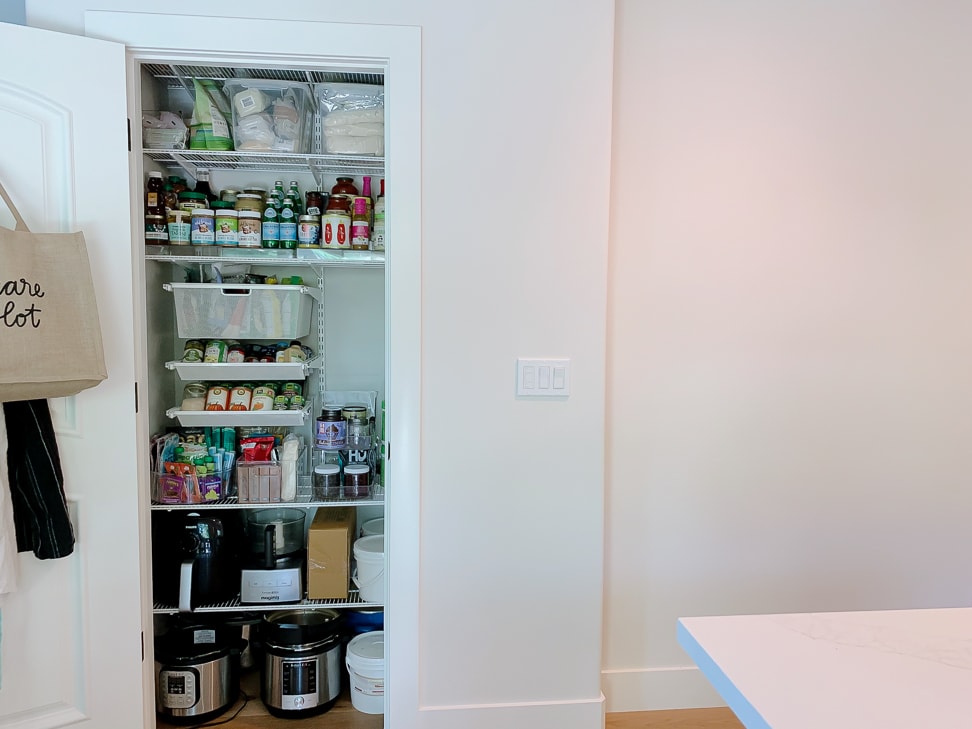 We've officially moved into our new office space and our new home, and the first things I wanted to be organized were the pantries! I'm going to start by showing you my office pantry, and will post my home pantry next (which looks quite different with 3 kids!)
The office has a small reach-in coat closet that I converted into a pantry utilizing the Elfa system from Container Store to maximize our storage space and make everything really accessible. I love the tiered drawers for canned goods and jars. I would totally have installed 4 of those in the new house if the pantry was set up differently! I also really liked the pull-out drawer for all of my opened bags of nuts, seeds, and dried fruit. It keeps it organized, and I can see what's in there easily, so I don't buy duplicates.
Shop My Pantry Organizers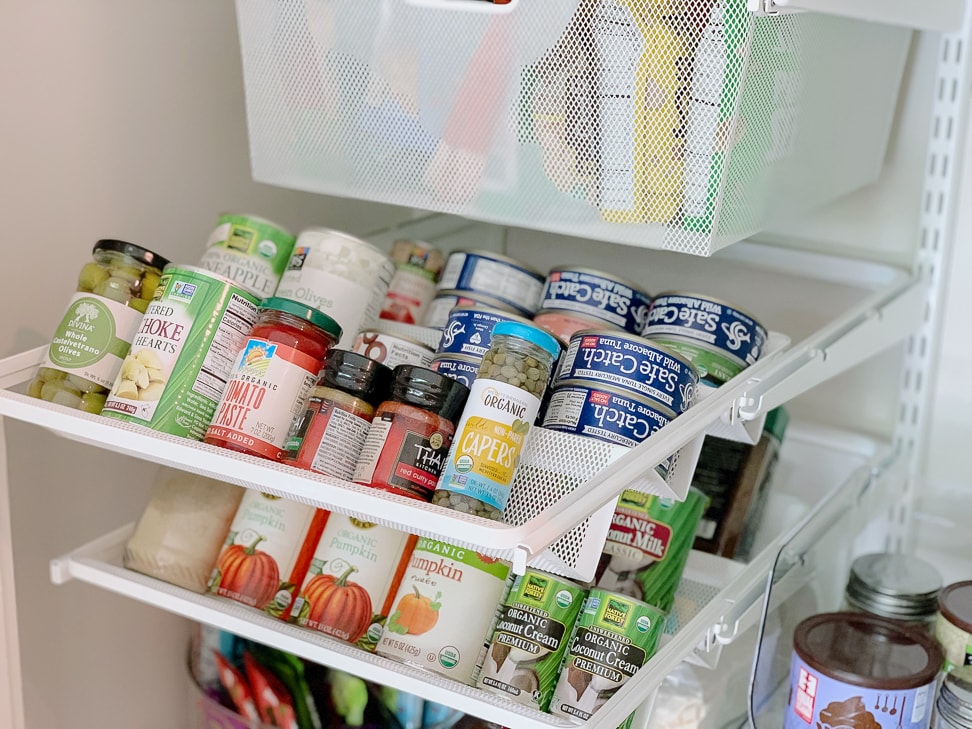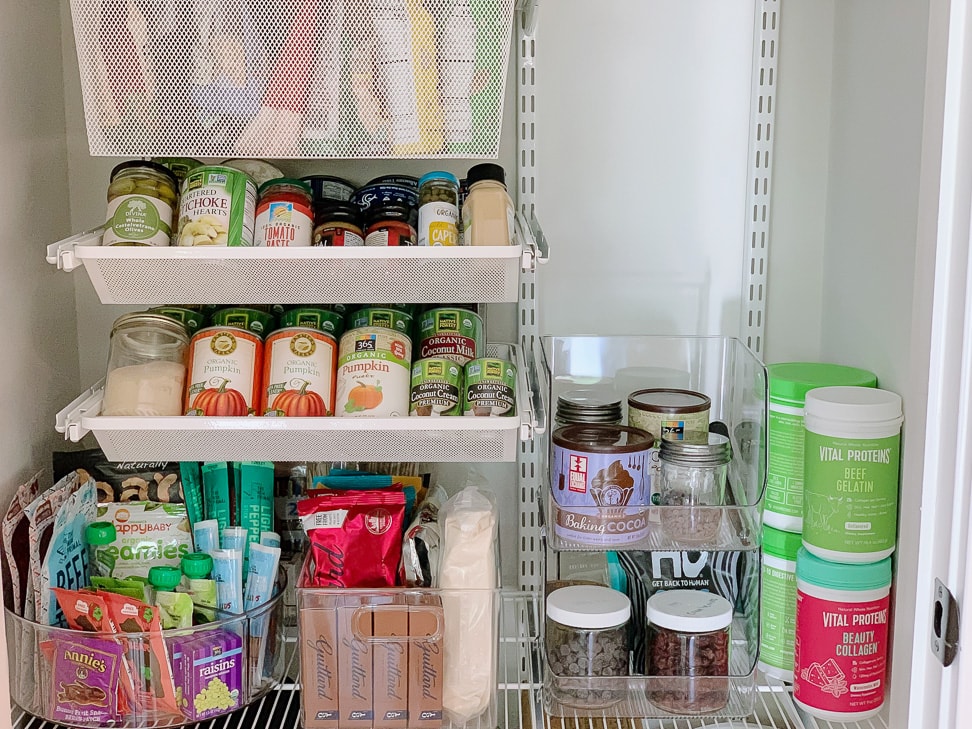 Shop My Canned Goods

Shop My Snack Wheel

Shop My Baking Favorites

Shop My Pantry Organizers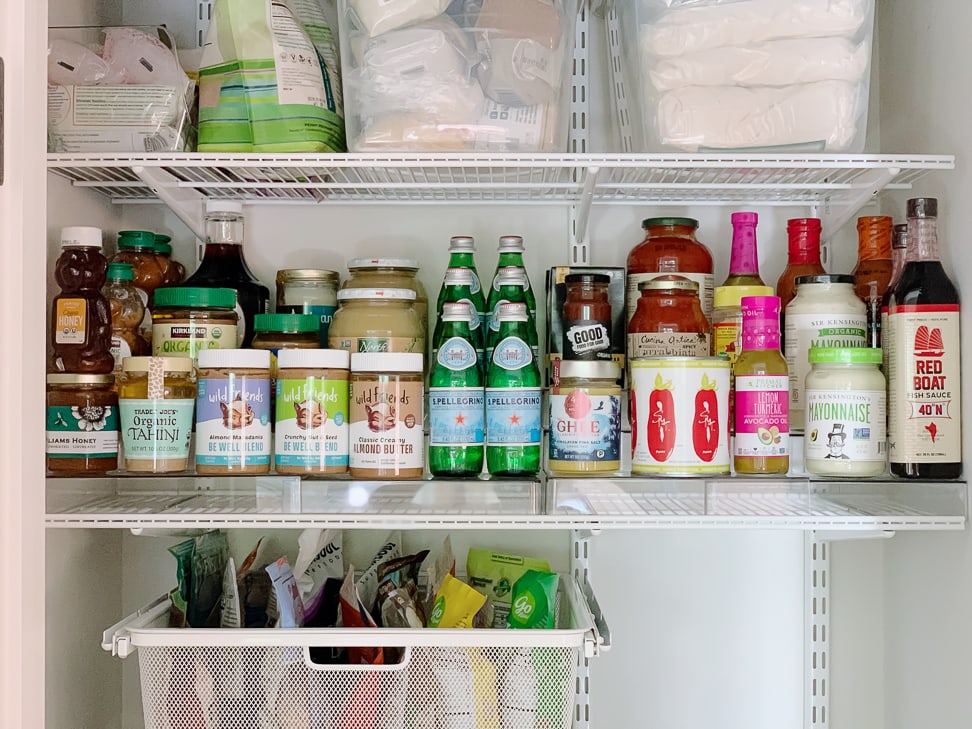 Shop My Jarred Goods

Shop My Pantry Organizers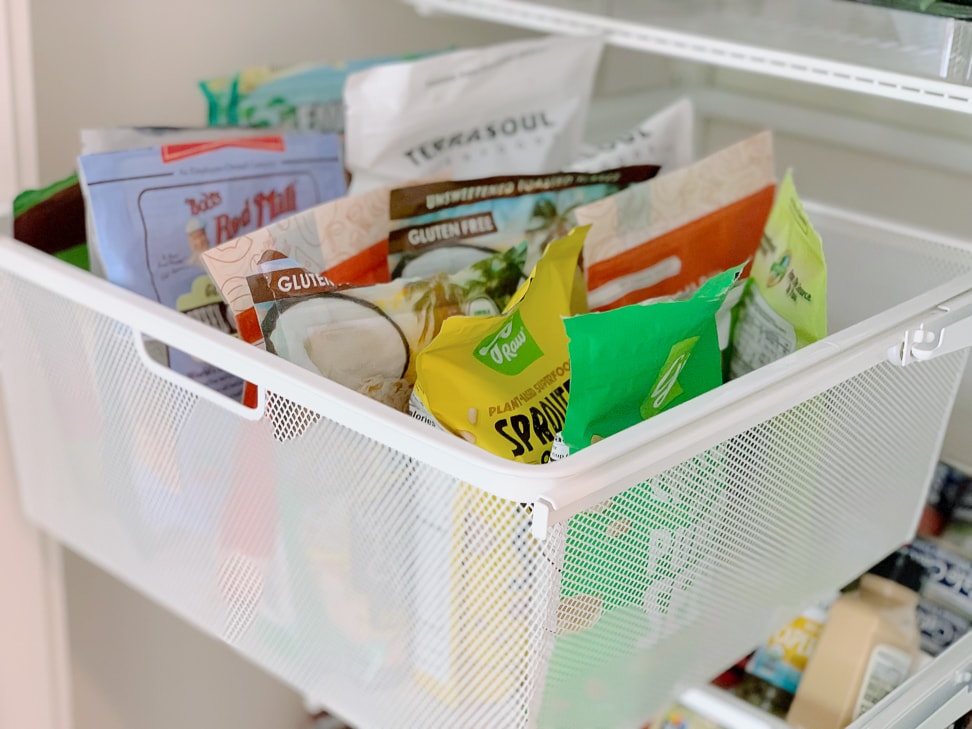 Shop My Dried Fruit, Seeds, and Coconut

Underneath the tiered drawers, I put one of my favorite handy-dandy divided lazy susans to hold kid's snacks for when they come to visit me at the office. I'm obsessed with the lazy susans. I think I have 6 of them around my house already for everything from nail polish, to snacks, to supplements. I stocked the one at the office with a few extra special treats so the kids would be lured to visit mom and dad more frequently at the office. I also put a plastic slide-out back to entice them further! haha!
In each kitchen, I created a baking drawer rather than storing my baking items in the pantry. I bake so much for recipe testing, and pretty frequently at home with the kids, so I prefer my jars of flours, baking soda, vanilla, etc. to be closer to the measuring spoons and stand mixer. I don't even take them out of the drawer, just pop the tops off and measure out what I need directly into the mixer, blender, or food processor. I did store some bulk baking items like coconut milk, chocolate, and gelatin in the office pantry that I couldn't fit in my baking drawer.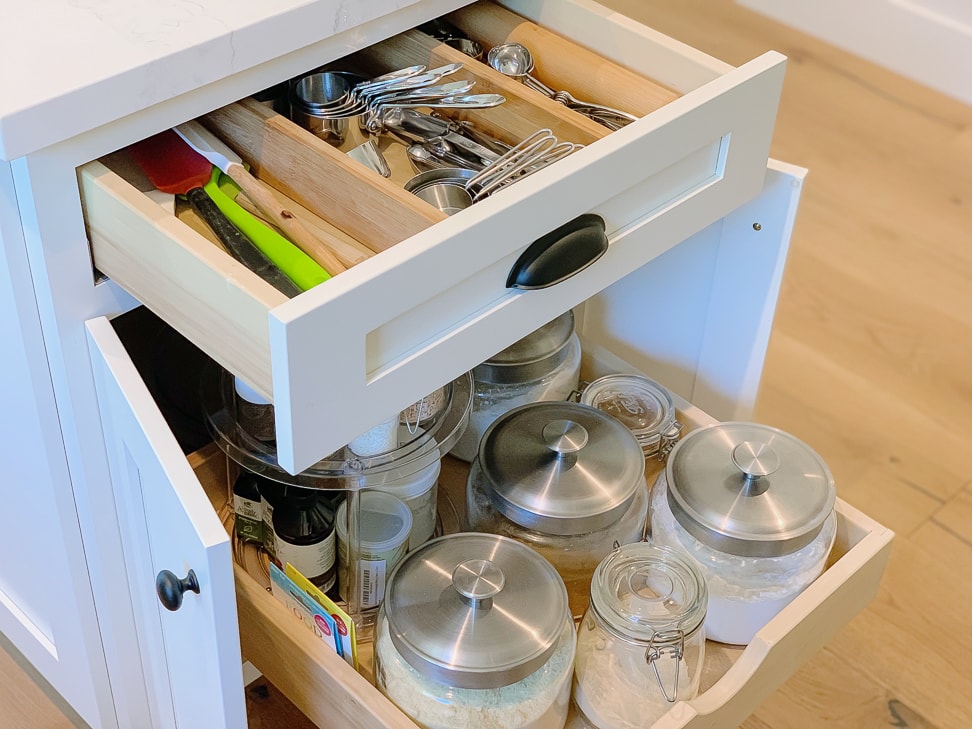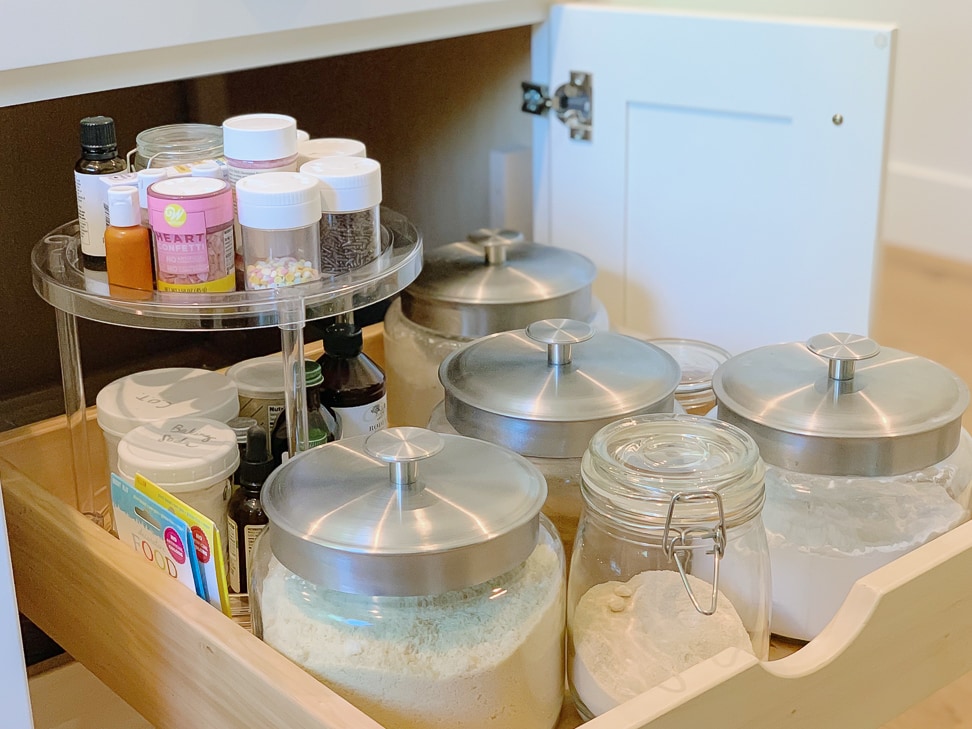 Shop My Baking Drawer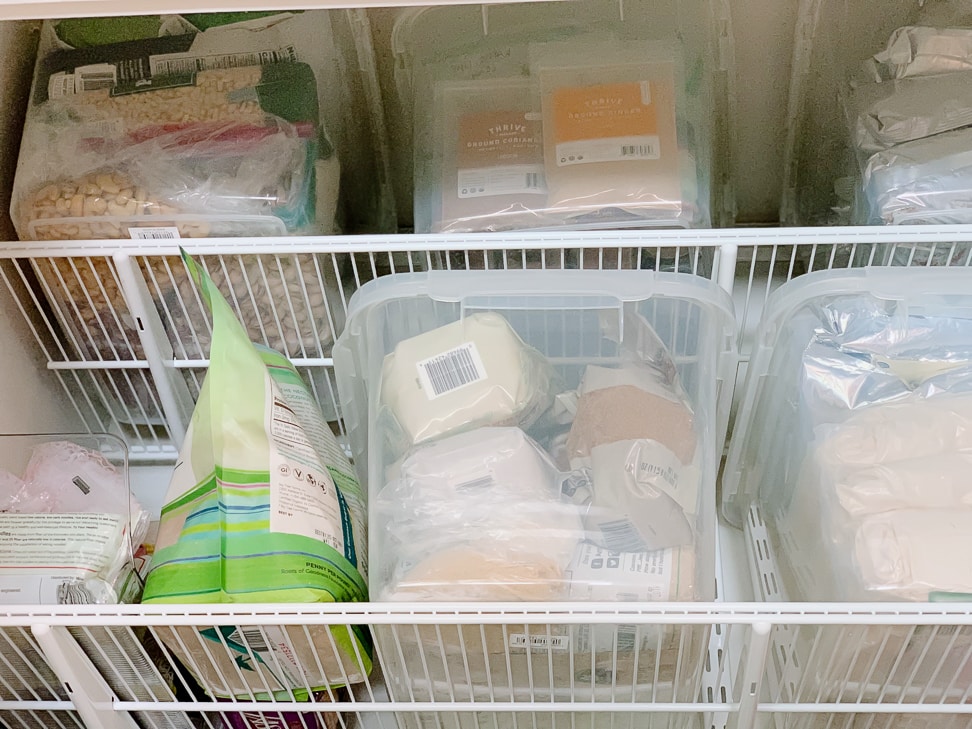 We also keep a few pounds of back-up flours on hand at the office since we run through so much of it while testing recipes dozens of times, so I put those in clear plastic bins with lids on them up in the top of the pantry so we can be reminded that we have them, but they don't take up the more useable space at eye-level.
On the very bottom of the pantry, I stored my less frequently used countertop appliances and massive bins of honey, palm shortening, and coconut oil. We also put a few things like my deep fryer, dehydrator, and spiralizer in the bathroom closet since we won't be using it as a normal bathroom with showering and getting ready, and needed the extra space for the larger items we don't use that often!
Shop My Appliances