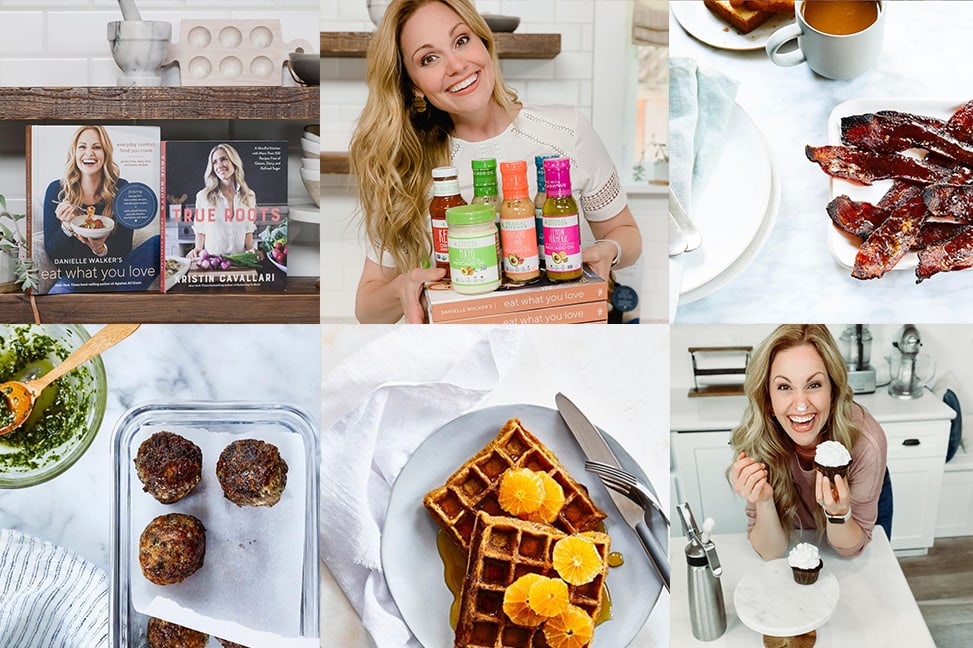 Hi friends! Happy May! Can you believe that Mother's Day, Memorial Day and summer are just around the corner!? This week's digest includes some sweet giveaways that happened this week, my new Facebook live where I showed you my favorite trick on how I make crispy sweet potatoes, and a look into some of the meals I make for meal prep! Scroll down to read more.
Giveaway has closed!
Winners: @lindseyterran @jade_goss @luputribe13
3 lucky people got a signed copy of my Eat What You Love book and $100 worth of condiments from my friends at Primal Kitchen Foods! 
Tutorial coming soon for the perfect Dairy-free whipped cream!
m i l l i o n a i r e s b a c o n
have you heard of it? have you tried the recipe in Eat What You Love yet?
Whether you're a sweet or savory person, it will be loved by all and will totally catch you off guard!
Who's a batch-cooking, meal-prepping type person here? 🙋‍♀️
I didn't really used to be, but the busier I get with work (and the more kids we have…. 😂), I utilize it so much more. It's really not my last-minute, procrastinator personality, but I'm trying!
I like to take one day a month and make huge batches of all of these items from the Make-It-Ahead chapter in my Eat What You Love Book to always have on hand in the freezer for easy school lunches, on the go breakfasts, and fast dinners.
I also keep a batch of that Dairy-free "Canned" Cream of Mushroom soup from that chapter on hand too!
Here's my Meal Prep tip to get crispy Sweet Potatoes that don't burn!
Sweet potatoes can take a while to cook from raw, and they often burn on the outside before getting cooked all the way through in the center. I par-cook diced potatoes (or french fry sticks!) by steaming them for 2-3 minutes until just fork tender and then put them in the fridge to use all week for hashes, roasted potatoes for dinner, or to use as a base for my lunch bowls.
You can shop the strainer and other products I used in this video here!
I told you this would be a week of giveaways, didn't I?!
I'm teaming up with @kristincavallari to celebrate Mother's Day and give 5 of you a chance to get both of our books!
Kristin's food philosophy very closely matches mine, and we love her book in this house!
You can click here to enter! 
If you already have a copy of both of these, tell me below who you'd gift them to for Mother's Day if you won!!